STUFFED (48)
By: Tom Nealon
July 24, 2020
One in a popular series of posts by Tom Nealon, author of Food Fights and Culture Wars: A Secret History of Taste. STUFFED is inspired by Nealon's collection of rare cookbooks, which he sells — among other things — via Pazzo Books.
THE CAKE IS THE THING
I was going to take the summer off, but no sooner had I leaned back in my hammock, popped a Red Stripe, and opened that dusty Richard Stark to reread, when everything turned into cake.
It wasn't always cake. Highly stylized food has been around since they invented ennui, but these suddenly ubiquitous cakes mostly owe a debt to French and English medieval entremets or subtleties (sotelties in the English of the time). Though now generally thought of as desserts, entremets (literally "between courses") were originally small morsels between roast and dessert to kill time while the servants prepared. Over time the entremets became increasingly elaborate, mirroring medieval Europe's general turn inward towards theology and artifice and away from new ideas (not to cast aspersions on the too often derided middle ages — there was lots of cool stuff happening in pockets — parmigiano, roquefort, cheddar, ravioli, pierogi and probably other things that weren't cheese or dumplings were invented in the middle ages, for example). Entremets took many forms, but most often they were either architectural — building elaborate structures like houses, castles, windmills (also a medieval invention), gardens, even vast multifaceted scenes — and/or simulacrum.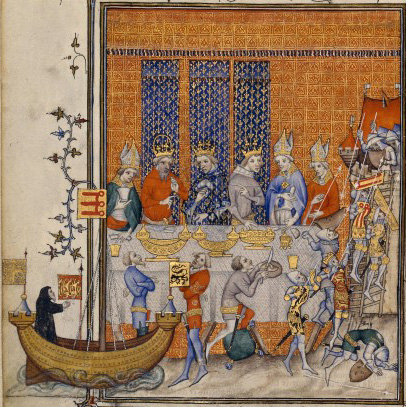 A peacock would be skinned, cooked, and the skin and feathers replaced so that the peacock looked alive. Or a roast chicken equipped with helmet, lance and shield riding a roasted, barded, pig to the table. Or, conversely, a collection of live birds or game meant to look dead (or hidden, live, in a pie), scallops and langostino suspended in pale blue aspic as if swimming. Or, fake-fake authentically, a hollowed out pumpkin covered in orange meringue baked to resemble… a pumpkin, chicken legs and thighs deboned and the meat wrapped back around the bones and fried back on so that they appear to be chicken legs and thighs. The hidden and surprising, including animals stuffed inside other animals, often incongruously (songbirds inside pigs, shellfish inside bears, stuffed pigs sewn up with chicken legs and gilded) also featured prominently.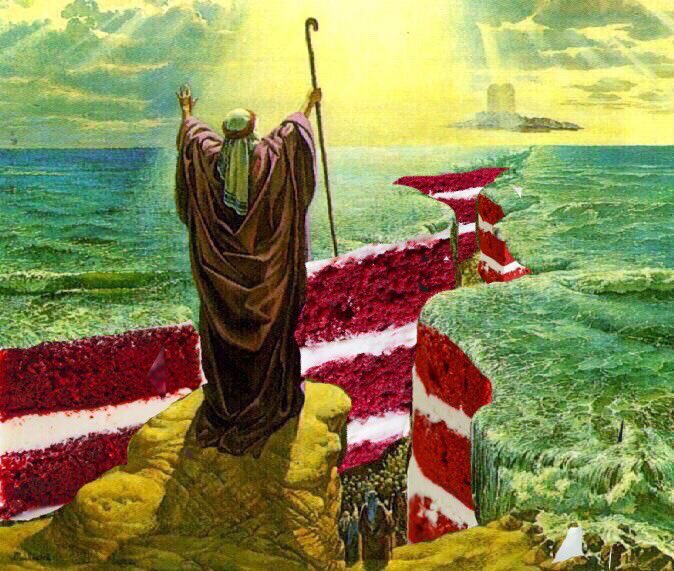 The medieval world was rich and varied, full of wonder and magic, but also intense poverty and crushing cruelty. The wealthy turned away from the world — perhaps due to an inability to reconcile their Christianity with the world around them, or perhaps just because they could afford to — and towards spectacle and simulation. It's natural at this similarly difficult time, stuck at home in a world full to bursting with inequality, racism, and daily reminders that the Enlightenment was largely a failure, that we would dream of a world made of cake. That another pile of laundry on yet another laundry day would not need to be put away because it was cake, that, maybe, a police officer wasn't going to shoot anyone or fire tear gas into a crowd because he was actually just cake. But this turning away, allowing our creative gears to grind ceaselessly against each other, producing assembly line simulacra being perpetually cut open to reveal cake and cake and cake, is just what we need to avoid. The revulsion you feel at cake memes is not just the weirdness of your soap, your table, your lamp, your steak and eggs etc etc turned into cake, it is the world shrinking into a snowglobe; the uncanny cake valley.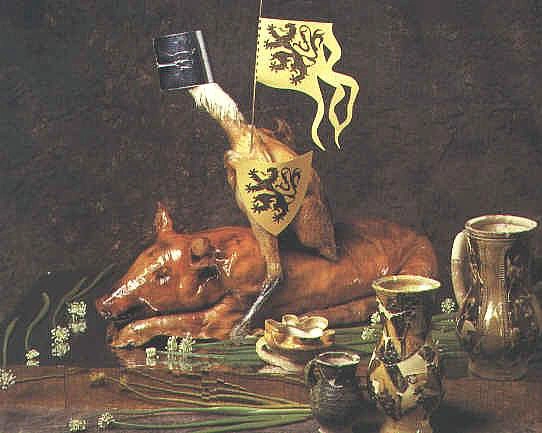 In 1420 Maître Chiquart, chef to the Duke of Savoy, wrote a culinary treatise in Provençal, Du Fait de Cuisine, in which he describes an elaborate banquet that included what he called the Chateau d'amour, an elaborate structure with crenelated walls, towers defended by miniature soldiers repelling an amphibious assault, and at the base of the towers pike cooked three ways, a bear head, a swan roasted with its plumage replaced poised for flight, and a gilded suckling pig, all breathing fire. Nearby the fontaine d'amour provided limitless rose water and spiced wine, stuffed hedgehogs didn't quite frolic while roasted birds tumbled out of a dovecote. While this stands out as an especially exciting example, these fanciful, edible, Wonkaesque displays were not uncommon and sometimes blurred into the tableaux vivant (which incorporated real people pretending to be fake people usually enacting an important event) which were popular in Europe. People pretending to be statues, roasted birds and creatures suspended in aspic pretending to be real. Would guests have been too shocked if they were cake?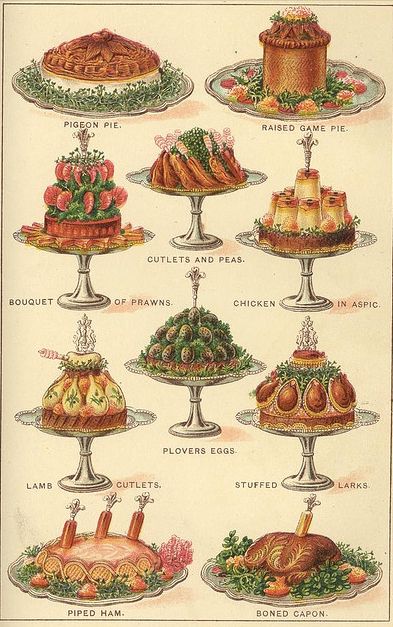 The aspic that so many seemingly living things were suspended in as entremets were clarified with egg whites to be perfectly clear, or tinted with saffron, alkanet, or mulberry as verisimilitude required. Like today's cakes, these aspics and realistic stuffed roasts were labor intensive, decorative, and claustrophobic. The 15th century chef Maestro Martino described a chicken suspended in aspic carried to dinner in a basket. Hermetic, both in the sense of airlessly sealed and of knowledge, hidden and inaccessible. Like these beautifully elaborate nothings conjured by armies of cooks and servants, if there is any meaning in these cakes, the act of sealing them up in banal objects has rendered it tantalizingly just beyond our reach.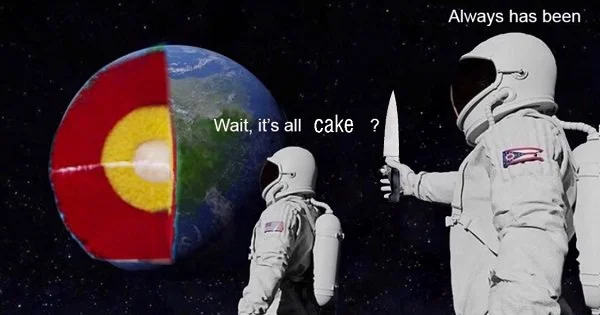 So, as is often the case with the inscrutable, there has been some speculation about nefarious meanings to these cake memes. Some people have noted that 326 cake related business received PPP loans in the recent coronavirus stimulus. Some practitioners of the paranoid arts believe that the CIA is funding HELP! EVERYTHING IS CAKE for the same reasons that they funded Abstract Expressionism — because it siphons off creative energy apolitically. I'm not quite convinced, soteltie not being a hallmark of this administration anymore than creativity of empathy is, but the idea does not stretch credulity very far.
Anyway, as these entremets became increasingly elaborate, they turned into spectacles of a non-culinary nature (in France and England — in Italy they had always been thus). Jugglers and morality plays, dancers and contortionists; these entremets are what inspired the sort of play that Prince Hamlet subverts in the Shakespeare play to try to trap his father's killer by depicting his guilt.
In Hamlet, the reason the play — to catch the conscience of the king — is effective is that these entremeta were so widespread and so pointless; interjections of pure fancy that had calcified into a sort of edifice to not thinking anything new, to always seeking diversion and never subversion. So when the narrative suddenly pokes into the real world, Claudius is caught much more unawares than seems reasonable to a modern audience — he freaks out and thunders out of the performance, undone by the sudden betrayal of what had been a benign fancy divorced from the real world. Now I'm not sure there is a conscience to catch in our current dilemma, but surely there is something roughly similar. A sense of shame or an abject desire to avoid humiliation.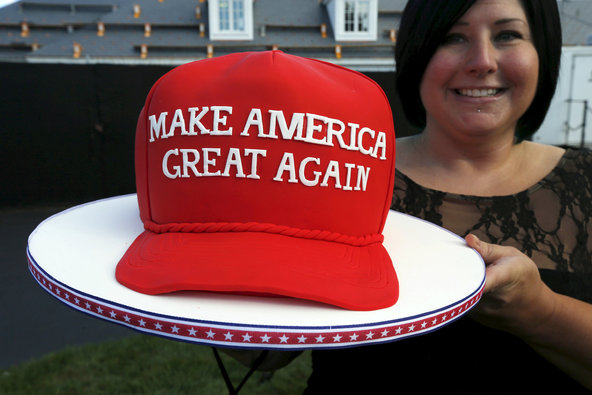 Which brings us, circuitously, to my suggestion: The cake is the thing to catch the conscience of the king… Portland stormtroopers, but cake. Dr. Fauci, a group of prostitutes gleefully peeing on a bed, Roger Stone but with a Trump wearing klan robes tattooed on his back, all cake. Or deeper. Trump's dad looking at him disapprovingly, his first bankrupt casino (you could sprinkle these around), a woman laughing at him, his tax returns, Obama making jokes at his expense… all cake. Or something cleverer — I'm not a pastry chef or a psychologist, but surely someone is. Hamlet meets A Christmas Carol meets Cake Wars is how I would pitch this project — it can't miss. Like Oscar Wilde said: the 21st century dislike of realism is the rage of Caliban seeing his own face in a cake, the 21st century dislike of Romanticism is the rage of Caliban not seeing his own face in a cake. So one way or another, this is bound to work.
***
STUFFED SERIES: THE MAGAZINE OF TASTE | AUGURIES AND PIGNOSTICATIONS | THE CATSUP WAR | CAVEAT CONDIMENTOR | CURRIE CONDIMENTO | POTATO CHIPS AND DEMOCRACY | PIE SHAPES | WHEY AND WHEY NOT | PINK LEMONADE | EUREKA! MICROWAVES | CULINARY ILLUSIONS | AD SALSA PER ASPERA | THE WAR ON MOLE | ALMONDS: NO JOY | GARNISHED | REVUE DES MENUS | REVUE DES MENUS (DEUX) | WORCESTERSHIRE SAUCE | THE THICKENING | TRUMPED | CHILES EN MOVIMIENTO | THE GREAT EATER OF KENT | GETTING MEDIEVAL WITH CHEF WATSON | KETCHUP & DIJON | TRY THE SCROD | MOCK VENISON | THE ROMANCE OF BUTCHERY | I CAN HAZ YOUR TACOS | STUFFED TURKEY | BREAKING GINGERBREAD | WHO ATE WHO? | LAYING IT ON THICK | MAYO MIXTURES | MUSICAL TASTE | ELECTRIFIED BREADCRUMBS | DANCE DANCE REVOLUTION | THE ISLAND OF LOST CONDIMENTS | FLASH THE HASH | BRUNSWICK STEW: B.S. | FLASH THE HASH, pt. 2 | THE ARK OF THE CONDIMENT | SQUEEZED OUT | SOUP v. SANDWICH | UNNATURAL SELECTION | HI YO, COLLOIDAL SILVER | PROTEIN IN MOTION | GOOD RIDDANCE TO RESTAURANTS | THE CAKE IS THE THING | BANQUETE DE CAVALLEROS | STUFF & NONSENSE. | THE CAKE IS THE THING.
MORE POSTS BY TOM NEALON: Salsa Mahonesa and the Seven Years War, Golden Apples, Crimson Stew, Diagram of Condiments vs. Sauces, etc., and his De Condimentis series (Fish Sauce | Hot Sauce | Vinegar | Drunken Vinegar | Balsamic Vinegar | Food History | Barbecue Sauce | Butter | Mustard | Sour Cream | Maple Syrup | Salad Dressing | Gravy) — are among the most popular we've ever published here at HILOBROW.