Diamond Age 75 (60)
By: Joshua Glenn
May 3, 2020
One in a series of posts about the 75 best science fiction novels published during the genre's Diamond Age era (from 1984–2003, according to HILOBROW's periodization schema). For Josh Glenn's complete Diamond Age Sci-Fi 75 list, click here.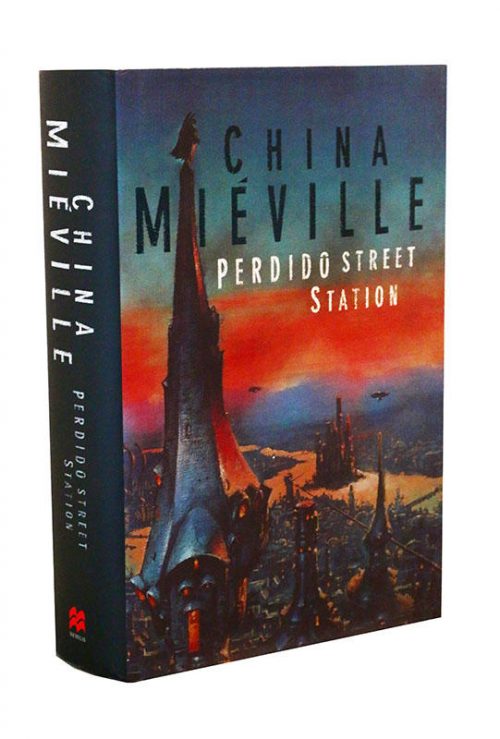 China Miéville's New Crobuzon adventure Perdido Street Station (2000).
Miéville has said that he hopes to write a novel — a "weird" novel, that is — in every genre. Perdido Street Station already complicates that statement, inasmuch as the first installment in his New Crobuzon series is a hybrid of science fiction, fantasy, and horror. It's also an impressive example of psychogeography and back-projected world-building. Perdido Street Station gives us New Crobuzon, a city-state on the planet Bas-Lag, a D&D-esque world where both thaumaturgy and steampunk technology exist, and in which many intelligent species coexist. From this starting point, Miéville conjectures a history in which some three millennia earlier, entities from another plane of existence ruled the planet for a few centuries… leaving behind technologies and structures (including, perhaps the titular industrial scrapyard, which has a mind of its own) over which today's New Crobuzonites puzzle and scheme. If this reminds you of M. John Harrison's Pastel City (1971), it should; Miéville is a fan. He's also influenced by the original "weird" writers — William Hope Hodgson, Clark Ashton Smith, H.P. Lovecraft — to whose tentacular, cosmic-horror visions he pays homage here. The plot concerns the efforts of Yagharek, a birdlike creature who has had his wings chopped off (hello, Orlando Bloom's character in Carnival Row), to fly again; along the way, he'll transform from a victim into a hero. Isaac Dan der Grimnebulin, a scientist attempting to help Yagharek, inadvertantly creates a Mothra-like monster whose brood terrorizes New Crobuzon; a drug-dealing mob boss kidnaps Isaac's girlfriend, an insect-like humanoid sculptor; and a spider-like creature that moves through dimensions, obsessed with patterns, gets involved, too!
Fun facts: "Perdido Street Station is my attempt to simultaneously say, 'Fuck you' to fantasy, and to say to readers, 'Please read some fantasy,'" Miéville once explained. The 900-page novel won the Arthur C. Clarke Award and the August Derleth Award; the Player's Handbook for the Fifth Edition of Dungeons & Dragons (2014) cited the book as a source of inspiration.
***
DIAMOND AGE SCI-FI at HILOBROW: William Gibson | Bruce Sterling | Margaret Atwood | Ann Nocenti | Frank Miller | Alan Moore | Octavia E. Butler | Iain M. Banks | Grant Morrison | Neal Stephenson | Jonathan Lethem | Charles Burns | China Miéville.
JOSH GLENN'S *BEST ADVENTURES* LISTS: BEST 250 ADVENTURES OF THE 20TH CENTURY | 100 BEST OUGHTS ADVENTURES | 100 BEST RADIUM AGE (PROTO-)SCI-FI ADVENTURES | 100 BEST TEENS ADVENTURES | 100 BEST TWENTIES ADVENTURES | 100 BEST THIRTIES ADVENTURES | 75 BEST GOLDEN AGE SCI-FI ADVENTURES | 100 BEST FORTIES ADVENTURES | 100 BEST FIFTIES ADVENTURES | 100 BEST SIXTIES ADVENTURES | 75 BEST NEW WAVE SCI FI ADVENTURES | 100 BEST SEVENTIES ADVENTURES | 100 BEST EIGHTIES ADVENTURES | 75 BEST DIAMOND AGE SCI-FI ADVENTURES | 100 BEST NINETIES ADVENTURES (in progress) | 1994 | 1995 | 1996 | 1997 | 1998 | 1999 | 2000 | 2001 | 2002 | 2003 | NOTES ON 21st-CENTURY ADVENTURES.