Diamond Age 75 (48)
By: Joshua Glenn
February 9, 2020
One in a series of posts about the 75 best science fiction novels published during the genre's Diamond Age era (from 1984–2003, according to HILOBROW's periodization schema). For Josh Glenn's complete Diamond Age Sci-Fi 75 list, click here.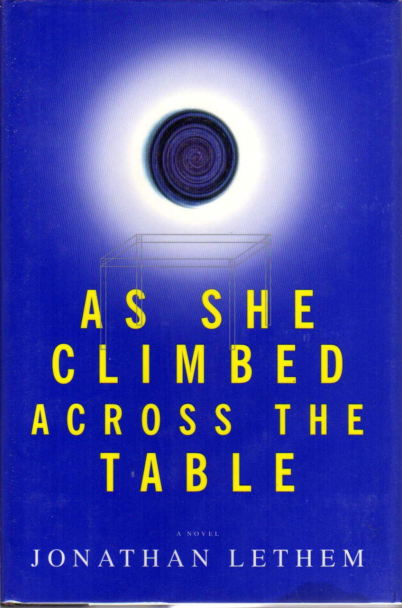 Jonathan Lethem's As She Climbed Across the Table (1997).
Philip, an anthropologist at a northern California university, finds himself growing jealous of a wormhole created in a particle collider. His girlfriend, particle physicist Alice Coombs, seems to have developed a personal, emotional relationship with Lack — which is what she and her colleagues have named the enigmatic portal leading to a new, uninhabited universe. Why has the wormhole remained open, and why will it only accept particular objects — Alice's keys, or a pomegranate, or the campus cat, say, but not a paperclip — offered to it? If his earlier novels were mashups of sci-fi with westerns and film noir, Lethem — like Alice, an experimentalist — here tries his hand at the campus novel, not to mention the rom-com. It's guaranteed to entertain fans of postmodern campus novels like Barth's The End of the Road and DeLillo's White Noise. A visiting Italian physicist, Braxia, proposes a shocking hypothesis… which Philip, our narrator, whose own study of "departmental politics and territorial squabbles, the places where disciplines overlapped, fed back and interfered" makes him an ideal observer, decides to test. Offering himself up as a kind of human sacrifice to Lack, Philip wakes up in an alternate version of his (our) own universe. What has he proven, exactly? And how will he return?
Fun facts: Is it possible to create a universe in the laboratory by quantum tunneling? In the early 1990s, physicists Edward Farhi and Alan Guth explored the possibility that quantum effects might permit a new universe — created by producing "a small bubble of false vacuum" — to tunnel into a larger bubble, of the same mass, which would then evolve to become a new universe.
***
DIAMOND AGE SCI-FI at HILOBROW: William Gibson | Bruce Sterling | Margaret Atwood | Ann Nocenti | Frank Miller | Alan Moore | Octavia E. Butler | Iain M. Banks | Grant Morrison | Neal Stephenson | Jonathan Lethem | Charles Burns | China Miéville.
JOSH GLENN'S *BEST ADVENTURES* LISTS: BEST 250 ADVENTURES OF THE 20TH CENTURY | 100 BEST OUGHTS ADVENTURES | 100 BEST RADIUM AGE (PROTO-)SCI-FI ADVENTURES | 100 BEST TEENS ADVENTURES | 100 BEST TWENTIES ADVENTURES | 100 BEST THIRTIES ADVENTURES | 75 BEST GOLDEN AGE SCI-FI ADVENTURES | 100 BEST FORTIES ADVENTURES | 100 BEST FIFTIES ADVENTURES | 100 BEST SIXTIES ADVENTURES | 75 BEST NEW WAVE SCI FI ADVENTURES | 100 BEST SEVENTIES ADVENTURES | 100 BEST EIGHTIES ADVENTURES | 75 BEST DIAMOND AGE SCI-FI ADVENTURES | 100 BEST NINETIES ADVENTURES (in progress) | 1994 | 1995 | 1996 | 1997 | 1998 | 1999 | 2000 | 2001 | 2002 | 2003 | NOTES ON 21st-CENTURY ADVENTURES.