POST-MICKEY MICE (7)
By: Joshua Glenn
August 16, 2023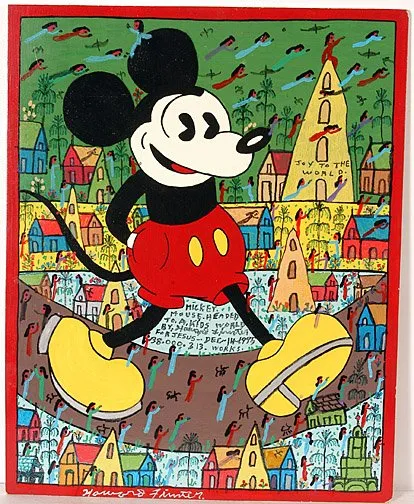 Howard Finster's Mickey Mouse, #38,313 (1995). Finster (1916 – 2001) was a Baptist minister from Georgia who claimed to be inspired by God to spread the gospel through his creations.
An episode of MOUSE, a multi-part installment in the ongoing BESTIARY series.
---
MOUSE
---
During 2021–2022, I contributed three BESTIARY series installments, for each of which I conducted research into and offered a top-line analysis of 20th-century pop-culture depictions of a charismatic creature: OWL | BEAVER | FROG. I first developed this approach for an earlier series, TAKING THE MICKEY, which analyzes Mickey Mouse's evolving significance. Via this new BESTIARY installment, I'll "read" Mickey within the context of his fellow pop-culture mice.
This multipart BESTIARY series installment, collectively titled MOUSE, is divided up as follows: MOUSE (INTRO) | PRE-MICKEY MICE (1904–1913) | PRE-MICKEY MICE (1914–1923) | PRE-& POST-MICKEY MICE (1924–1933) | POST-MICKEY MICE (1934–1943) | POST-MICKEY MICE (1944–1953) | POST-MICKEY MICE (1954–1963) | POST-MICKEY MICE (1964–1973) | POST-MICKEY MICE (1974–1983) | POST-MICKEY MICE (1984–1993) | POST-MICKEY MICE (1994–2003).
---
POST-MICKEY MICE
(1994–2003)
---
According to HILOBROW's periodization scheme, the cultural era known as the nineteen-nineties begins c. 1994 and ends c. 2003. During this period, let's see how the mice tropes — surfaced via this audit, and dimensionalized in the series' introduction — shake out via pop culture.
ABJECT OTHER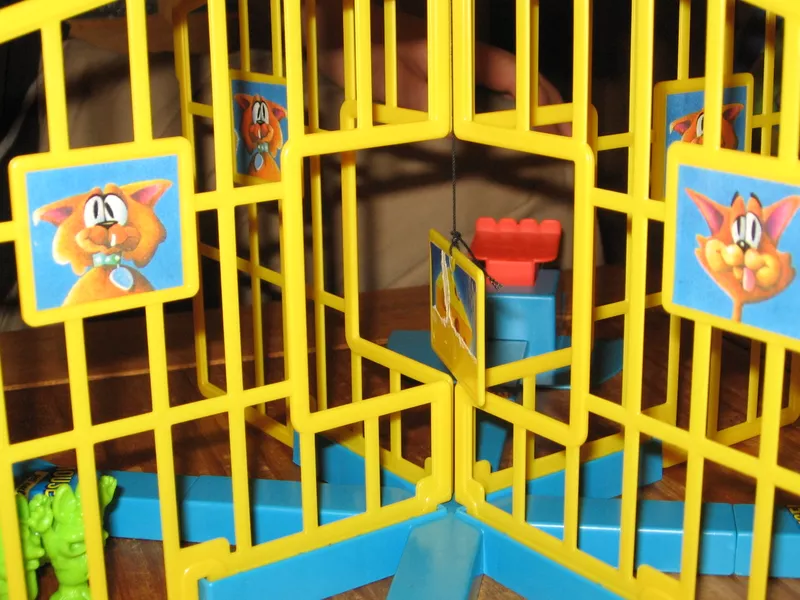 Mouse, Mouse! Get Outta My House! is a 1994 boardgame. Here's a video showing how the game works.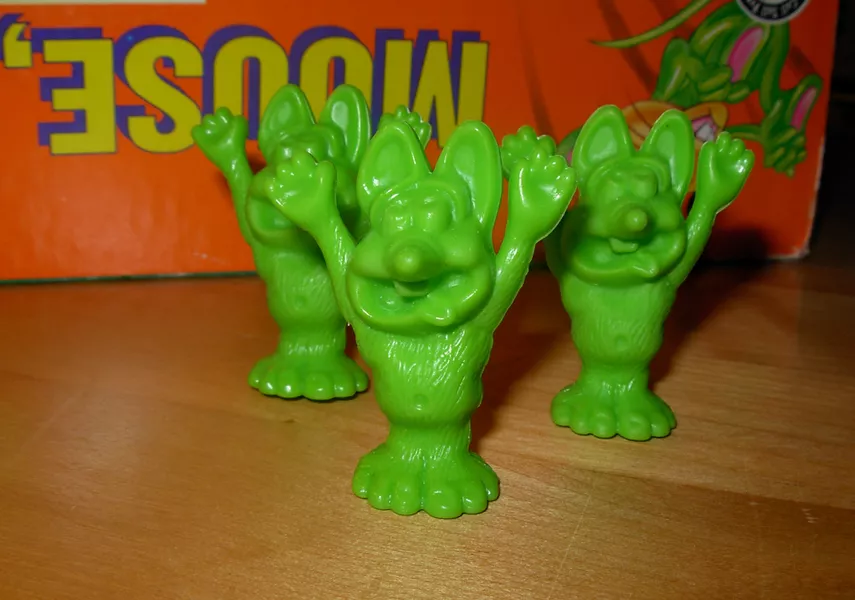 *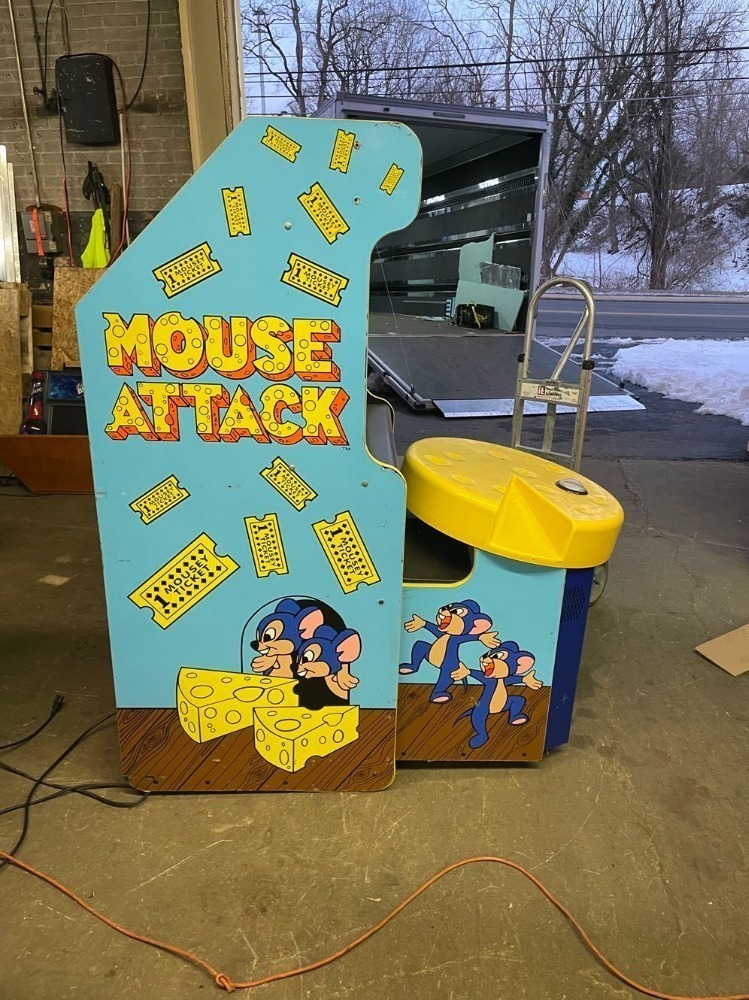 Mouse Attack is a 1995 arcade video game where players try to stop mice from stealing pieces of cheese by smashing them with a mallet.
*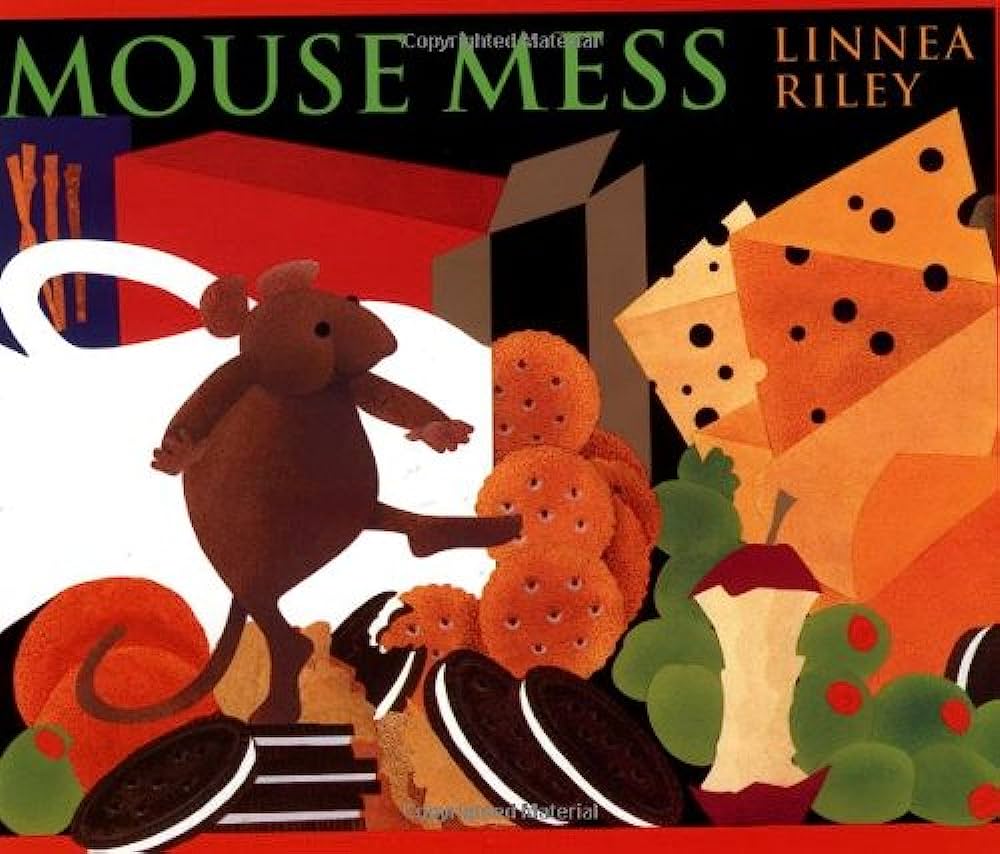 Mouse Mess is a 1997 children's book by Linnea Asplind Riley, in which a mouse eats his way through a kitchen's contents, trashing the place.
*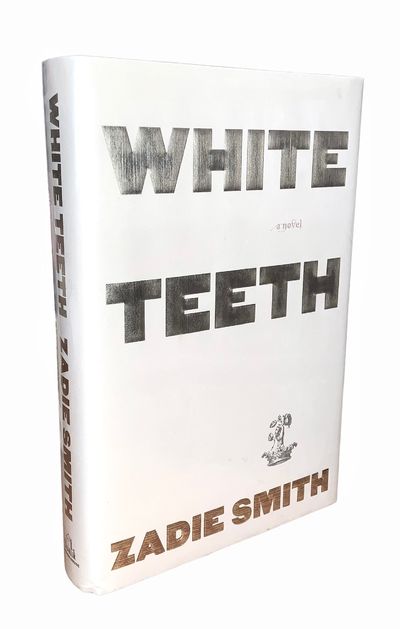 Zadie Smith's 2000 debut novel White Teeth features the FutureMouse — Marcus Chalfen's experiment, a mouse whose genetic makeup is changed so that certain traits develop at a predictable rate. The mouse is a point of extreme contention throughout the novel, fiercely debated by those who see Chalfen's goal of complete control as dangerous. The FutureMouse seems to be an abject analogy for British people of color who are considered unwelcome invaders, and who are targeted as populations to be controlled. Spoiler: Ultimately, the mouse escapes from its cage, suggesting that the novel's non-white characters can resist subjugation, too, even when faced with forces of prejudice, racism, and outright evil. Indeed, the novel ends happily for the intertwined Iqbal, Bowden, and Chalfen families, who find ways to coexist peacefully in British society, despite its xenophobia.
REBELLIOUS SCAMP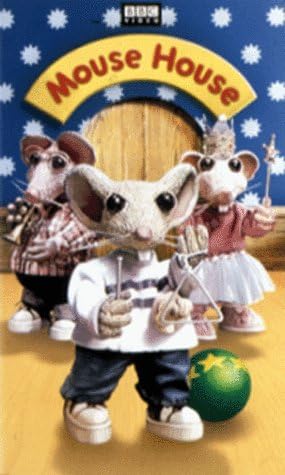 In Mouse House, a British claymation children's show that I think appeared in 1996, a quintet of poorly behaved mice dwells together in a little house "behind the tiny brown door." There, in 11 five-minute segments, they learn to cooperate, apologize, take turns, and develop empathy.
*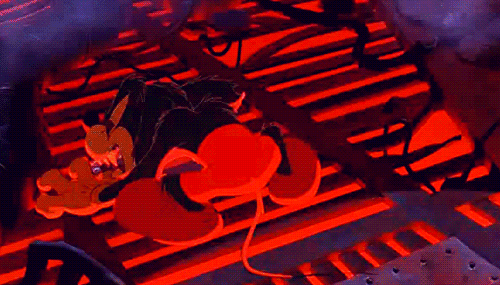 In 1995, Walt Disney Feature Animation released the first new MM short in years: Runaway Brain. It's a macabre story — featuring a possessed MM — which caused a certain amount of consternation among fans, at the time. By the same token, Disney was signaling that they were no longer going to be quite so protective of their mascot.
It's a pretty clever film, with lots of references: We see MM playing a videogame in which Dopey and the Wicked Witch fight one another; we spot a photo of MM piloting the boat from Steamboat Willie, in his wallet; Zazu from The Lion King (1994) briefly appears; and Jeffrey Katzenberg's firing from Disney Co. is referenced by a pink slip featuring the initials "JK."
*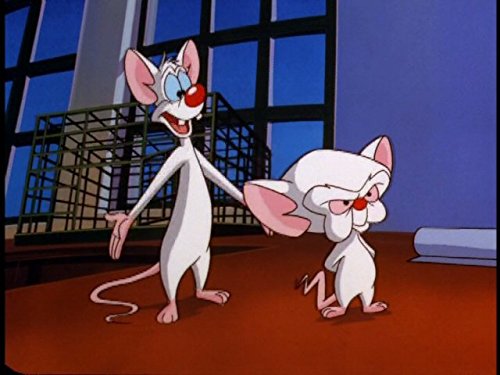 Pinky and the Brain is a 1995–1998 animated television series created by Tom Ruegger for the Kids' WB programming block of The WB. Pinky and the Brain are genetically enhanced laboratory mice who reside in a cage in the Acme Labs research facility. Brain (who sounds like Orson Welles) is highly intelligent, self-centered and scheming, while Pinky is good-natured but feeble-minded. In each episode, Brain devises a new plan to take over the world.
*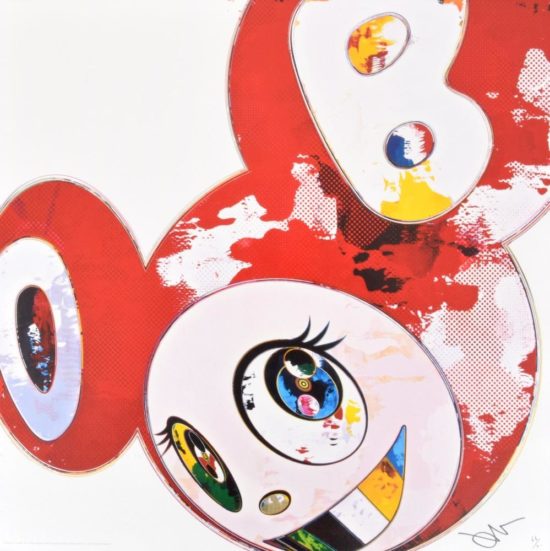 Takashi Murakami's first character, "Mr. DOB," a sharp-toothed yet playful anime-esque character, was inspired by MM. Mr. DOB made his debut in the three-paneled painting "727" (1996), which evokes the woodblock prints of the 19th-century Japanese artist Hokusai.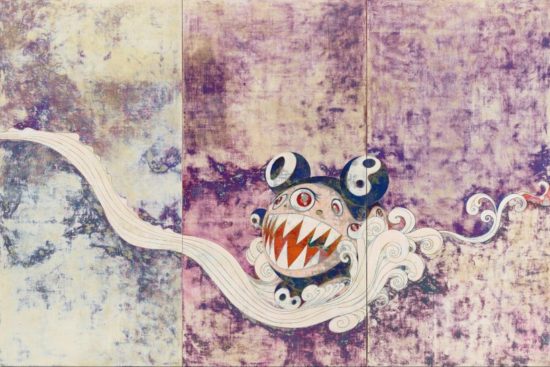 *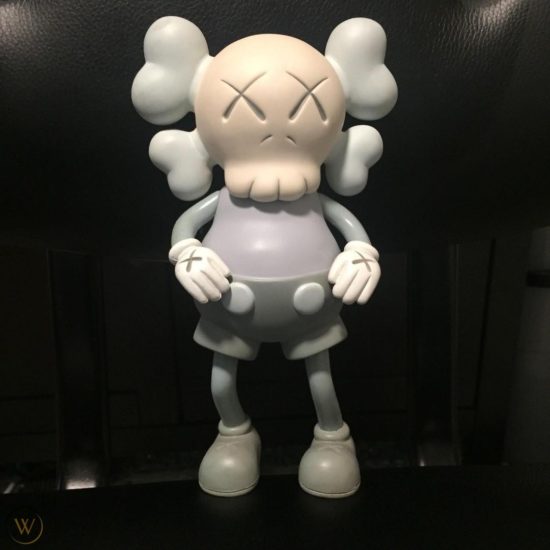 In 1999, the street-art KAWS (Brian Donnelly) created his first toy, "Companion," a vinyl figure of Mickey Mouse with x-ed out eyes. Produced in an edition of 500, "Companion" sold out almost immediately. Since then, KAWS has built a career toggling back and forth between fine art — sculptures, paintings — and commercially available figures and toys.
*
INTREPID ADVENTURER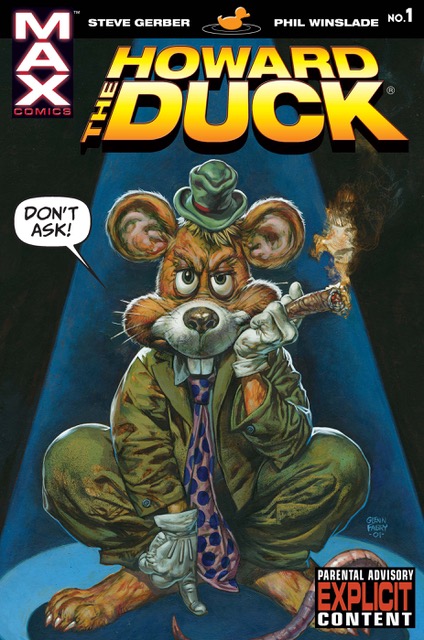 In 2001, when Marvel launched its MAX imprint of "mature readers" comics, Howard the Duck creator Steve Gerber returned to write a six-issue HD miniseries illustrated by Phil Winslade and Glenn Fabry. The series has Doctor Bong causing Howard to go through multiple changes of form, principally into a mouse (as a parody of Mickey Mouse, in retaliation for the Disney-mandated redesign; Disney threatened to sue Marvel in 1977 because HD resembled Donald Duck).
Submitted by Douglas Wolk.
*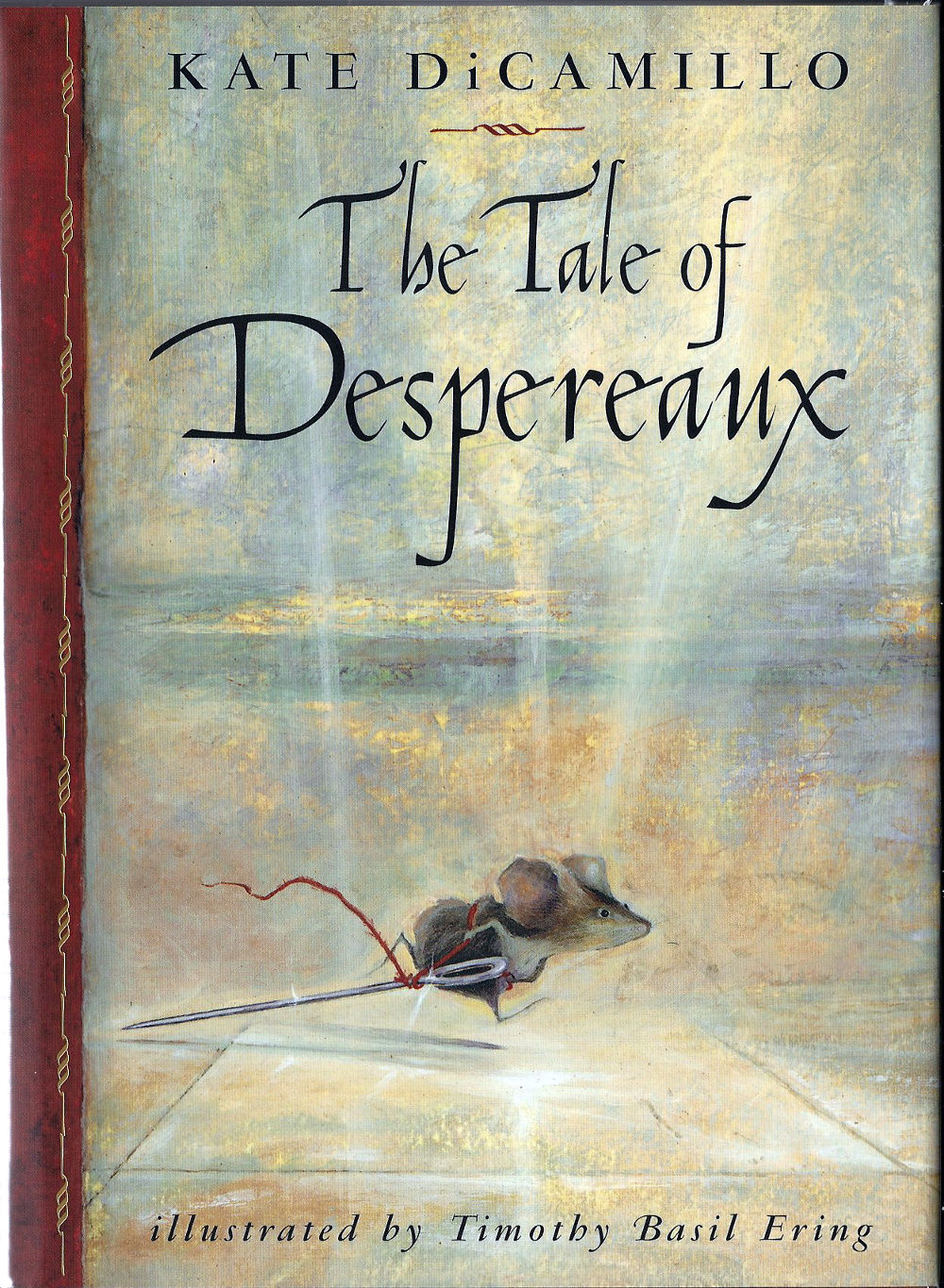 The Tale of Despereaux is a 2003 children's fantasy book written by Kate DiCamillo, illustrated by Timothy B. Ering. The main plot follows the adventures of a mouse named Despereaux Tilling, as he sets out on his quest to rescue a beautiful human princess from the rats.
The book won the 2004 Newbery Medal award and has been adapted into a film, a video game, and a stage musical.
*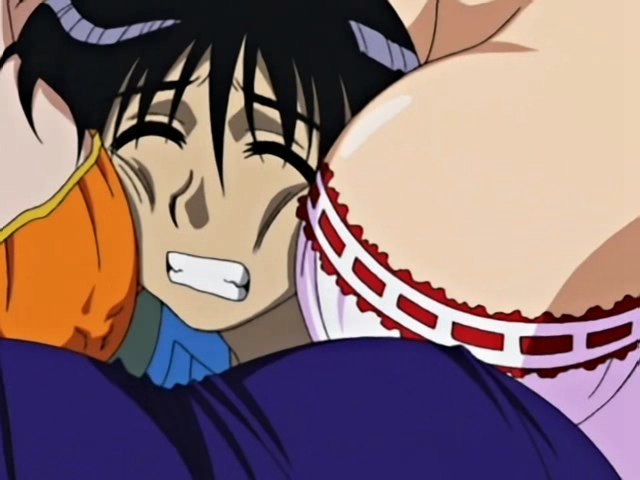 In the 2003 anime mini-series Mouse, master burglar Mouse (who lives by day as a meek art teacher) targets and steals the most valuable objects in the world, all with the help of his three sexy assistants. Directed by Yorifusa Yamaguchi.
SCRAPPY SURVIVOR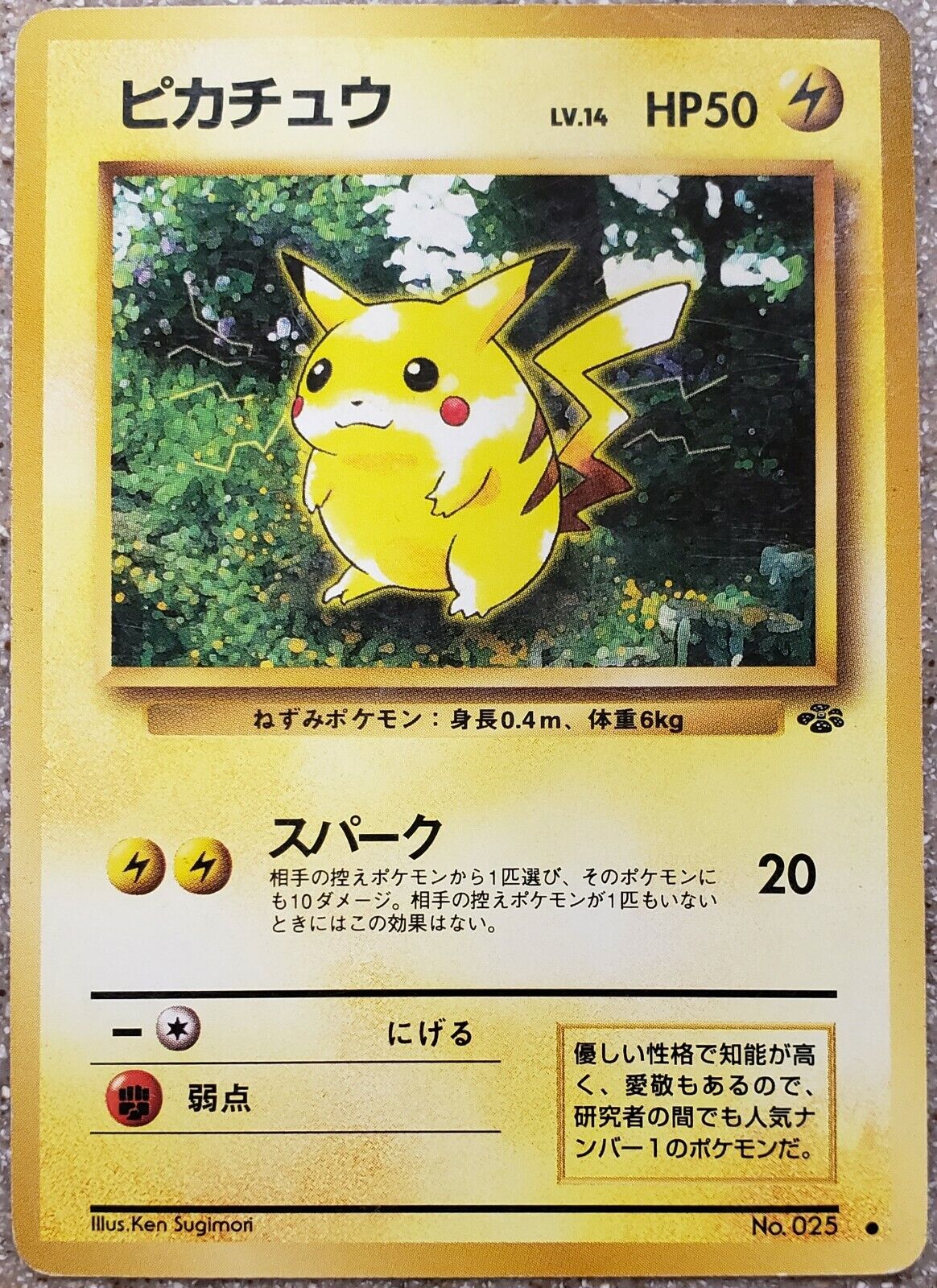 Japanese game designer Satoshi Tajiri created the first Pokémon game in 1996 for the Nintendo Game Boy. The franchise became wildly popular in the United States and around the world. Pikachu, a yellow mouselike creature with electrical abilities, is the face of Pokémon and helped the series become a worldwide phenomenon. The character has been regarded as the Japanese answer to Mickey Mouse. Collectible cards featuring Pikachu have appeared since the initial Pokémon Trading Card Game released in 1996.
The Pokémon anime series and films feature the adventures of Ash Ketchum and his Pikachu. Ash journeys to train and capture Pokémon while the members of the villainous organization Team Rocket attempt to steal Ash's Pikachu. Which is why I'm putting this in the SCRAPPY SURVIVOR section.
Fun fact: The -chu is from the Japanese onomatopoeia of a mouse's squeak.
*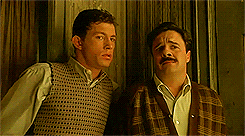 Mousehunt (1997) is a comedy movie in which two stumblebum inheritors are determined to rid their antique house of a mouse who is equally determined to stay where he is.
*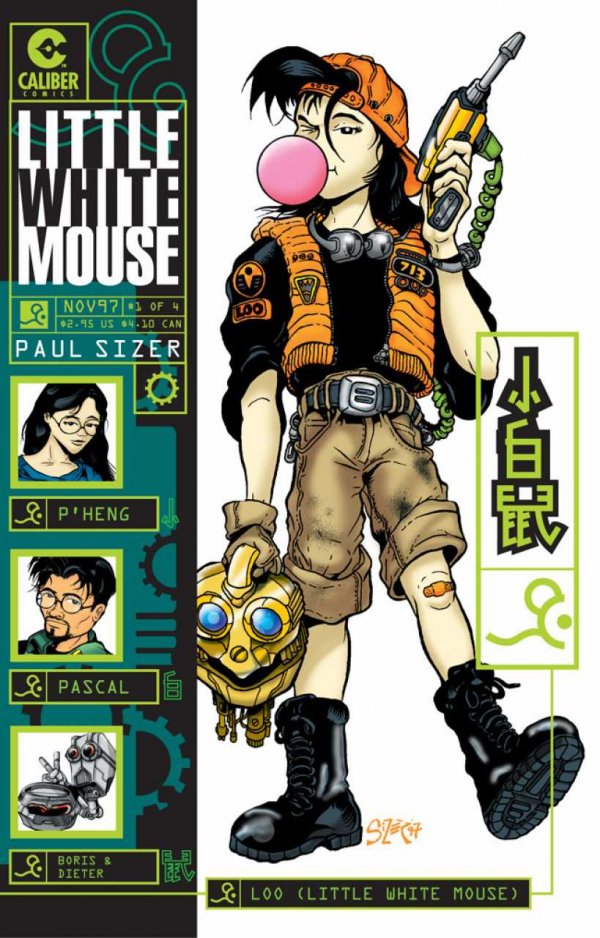 Little White Mouse is a comic book (Caliber, first issue: 1997) in which Loo, a teenage girl, crash-lands on a mining satellite. Through entries in her journal we learn a bit of her back story as she prowls the abandoned station, searching for parts to build a robot, and generally trying to keep herself busy.
*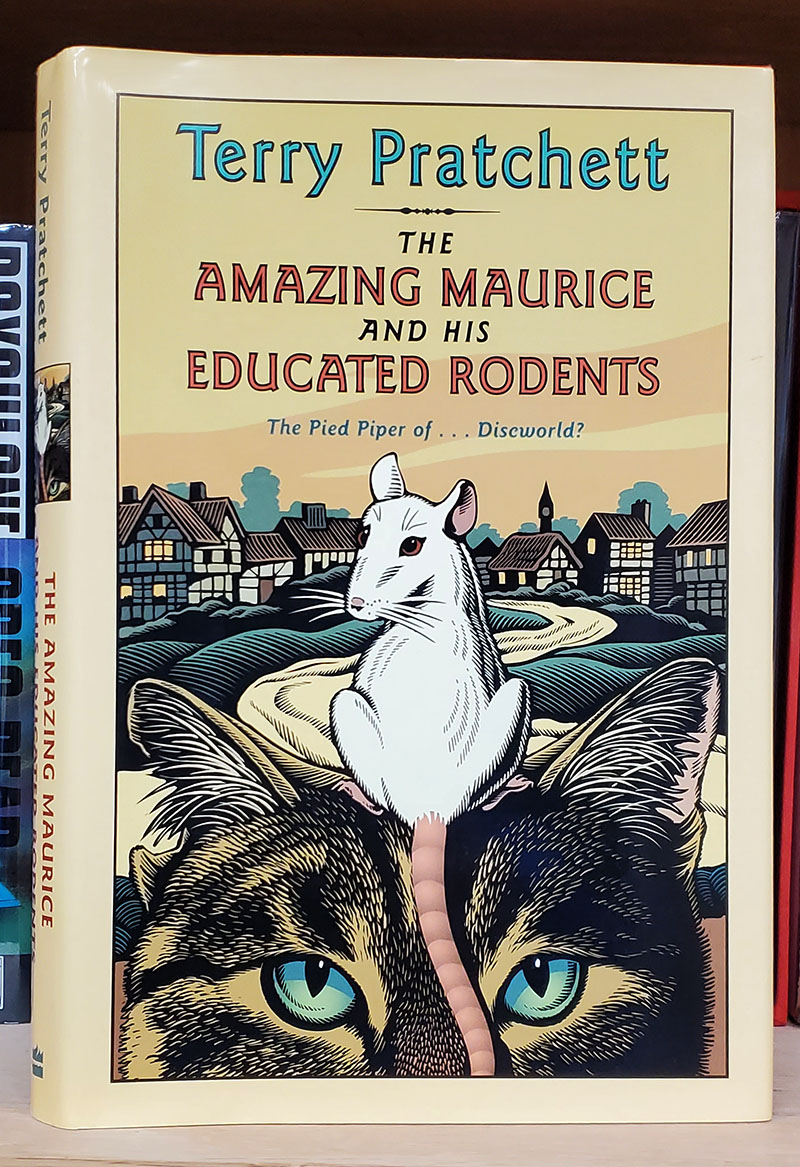 The Amazing Maurice and His Educated Rodents is a 2001 children's fantasy novel by British writer Terry Pratchett. It's about rats, not mice, but we'll let that slide this time. (Thanks to my brother-in-law Hutch for suggesting that I'd enjoy it.) A Carnegie Medal-winning parody of the folk tale genre, it's the first Discworld series installment written for children. The sentient cat Maurice, a group of sentient rats (the Clan), and a human boy named Keith travel to a small town called Bad Blintz. The group plans to enact their usual scheme: The rats will infest the town, then Keith will pose as a rat piper who can be hired to lead the vermin away. Although Maurice sees nothing wrong with this life of crime, the rats find it immoral and insist to Maurice that this will be their final scam….
RESOURCEFUL COLLABORATOR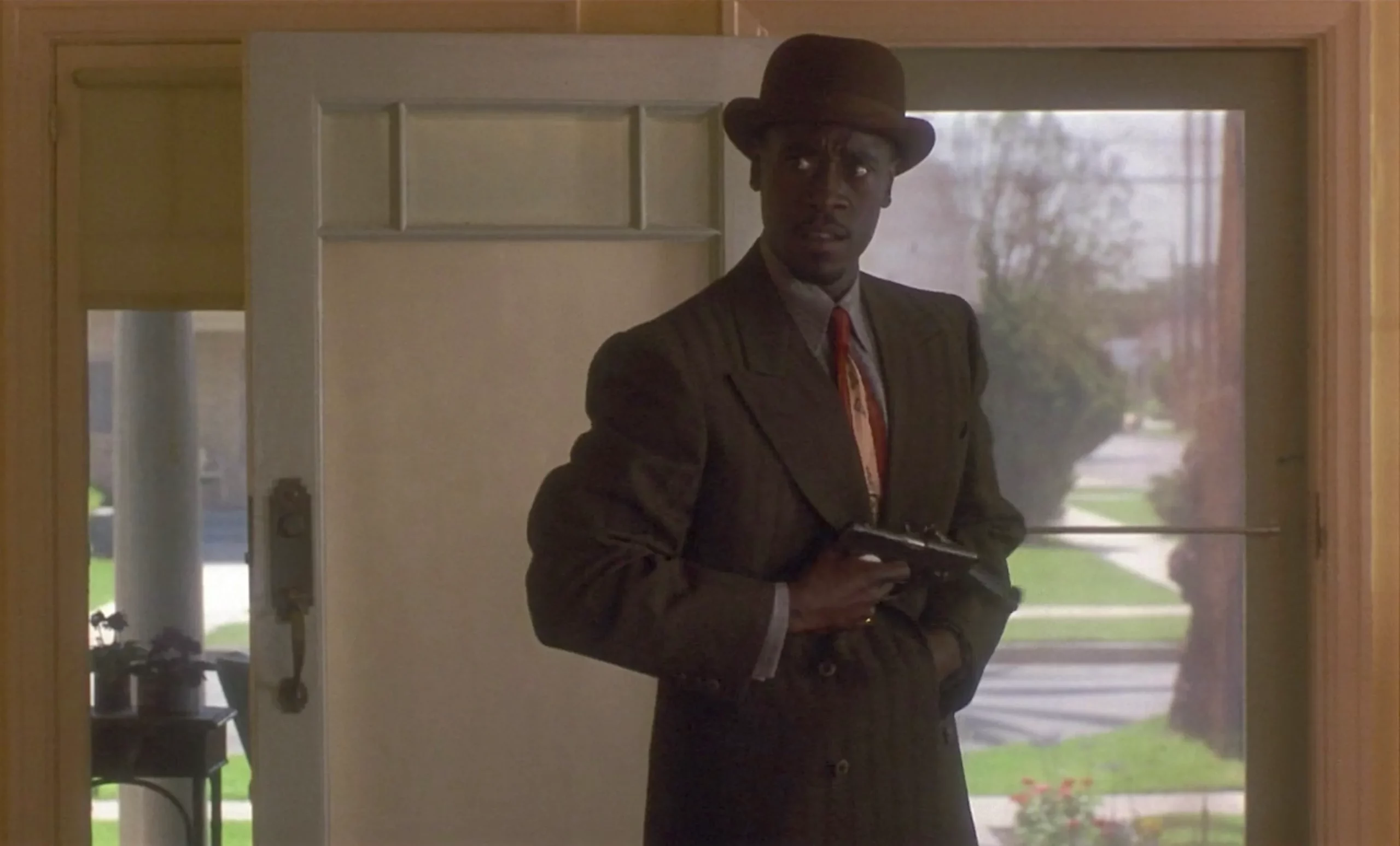 Mouse Alexander, as portrayed by Don Cheadle in Devil in a Blue Dress, a 1995 neo-noir thriller based on Walter Mosley's 1990 novel of that title, is a resourceful collaborator indeed.
*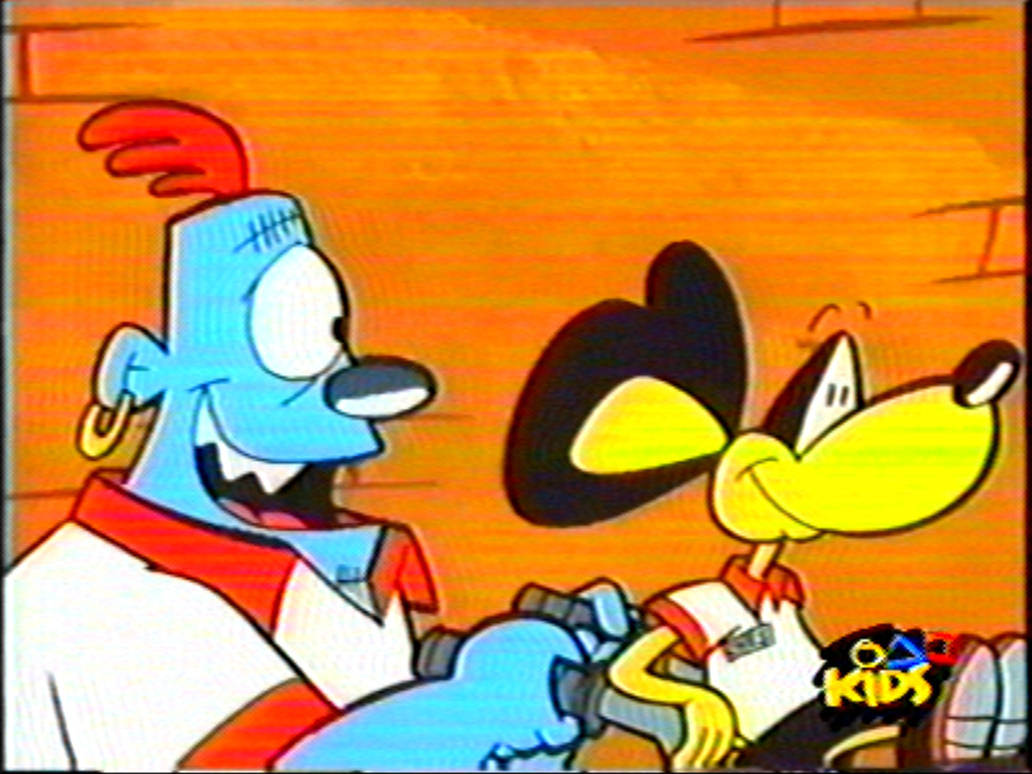 The Mouse and the Monster is a 1996–1997 animated series about two unlikely pals — a big, blue, one-eyed beatnik monster, Mo, and his reluctant protector, a former lab mouse named Chesbro. Ches and Mo are constantly on the run from Dr. Wackersteen, the mad scientist who created Mo.
*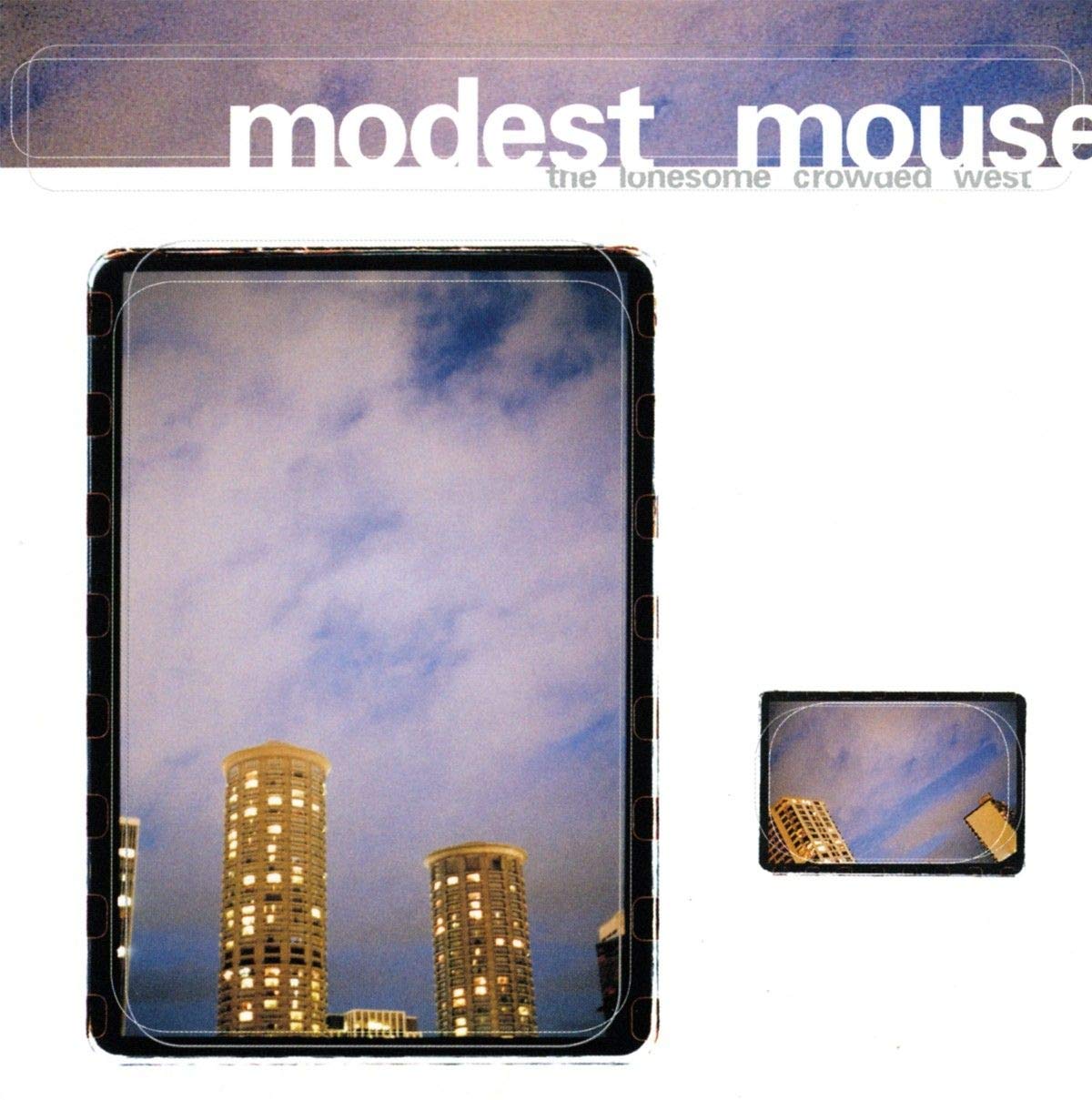 Modest Mouse's 1997 album, The Lonesome Crowded West, served as the band's breakthrough and gained the band a cult following. It is now considered to be one of the defining albums of mid-1990s indie rock. (I've written about this album here.)
The band's name is derived from a passage from the Virginia Woolf story "The Mark on the Wall," which reads, "I wish I could hit upon a pleasant track of thought, a track indirectly reflecting credit upon myself, for those are the pleasantest thoughts, and very frequent even in the minds of modest, mouse-coloured people, who believe genuinely that they dislike to hear their own praises."
Including this in the RESOURCEFUL COLLABORATOR section because this is an important aspect of the resourceful collaborator figure — modesty.
HABITAT EXPERIMENTER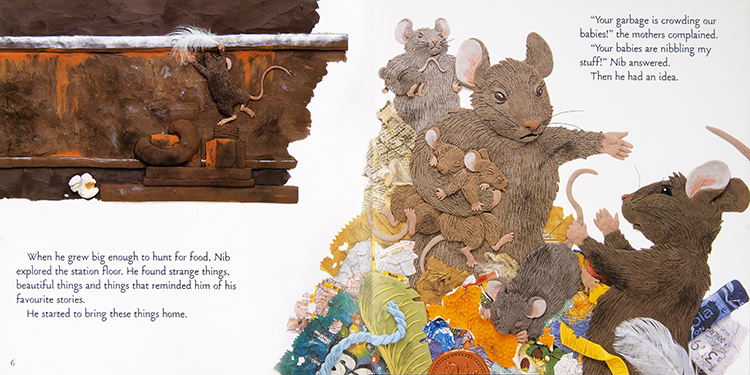 In The Subway Mouse (2003), author and illustrator Barbara Reid incorporates found objects into her Plasticine art to create a mixed-media underground adventure featuring a little mouse, Nib, on a big adventure.
***
INTRODUCTION by Matthew Battles: Animals come to us "as messengers and promises." Of what? | Matthew Battles on RHINO: Today's map of the rhinoceros is broken. | Josh Glenn on OWL: Why are we overawed by the owl? | Stephanie Burt on SEA ANEMONE: Unable to settle down more than once. | James Hannaham on CINDER WORM: They're prey; that puts them on our side. | Matthew Battles on PENGUIN: They come from over the horizon. | Mandy Keifetz on FLEA: Nobler than highest of angels. | Adrienne Crew on GOAT: Is it any wonder that they're G.O.A.T. ? | Lucy Sante on CAPYBARA: Let us gather under their banner. | Annie Nocenti on CROW: Mostly, they give me the side-eye. | Alix Lambert on ANIMAL: Spirit animal of a generation. | Jessamyn West on HYRAX: The original shoegaze mammal. | Josh Glenn on BEAVER: Busy as a beaver ~ Eager beaver ~ Beaver patrol. | Adam McGovern on FIREFLY: I would know it was my birthday / when…. | Heather Kapplow on SHREW: You cannot tame us. | Chris Spurgeon on ALBATROSS: No such thing as a lesser one. | Charlie Mitchell on JACKALOPE: This is no coney. | Vanessa Berry on PLATYPUS: Leathery bills leading the plunge. | Tom Nealon on PANDA: An icon's inner carnivore reawakens. | Josh Glenn on FROG: Bumptious ~ Rapscallion ~ Free spirit ~ Palimpsest. | Josh Glenn on MOUSE.
***
ALSO SEE: John Hilgart (ed.)'s HERMENAUTIC TAROT series | Josh Glenn's VIRUS VIGILANTE series | & old-school HILOBROW series like BICYCLE KICK | CECI EST UNE PIPE | CHESS MATCH | EGGHEAD | FILE X | HILOBROW COVERS | LATF HIPSTER | HI-LO AMERICANA | PHRENOLOGY | PLUPERFECT PDA | SKRULLICISM.