MOVIE OBJECTS (14)
By: Dave Walker
May 10, 2020
One in a series of 25 nonfiction narratives about significant objects spotted in movies. Presented to HILOBROW's readers by Project:Object.
*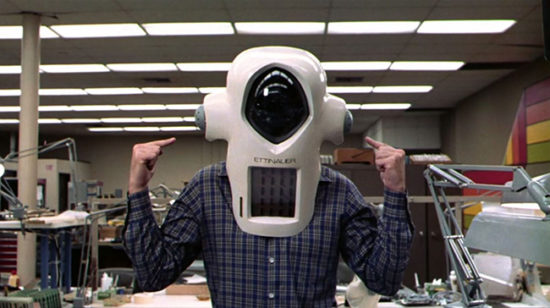 ETTINAUER 226XL | REAL LIFE | d. ALBERT BROOKS | 1979
By 1979, the cult of Albert Brooks was stoked for his transition to feature films from comedy records, Saturday Night Live shorts, and massively meta standup comedy (his appearances on The Tonight Show Starring Johnny Carson are justifiably legendary). A small but important role in Taxi Driver whet the cult's appetite for a cinematic career. Then Brooks wrote (with Monica Johnson and Harry Shearer), directed, and starred in Real Life. Conceived as a lampoon of the earlier PBS series An American Family (in which a documentary crew embedded with the disintegrating California Loud family), the film foreshadowed and preemptively mocked the "reality TV" revolution sparked by MTV's The Real World and its transparently "produced" progeny (The Osbournes, The Simple Life, Duck Dynasty, and on and on and on), though a couple of decades too early.
The premise was a filmmaker (Albert Brooks as "Albert Brooks") and a small crew embedding with the Yeagers of Phoenix to capture a year of the family's "reality." The thinnest veneer of social-science academia provided the project with an imprimatur of seriousness and endless tension. Charles Grodin, the Jimi Hendrix of quiet desperation, portrayed the patriarch. Like the Louds, the Yeagers are almost immediately ruined by the insertion of cameras into their family life. So eventually is the filmmaker, who resorts to scripting a gangbusters ending for his scuttled vérité experiment.
The film's funniest concoction, these cameras are the Ettinauer 226XL, proudly introduced to the audience by "Albert" and worn like space helmets by their operators. "Only six of these cameras were ever made," Brooks says in the introductory sequence. "Only five of them ever worked. We have four of those." The faceless and mostly nameless Ettinauer Stormtroopers become omnipresent players in the drama, reflected in store windows and darting among the distraught characters. The idea was that the Ettinauer moon men would diminish the impact of cameras on their subjects, an impossibility heightened by their bulk and all-seeing and all-hearing eye and ears.
Real Life disappointed almost all but the cult of fans Brooks had built (Ebert: "An idea is not enough for a movie"), though its 3D trailer is still pretty great. Brooks went on to semi-stardom as film-comedy auteur (Modern Romance, Lost in America, Defending Your Life), dramatic actor (Broadcast News, Drive) and voice talent (The Simpsons, Finding Nemo). In Real Life, the fictional Ettinauer was his farcical evolutionary step toward the future of pocket-sized production companies complete with audio, video, transpo-on-demand and delivery craft service.
Real Life wasn't, and couldn't be real life, and that was the whole point: The film showed that however devastating it might be to its participants, "reality" as mass entertainment could be a commodity. Brooks saw the future, whether he realized it at the time or not, through the lens of his made-up Ettinauer.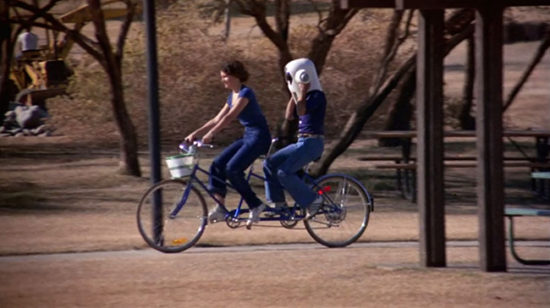 *
MOVIE OBJECTS: INTRODUCTION | Ramona Lyons on EYE OF THE SERPENT (CONAN THE BARBARIAN) | Faythe Levine on BEDKNOB (BEDKNOBS AND BROOMSTICKS) | Gerald Peary on CUP OF COFFEE (THE BIG HEAT) | Christopher Orr on TOM'S HAT (MILLER'S CROSSING) | Lynn Peril on TRANSISTOR RADIO (DR. STRANGELOVE) | Whitney Bowers on DUCT TAPE (NOW AND THEN) | Kio Stark on CANDLE (DEBBIE DOES DALLAS) | Tom Roston on CALCULATOR WATCH (BREAKFAST CLUB) | Miranda Mellis on LIMOUSINE (MELANCHOLIA) | Carolina A. Miranda on HAUNTED ACCORDION (THE WIND JOURNEYS) | Vanessa Berry on FIBREGLASS MARLIN (LOVE SERENADE) | June Thomas on CERAMIC DUCKS (A TASTE OF HONEY) | Madeline Ashby on LETTERS OF TRANSIT (CASABLANCA) | Dave Walker on ETTINAUER 226-XL (REAL LIFE) | Jonathan Lethem on SINGLE-JACK HAMMER (EARTH ABIDES) | Guy Trebay on STAMPS (CHARADE) | Annie Nocenti on PASSPORT (THE PASSENGER) | Tony Arcabascio on SHEEPSKIN COAT (BEAT STREET) | Alix Lambert on TYPEWRITER (MARY AND MAX) | John Sellers on WHITEBOARD (A QUIET PLACE) | Carlo Rotella on POWDERING CONE (REIGN OF TERROR) | Laura Miller on SEVERED EAR (BLUE VELVET) | Josh Glenn on CASSETTE TAPE (BREATHLESS) | Vicente Lozano on NOTEBOOK (WHERE IS THE FRIEND'S HOME?) | Jeff Malmberg on SPAGHETTI SAUCE (THE GODFATHER).
LOST OBJECTS (vol. 2): INTRODUCTION | Joe Yonan on MACRAMÉ ART (ill. Theo Ellsworth) | Ben Katchor on LUCITE CARRYING CASE | Debbie Millman on GLASS POODLE | Lydia Millet on ROCKY HORROR NOVEL (ill. Berta Valló) | Ben Greenman on WARHOL CAN (ill. Clara Selina Bach) | & 20 MORE.
FETISHES: INTRODUCTION | Josh Foer on DEATH MASK | Beth Lisick on MURDERED-OUT KFC BUCKET | Christina Couch on LEECH ACTION FIGURE | Kenneth Goldsmith on THEWLIS SOCK | Abby Rapoport on MAGNATILES | & 20 MORE.
FOSSILS: INTRODUCTION | Allegra Huston on SKATAWAY JACKET | Kevin Obsatz on HOMEMADE NUNCHUKS | Ian Bogost on DESKTOP TELEPHONE | Jeff Lewonczyk on CHA-CHA JACKET SCRAP | Kelly Horan on VOLVO KEY | & 20 MORE.
FLAIR: INTRODUCTION | Cliff Kuang on ROLEX DATEJUST | Ethan Zuckerman on LAPTOP STICKERS | Ann Shoket on LEATHER JACKET | Kembrew McLeod on KEMBREW MERCH | Paola Antonelli on MERMAID TEARS | & 20 MORE.
LOST OBJECTS (vol. 1): INTRODUCTION | Kate Bernheimer on MULLET WIG (ill. Amy Evans) | Dan Piepenbring on COLOGNE (ill. Josh Neufeld) | Doug Dorst on STRATOCASTER (ill. John Holbo) | Paul Lukas on VANILLA BEAN (ill. Allison Bamcat) | Mimi Lipson on DODGE DART (ill. Mister Reusch) | & 20 MORE.
ILLICIT OBJECTS: INTRODUCTION | Kio Stark on PEEPSHOW TOKEN | Sari Wilson on TOMBSTONE PARTS | Annalee Newitz on CAR-BOMB REMNANT | Tito Bottitta on MOONINITE DEVICE | Eric Bennett on DIRTY MAGAZINE | & 20 MORE.
TALISMANIC OBJECTS: INTRODUCTION | Veda Hille on CROCHET SHEEP | Gary Panter on DINOSAUR BONES | Jami Attenberg on SELENITE CRYSTAL | Annie Nocenti on MINIATURE DICE | Wayne Curtis on CLOCK WINDING KEY | & 20 MORE.
POLITICAL OBJECTS: INTRODUCTION | Luc Sante on CAMPAIGN PAMPHLETS | Lydia Millet on PVC POLAR BEAR | Ben Greenman on MATCHBOX CAR | Rob Baedeker on PRESIDENTS PLACEMAT | L.A. Kauffman on WHEATPASTE POSTER | & 20 MORE.
SIGNIFICANT OBJECTS at HILOBROW: PROJECT:OBJECT homepage | PROJECT:OBJECT newsletter | PROJECT:OBJECT objects (Threadless shop — all profits donated to the ACLU) | POLITICAL OBJECTS series (1Q2017) | TALISMANIC OBJECTS series (2Q2017) | ILLICIT OBJECTS series (3Q2017) | LOST OBJECTS vol. 1 series (4Q2017) | FLAIR series (2Q2018) | FOSSIL series (4Q2018) | FETISHES series (2Q2019) | LOST OBJECTS vol. 2 series (4Q2019) | MOVIE OBJECTS series (2Q2020). ALSO SEE: SIGNIFICANT OBJECTS website | SIGNIFICANT OBJECTS collection, ed. Rob Walker and Josh Glenn (Fantagraphics, 2012) | TAKING THINGS SERIOUSLY, ed. Josh Glenn (Princeton Architectural Press, 2007) | TAKING THINGS SERIOUSLY excerpts.