VIRUS VIGILANTE (6)
By: HILOBROW
November 20, 2020
One in a series of posts about the Antiviral Alliance, a now-forgotten squad of comic-book vigilantes who during the years leading up to (and through) WWII worked tirelessly to prevent another Spanish Flu-like pandemic. Fun fact: The original intercompany crossover, this "event" would inspire National Comics and All-American Publications to form the Justice Society of America in 1940–1941.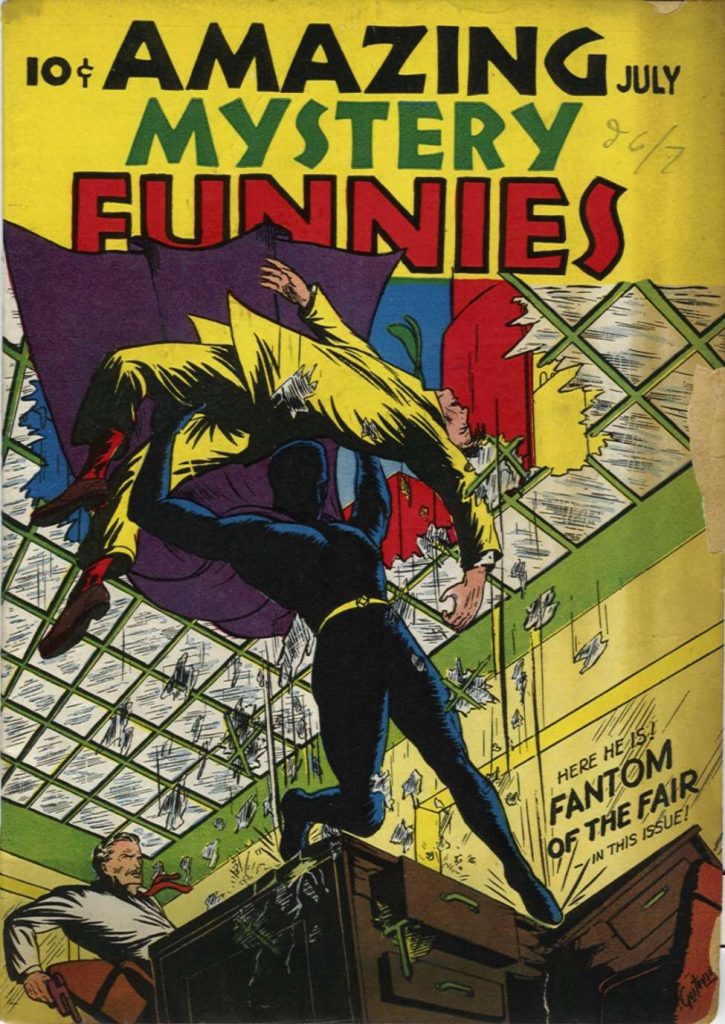 The Fantom of the Fair was — along with The Clock and Sandman — one of the team's founding members. He was particularly concerned with the threat of virus transmission at the 1939 New York World's Fair; in fact, he lived in a subterranean chamber under the Fair, and traveled via secret trap doors placed around the fairgrounds. (His powers: stealth, teleportation, emotional manipulation.) Long before the Black Panther came along, the Fantom wore a black bodysuit with a black mask over his entire face.
PS: How did the Fantom spot people who weren't doing their best to flatten the curve? He kept an eye on things aboveground via his "crimetracking televisor" — an idea later borrowed by Walt Disney, another master of emotional manipulation, for his theme parks.
Publisher: Centaur Publications
First appearance: Amazing Mystery Funnies vol. 2, #7 (July 1939)
INTRODUCING… THE ANTIVIRAL ALLIANCE. PRE-COMICS: THE MOON MAN (1933). ORIGINAL TRIO (joined forces in 1939): THE CLOCK | SANDMAN | FANTOM OF THE FAIR. AND THEN THERE WERE SEVEN (joined 1940): THE SHADOW | LADY LUCK | THE LAUGHING MASK | KINKS MASON. SECOND-WAVE SIX (joined 1941): BLAZING SKULL | THE CHALLENGER | THE THUNDERER | DOCTOR NEMESIS | HUMAN BOMB | THE VIGILANTE. LATE TO THE PARTY (joined post-1941): MICRO-FACE | THE DESERT EAGLE.
*
SIMILAR HILOBROW SERIES: MEET THE L.I.S. | 4CP FRIDAY — themed comic-book detail galleries | CHESS MATCH — a gallery | COMICALLY VINTAGE | DC — THE NEW 52 | FILE X — a gallery | KIRB YOUR ENTHUSIASM — 25 writers on 25 Jack Kirby panels | SECRET PANEL —Silver Age comics' double entendres | SKRULLICISM