VIRUS VIGILANTE (6)
By: HILOBROW
November 20, 2020
One in a series of posts about the Antiviral Alliance, a now-forgotten squad of comic-book vigilantes who during the years leading up to (and through) WWII worked tirelessly to prevent another Spanish Flu-like pandemic. Fun fact: The original intercompany crossover, this "event" would inspire National Comics and All-American Publications to form the Justice Society of America in 1940–1941.
THE ANTIVIRAL ALLIANCE: THE VIGILANTE | SANDMAN | THE SHADOW | THE MOON MAN | THE CLOCK | FANTOM OF THE FAIR | LADY LUCK | THE LAUGHING MASK | KINKS MASON | THE DESERT EAGLE | THE CHALLENGER | THE THUNDERER | BLAZING SKULL.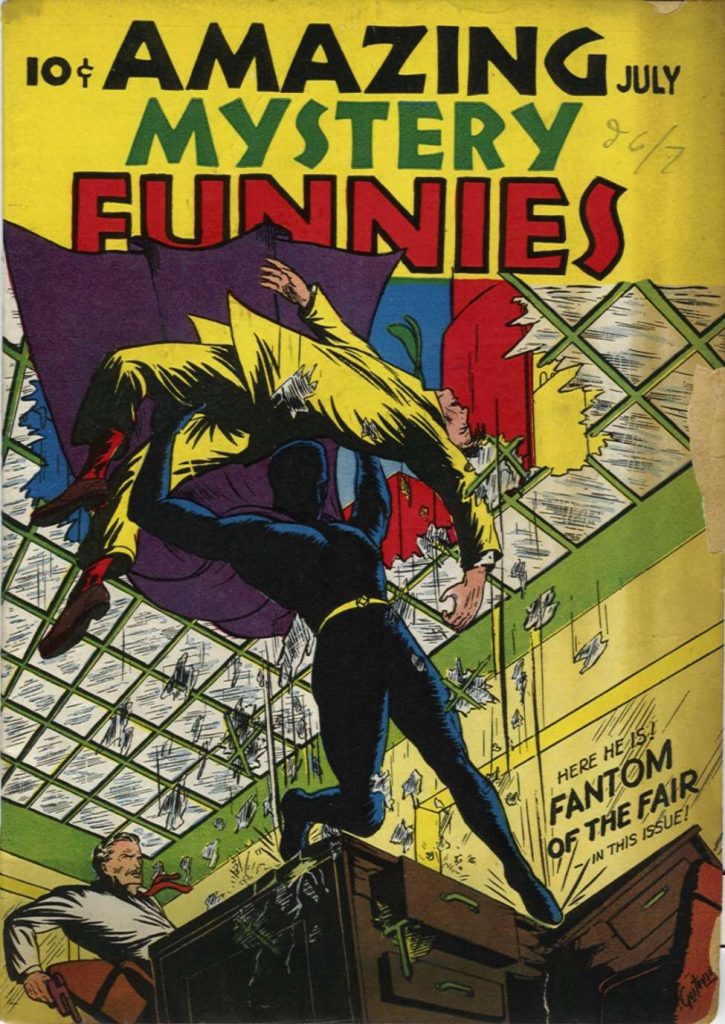 The Fantom of the Fair, another latecomer to the group, showed up in 1939. He was particularly concerned with the threat of virus transmission at the 1939 New York World's Fair; in fact, he lived in a subterranean chamber under the Fair, and traveled via secret trap doors placed around the fairgrounds. (His powers: Stealth, teleportation, emotional manipulation.) How did he spot people who weren't doing their best to flatten the curve? He kept an eye on things aboveground via his "crimetracking televisor" — an idea later borrowed by Walt Disney, another master of emotional manipulation, for his theme parks. Long before the Black Panther came along, the Fantom wore a black bodysuit with a black mask over his entire face. Very safe!
Publisher: Centaur Publications
First appearance: Amazing Mystery Funnies vol. 2, #7 (July 1939)
SIMILAR HILOBROW SERIES: MEET THE L.I.S. | 4CP FRIDAY — themed comic-book detail galleries | CHESS MATCH — a gallery | COMICALLY VINTAGE | DC — THE NEW 52 | FILE X — a gallery | KIRB YOUR ENTHUSIASM — 25 writers on 25 Jack Kirby panels | SECRET PANEL —Silver Age comics' double entendres | SKRULLICISM