Diamond Age 75 (57)
By: Joshua Glenn
April 12, 2020
One in a series of posts about the 75 best science fiction novels published during the genre's Diamond Age era (from 1984–2003, according to HILOBROW's periodization schema). For Josh Glenn's complete Diamond Age Sci-Fi 75 list, click here.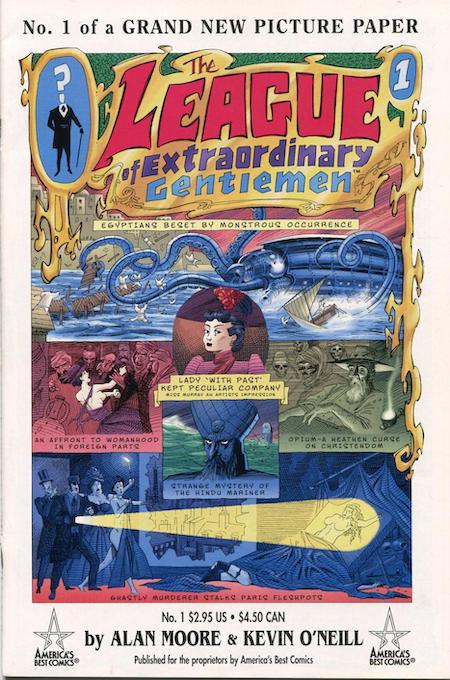 Alan Moore and Kevin O'Neill's The League of Extraordinary Gentlemen, Vol. 1 (1999–2000).
When Mina Harker, whom readers of Dracula will recognize as Bram Stoker's brave, perspicacious, thrice-bitten heroine, is recruited by British Intelligence agent Campion Bond (James Bond's grandfather), she is tasked with recruiting other Victorian-era superheroic individuals — (Jules Verne's) Captain Nemo, (H. Rider Haggard's) Allan Quatermain, (Robert Louis Stevenson's) Dr. Jekyll/Mr. Hyde, (H.G. Wells's) Invisible Man — to protect the peace and safety of the British Empire, c. 1898. Which are threatened by (Sax Rohmer's) Fu Manchu, who has stolen antigravity material from (Wells's) Professor Cavor, with which he plans to build an airship that will pummel London into submission. M., to whom the League reports, turns out to be one of of the greatest Victorian-era villains, with nefarious plans of his own. It's a fun, fast-paced metatextual adventure perfectly illustrated by Kevin O'Neill, who balances the whimsical with the sordid and violent. Moore, as ever, requires us to reconsider what it means to be a hero — with this agonistic crew of troubled, sociopathic misfits. This is rich stuff — so many literary references, often obscure. This reader is grateful to Jess Nevins, author of the Encyclopedia of Fantastic Victoriana, who has provided copious annotations.
Fun facts: The first volume of stories has been followed, thus far, by Volume II (2002–2003), Black Dossier (2007), Volume III: Century (2009–2012), Nemo Trilogy (2013–2015), and Volume IV: Tempest (2018–2019). Elements of Volume I were used in a loosely adapted 2003 feature film — about which the less said, the better.
***
DIAMOND AGE SCI-FI at HILOBROW: William Gibson | Bruce Sterling | Margaret Atwood | Ann Nocenti | Frank Miller | Alan Moore | Octavia E. Butler | Iain M. Banks | Grant Morrison | Neal Stephenson | Jonathan Lethem | Charles Burns | China Miéville.
JOSH GLENN'S *BEST ADVENTURES* LISTS: BEST 250 ADVENTURES OF THE 20TH CENTURY | 100 BEST OUGHTS ADVENTURES | 100 BEST RADIUM AGE (PROTO-)SCI-FI ADVENTURES | 100 BEST TEENS ADVENTURES | 100 BEST TWENTIES ADVENTURES | 100 BEST THIRTIES ADVENTURES | 75 BEST GOLDEN AGE SCI-FI ADVENTURES | 100 BEST FORTIES ADVENTURES | 100 BEST FIFTIES ADVENTURES | 100 BEST SIXTIES ADVENTURES | 75 BEST NEW WAVE SCI FI ADVENTURES | 100 BEST SEVENTIES ADVENTURES | 100 BEST EIGHTIES ADVENTURES | 75 BEST DIAMOND AGE SCI-FI ADVENTURES | 100 BEST NINETIES ADVENTURES (in progress) | 1994 | 1995 | 1996 | 1997 | 1998 | 1999 | 2000 | 2001 | 2002 | 2003 | NOTES ON 21st-CENTURY ADVENTURES.