Diamond Age 75 (45)
By: Joshua Glenn
January 19, 2020
One in a series of posts about the 75 best science fiction novels published during the genre's Diamond Age era (from 1984–2003, according to HILOBROW's periodization schema). For Josh Glenn's complete Diamond Age Sci-Fi 75 list, click here.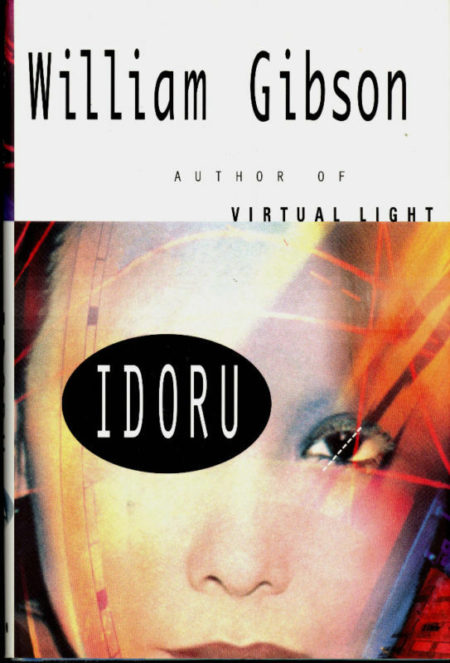 William Gibson's Bridge adventure Idoru (1996).
The sequel to 1993's Virtual Light removes us from San Francisco. Fourteen-year-old Chia (as in Chia Pet) McKenzie, a superfan of the rock duo Lo/Rez, is selected by her fanclub to travel to Tokyo. There, she meets with the club's Tokyo chapter, in hopes of learning what's going on with the rock star Rez… who claims that he plans to marry Rei Toei, an artificial intelligence which presents itself as a female pop-star hologram. Chia never truly groks Rez's bizarre, impossible marriage scheme, and neither do we; however, Rei — the titular idoru (Japanglish for idol) is one of Gibson's more entertaining and fascinating characters. En route, Chia gets mixed up with scary members of the Russian Mafia, who are attempting to get their hands on a highly illegal nanotech assembler; she is assisted in her escape efforts by Masahiko, a young otaku (computer geek) who is a member of the "Walled City," a virtual community of hackers with impressive skills. We also encounter "netrunner" Colin Laney, a more typical Gibson protagonist; he is a Friday-esque mutant able to intuitively recognize patterns of probability when surfing massive amounts of data via virtual-reality goggles. Shinya Yamazaki, an existential sociologist, and Keith Blackwell, head of Rez's security team, are also entertaining characters. All parties eventually converge at a Tokyo love hotel, where otaku hackers and Lo/Rez fangirls team up — online and off — in order to save Rei Toei, and the day.
Fun facts: In a 1999 interview, Gibson remarked: "Laney's node-spotter function is some sort of metaphor for whatever it is that I actually do. There are bits of the literal future right here, right now, if you know how to look for them. Although I can't tell you how; it's a non-rational process."
***
DIAMOND AGE SCI-FI at HILOBROW: William Gibson | Bruce Sterling | Margaret Atwood | Ann Nocenti | Frank Miller | Alan Moore | Octavia E. Butler | Iain M. Banks | Grant Morrison | Neal Stephenson | Jonathan Lethem | Charles Burns | China Miéville.
JOSH GLENN'S *BEST ADVENTURES* LISTS: BEST 250 ADVENTURES OF THE 20TH CENTURY | 100 BEST OUGHTS ADVENTURES | 100 BEST RADIUM AGE (PROTO-)SCI-FI ADVENTURES | 100 BEST TEENS ADVENTURES | 100 BEST TWENTIES ADVENTURES | 100 BEST THIRTIES ADVENTURES | 75 BEST GOLDEN AGE SCI-FI ADVENTURES | 100 BEST FORTIES ADVENTURES | 100 BEST FIFTIES ADVENTURES | 100 BEST SIXTIES ADVENTURES | 75 BEST NEW WAVE SCI FI ADVENTURES | 100 BEST SEVENTIES ADVENTURES | 100 BEST EIGHTIES ADVENTURES | 75 BEST DIAMOND AGE SCI-FI ADVENTURES | 100 BEST NINETIES ADVENTURES (in progress) | 1994 | 1995 | 1996 | 1997 | 1998 | 1999 | 2000 | 2001 | 2002 | 2003 | NOTES ON 21st-CENTURY ADVENTURES.