MOVIE OBJECTS (5)
By: Lynn Peril
April 13, 2020
One in a series of 25 nonfiction narratives about significant objects spotted in movies. Presented to HILOBROW's readers by Project:Object.
*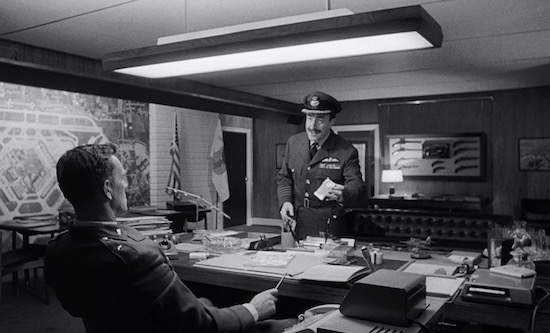 TRANSISTOR RADIO | DR. STRANGELOVE | d. STANLEY KUBRICK | 1964
A little over 15 minutes into Stanley Kubrick's hilarious yet terrifying Dr. Strangelove: Or How I Learned to Stop Worrying and Love the Bomb (1964), Group Captain Lionel Mandrake (Peter Sellers) reaches into a printer console and finds a transistor radio. Burpleson Air Force Base is under condition red, the 843rd Bomb Wing on its way to carry out a bombing run inside the Soviet Union. Mandrake is under orders from General Jack D. Ripper (Sterling Hayden) to impound all privately owned radios lest they be used to issue instructions to saboteurs.
Mandrake switches on the radio. Music blares from its tinny speaker, specifically the kind of uptempo fake rock and roll that early-to-mid 1960s orchestral combos incorporated into their setlists while waiting for what they thought of as a "teenage fad" to pass. Radio in hand, Mandrake heads for General Ripper's office. How can the U.S.A. be in a shooting war with the USSR if civilian radio is broadcasting as if nothing is wrong? But when confronted with this evidence, Ripper confesses he has no intention of recalling the bombers. He then tells Mandrake to make him "a drink of grain alcohol and rainwater — and help yourself to whatever you'd like." War is too important to leave to the politicians, says Ripper. Purity of bodily fluids must be maintained against the Commie threat.
Transistor radio technology was barely a decade old when Dr. Strangelove premiered. The first commercially produced transistor radio, the Regency TR-1, a joint production of Texas Instruments and Industrial Development Engineering Associates (I.D.E.A.), debuted in 1954. Three years later, Sony introduced the TR-63, a smaller, mass-produced model that took the American market by storm, aided by a wave of baby-boom teenagers hungry for rock-and-roll. In 1963 alone, ten million transistor radios were sold in the United States.
Kubrick paid homage to the teen love affair with the transistor radio in an earlier film. When Humbert Humbert (James Mason) meets the bikini-clad Lolita (Sue Lyon) in Kubrick's 1962 adaptation of Vladmir Nabokov's novel, the soundtrack's theme song ("Lolita Ya Ya") plays through her radio. "Darling, turn that down, please!" says Lolita's doomed mother (Shelley Winters).
Of course, the transistor radio in Dr. Strangelove was more than mere window dressing. Without it, Mandrake will never know that what appears to be a mere SNAFU is rapidly deteriorating into a FUBAR with global consequences, thanks to an unstable commanding officer.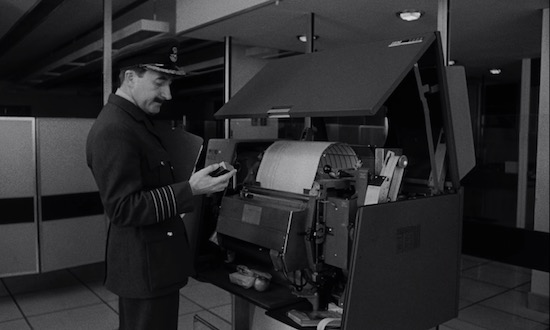 *
MOVIE OBJECTS: INTRODUCTION | Ramona Lyons on EYE OF THE SERPENT (CONAN THE BARBARIAN) | Faythe Levine on BEDKNOB (BEDKNOBS AND BROOMSTICKS) | Gerald Peary on CUP OF COFFEE (THE BIG HEAT) | Christopher Orr on TOM'S HAT (MILLER'S CROSSING) | Lynn Peril on TRANSISTOR RADIO (DR. STRANGELOVE) | Whitney Bowers on DUCT TAPE (NOW AND THEN) | Kio Stark on CANDLE (DEBBIE DOES DALLAS) | Tom Roston on CALCULATOR WATCH (BREAKFAST CLUB) | Miranda Mellis on LIMOUSINE (MELANCHOLIA) | Carolina A. Miranda on HAUNTED ACCORDION (THE WIND JOURNEYS) | Vanessa Berry on FIBREGLASS MARLIN (LOVE SERENADE) | June Thomas on CERAMIC DUCKS (A TASTE OF HONEY) | Madeline Ashby on LETTERS OF TRANSIT (CASABLANCA) | Dave Walker on ETTINAUER 226-XL (REAL LIFE) | Jonathan Lethem on SINGLE-JACK HAMMER (EARTH ABIDES) | Guy Trebay on STAMPS (CHARADE) | Annie Nocenti on PASSPORT (THE PASSENGER) | Tony Arcabascio on SHEEPSKIN COAT (BEAT STREET) | Alix Lambert on TYPEWRITER (MARY AND MAX) | John Sellers on WHITEBOARD (A QUIET PLACE) | Carlo Rotella on POWDERING CONE (REIGN OF TERROR) | Laura Miller on SEVERED EAR (BLUE VELVET) | Josh Glenn on CASSETTE TAPE (BREATHLESS) | Vicente Lozano on NOTEBOOK (WHERE IS THE FRIEND'S HOME?) | Jeff Malmberg on SPAGHETTI SAUCE (THE GODFATHER).
LOST OBJECTS (vol. 2): INTRODUCTION | Joe Yonan on MACRAMÉ ART (ill. Theo Ellsworth) | Ben Katchor on LUCITE CARRYING CASE | Debbie Millman on GLASS POODLE | Lydia Millet on ROCKY HORROR NOVEL (ill. Berta Valló) | Ben Greenman on WARHOL CAN (ill. Clara Selina Bach) | & 20 MORE.
FETISHES: INTRODUCTION | Josh Foer on DEATH MASK | Beth Lisick on MURDERED-OUT KFC BUCKET | Christina Couch on LEECH ACTION FIGURE | Kenneth Goldsmith on THEWLIS SOCK | Abby Rapoport on MAGNATILES | & 20 MORE.
FOSSILS: INTRODUCTION | Allegra Huston on SKATAWAY JACKET | Kevin Obsatz on HOMEMADE NUNCHUKS | Ian Bogost on DESKTOP TELEPHONE | Jeff Lewonczyk on CHA-CHA JACKET SCRAP | Kelly Horan on VOLVO KEY | & 20 MORE.
FLAIR: INTRODUCTION | Cliff Kuang on ROLEX DATEJUST | Ethan Zuckerman on LAPTOP STICKERS | Ann Shoket on LEATHER JACKET | Kembrew McLeod on KEMBREW MERCH | Paola Antonelli on MERMAID TEARS | & 20 MORE.
LOST OBJECTS (vol. 1): INTRODUCTION | Kate Bernheimer on MULLET WIG (ill. Amy Evans) | Dan Piepenbring on COLOGNE (ill. Josh Neufeld) | Doug Dorst on STRATOCASTER (ill. John Holbo) | Paul Lukas on VANILLA BEAN (ill. Allison Bamcat) | Mimi Lipson on DODGE DART (ill. Mister Reusch) | & 20 MORE.
ILLICIT OBJECTS: INTRODUCTION | Kio Stark on PEEPSHOW TOKEN | Sari Wilson on TOMBSTONE PARTS | Annalee Newitz on CAR-BOMB REMNANT | Tito Bottitta on MOONINITE DEVICE | Eric Bennett on DIRTY MAGAZINE | & 20 MORE.
TALISMANIC OBJECTS: INTRODUCTION | Veda Hille on CROCHET SHEEP | Gary Panter on DINOSAUR BONES | Jami Attenberg on SELENITE CRYSTAL | Annie Nocenti on MINIATURE DICE | Wayne Curtis on CLOCK WINDING KEY | & 20 MORE.
POLITICAL OBJECTS: INTRODUCTION | Luc Sante on CAMPAIGN PAMPHLETS | Lydia Millet on PVC POLAR BEAR | Ben Greenman on MATCHBOX CAR | Rob Baedeker on PRESIDENTS PLACEMAT | L.A. Kauffman on WHEATPASTE POSTER | & 20 MORE.
SIGNIFICANT OBJECTS at HILOBROW: PROJECT:OBJECT homepage | PROJECT:OBJECT newsletter | PROJECT:OBJECT objects (Threadless shop — all profits donated to the ACLU) | POLITICAL OBJECTS series (1Q2017) | TALISMANIC OBJECTS series (2Q2017) | ILLICIT OBJECTS series (3Q2017) | LOST OBJECTS vol. 1 series (4Q2017) | FLAIR series (2Q2018) | FOSSIL series (4Q2018) | FETISHES series (2Q2019) | LOST OBJECTS vol. 2 series (4Q2019) | MOVIE OBJECTS series (2Q2020). ALSO SEE: SIGNIFICANT OBJECTS website | SIGNIFICANT OBJECTS collection, ed. Rob Walker and Josh Glenn (Fantagraphics, 2012) | TAKING THINGS SERIOUSLY, ed. Josh Glenn (Princeton Architectural Press, 2007) | TAKING THINGS SERIOUSLY excerpts.