This page lists my 100 favorite adventures published during the cultural era known as the Forties (1944–1953, according to HILOBROW's periodization schema). Although it remains a work in progress, and is subject to change, this BEST ADVENTURES OF THE FORTIES list complements and supersedes the preliminary "Best Forties Adventure" list that I first published, here at HILOBROW, in 2013. I hope that the information and opinions below are helpful to your own reading; please let me know what I've overlooked.
— JOSH GLENN (2019)
*
JOSH GLENN'S *BEST ADVENTURES* LISTS: BEST 250 ADVENTURES OF THE 20TH CENTURY | 100 BEST OUGHTS ADVENTURES | 100 BEST RADIUM AGE (PROTO-)SCI-FI ADVENTURES | 100 BEST TEENS ADVENTURES | 100 BEST TWENTIES ADVENTURES | 100 BEST THIRTIES ADVENTURES | 75 BEST GOLDEN AGE SCI-FI ADVENTURES | 100 BEST FORTIES ADVENTURES | 100 BEST FIFTIES ADVENTURES | 100 BEST SIXTIES ADVENTURES | 75 BEST NEW WAVE SCI FI ADVENTURES | 100 BEST SEVENTIES ADVENTURES | 100 BEST EIGHTIES ADVENTURES | 75 BEST DIAMOND AGE SCI-FI ADVENTURES | 100 BEST NINETIES ADVENTURES | NOTES ON 21st-CENTURY ADVENTURES.
---
FORTIES ADVENTURE
---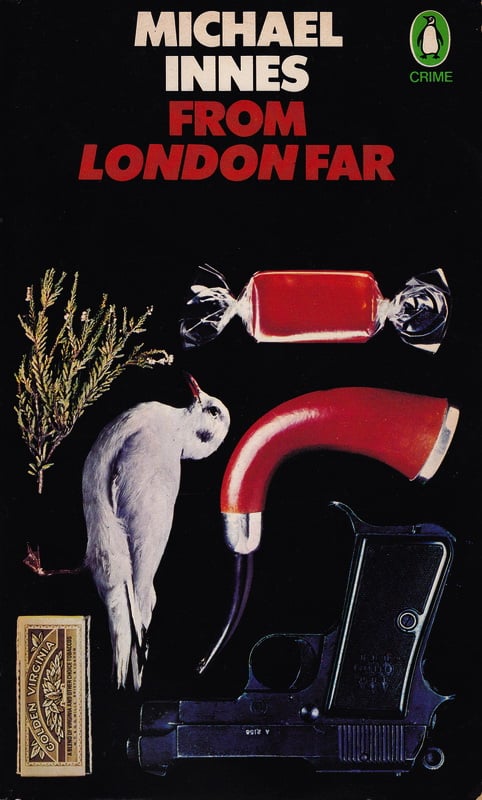 In his 1944 treatise The Condition of Man, Lewis Mumford (inadvertantly) offers a prescient critique of the following decade's adventure literature: "The last thirty years have been witnessing the active disintegration of Western civilization…. Everywhere the machine holds the center and the personality has been pushed to the periphery. … We can no longer live, with the illusions of success, in a world given over to devitalized mechanisms, de-socialized organisms, and depersonalized societies: a world that had lost its sense of the ultimate dignity of the person." Adventure published between 1944 and 1953 is anxious. This is the era during which hardboiled gives way to noir — that is, gives way to adventure in which the protagonist is usually not a detective, but instead a victim, a suspect, or even a perpetrator.
Buchan-esque romantic adventure mostly returns, during this period, to the ghetto of children's literature and fantasy from which he'd helped rescue it three decades earlier. This development was good news for the era's best children's adventures — E.B. White's Stuart Little, Robert Lawson's The Fabulous Flight, Astrid Lindgren's Pippi Longstocking, Eric Linklater's The Wind on the Moon, Robert Heinlein's Red Planet — which are as smart, funny, and exciting as it gets. Fantasy also entered a Golden Age during the Forties: J.R.R. Tolkien's The Lord of the Rings, C.S. Lewis's Narnia series, Poul Anderson's Three Hearts and Three Lions, Mervyn Peake's Gormenghast series, Henry Kuttner's The Dark World, Maurice Richardson's The Exploits of Engelbrecht.
The cynical, un-Buchanesque adventure (e.g., by Graham Greene, Jim Thompson, George Orwell, Kenneth Fearing, Patricia Highsmith, Mickey Spillane) published during this period is bracing stuff — I recommend it highly. But even more fascinating and entertaining are the era's Buchan-esque yet ostensibly anti-romantic adventures, many of them by Scots: Helen MacInnes's The Unconquerable, Hammond Innes's The White South (et al.), Geoffrey Household's A Rough Shoot and A Time to Kill, and particularly Michael Innes's From London Far, The Journeying Boy, and Operation Pax. These authors were engaged in a tightrope act that provides thrills for highbrows and lowbrows.
---
1944
---
Frank Robbins's action-adventure comic strip Johnny Hazard (1944–1977). During the 1930s and '40s, several long-running aviation action-adventure strips got their starts in America's newspapers — including Hal Forrest's Tailspin Tommy, Roy Crane's Buz Sawyer, Milton Caniff's Steve Canyon, and John Terry's Scorchy Smith. Noel Sickles took over Scorchy Smith in 1933, and revolutionized the medium thanks to his impressionistic style, cinematic compositions, and chiaroscuro-like use of contrasts of light to achieve a sense of volume; he influenced not only Caniff, but Frank Robbins, who took over Scorchy Smith in 1939. In 1944, Robbins launched Johnny Hazard, about an Army Air Corps flyer dealing with Japanese occupying forces in China — which put his strip in direct competition with Caniff's Terry and the Pirates. (Caniff's strip had better characters and plot lines; but there are those who argue that Robbins's art work was bolder, more dramatic than Caniff's.) Johnny Hazard was launched on June 5, 1944 — one day before D-Day; so the premise of the strip (which kicks off with an exciting prison-camp escape) had to be quickly retooled. After the war, Hazard became a civilian flyer, then a secret agent. For over thirty years, every single day, the two-fisted Hazard confronted spies, smugglers, crooks, sci-fi menaces, and other period-appropriate villains. Not only did his antagonists change with time, so did Hazard — by the early 1950s, he was gray at the temples; was Reed Richards's look modeled after his? Fun facts: Robbins began writing Batman comics in 1968; he helped create the character Man-Bat, among others. In 1975, he and Roy Thomas started the Marvel title The Invaders; he co-created the characters Union Jack and Spitfire. He's also known for his work on Captain America and Ghost Rider.

*

John Dickson Carr's Dr. Gideon Fell crime adventure Till Death Do Us Part. Dick Markham, a playwright who specializes in psychological thrillers, has just announced his engagement to a beautiful but mysterious newcomer, Lesley Grant — much to the chagrin of his former girlfriend, Cynthia. At a village bazaar, Lesley visits a fortune teller; the turbaned man, who happens to be Sir Harvey Gilman, Home Office police pathologist, says something that causes her to flee his tent… and then, to make matters worse, while he is talking to Markham, Lesley accidentally shoots and wounds Gilman. Markham discovers, from the injured Gilman, that Lesley has been married twice and engaged once more — and that all of these men have died of prussic acid poisoning while behind locked doors. And then Gilman dies of prussic acid poisoning, while locked safely in his cottage. Things look bleak for Lesley, until the obese, eccentric detective Dr. Gideon Fell shows up. What is the significance of a box of drawing pins found scattered beside the corpse? Who fired a rifle into the room in the early hours of the next morning? Who killed Gilman, why, and how did they lock the door? Or was it suicide? The chapters are short and gripping, and there are plenty of red herrings and false trails. Fun facts: Dr. Fell is considered to be Carr's major creation, one of the great successors — besides Father Brown and Nero Wolfe — to Sherlock Holmes. This is the character's 15th outing; Carr considered it one of his best impossible crime novels.

*

Enid Blyton's children's adventure The Island of Adventure. The prolific English children's writer Enid Blyton is best remembered for her Famous Five and Secret Seven series; The Island of Adventure is the first in what would become Blyton's Adventure series. Here, orphaned Jack and Lucy-Ann move in with Philip and Dinah Mannering, who live with their difficult uncle and aunt at their massive but rundown home on the English coast. Philip and Jack, both in their early teens, are amateur naturalists: the former an animal lover, the latter a birder whose pet cockatoo, Kiki, can repeat a large number of phrases. Dinah and Lucy-Ann, who are younger, are also — like all of Blyton's female characters — less well-rounded. Strange lights on the mysterious Island of Gloom draw the four into an adventure down a dark well, inside an abandoned copper mine, and through a network of secret undersea tunnels. A mysterious grownup, the balding Bill Smugs, plays an important role in their escapade, as well. Today, Blyton is rightfully scorned by librarians and others as a peddler of formulaic plots, casual sexism and racism, and jingoistic attitudes towards non-English characters, every single one of whom is untrustworthy; still, along with Arthur Ransome, she helped popularize the idea that unsupervised kids can be resourceful and daring — so let them roam. Fun facts: The first edition of The Island of Adventure was illustrated by Stuart Tresilian. Blyton reportedly wrote each of her many — over 700! — books in less than a week; in 1944 alone, she also published the Famous Five installment Five Run Away Together, the Five Finder-Outers installment The Mystery of the Disappearing Cat, and over 20 other books. The Adventure series were adapted for New Zealand TV in 1996.

*

Samuel Shellabarger's historical adventure Captain From Castile. An epic tale, set against the early 16th-century backdrop of the Spanish Inquisition and Hernán Cortés's colonization of the Americas. When the aristocratic Vargas family falls afoul of Diego de Silva, a corrupt member of Spain's ruling elite, young Pedro de Vargas flees for Mexico to serve under the upstart General Cortés. (But not before we're treated to horrific scenes of prisoners of the Inquisition — including Pedro's sister — tortured on the rack.) Along for the ride are Pedro's friends are fellow fugitive Juan Garcia and Catana Perez, tavern girl turned brave adventurer. The political intrigue continues in the New World, where the Spanish governor of the Indies and Cortés are at odds over both the spoils of conquest and control of the conquered lands. Shellabarger doesn't shrink from describing how thousands of Indians are mown down by the bloody swords and pikes of the Spaniards; Pedro, by the way, doesn't question the morality of any of this — though earlier in the novel, he'd helped an Indian slave escape from his Spanish master. Shellabarger's evocation of the Aztec civilization is vivid; the reader mourns its passing, even if our protagonist does not. After many adventures, the now-wealthy Pedro returns to Spain — like Odysseus, or Dantès — to reclaim his stolen land, and to reconnet with Luisa, beautiful daughter of the local marquis. But you can't go home again; Pedro is a New Worlder, now. Although there are too many peripheral characters, and although the action flags when Pedro and Cortés's army are encamped in Tenochtitlan, overall this is a gripping yarn. Fun facts: Not wanting to undermine the credibility of his scholarly works by publishing fiction, Shellabarger used pen names for his novels — until this one. The first half of Captain from Castile was adapted as a 1947 movie starring Tyrone Power, Jean Peters, and Cesar Romero. The movie was shot on location in Michoacán, Mexico.

*

Robert Graves's mythical adventure The Golden Fleece (later retitled Hercules My Shipmate). Early Greece — peaceful, intensely creative, woman-centric — venerated a female deity with three aspects (maiden, mother, crone), the so-called Triple Goddess; then, or so Graves informs us, along came patriarchal worshippers of Zeus and the Olympic deities. When the "golden fleece" — some sort of object sacred to Zeus — is stolen by worshipers of the Triple Goddess, a group of Greek princes and hotshots assembles to win it back. Among the dissensual crew members of the Argo are champion boxers, a champion archer, and a champion liar, sweet-singing Orpheus, and the powerful but surly, dim-witted Hercules. None of them particularly like the sometimes energetic, sometimes sulky Jason, but the pretty boy's ability to make women fall in love with him is regarded as a particularly valuable trait. As he'd previously done in his novel I, Claudius (1934), a history of Rome from Julius Caesar's assassination in 44 BC to Caligula's assassination in 41 AD, Graves simultaneously demystifies myth and legend (centaurs and satyrs, for example, are clans with totemic horses and goats) and puts his own imaginative spin on the story. It's not always an easy read — there are some long-winded speeches, and when Hercules leaves the crew, we aren't particularly interested in his solo adventure — but it's a remarkable yarn. There are too many Argonauts to keep straight, but Graves portrays them as human, all too human (obsessed with food and women, fearful of vengeful ghosts and gods), which is entertaining and insightful. Fun facts: Graves won international acclaim in 1929 with the publication of his WWI memoir. After the war, he was granted a classical scholarship at Oxford and subsequently went to Egypt as the first professor of English at the University of Cairo. His 1948 nonfiction book, The White Goddess, covers the same territory as The Golden Fleece.

*

Christianna Brand's Inspector Cockrill crime adventure Green for Danger (in the US: Danger List). At a military hospital on England's southeastern shore, during the Germans' strategic bombing campaign of England, an elderly man — the local postman and air-raid warden — dies of a reaction to anaesthesia. An accident? Apparently not, since the head nurse is killed shortly after. Inspector Cockrill of the Kent County Police, in his second outing, has seven suspects: Gervase Eden, doctor to the hypochondriacal rich and fatally attractive to women; Jane Woods, a dress designer and reformed party girl; Esther Sanson, who sees nursing as an opportunity to escape from her hypochondriac mother; Mr. Moon, an elderly local surgeon; Dr. Barnes, an anaesthetist who's already lost one patient; Frederica Linley, who wants to avoid her father's awful wife; and Sister Marion Bates, who just wants to meet a nice officer. It's an intricately plotted detection puzzle; Cockrill must unearth his suspects' hopes and fears, friendships and loyalties, past and present love affairs. After another murder attempt leaves a nurse dangerously ill, Cockrill re-stages the operation in order to unmask the murderer. It's all very British: Despite the murder and bombing, life goes on, not without some humor. Fun facts: Brand's husband worked in a military hospital during WWII, so there's a lot of realistic detail to the setting. The book was adapted as a British movie in 1946, with Alastair Sim as the detective; it is regarded by film historians as one of the greatest screen adaptations of a Golden Age mystery novel. Cockrill, who made his debut in Heads You Lose (1941), would go on to star in five subsequent books.

*

Craig Rice's crime adventure Home Sweet Homicide. The three Carstairs children — 14-year-old Dinah, 12-year-old April, and 10-year-old Archie — are near-witnesses to a murder that takes place next door. Their widowed mother, Marian, is a mystery author, and the children decide that she must solve the case, as a publicity opportunity! She's not interested, so the children decide to solve the case on her behalf, and give her the credit. They hide the chief suspect out in Archie's playhouse, throw the cops off the trail, employ investigation techniques that they've gleaned from their mother's books… and, along the way, decide that a handsome police detective would make a terrific stepfather. It's a light-hearted mystery: the pace is antic, the patter is snappy, the kids don't always see eye to eye. Marian is a smart, strong woman who's also a distracted writer and sometimes neglectful mother; although she, too, is attracted to the handsome cop, she insists that he respect her and the kids. "Craig Rice" was the pen name of Georgiana Craig; it has been suggested that the character of Marian was not-so-loosely based on the author. Fun facts: A mystery writers' mystery, Home Sweet Homicide appears on many lists of the best mystery novels of the first half of the 20th century. It was adapted as a 1946 movie starring Peggy Ann Garner (A Tree Grows in Brooklyn), cowboy actor Randolph Scott, character actor James Gleason, and a 10-year-old Dean Stockwell. The book was a departure for the author, who first became well-known for screwball crime stories in which three profane, hard-drinking detectives solve brutal murders in between binges.

*

EC Comics (1944–c. 1955). In 1947, Bill Gaines inherited Educational Comics from his father, who'd more or less invented the comic book format. Soon enough, he jettisoned the company's educational titles, hired the talented writer and artist Al Feldstein, and began publishing horror fiction, crime fiction, satire, military fiction, dark fantasy, and sci-fi titles such as The Crypt of Terror/Tales from the Crypt (1950–1955), The Vault of Horror (1950–1955), Weird Fantasy (1950–1953), Weird Science (1950–1953), Two-Fisted Tales (1950–1955), and Frontline Combat (1951–1954); and short-lived titles such as Impact, Aces High, and Psychoanalysis. Gaines was an unapologetic publisher of pulp fiction, but he and Feldstein encouraged talented artists such as Wallace Wood, Reed Crandall, Johnny Craig, George Evans, Graham Ingels, Jack Davis, Bill Elder, Joe Orlando, Al Williamson, and Frank Frazetta to develop distinctive styles; and the stories, though violent and gory, were often socially conscious and progressive about themes such as racial equality, war, nuclear disarmament, and environmentalism. After the 1954 publication of Seduction of the Innocent and a Congressional hearing on the role of comics in juvenile delinquency, EC's distributor went bankrupt. Gaines dropped all of EC's titles, except one: Mad, which under Al Feldstein's editorship became one of the most popular and influential humor magazines of all time. Fun facts: As Fantagraphics founder Gary Groth puts it: "In the impoverished cultural context of comics publishing at the time, the EC line was an astonishing achievement; Gaines's EC came as close as a mainstream comics publisher could to being the comics equivalent of Barney Rossett's Grove Press. [Many of their stories] were fiercely honest, politically adversarial, visually masterful, and occasionally formally innovative."

*

Helen MacInnes's WWII espionage-romance adventure The Unconquerable (aka While We Still Live). Sheila Matthews, a young British woman, spends the summer of 1939 in Poland — to figure out whether she truly loves her Polish beau, with whose family she's staying. Although she doesn't figure out the answer to that one, she does fall in love with the man's family. So when Germany invades in September, and lays siege to Warsaw — the German occupation would continue until near the end of the war, in 1945 — Sheila sticks around. One comes away with a vivid impression of the seige… and of the valor of the Polish people during it. Once the Germans arrive, Sheila is mistaken for Madalena Koch, a look-alike who (it turns out) is a German agent… and winds up working for the invaders, while passing along secrets to the Polish resistance. Who let her know that her father, who she'd never known, was a Polish spy killed in WWI. Neither side entirely trusts her — so when she is pursued by a German counter-intelligence officer through the forest, Sheila is more or less on her own. There are perhaps too many dramatic conversations and speeches, for many readers' taste, but MacInnes's admiration for Poland's people — and her concern for their plight, as of the time of the novel's writing — is heartwarming. Eventually, Sheila joins a guerrilla group and falls in love; Diane Keaton's "Erno" scenes, in Sleeper, poke fun at this, I think. Fun facts: MacInnes, who was born in Scotland, immigrated to the United States in 1937, where her husband, Gilbert Highet, taught at Columbia while working as a British intelligence agent. Highet's work for MI6, in addition to MacInnes's research and traveling, made The Unconquerable such an intimate depiction of the Polish resistance that some reviewers thought she was leaking classified information. Serialized at HILOBROW in 2014–2015.

*

Clifford D. Simak's City (1944–51; as a book, 1952) This Stapleton-Like epic surveys a millennium or so of humankind's future history — from our abandonment of cities in favor of a peaceful, pastoral way of life, to our increasing reliance on robots, to our singularity-ish abandonment of our human forms for one better suited to a blissful, creaturely life on Jupiter (or, for those who choose to remain on Earth, a virtual reality-like cryogenic hibernation). Along the way, we endow our faithful canine companions with the ability to communicate telepathically, they become the dominant species on Earth… and it is they who narrate the semi-mythical story of human ("webster," in dog-speak) evolution. There's so much more, too: ants evolve and threaten to take over the world; dogs develop the ability to perceive alternate dimensions; mutant geniuses who roam the wilderness; not to mention Martian philosophy. Fun fact: The eight interconnected stories that form this "fix-up" novel were published between 1944 and 1951 in the pulp magazines Astounding and Fantastic Adventures.
---
1945
---
Note that 1945 is, according to my unique periodization schema, the second year of the cultural "decade" know as the Nineteen-Forties. The transition away from the previous era (the Thirties) begins to gain steam….
The years 1943 and 1944 were cusp years between the eras we think of as the Nineteen-Thirties and Forties; by '45 the Forties were fully underway, building steam as the era headed towards its 1948–1949 apex. In the best adventure novels of 1945, we find few relics of the Thirties.
E.B. White's children's fantasy adventure Stuart Little. A mouse born to a human family races a sailboat in Central Park, gets shipped out to sea in a garbage can, and sets out — several years before Kerouac's On the Road — on a cross-country odyssey. The book was criticized, at the time, by the New York Public Library's influential children's lit expert for being nonaffirmative, inconclusive, and unfit for kids.

*

Murray Leinster's science fiction adventure First Contact. A novella, published in Astounding Science Fiction, and retroactively awarded a Hugo Award (in 1996). When a scientific expedition sent to the Crab Nebula meets an alien crew of astronauts on a similar mission of exploration, neither team is sure how to react. While both crews are eager to acquire the others' technology, and to establish a mutually beneificial relationship, they're mutually suspicious, too. Fun fact: Leinster coined the phrase "first contact."

*

Helen MacInnes's prison-break adventure Horizon. Although not quite as exciting and satisfying as her best-known novels from the same era, Horizon is — like Above Suspicion, Assignment in Brittany, and While Still We Live — a suspenseful story about an Allied agent operating in Europe against the Nazis. Freed from an Italian prison camp, British soldier Peter Lennox joins a band of resistance fighters helping to pave the way for a crucial Allied push. After an action-packed first chapter or two, the book slows down… in an interesting way, one which demonstrates how much waiting is involved in espionage work, and how taxing it is.

*

C.S. Lewis's dystopian science fiction adventure That Hideous Strength. Operating under the influence of Olaf Stapledon and David Lindsay, before he wrote The Chronicles of Narnia, Oxford don C.S. Lewis wrote a trilogy of theological science fiction yarns. That Hideous Strength, in which N.I.C.E., an ostensibly scientific institute, turns out to be a front for demonic entities plotting to ravage the Earth (if they can just locate and possess the body of Merlin, the Arthurian enchanter who lies in suspended animation), is the series' final installment.

*

C.S. Forester's historical sea-going adventure Commodore Hornblower. Published in the UK as The Commodore. In 1812, Horatio Hornblower — protagonist of a long-running series of novels and stories (1937–67) — is put in command of a squadron and sent to the Baltic; he is tasked with bringing Russia into the war against Napoleon. Using naval mortars, he destroys a French ship, then defends Riga against a besieging French force. Tsar Alexander I and Carl von Clausewitz make appearances. Fun fact: Hornblower's implied sexual encounter with a Russian Countess caused controversy when the story first appeared in the Saturday Evening Post.

*

George Orwell's dystopian talking-animal adventure Animal Farm. After the pigs Snowball and Napoleon lead a revolution against the drunken farmer Mr. Jones, they rename their home Animal Farm — a worker's collective whose creed is "All animals are equal." However, Napoleon and Snowball struggle for preeminence. Napoleon seizes power, then purges the farm of his rival's supporters; he also begins to enrich himself and his cronies. Eventually, Napoleon decrees that "All animals are equal, but some animals are more equal than others." The author was writing not an anti-utopian satire of the Stalin era, but rather an anti-anti-utopian lament for the missed opportunity offered by the Russian Revolution of 1917.

*

Dino Buzzati's talking-animal adventure The Bears' Famous Invasion of Sicily. One winter when their food supply runs out, the bears of Sicily descend from their mountain and enter into a pitched battle with the forces of the Grand Duke of Sicily. The bears capture the capital city… where their king, Leander, discovers his long-lost son, who was kidnapped and forced to perform for Sicilian audiences. All's well that ends well… except that King Leander is sorry to see his bear subjects become ever more human-like. After a coup attempt by his corrupted chamberlain, Leander urges the bears to leave the city behind forever and return to their simple, bear-ish way of life.

*

Nevil Shute's WWII adventure Most Secret. After France signs an armistice with Germany in June 1940, Commander Martin of Britain's Royal Navy oversees a quixotic commando mission intended to inspire the French populace. A small group of British officers, each of whom has experienced a terrible loss at the hands of the Germans, are armed with a terrible new weapon — a flame thrower — and sent on a series of daring raids, assisted by the crew of a Breton fishing boat, into occupied France. Written in 1942, this is a work of propaganda… but because it's written by Nevil Shute, it's emotionally engaging. We learn the back story of each character, and come to care about them; there's also a romance subplot between a hy scientist and an impressive young woman serving in the Wrens. Shute could be a bit of a mystic — think of An Old Captivity (1940), for example, or Round the Bend (1951) — and in this novel, there is a pronounced theme around the cleansing properties of fire. But you can ignore all of that, and enjoy the daring exploits of the crew of the Genevieve. Fun facts: During the war, Shute served in Royal Navy's Directorate of Miscellaneous Weapons Development, and the book is full of realistic details — everything from the mechanics of the flame thrower, and how it is fitted to the fishing boat, to bureaucratic interaction between services.

*

Ngaio Marsh's crime adventure Died in the Wool. In the 13th installment (of 32) in Marsh's classic Roderick Alleyn series, we find the gentleman detective Alleyn doing counterespionage work in New Zealand. Fifteen months after Flossie Rubrick, MP, one of the most formidable women in New Zealand, turns up at an auction packed inside one of her own sheep farm's bales of wool, Alleyn investigates. His detecting is founded upon stories told him by the chief witnesses in the case. Fun fact: Marsh is considered one of the five Golden Age "Queens of Crime" alongside Agatha Christie, Dorothy L. Sayers, Gladys Mitchell, and Margery Allingham.

*

Tove Jansson's fantasy adventure The Moomins and the Great Flood. The first installment in the Finnish author's beloved Moomintroll series! Moominmamma and Moomintroll search for Moominpappa; along the way, they adopt a little creature (later named Sniff), encounter a giant swamp serpent and an ant-lion, and join a group of Hattifatteners about to set sail. It's all very Nordic: When Moominmamma falls into despair, at one point, everyone else gets gloomier and gloomier. With the help of a marabou stork, they also find Moominpappa's house, which was carried away by a flood to a small valley — where they settle.

Also! I must mention the 1945 collection The Pocket Book of Adventure Stories, edited by Philip Van Doren Stern. I read it as an adolescent many times. Stories include: Hemingway's "Fifty Grand," Steinbeck's "Flight," Somerset Maugham's "Red," Richard Connell's "The Most Dangerous Game," and other classics.
---
1946
---
Maurice Richardson's science fantasy adventure The Exploits of Engelbrecht. Before the universe's imminent collapse, the Surrealist Sportsman's Club intends to see just how far they can stretch the concept of what a "game" is. In fifteen installments, we read about the SSC's ubermensch-like members (Charlie Wapentake, Nodder Forthergill, Willy Warlock, Badger Norridge, Salvador Dalí, Bones Barlow, Monkey Trevelyan, Lizard Bayliss), as well as its far-out contests and competitions. A rugby match between Mars and the human race, say; or a chess game whose pieces are boy scouts and atomic bombsl or hunting politicians and judges with hounds and ghouls. Engelbrecht, the dwarf boxer, is more of a club mascot than a protagonist… but thanks to his indomitable pluck and spirit he frequently gets the other, more cynical sportsmen, out of a pickle. Michael Moorcock was a fan of this book, and his Dancers at the End of Time stories owe a debt to Richardson's imagination. Fun fact: Published in the British magazine Lilliput, the stories were collected as a book in 1950. "English surrealism at its greatest," claimed J.G. Ballard. "Witty and fantastical, Maurice Richardson was light years ahead of his time."

*

Mervyn Peake's fantasy adventure Titus Groan. Hailed by exegetes as the first "mannerpunk" novel — that is, a fantastical comedy of manners, the protagonists of which are pitted not against monsters or an invading army, but against their neighbors and peers — Titus Groan chronicles the birth and early childhood of the heir to the remote, decaying earldom of Gormenghast. It also chronicles the rise of the treacherous kitchenboy Steerpike, within Castle Groan. Steerpike incites the earl's mad sisters to burn the castle's library, which leads to the earl's suicide. There's also a subplot involving a murderous rivalry between the earl's loyal servant, Flay, and the castle's tyrannical chef, Swelter. Like a David Lynch movie, though, Titus Groan is less about plot than it is about context, character development, and uncanny visuals. PS: Peake provided the book's amazing illustrations. Fun fact: Followed by Gormenghast (1950), and Titus Alone (1959). In Edmund Crispin's 1946 mystery novel The Moving Toyshop, the two sleuths play a game they call "Unreadable Books." ("'Tristram Shandy.' 'Yes. The Golden Bowl.' 'Yes.'") The game is interrupted just as one of the players says, "Titus…."

*

Hergé's Tintin adventure Le Temple du Soleil (Prisoners of the Sun). In this sequel to Les Sept Boules de Cristal (The Seven Crystal Balls), Tintin, Captain Haddock, and Snowy arrive in Peru, where they hope not only to solve the mystery of the comatose archaeologists, but also to free Professor Calculus — who has offended a lost race of Incans, by wearing a bracelet belonging to the mummified Incan king Rascar Capac, and who is going to be ritually executed — from his abductors. Narrowly avoiding death, on a number of occasions, Tintin and Haddock trail the kidnappers to a town in the Andes — where Tintin protects a local Indian boy from European bullies. The boy, Zorrino, agrees to lead Tintin and party to the Temple of the Sun, a surviving outpost of the Inca civilization hidden deep within the mountains. Captured by the Incas, Tintin and Haddock are sentenced to be burned to death along with Calculus. When Tintin learns about a forthcoming solar eclipse, he devises a daring plan to pull their fat out of the fire. Meanwhile, Thompson and Thomson search for them fruitlessly. Fun fact: Influenced by Gaston Leroux's 1912 novel, The Bride of the Sun. The story, Tintin's 14th adventure, first began serialization in German-occupied Belgium, in 1943; it was interrupted when the Allies liberated the country in 1943. The story was serialized in its entirety from 1946–48. Color album published in 1949.

*

Edgar P. Jacobs's Blake and Mortimer comics adventure Le Secret de l'Espadon (The Secret of the Swordfish, serialized 1946–1949; as three albums, 1950–1953). Blake is a British Intelligence agent, Mortimer a Scottish-born scientist. As their first adventure opens, World War III has begun! The Swordfish, a super-weapon that Mortimer has been developing, is in danger of being stolen by Olrik, head of security for an Asian superpower known as "the Yellow Empire" (sorry), which has launched an assault against the free world. Blake and Mortimer flee to a secret base in the Middle East — but they are shot down over Iran. With the help of one of Blake's former military comrades, the dashing Ahmed Nasir, the duo escape. Alas, Blake is injured, and Mortimer captured — but the plans are hidden. So Olrik tortures Mortimer, until he agrees to build them a super-weapon. Blake rescues Mortimer, and several British scientists… one of whom is a spy! Fun fact: The Secret of the Swordfish was published in Tintin magazine from the first issue in September 1946. Blake and Mortimer would have many other adventures. If Jacobs's drawing style looks familiar, it's because he assisted Hergé and several Tintin stories.

*

Edmund Crispin's Gervase Fen crime adventure The Moving Toyshop. The third novel featuring the Oxford don and amateur sleuth is also a sardonic inversion of the genre; Fen is constantly breaking the fourth wall and commenting on the action from the perspective of a literary critic. Poet Richard Cadogan, in Oxford on holiday, finds the body of an elderly woman in a toyshop, late one night. He is hit on the head, and when he awakens… not only has the old woman vanished, but so has the toyshop. Cadogan's frenemy, Gervase Fen (Fen's blurb for Cadogan's first book of poetry: "This is a book everyone can afford to be without") There's a pretty girl, a sinister lawyer, and three excellent chases. There are also a number of witty conversations between Fen and Cadogan, in which they comment on English lit from the past to the present day. Fun fact: The book's title comes from Pope's "The Rape of the Lock": "With varying vanities, from every part,/They shift the moving toyshop of their heart." Hitchcock appears to have lifted the climactic merry-go-round sequence, for his movie Strangers on a Train, from The Moving Toyshop.

*

Henry Kuttner's (and C.L. Moore's?) science-fantasy adventure The Dark World. Whisked — from the Pacific theatre, during WWII — through a dimensional portal into the Dark World, a fantastical version of Earth where mutants rule — Edward Bond finds himself possessing the body of the wizard Ganelon, head of a tyrannical coven of evil werewolves and witches. As is common in the science fantasy of the era, we find rational explanations for fantastical creatures such as the vampires and werewolves. Ganelon, meanwhile, is transported into Bond's body! Bond works to free the Dark World from Ganelon's tyranny… all the while persuading the coven's members that he is, indeed, Ganelon. (Hello, Star Trek's "Mirror, Mirror" episode.) There's a sacrifice-demanding entity known as Llyr, who is strongly reminiscent of a Lovecraftian elder god. Freydis, a good witch, leads a rebellion of forest-dwelling creatures against the coven. Things get even more complicated when Ganelon returns to the Dark World, his body now housing two distinct, and opposed, minds and personalities. Fun fact: The novel was first published in the July 1946 issue of Startling Stories. Ace issued the first book version in 1965. C.L. Moore and her husband, Kuttner, co-authored a number of books without attribution; sf scholars tend to agree that Moore should receive co-author credit for The Dark World.

*

William Lindsay Gresham's crime adventure Nightmare Alley. When card-magician Stan Carlisle joins a second-rate carnival staffed with hustlers and grifters, he wonders where the freak show's chicken-biting geek came from. As it turns out, a geeks usually begins as an alcoholic bum who pretends to drink chicken blood… but eventually the carnival's owner coerces him into actually biting the chickens' heads off. Carlisle and a beautiful carnie, Molly, leave the carnival in order to perform a psychic act on their own… until Stan decides to offer séance sessions with Molly as his medium. Stan then falls under the influence of Lilith, an unscrupulous psychiatrist, who persuades him to con a wealthy tycoon who longs to reconnect with his deceased sweetheart. Eventually, Stan is desperate and broke — and he winds up at a carnival… where there's an opening for a geek. Fun fact: Gresham attributed the origin of the story to conversations he had with a former carnival worker while they were serving in the Spanish Civil War. The book was adapted into an excellent 1947 movie, starring Tyrone Power and Joan Blondell.

*

Michael Innes's WWII crime/espionage adventure From London Far. In war-torn London, Richard Meredith, a mild-mannered scholar of classic literature, absent-mindedly murmurs a phrase that sounds like a smuggler's password… so he is ushered into an underground warehouse storing an incredible collection of stolen art treasures. Thus begins one of Michael Innes's more fanciful yarns — a sardonic inversion of John Buchan's oeuvre. Instead of going to the police, Meredith pretends to be a member of the smuggling gang, helps a kidnapped young woman escape from them, in an exciting chase along London roof-tops, then follows a lead to an isolated Scottish island, where a castle houses foreign agents. They escape from a sinking submarine… at which point the action leads to a Hearst-like mansion in California, the owner of which is the purchaser of all the stolen art works. Fun fact: Michael Innes was the pseudonym of John Innes MacKintosh (J.I.M.) Stewart. Graham Greene credited Innes's The Secret Vanguard as his inspiration for his own The Ministry of Fear… but I detect a connection with this novel, as well.

*




Kenneth Fearing's noir crime adventure The Big Clock. George Stroud, a disaffected wage slave who works for a Time-Life-esque magazine publisher in New York, is sleeping with his boss Earl Janoth's girlfriend on the sly. When she is found murdered, Janoth puts Stroud in charge of investigating the murder. Meanwhile, Stroud is the chief suspect. In a dual race against time, Stroud must both clear himself of murder charges and track down evidence to convict the real killer. His predicament reveals to him a deep existential insight: We are all trapped in an invisible prison: the "big clock" of the title is, in part, short-hand for bureacracy. But it's more than that, too: "This gigantic watch that fixes order and establishes the pattern for chaos itself," Fearing writes: "it has never changed, it will never change, or be changed." Fun fact: Adapted as a movie in 1948 by John Farrow; the film stars Ray Milland, Charles Laughton, Rita Johnson, George Macready, and Maureen O'Sullivan. Also, the book was loosely adapted as the 1987 thriller No Way Out, starring Kevin Costner.

*

Boris Vian's (as Vernon Sullivan) noir crime adventure J'irai cracher sur vos tombes (I Shall Spit on Your Graves). Lee Anderson, a light-skinned black man passing as white, sleeps with the sexy daughters of a plantation owner… who'd orchestrated the lynching of his brother! He turns the girls against one another and humiliates them, before revealing himself as a bloodthirsty killer. Think: A Clockwork Orange meets Quentin Tarantino's Django. It's a sadistic work of pornography, at one level; it's also a more layered, psychological exploration. The author was giving French readers what they wanted… and mocking them, too. Fun fact: Recently reissued! In 1946, Vian claimed that J'irai cracher sur vos tombes (I Shall Spit on Your Graves) was his translation of an underappreciated young black author, Vernon Sullivan, whose work was banned in America.
---
1947
---
Arthur Ransome's YA eco-adventure Great Northern? While sailing in the Outer Hebrides with the Swallows (the Walker family), Amazons (the Blackett sisters), his sister Dorothea, and Captain Flint, Dick Callum — the group's naturalist friend — observes what appear to be great northern divers, birds which have never been known to nest in Great Britain, guarding their nest. Dick inadvertently tips off a scoundrel who wishes to kill the birds and put them on display in a museum; however, when the Swallows and Amazons rally to protect Dick's birds, they clash with Scottish locals who believe they've been sent to spoil the deer-shooting. The adventure takes a Buchan-esque turn when the children are locked up by the local laird's gamekeepers. Later, Titty and Dick must recover the divers' eggs and return them to the birds' nest before they grow too cold. Fun fact: This is the twelfth (and final completed) book in the Swallows and Amazons series. Because the plot involves more excitement and violence than usual, some S&A exegetes classify this one as one of the series' metafictional installments; Ransome stated it was not.

*

Hammond Innes's treasure-hunt adventure Killer Mine (aka Run By Night). A somewhat formulaic effort — immediately after the war, during which he served with distinction in the Royal Artillery, Innes was publishing one to two books per year — but still a fun read. Jim Pryce, a British soldier who'd deserted his unit in Italy, smuggles himself back to his native Cornwall and — after surviving an attack that leaves him nearly dead — seeks work as a miner with a Captain Manack, who is opening up a "killer" mine where several women had died in the past… including Pryce's own mother. Pryce falls in love with a servant girl, discovers the truth about the mine (smugglers!), and must foil the villains before they kill again. Innes excels here, as always, with his anthropologically "thick" description of the local culture, not to mention the plot's various thrills and chills. Fun fact: Not to be confused with Mickey Spillane's tawdry 1965 crime novel Killer Mine, which has nothing to do with mining.

*

Mickey Spillane's crime adventure I, The Jury. This is the first of thirteen popular Mike Hammer stories by Spillane, a comic-book writer who knocked off his debut novel in 19 days. Hammer, a brutally violent New York private eye, is a rabidly anti-communist veteran of jungle warfare; he prefigures alt-right vigilante characters of later decades. In this convoluted story, Hammer's war buddy — he lost his arm saving Hammer's life — is murdered, and Hammer's investigation leads him to suspect his buddy's fiancée's psychiatrist. Who is a beautiful young woman — is she also part of a crime syndicate? Does she manipulate her patients into heroin addiction, then extort money from them? And who is Hal Kines — one of the psychiatrist's college students, or an arch-criminal who has had his face altered in order to pass as a much younger man? Also, will Hammer turn the psychiatrist over to the police — or just kill her? Fun fact: I, The Jury was graphically sexual and violent, for the time; it sold 6.5 million copies in the US alone. In "All The Way," the first episode of the sitcom Happy Days, Potsie gives Richie a copy of the book to study before his date with a girl with "a reputation."

*

William Pène du Bois's children's adventure The Twenty-One Balloons. Professor William Waterman Sherman, a retired schoolteacher, is traveling idly around the world via hot-air balloon, in 1883, when he crash-lands on the Indian Ocean island of Krakatoa… shortly before it is obliterated in a cataclysmic eruption. The island, he discovers, is a diamond mine-funded utopia of sorts, featuring every manner of far-out invention. (Pène du Bois's illustrations of these contraptions are wonderful.) We learn that each of the island's 20 families runs a restaurant — serving food from around the world — and that the islanders dine together in strict rotation. In the end, Sherman helps construct the greatest contraption of them all — involving 21 balloons — in order to rescue the island's denizens. Fun facts: Pène du Bois would co-found The Paris Review in 1953. This book, his best-known, won the 1948 Newbery Medal. The setting was inspired, the author openly admits, by F. Scott Fitzgerald's Radium Age sci-fi story "The Diamond as Big as the Ritz."

*

Boris Vian's secret-identity adventure The Dead All Have the Same Skin (Les morts ont tous la même peau). Dan Parker, a white man working as a bouncer in New York, is getting tired of his own hard-living ways — the drunks he tosses out of the club, the violence, the extramarital sex with black women. But when Richard, a black man, turns up claiming to be his half-brother and demands money, Dan becomes terrified that he'll lose everything. ("Five years and not a soul suspects it. No one has the slightest idea that a man of mixed blood, a colored man, has been the one pounding on their heads each and every night.") The appearance that Dan has been presenting to the world is a false one; his true identity is a protean one; and he'll do whatever it takes to prevent Richard from exposing his secret. Brutal violence ensues. Fun fact: This is the French author and musician's second book, after I Spit on Your Graves (1946), published under the pseudonym Vernon Sullivan. Reissued by TamTam Books.

*

Italo Calvino's adventure The Path to the Nest of Spiders. Calvino's first, Hemingway-esque novel is a coming-of-age story set during the so-called Italian Liberation War, late in WWII, when pro-Allied Italian resistance groups opposed both the occupying German forces and the Italian Fascist puppet regime. Pin, an orphaned cobbler's apprentice — and Huckleberry Finn-type urchin — lives in a town on the Ligurian coast; the townspeople aren't sure whose side they're on — the fascists or the partisans. However, Pin steals a pistol from a Nazi sailor and attempts to join the Italian partisans. Through Pin's eyes, we see that the supposedly noble freedom fighters aren't particularly impressive. Although Calvino doesn't demonstrate any metafictional predilections here, he does signal a stubborn independence by writing something so cynical at a time when resistance novels were all the rage. Fun fact: Calvino was 23 when the book appeared. Published in English translation in 1957.

*

Nevil Shute's Robinsonade The Chequer Board. Several of Shute's novels offer a particular flavor of adventure that's not everyone's cup of tea. They're Robinsonades, of a sort; that is, they're about ordinary people who display an extraordinary capacity for hard work, ingenuity, and common sense as they attempt to build a life for themselves in a hostile or unlikely environment. I'm a sucker for this sort of thing, so The Chequer Board is particularly enjoyable, since it tells several such stories. Jackie Turner, a salesman who discovers he's dying of cancer, finds himself wondering what happened to several soldiers — a British pilot, a British Commando, and an African-American serviceman — who'd been kind to him when they all ended up in a hospital together, after a plane crash during the war. Hoping to do these men a kindness, if he can, he sets out in search of them — and we learn how each of the men established themselves and thrived once the war had ended. It's a charming yarn — and there's a strong anti-racist message, to boot.

*

Victor Canning's hunted-man adventure The Chasm. Canning's first post-war novel is a bridge between his 1930s novels and the political thrillers he was known for during the 1950s–1970s; that is, it begins slowly: a story about Burgess , a shell-shocked British officer attempting to get his act back together in Florence, and a romance that blooms between him and a young woman he meets when a collapsed bridge traps him in her remote mountain village. The village's one wealthy resident, though a beloved figure to the locals, is someone Burgess recognizes from before the war — a Nazi collaborator wanted for treason! The tension mounts slowly, a game of cat-and-mouse; and the plot culminates in a violence-charged flight across the "chasm" separating the town from the outside world. Fun fact: During the war, Canning was close friends with another thriller writer, fellow RA officer Eric Ambler.

*

Boris Vian's Golden Age sci-fi adventure L'Écume des jours (1947, trans. as Foam of the Daze, or Froth on the Daydream). Two young couples, Colin and Chloe and Chick and Alise, cavort in a surreal futuristic Paris — one in which the police sport skin-tight, bulletproof black leather and heavy metal boots; the "heartsnatcher" weapon kills by attaching to the torso and ripping out the heart; metal-frog-powered devices crank out a pharmacy's medications; and Colin's "pianocktail" concocts fantastical libations inspired by whichever jazz song is played on it. Colin and Chloe, who live with Colin's Jeeves/Kato-inspired manservant Nicolas, give their poorer friends Chick and Alise enough money to marry… but Chick, a fanatic devotee of the novelist-philosopher Jean-Sol Partre, spends it all on Partre publications and collectibles. (Alise resorts to drastic measures to prevent Partre from publishing anything else.) Tragedy strikes when Chloe develops a water lily in her lung; in the face of her impending death, how will Colin choose to live? Fun fact: Richard Hell put it best, when he described this novel as "a kind of jazzy, cheerful, sexy, sci-fi mid-20th century Huysmans."

*

Hammond Innes's treasure-hunt adventure The Lonely Skier. When unemployed ex-soldier Neil Blair bumps into an old comrade, Engles, who'd served with him before moving into Army Intelligence, Engles hires Blair as a script editor on a film he's producing in the Dolomites. Once in Cortina, a popular winter sport resort, Blair encounters an assortment of shady characters, from England, Italy, and Greece, including a beautiful contessa, and slowly realizes that some or all of them are involved in a plot… that involves Nazi gold, buried somewhere nearby. Blair is taken on treacherous ski expedition — which he barely survives. Who's in on the plot? Can anyone be trusted? When Blair discovers the gold's location, he must flee for his life. Fun fact: One of the first adventures set in the post-War world of skiing — think of all the cable car scenes we've encountered since then. The book was made into a 1948 movie, Snowbound, that's impossible to find.
---
1948
---
Note that 1948 is, according to my unique periodization schema, the fifth year of the cultural "decade" know as the Nineteen-Forties. Therefore, we have arrived at the apex of the Forties; the titles on my 1948 and 1949 lists represent, more or less, what Nineteen-Forties adventure writing is all about: TBD.
Hammond Innes's sea-going/jailbreak adventure Maddon's Rock (in the US: Gale Warning). During the final days of WWII, a shipment of silver is secretively shipped to England, on a rust-bucket freighter, from Murmansk; three British soldiers (including Corporal Jim Vardy, and the working-class Bert Cook) are assigned to guard the treasure… but they're patsies in a hijacking scheme. There's a pretty girl, a violent storm, and the ship apparently sinks. Jim and Bert are thrown in prison, found guilt of mutiny! Inspired, as the author admits in the book's dedication, by Robert Louis Stevenson's Treasure Island, Innes's yarn involves foul-weather sailing, skulduggery at sea, a daring escape from a maximum-security prison (and a flight across England to Scotland), and a final battle — with an unhinged enemy — on an isolated, rocky island surrounded by mountainous waves somewhere in the Barents Sea. It's a fast-paced thriller, leavened by romance and a bit of humor. Fun facts: Mac, the Scottish engineer who accompanies our heroes to Maddon's Rock, is a classic of his type: "But dinna blame me if the whole engine-room falls oot through the bottom of her. She's no' jist oot of the yards, ye ken. Ye canna afford to take liberties wi' a ship in this condition."

*

Vernon Sullivan (Boris Vian)'s sci-fi/crime adventure Et On Tuera Tous Les Affreux (To Hell with the Ugly). Rocky Bailey, a magnificently handsome and athletic young man who runs with a fast Hollywood crowd, has decided to save himself for marriage; that is to say, he is determined to remain a virgin. Even when he's knocked over the head, and wakes up in bed with a beautiful naked woman, he refuses to break his vow of abstinence. Alas, this means that his sperm must be extracted in a less pleasant fashion. He finds a dead body at the nightclub where he was abducted, and discovers that beautiful women have been disappearing lately… what's going on? It turns out that a Dr. Schutz, is attempting to breed a master race of highly attractive people! Aided by some of the mad scientist's imperfect experiments, not to mention US Marines and FBI agents, Rocky seeks to put the kibosh on this Dr. Moreau-like scheme. The action moves from a noir Los Angeles to Dr. Schutz's island lair — it's a genre-bending yarn, preposterous and pornographic all at once, anticipating everything from The Rocky Horror Picture Show to the Austin Powers movies. Fun facts: Reissued by TamTam Books. Publisher Tosh Berman says: "Vian's love of pulp literature is an outlet of his terror fantasies of what America is at the time of the writing of this novel — late 1940's. This book reads like a Hardy Boys young adult novel with sex and mixed in the soup great pulp science fiction touches."

*

Josephine Tey's Inspector Grant crime adventure The Franchise Affair. Betty Kane, a lower-middle-class girl of 15, has gone missing for weeks; she claims that she was held prisoner and abused by two upper-class women — Marion Sharpe, and her mother — who demanded that she work for them as a maid-servant. The Sharpes' home, called The Franchise, is located behind high walls, and they're semi-recluses, so it's impossible for them to disprove Betty's story. Marion hires Robert Blair, a respectable, if lazy solicitor in the same village, to defend them. (Inspector Grant plays a minor, somewhat reluctant role.) As Blair seeks the truth about Betty, Tey offers us memorable, subtle portraits of each of the novel's characters; she also paints a rather reactionary portrait of an England where the lower classes no longer know their proper place, and in which tabloid newspapers can whip the general public into a frenzy by reporting sensationalized news. Will Blair crack the case before the riled-up villagers do something terrible? Fun facts: Based on the real-life case of Elizabeth Canning in 1753, the novel has been voted one of the 100 best crime novels of all time, and one of the 30 best crime novels by a female uthor. It was adapted as a 1951 British thriller film of the same title, directed by Lawrence Huntington and starring Michael Denison, Dulcie Gray, and Marjorie Fielding.

*

Al Capp's satirical Li'l Abner adventure The Life and Times of the Shmoo. Following a musical sound into the forbidden "Valley of the Shmoon," Li'l Abner — the naïve, sweet-natured titular hillbilly protagonist of Al Capp's long-running (1934–1977) newspaper comic strip — discovers a lost species, the Shmoo! Though warned by their keeper that the gentle and frolicsome Shmoos, which multiply exponentially, taste delicious (and love to be eaten), lay eggs and milk, and can be used for clothing, are a menace to humanity, Li'l Abner introduces the creatures to the world. An economic collapse results, since people no longer need to purchase food or clothing, or entertainment (they love watching the Shmoos frolic). J. Roaringham Fatback, the "Pork King," orders a violent extermination campaign. Will Li'l Abner be able to rescue the Shmoos, or will greed and corruption triumph? Fun facts: The Shmoo sequence appeared in newspapers during 1948; and that same year, The Life and Times of the Shmoo was released as a paperback. It's been called the first cartoon book to achieve serious literary attention; it sold 700,000 copies in its first year. Shmoos were a huge pop culture phenomenon, spawning songs, dances, apparel, and endless tchotchkes, from dolls and games to jewelry and fountain pens.

*

C.S. Forester's Horatio Hornblower historical sea-going adventure Mr. Midshipman Hornblower (serialized 1948; in book form, 1950). An episodic account of Horatio Hornblower's adventures as a young man, when he's first joined the Royal Navy as an an awkward, shy, seasick midshipman. Harassed mercilessly by Simpson, a senior midshipman, he grows so despondent that he finally challenges the bully to a duel. Placed in temporary command of a captured French ship full of rice, Hornblower tries desperately to prevent it from sinking… because it's taking on water, and the rice is expanding. Captured by a privateer, Hornblower attempts to sabotage the French ship — risking his own life — rather than allow it to escape from a pursuing British ship. While leading a crew of British sailors and marines to sneak up on a French ship, one of his men has an epileptic seizure — what is Hornblower to do? I'm also fond of a story in which Hornblower's passenger, the Duchess of Wharfedale, helps him to smuggle dispatches when Hornblower's ship is captured by the Spanish. Fun facts: Chronologically the first book in the Hornblower series; it was written as a prequel. (The first Hornblower novel, The Happy Return, was published in 1937.)

*

Hergé's Tintin adventure Tintin au pays de l'or noir (Land of Black Gold, serialized 1939–1940, 1948–1950; color album published 1950). A militant group is sabotaging oil supplies in the Middle East — causing car engines to spontaneously explode across Europe. Hoping to prevent a second world war, Tintin, Snowy, and Thomson and Thompson set off for the kingdom of Khemed to investigate. Tintin is kidnapped by an Arab insurgent attempting to overthrow the Emir, Mohammed Ben Kalish Ezab. Escaping into the desert, Tintin encounters Dr. Müller, the Buchan-esque criminal and foreign agent from The Black Island (1937–1938), who is sabotaging the pipelines of Arabex, the Emir's preferred oil company. After surviving a sandstorm and reuniting with Thomson and Thompson, Tintin arrives in Khemed's capital city of Wadesdah, only to discover that Müller has kidnapped the Emir's beloved son, Prince Abdullah! Tintin sets off to rescue the prince, who turns out to be a "Red Chief"-style spoiled brat. Thomson and Thompson, meanwhile, mistakenly ingest Formula 14, which turns out to be the substance (invented by Müller) that is causing engines to explode; the results are, shall we say, chemical-comical. Fun facts: Captain Haddock is mobilized into the Navy, at the beginning of the story; he doesn't reappear until the end. This is because the story was originally serialized from September 1939 until the German invasion of Belgium in May 1940; Haddock wasn't introduced until The Crab with the Golden Claws was serialized in 1940–1941. When Hergé revived Land of Black Gold in 1948, he made many changes — for example, Müller was originally a Nazi agent.

*

Cecil Day-Lewis's children's adventure The Otterbury Incident. George, our narrator, is a 13-year-old boy who fancies himself something of a military historian — which makes this a truly enjoyable read, for all ages. In the fictional English town of Otterbury, a war orphan — Nick — is tasked with paying for the damage to one of the school's windows, which he has accidentally broken. His schoolmates — who are divided into two warring factions, known as Ted's Company and Toppy's Company, decide to help him out. (George is second-in-command of Ted's Company; he despises their rivals.) Hostilities are temporarily suspended while the entirely unsupervised boys carry out various money-making schemes. Alas, the local spiv, Johnny Sharp, and his accomplice, "The Wart," steal the boys' earnings. When Sharp threatens them with a razor, and locks them in the tower of the local church, they plan an elaborate counter-attack. Relying on their guerrilla scouting and combat skills they've honed in their own intramural war, they raid a shady warehouse… only to discover evidence of criminal activities from black-market trading to counterfeiting! Now what? Fun facts: Illustrated by Edward Ardizzone. If the plot of The Otterbury Incident sounds like a French movie about schoolboys running wild, you're right — it's an adaptation of the screenplay for Nous les gosses (Us Kids), directed by Louis Daquin in 1941. Cecil Day-Lewis also wrote murder mysteries — including The Beast Must Die (1938), one of his best — under the pen name Nicholas Blake.

*

Georges Simenon's crime adventure La Neige Etait Sale (Dirty Snow). Dirty Snow has been described as one of the best novels depicting what it was like to live in a German-occupied country during WWII. Frank Friedmaier, a teenage pimp and thug, is living well during the occupation of Belgium — because his mother runs a whorehouse catering to Germans. No sympathetic figure, Friedmaier is the missing link between Mersault, the Arab-killing stranger in Albert Camus's 1942 philosophical novel L'Étranger, and Lou Ford, the cunning and depraved sociopath in Jim Thompson's 1952 hardboiled novel The Killer Inside Me. (It's less cerebral, more gritty than the former; more thoughtful than the latter.) Over the course of a long, cold winter, Frank commits brutal crimes: He stabs a German officer; and then, during a petty burglary in his hometown village, kills a former neighbor. He sexually victimizes and humiliates a young woman who is attracted to him. Once he's arrested and locked up — suspected of a crime he didn't commit — the hoodlum begins to philosophize. Fun facts: Reissued in 2003 by New York Review Books, with an Afterword by William T. Vollmann. Simenon wrote nearly 400 books; he is best known as the author of 75 detective novels featuring Inspector Maigret. P.D. James says: "A writer who, more than any other crime novelist, combined a high literary reputation with popular appeal."

*

Kid Colt western adventure comics (1948–1979). When I was an adolescent buying tattered '50s comics from flea markets and thrift stores, I was a sucker for these stories about a peripatetic young gunslinger with a quick temper who tries to restore his reputation, and help the law… but usually ends up getting into worse trouble. After Blaine Colt's father is murdered by bandits, he challenges them to a gunfight — and, because he is an incredible shot with his six-guns — kills them all. He is accused of murder, and takes it on the lam. (Kid Colt, published by Marvel predecessor Timely and later Marvel, was at first subtitled "Hero of the West," but after a few issues this was improved to "Outlaw.") Montana native Pete Tumlinson's artwork, from May 1951 — January 1953, is pretty great; though Jack Keller, who drew the character for a dozen years after that, is the talented artist with whom this reader associates Kid Colt. So popular was the character that after the mid-1960s, when pretty much every other western comic had bitten the dust, Marvel kept blazing away with Kid Colt reprints. Fun facts: Kid Colt was the longest-running cowboy character in the history of American comic books. From 1959-1965, Stan Lee wrote many of the stories; Jack Kirby and Dick Ayers drew the covers.

*

Edmund Crispin's Gervase Fen crime adventure Buried for Pleasure. Crispin published two Gervase Fen adventures in 1948; I prefer this one, I think, to the better-known Love Lies Bleeding. In his sixth outing, Fen — a professor of English Literature at Oxford, and well-known amateur detective — temporarily relocates to a small village on England's east coast, where he campaigns for a seat in Parliament. The novel satirizes English postwar political life, which — thanks to the Labour Party's 1945 landslide victory, had recently set up the National Health Service and nationalized a fifth of the economy; at one point, Fen delivers a heartfelt speech praising his countrymen's political apathy. Meanwhile, a policeman acquaintance of Fen's who is in the area investigating a poisoning/blackmailing case, is murdered, and a mysterious young woman is run over! Whodunit? Was it the murder-mystery author who is obsessed with a barmaid? The socialist aristocrat who argues politics with the beautiful female taxi driver? The minister whose house is haunted by a poltergeist? Or the naked escaped lunatic who believes that he is Woodrow Wilson, and who shouts "Boo!" at unsuspecting women? Fun facts: Bruce Montgomery was an Oxford alumnus, music teacher, and composer who would go on to write the scores for many British comedies of the 1950s. He borrowed the pen name "Edmund Crispin" from a character in Hamlet, Revenge!, Michael Innes's 1937 murder mystery.
---
1949
---
George Orwell's Golden Age sci-fi adventure Nineteen Eighty-Four. Winston Smith, a low-ranking functionary at the Ministry of Truth, whose job involves altering old newspaper articles to agree with the officially approved version of history, lives in London, which has become a regional capital of the superstate Oceania. (English Socialism is the state's ruling doctrine, and its nominal leader — whom the average citizen is encouraged to fear and revere — is known as Big Brother. Oceania is perpetually at war with one of the other two superstates.) The Thought Police ferret out "thoughtcrime"; everyone's behavior is monitored constantly, via two-way telescreens. Winston starts an illegal affair with Julia, and befriends O'Brien — both of whom are fellow malcontents. Winston and Julia are apprehended by the Thought Police: Will their love, idealism, and critical thinking survive, or will they crack? One of the most famous works of science fiction, and one of the most esteemed novels of the 20th century, Nineteen Eighty-Four has given us such terms as Big Brother, doublethink, and thoughtcrime; and a real-life or fictional political order characterized by official deception is often described as Orwellian. Fun facts: Orwell (Eric Blair) had been brooding over the themes of dictatorship and the possibilities of mass manipulation through language since the Spanish Civil War. He was influenced not only by Yevgeny Zamyatin's Radium Age sci-fi novel We, but by the Tehran Conference of 1944, at which he saw Stalin, Churchill, and Roosevelt carving up the world in anticipation of the defeat of Germany. He died in 1950, shortly after Nineteen Eighty-Four was published.

*

Victor Canning's crime/hunted-man adventure The Golden Salamander. On his way to a remote town in Algeria, where he's been tasked with cataloguing and packing up some antiquities which have been bequeathed to the British Museum, archaeologist David Redfern comes across a crashed truck full of smuggled weapons. Torn between minding his own business and completing his job, and the opportunity to overthrow the criminals who are terrorizing the locals, Redfern finally tries to report what he's learned to the authorities. He inadvertently involves a young local artist and the beautiful young woman who runs the local hotel; as a result, the boy is killed, and Redfern and the girl are placed in mortal danger. Serafis, who is Redfern's contact for the antiquities, but really the kingpin of the gun-running circle, is a sinister villain… the whole thing culminates in a thrilling escape sequence, as Redfern flees Serafis's henchmen. The title artifact — the golden salamander — is a MacGuffin, really; this is not a treasure-hunt adventure. Fun facts: From 1934 through 1940, Canning wrote rustic comedies. He served in the British Army from 1940–1946; he and his friend Eric Ambler trained together. Inspired by Ambler's success as a thriller writer, in 1947 Canning set about writing thrillers set in exotic locations. The Golden Salamander was adapted as a movie in 1950 by Ronald Neame; it starred Trevor Howard and a young Anouk Aimée. In 1956, the story appeared as a comic strip in Super Detective Library no. 72.

*

Walter Van Tilburg Clark's Western adventure The Track of the Cat. A Nevada ranching family — homesteading a remote valley in the Sierra Nevadas — finds its livelihood threatened when a "painter" (mountain lion) begins wantonly slaughtering their cattle. Forty-year-old Arthur Bridges, the eldest brother, heads off into a blizzard to track and kill the cat; when he fails, his tougher brother Curt attempts to finish the job. Back home, meanwhile, teenage Harold (Hal) contemplates his brothers' different personalities and worldviews, and struggles to protect his fiancée, the beautiful outsider Gwen, from his mother's vitriol and religiosity. The action takes place within the span of a single day; the sensory impressions of the snow-choked mountain wilderness are vivid; and the long sequence in which Curt first hunts and is then hunted by the cat is tense from beginning to end. Yet this is no ordinary Western: If Clark's first novel, The Ox-Bow Incident (1940), gave us the first modern Western, in which the rustlers are the good guys and the posse are villains, here he uses the West as a backdrop against which to stage a drama about our proper relationship with the natural world. Arthur, who studies myth and legend, understands that his countrymen have despoiled the land, and that the cat is in some way a symbol of Nature's revenge, yet he is helpless to effect change; Curt, a skeptical materialist, can't understand Arthur's idealistic perspective — yet, because he is a man of action, he might have a chance. Hal's character is a kind of synthesis of his brothers'; he represents a third way for Americans to follow. Fun facts: William A. Wellman adapted the novel as a 1954 Western, Track of the Cat, starring Robert Mitchum as Curt, William Hopper as Arthur, and Tab Hunter as Harold. (Wellman had also directed The Ox-Bow Incident.) Despite its visual splendor — the outdoor scenes were filmed on Mount Rainier; Wellman shot the movie in mostly monochromatic shades, with bright colors used sparingly for dramatic effect — the movie was a flop.

*

Robert Heinlein's Golden Age YA sci-fi adventure Red Planet. A YA adventure set on Mars. When Jim Marlowe, a teenage colonist (from Earth), discover that his boarding school headmaster is involved in the unscrupulous Martian Corporation's plan to stop the colonists' traditional migration to warmer climes during the harsh Martian winter, he and a friend run away to warn their parents… who are thousands of miles away. Along for the ride is Jim's Martian pet, Willis, an affectionate volleyball-shaped "bouncer" that can communicate in pidgin English. Skating along the planet's frozen canals — a conceit borrowed, one imagines, from Hans Brinker — the runaways are rescued by Martians, who possess abilities and technologies beyond anything the colonists have suspected. Aided by the Martians, the colonists rebel against the Corporation and proclaim their independence. But what will become of Willis? Fun facts: Here is where we fist meet Heinlein's Martians — who will make a brief appearance in Stranger in a Strange Land. They inhabit two planes of existence simultaneously; revere freedom; and possess terrible powers.

*

Leigh Brackett's Golden Age sci-fi/fantasy adventureThe Sword of Rhiannon (serialized 1949; as a book, 1953). This ERB- and REH-influenced planetary romance begins on the dying world of Mars, in the Low-Canal town of Jekkara, where archaeologist-turned-thief Matthew Carse allows himself to be coerced into discovering the locating of Rhiannon's tomb, and stealing an infamous piece of ancient technology: the Sword of Rhiannon. Inside the tomb he is pushed into a sphere that transports him back millions of years, to a lush Mars where rival species — the evil forces of the Sark and their half-human, half-serpent Dhuvian allies, and the noble barbarian Sea Kings — battle over the artifacts in Rhiannon's tomb. Carse becomes a galley slave, then leads a mutiny. Arriving at the realm of the Sea-Kings, Carse discovers that his mind has been possessed by Rhiannon himself, who seeks atonement for his ancient crimes. For those who enjoy science fantasy, this is entertaining stuff complete with a reluctant villainess: Ywain, the fierce warrior princess-heir of Sark, who (sorry) longs to be dominated by the manly Carse. Fun facts: Leigh Brackett, "Queen of Space Opera," was screenwriter for The Big Sleep and Rio Bravo, not to mention The Empire Strikes Back. The Sword of Rhiannon was published as an Ace Double with REH's Conan the Conqueror.

*

George R. Stewart's Golden Age sci-fi adventure Earth Abides. Ish Williams, a student of ecology and geology, survives a plague that wipes out most of America. Making his way home first to Berkeley, Calif., then across the country, he scavenges food and supplies, and discovers small groups of fellow survivors. Back in California, finally, Ish helps found a community… but without the technology on which they'd depended, its members are ill-prepared to do anything like rebuilding civilization. Their children, grandchildren, and great-grandchildren are more interested in hunting than learning how to read, much less study science or medicine; the men and women who built the infrastructure which the younger members of the tribe view as marvels are regarded as semi-mythological beings. Meanwhile, nature — weather, animals, plants, viruses — steadily encroach upon and erode their fragile human outpost. By the end, Ish's hammer, a mining tool he's carried with him since the plague, has become a totem to his semi-feral descendants. Fun facts: Although character development and storytelling are not exactly Stewart's strength as an author, this is one of the most popular and influential eco-apocalypses of science fiction's Golden Age. PS: The title is from Ecclesiastes 1:4: "Men go and come, but earth abides."

*

Robert Lawson's children's adventure The Fabulous Flight. At age 7, Peter Pepperell suffers an injury that causes him to begin shrinking; soon enough, he's pocket-sized… and he can communicate with small animals, too. As Peter grows older, his father, a Washington D.C. honcho and model-building fanatic, teaches him to rig and sail model sailboats — besides the fantastical premise of both books, this is the only similarity between Lawson's book and E.B. White's Stuart Little (1945) — and ride a rabbit, using a custom-designed saddle. In addition to mustering and drilling a regiment of backyard rodents, Peter befriends a seagull named Gus, who takes him on thrilling aerial tours of Washington. Lawson's illustrations are charming and realistic; this could have been a perfectly good children's fantasy even if it hadn't turned into an adventure novel. But it does: When Mr. Pepperell's friends in the State Department learn that a mad scientist has developed a tiny but deadly weapon of mass destruction, and is holed up in an armed fortress in a tiny European country, Peter and Gus volunteer for the dangerous mission of stealing the thingamajig. Peter's father designs a cabin which straps onto Gus's back, and as a child I pored over Lawson's illustrations of this apparatus; it's great. The duo's fabulous flight involves a European tour of sorts, adventures over the ocean, gangsters, and a massive explosion! Fun facts: Lawson illustrated dozens of children's books by other authors, including such well-known titles as Munro Leaf's The Story of Ferdinand (1936), Richard and Florence Atwater's Mr. Popper's Penguins (1938), and T.H White's The Sword in the Stone. I'm also a big fan of Lawson's Ben and Me (1939) and its companion volumes.

*

Hammond Innes's survival adventure The White South (also published as The Survivors). Duncan Craig, an English wartime corvette captain en route to Cape Town in search of exciting peacetime employment, meets Colonel Bland, chairman of the South Antarctic Whaling Company, and Bland's daughter-in-law Judie, daughter of Nordahl, the company's Norwegian co-owner; she is unhappily married to Bland's conniving son, Erik. Erik was put in charge of the Southern Star, a vast factory ship surrounded by a flotilla of whale catcher boats and fuel and refrigerator ships; Judie's father has gone overboard. Craig is hired to ferry Colonel Bland and Judie from Cape Town to the Star; and he reluctantly becomes embroiled in the investigation into Nordahl's death. Whales appear, and there's an exciting, modern Moby Dick-like sequence in which they're pursued, caught killed, and gutted; Craig captains a catcher during this operation. However, when Craig's catcher — and a corvette captained by Erik, who is revealed as a villain — are trapped in pack ice, and the Southern Star attempts to rescue them, the crews of the two small boats must struggle to survive. The story now becomes Shackletonian, in a good way; this is in every way a more successful novel than Innes's previous efforts. Fun facts: "I can still hear the roar of the ice as the great bergs close in upon those stranded men of the whaling fleet," Daphne du Maurier said of The White South… which the author researched on location. Mark Robson adapted it as Hell Below Zero (1954), which stars Alan Ladd.

*

Michael Innes's espionage adventure The Journeying Boy (also published as The Case of the Journeying Boy). According to the Internet Archive, the topics of this book are: tutors and tutoring, teenage boys, and nuclear physicists. Yes… but keep reading! Humphrey Paxton, the adolescent son of a wealthy, brilliant English atomic boffin, is being packed off to rural Ireland for a school vacation; Mr. Threwless, a no-nonsense tutor, is hired to accompany him there. When the two meet, for the first time, at the King's Cross station en route to the Irish ferry, neither is entirely sure that the other is who he's supposed to be. An atmosphere of paranoia pervades. On the train, which is carrying circus performers, the boy temporarily disappears — a meta-textual homage, one suspects, to Ethel Lina White's The Wheel Spins and Hitchcock's 1938 adaptation, The Lady Vanishes. Thewless finds himself kidnapped, then released, by ambulance drivers. Meanwhile, a London moviegoer turns out to have been murdered — and Humphrey, who knows something about the crime, is sought by Scotland Yard. The action switches back and forth between a Buchan-esque hunted-man story set in Ireland — both the darkly religious north and the free-and-easy south — and a police procedural set in London; the reader knows more about what's going on than do any of the characters, except perhaps for Humphrey, whom Thewless thinks is a fantasist and a delinquent. Some readers may feel that the book's final scenes are a bit too Boy's Own — criminal gangs, phony accents, secret caves — but Innes always knows exactly what he's doing. The ending is very satisfying. Fun facts: The Scotland Yard detective here isn't Inspector Appleby, who appeared in over 30 novels; this is one of a few non-Appleby books that the author, J.I.M. Stewart, wrote as Michael Innes.

*

Fredric Brown's Golden Age sci-fi adventure What Mad Universe. In a near-future New York, successful sci-fi magazine director Keith Winton attends a party thrown at his boss's country home. That evening, while thinking about his magazine and beautiful fellow publishing honcho Betty Hadley, a high-voltage generator carried by an experimental rocket crashes a few yards away… causing a space-time distortion. Winton is transported into a parallel-universe version of Earth, one which already features a Keith and Betty… but which also features interplanetary travel, an ongoing war with the telepaths of Arcturus, zombie-like creatures who stalk the streets of New York at night, and Moon beasts to whom nobody pays any attention. (As far as Winton can determine, the history of this world diverged from the history of his own world in 1903… when knitting machines led to the discovery of space travel.) Soon enough, he gets caught up in a caper — led by a superheroic man of action — to thwart Arcturian plans to blast the Earth with a super-weapon. What irony! Winton, you see, is a science fiction editor in the John Campbell mold — that is, he despises Space Opera, which he considers corny. But like it or not, now he's in one. Fun facts: The "Arena" episode of Star Trek was based on a Brown story. Brown also wrote the 1949 crime novel The Screaming Mimi, which was adapted in 1958 as a movie starring Anita Ekberg and Gypsy Rose Lee.

*
---
1950
---
Mickey Spillane's crime adventure My Gun is Quick. Late one night, Mike Hammer, a violent, angry New York private eye, protects a prostitute from a guy who's hassling her; the next morning, she's dead. Hammer doesn't believe it was an accident — and sets out to find her killer. Why? Perhaps because all the injustice of the world is crystallized in this one incident; and Hammer hates injustice. Obsessively following a trail of clues down every filthy alley of the city, Hammer enters into a corrupt underworld populated by pimps and corrupt officials. He dispenses his own brand of justice — with unseemly relish. Fun fact: This is Spillane's second Mike Hammer novel. It was adapted as a movie of the same title in 1957. Fans of Frank Miller's Sin City comics will recognize Spillane as a key influence.

*

Patricia Highsmith's suspense thriller Strangers on a Train. While on a train to see his unfaithful wife, Miriam, architect Guy Haines tells a stranger, Charles Anthony Bruno, that he wants to divorce her. Bruno proposes an idea to "exchange murders": Bruno will kill Miriam, that is to say, if Guy kills Bruno's father. It will be the perfect crime: Neither of them will have a motive for their murder, and both of them can establish alibis. Guy doesn't take Bruno seriously… until he returns from a trip, and discovers that his wife has been murdered. Bruno demands that Guy fulfill his part in the bargain… will he do it? Fun fact: Adapted as the classic film of the same title, in 1951, by Alfred Hitchcock.

*

Ray Bradbury's science fiction adventure The Martian Chronicles. What is The Martian Chronicles? Like Winesburg, Ohio, it's somewhere in-between a story collection and an episodic novel. It's a future history recounting successive attempts to explore and colonize Mars, and what happens after that. It's a revisionist western, criticizing the destructive and exploitative way that Earthmen colonize Mars, and wipe out the Martians. It's a work of social philosophy, since the colonizers import Earth's problems — from racism to commercialism and poor taste — to Mars. And it's one of the great works of science fiction's so-called Golden Age. Fun fact: The Martian Chronicles is credited by historians of the genre as a pivotal event — perhaps the pivotal event — in science fiction's growing respectability.

*

Victor Canning's espionage adventure A Forest of Eyes. Robert Hudson, a British engineer working in Marshal Tito's (pre-Stalinist) Yugoslavia, encounters an English spy on a mission to help a defector get to Italy. When the spy is killed, Hudson unwillingly takes over the mission. The secret policeman Lepovitch, sent from Belgrade, keeps a suspicious eye on him; while Zarko, chief of Dubrovnik's police force, takes a more kindly interest in him. Who to trust? Anyone might be an informer… and the forest has eyes. Fun fact: This is Canning's only thriller set entirely behind the Iron Curtain; it seems heavily influenced by Eric Ambler.

*

Graham Greene's crime adventure The Third Man. Invited to postwar Vienna — divided up between the Russians, British, Americans, and French — by his lifelong friend, the multitalented Harry Lime, upon arriving Rollo Martins discovers that Lime is dead. Informed that Lime had been a villainous figure — a ruthless racketeer who'd trafficked in diluted penicillin, among other horrors — Martins begins a solo investigation, in order to clear his friend's name. Fun fact: The novel grew out of a treatment prepared by Greene as he was writing the screenplay for the terrific 1949 movie of the same title. Orson Welles was perfectly cast as the cheerfully amoral Lime; Welles also recorded The Lives of Harry Lime, a 1951–52 radio serial.

*

Fritz Leiber's horror adventure You're All Alone. A pseudo-Existentialist thought experiment, in which our protagonist encounters a terrified young woman trying to avoid a murderous gang. The encounter drags him out of the clockwork existence that he, along with everyone else in the world, considers normal reality. Our hero discovers an incredible freedom, to do whatever he wants, without consequences. But the other escapees (the "big blonde," the "portly man," the "young man with a crew haircut") are jealously guarding their privileged status… to rape, torture, and kill. And a kind of clean-up crew — shades of Philip K. Dick's 1954 story "Adjustment Team" — pursues the escapees, too. Fun fact: You're All Alone was meant to follow Leiber's first novel, Conjure Wife, into the pages of Unknown Fantasy Fiction, but when that magazine folded in 1943, Leiber set the manuscript aside. It was serialized in abridged form in 1950, in Fantastic Adventures.

*

C.S. Lewis's Narnia fantasy adventure The Lion, the Witch, and the Wardrobe. During the Battle of Britain (in 1940), four English children who have been sent to a professor's house in the countryside discover that an old wardrobe is a gateway to Narnia a magical land of fauns, centaurs, nymphs, and talking animals. Narnia is in the grip of the beautiful but evil White Witch, who has held the land of Narnia in eternal winter for a hundred years; can Aslan, the golden lion who is Narnia's true ruler, and a kind of deity, defeat her? He will need the help of the children. Fun fact: It hardly bears mentioning that this is the first in a series of seven popular fantasy novels; the others are Prince Caspian (1951), The Voyage of the Dawn Treader (1952), The Silver Chair (1953), The Horse and His Boy (1954), The Magician's Nephew (1955), and The Last Battle (1956).

*

Nevil Shute's WWII adventure A Town Like Alice. An endearing combination of a prisoner-of-war adventure with an entrepreneurial Robinsonade. Having served as a prisoner of the Japanese in British Malaya, Jean Paget, a young Englishwoman, returns there after the war to build a well in a village. She then travels to Willstown, a primitive community in Australia's Queensland outback, in search of a former fellow prisoner whom she had believed dead — and with whom she is in love. While living in the outback, Jean uses her considerable inheritance to found a local workshop to make shoes from the skins of crocodiles; she also starts an ice-cream parlour, a public swimming pool and shops. Meanwhile, the man she loves is looking for her in England.

*

Mervyn Peake's fantasy adventure Gormenghast. This is the second installment in the gothic, surrealist Gormenghast trilogy; the first, Titus Groan (1946), chronicled the birth and early childhood of the titular character, heir to the remote, inward-looking earldom of Gormenghast; it also chronicled the rise in status, within Castle Gormenghast, of Steerpike, kitchen boy and scheming sociopath. In Gormenghast, Titus (now the Earl) grows from age seven to seventeen. He dreads the prospect of ruling his domain, and presiding over the Groan family's hoary and meaningless rituals; and he is inspired by his foster sister's life of feral freedom in the woods outside the castle. During a flood, Titus and Steerpike fight a bloody duel. Afterwards, Titus must decide whether to stay in Gormenghast or explore the wider world.

*

Jack Vance's fantasy/sf adventure The Dying Earth. This collection of loosely linked stories is set in a distant future, at which point science and magic have become indistinguishable, and the planet's various civilizations have lapsed into decadence. The Earth's sun is dying, monsters roam freely, and wizards — who struggle to memorize the few remaining spells (technologies?) that still work — embark on various adventures. In the story "Mazirian the Magician," for example, the title character battles a flesh-eating mutated man-creature, a ghoul-bear, and vampire grass as he pursues a beautiful woman… who, it transpires, is a sort of Capek-ian android conjured up by a rival magician-scientist in order to destroy Mazirian. Fun fact: Considered one of the all-time best fantasy "novels," The Dying Earth was listed as Inspirational Source Material in the original Dungeons & Dragons Rulebook.
---
1951
---
Robert Heinlein's science-fiction adventure The Puppet Masters. In 2007, slug-like creatures arrive in flying saucers and begin to take over. It seems they can take control of their victims' nervous systems, and manipulate them like puppets. Government officials don't believe in any of this nonsense, until the Old Man, head of a top-secret government agency, infiltrates the affected area with his top agents: Sam (the Old Man's son), and the beautiful Mary… whom, we eventually discover, was puppetized by these creatures when she was a child colonist on Venus. Even as the Old Man directs government efforts to combat the invasion of these body-snatchers, Sam is puppetized by a slug! The government's counter-attack fails, and it's up to Sam and Mary to work out a desperate last-ditch anti-slug effort. An exciting Cold War-inflected thriller (it's been described as a "not-too-thinly veiled metaphor for the eternal vigilance needed to keep the Communist menace in check") which I discovered, as a teen, via the 1980 Science Fiction Book Club edition. Fun fact: Originally serialized in Galaxy (September, October, November 1951). In 1990, Heinlein's widow gave permission for the publication of an earlier — longer, and more risqué — version of the manuscript.

*

Nevil Shute's Robinsonade/spiritual adventure Round the Bend. What a strange, wonderful story! During Tom Cutter's boyhood, he goes to work for a barnstorming flying circus; there, he befriends Constantine "Connie" Shaklin, a half-Chinese and half-Russian British boy who takes days off to visit houses of worship — he is interested in all religions. During WWII, Cutter services airplanes in the Middle East; after the war, he develops a charter aviation service in Bahrein. The rapidly developing oil industry uses his service to link operations between the Persian Gulf, Indonesia, and Australia, and he prospers; he hires Connie as his chief engineer. Connie's method of training engineers in the Middle and Far East combines the practical and spiritual — his syncretic spirituality emphasizes the merit of doing good work. Soon, he is regarded as a holy man… and his teachings spread along with Cutter's business. Adventure-wise, the fun is (as is so often the case with Shute) in Cutter's entrepreneurialism. Fun fact: Shute considered this his finest novel.

*

Hammond Innes's WWII espionage/Robinsonade adventure Air Bridge. Set in England during the Berlin blockade and airlift of 1948–49 (during which time the British RAF and other aircrews frustrated the Soviet Union's attempt to gain practical control of that city), the novel's protagonist, Fraser, is a war hero pilot turned mercenary. On the run from the law, he is taken in by Saeton, who offers him a job helping to build new-specification diesel plane engines. The plan is to demonstrate the efficacy of the engines during the Berlin Airlifts, and then establish a legitimate business manufacturing them. First, however, Fraser must sign up with the Airlift and steal a plane while flying over the Soviet sector. Will he do it… even if it means letting a friend die at the hands of the Russians? Fun fact: Serialized here by HiLobrow.

*

John Wyndham's post-apocalyptic science fiction adventure The Day of the Triffids. When a bright meteor shower (or did orbiting weapons accidentally detonate?) causes a worldwide epidemic of blindness, one of the handful of sighted survivors in England is Bill Masen, a biologist studying triffids – tall, venomous carnivorous plants capable of locomotion and communication. Navigating a London gone haywire, Masen rescues Josella Playton, a wealthy novelist, from a blind man who has forced her to serve as his guide… and the two of them plan to join a colony of the sighted outside London. Instead, they are kidnapped by a group that chains sighted men and women to groups of the blind, and forces them to scavenge for food and supplies. Masen eventually escapes and helps establish a self-sufficient colony in Sussex… which, unfortunately, is menaced not only by hordes of triffids but by a militarized rival colony! Fun fact: Brian Aldiss singled out The Day of the Triffids as an example of what he called a "cosy catastrophe" — that is, a subgenre of apocalyptic fiction in which a handful of survivors enjoy a relatively comfortable existence.

*

Desmond Cory's Johnny Fedora crime/espionage adventure Secret Ministry (a.k.a The Nazi Assassins). In the first of sixteen outings, Johnny Fedora — recruited as an agent by Britain's Secret Ministry, because of his wartime activities in the anti-Nazi underground — seeks the answer to a series of mysterious accidents involving R.A.F. pilots. Along the way, he stumbles upon a drug smuggling operation run by secret German agents — in order to wreak havoc on Britain. Much of the action centers around the Three of Clubs, a gambling den perched atop the Downs overlooking Brighton, where Johnny meets shady managers, barmen, cloakroom attendants, and singers, any one of whom could be a Nazi. The writing is more reminiscent of Leslie Charteris or Dorothy Sayers than Ian Fleming… Fedora is something of a wit, commenting on the proceedings from a meta-narrative perspective. Not to worry, though, there's also plenty of violent action. Fun fact: Here's an example of the rare first-time-as-farce-second-time-as-tragedy consideration. James Bond, who made his debut two years later, is a serious Fedora.

*

Howard Fast's historical adventure Spartacus. Narrated by members of Rome's ruling hierarchy, who depict the Greek gladiator Spartacus as a symbol of the eternal struggle against an unjust social order, the tales collected here recount the slave revolt led by Spartacus around 71 BCE. This is not a novel, exactly, and Spartacus is not quite the book's protagonist; Fast is concerned to show how an oppressed population can develop class consciousness, organize, and rise up against its exploiters. If the book isn't as thrilling as the movie, it's because Fast's emphasis is less on a heroic figure than on Spartacus's dreams of a society where exploitation and cruelty have been eliminated. It's still an exciting tale, for the most part… and it reverberates with references to America under the threat of McCarthyism. Fun fact: The bestselling book inspired the 1960 film starring Kirk Douglas, Laurence Olivier, and Peter Ustinov. Directed by Stanley Kubrick, the film's screenplay was written by Dalton Trumbo. Both Fast (who self-published Spartacus) and Trumbo were victims of Hollywood's blacklist.

*

Nicholas Monsarrat's WWII sea-going adventure The Cruel Sea. In 1939, George Ericson, a Merchant Navy officer, is recalled to the Royal Navy and given command of the Compass Rose, a corvette built to escort convoys. His sub-lieutenants, Lockhart and Ferraby, are inexperienced. Criss-crossing the Atlantic, Ericson's crew endures foul weather and the constant threat of German U-boats; the tension becomes unbearable. Slowly, the crew is knit into an effective team. Along the way, Lockhart falls in love with a Women's Royal Naval Service officer. (We learn about the private lives — sometimes sordid — of other characters, too.) Based on the author's experience of serving in WWII's Battle of the Atlantic, the novel's seven chapters cover seven years of fighting. Fun fact: Adapted as a movie in 1953, with a screenplay by Eric Ambler. I read this as a teenager, and remember being devastated when some of the characters were killed.

*

Mickey Spillane's crime adventure One Lonely Night. Private eye Mike Hammer, a WWII vet suffering from what we'd now diagnose as PTSD (and sociopathy), has just been acquitted of murder — it was self-defense, and the guy had it coming. Walking home from the trial, he gets caught up in an assassination attempt… kills the killer… discovers that he's a Communist Party hitman… and decides to smash New York's Communist conspiracy. He meets a beautiful heiress, who's raising money for the Commies to spite her father. Meanwhile, the criminally insane brother of an up-and-coming politician running on an anti-corruption platform needs to be stopped before he kills again. Are the two plots connected? It's a bit confusing, to be honest. But Spillane is fun to read, because he writes noir at its most grim, twisted, and hopeless. "So I was mad. I was a killer and I was looking forward to killing again. I wanted them all, every one of them from bottom to top… even if I had to go to the Kremlin to do it." Fun fact: The politician in the novel was inspired by Henry A. Wallace, who left the Democratic Party in 1948 to run unsuccessfully as the nominee of the Progressive Party.

*

C.S. Forester's historical sea-going adventure Lieutenant Hornblower (serialized; as a book, 1952). This yarn is told from the POV of William Bush, Third Lieutenant of the HMS Renown; Hornblower is the Fifth and junior Lieutenant. The ship's captain, Sawyer, is a paranoid schizophrenic, who fortuitously tumbles head-first into the hold (was he pushed?). The First Lieutenant, Buckland, takes charge, but he fails to capture a Spanish-held anchorage in Haiti — until Hornblower suggests a surprise attack. The Spanish prisoners attempt to capture the ship; once again, Hornblower comes to the rescue. Hornblower is briefly promoted to Commander, but when the Peace of Amiens (1802) is signed, he is demoted… and finds himself in debt. Peace, it turns out, is more difficult for sailors to negotiate than mad captains or Spanish forts. He ekes out a living by playing whist for high stakes, until returning to action in 1803. But a question remains unresolved: What did Hornblower have to do with Sawyer's accident? Fun fact: This is the second book in the Horatio Hornblower series chronologically, but the seventh by order of publication.

*

Geoffrey Household's espionage adventure A Rough Shoot (aka Shoot First). One evening, salesman and family man Roger Taine is hunting on his "rough shoot" (land he's leased for this purpose), on England's southern coast, when he spies a man sneaking around. Taking him for a poacher, he fires some painful but harmless buckshot at his backside… but the man falls onto a spiked device he was setting up, and is impaled. Taine buries the body, then waits for police inquiries… which never come, because the man, for some reason, is never reported missing. What appears to be a crime novels turns into a political thriller when Sandorski, a freelance secret agent from Poland, arrives on the scene. Turns out that the dead man was a neo-Nazi spy, and the spiked device was a homing beacon which other members of his organization (the People's Union) intend to use when secretly flying into England. The dead man's comrades want revenge — and hunt Taine across the rooftops of London. Fun fact: Written as a serial upon Household's return to writing thrillers after World War II, during which time he worked for British Military Intelligence, this is the first of two short adventures, published one after the other, about the same protagonist. It was adapted (by Eric Ambler) in 1953 as a British film starring Joel McCrea and Evelyn Keyes.
---
1952
---
Frederik Pohl and C.M. Kornbluth's Golden Age sci-fi adventure The Space Merchants (serialized, as Gravy Planet, 1952; in book form, 1953). Because I'm a science fiction fan who works in the esoteric outer reaches of consumer research (semiotic brand analysis), people occasionally wonder whether I was somehow deeply influenced by The Space Merchants, at an impressionable age. Not so. But I do like this proto-Idiocracy, cyberpunk-ish dystopian adventure, in which ace copywriter Mitch Courtenay, whose agency has just landed the plum assignment of persuading inhabitants of the overcrowded and exhausted Earth to voluntarily emigrate to new colonies on Venus, is kidnapped by rebels who want him to articulate their movement's "functional and emotional benefits" (as marketers put it) instead. Huge, amoral and trans-national corporations have taken the place of governments, in Pohl and Kornbluth's story, and advertising has become the vehicle by which the masses are deluded into consuming more, more, more. Venus, meanwhile, is a hellhole — it will take generations before colonists can live there in anything but harsh conditions. What will Courtenay do? Fun fact: Originally published in Galaxy (June–August 1952) as a serial (with a better title: Gravy Planet), The Space Merchants helped introduce such marketing and sci-fi neologisms as "R&D," "Muzak," and "soyburger." In 1960, Kingsley Amis suggested that The Space Merchants "has many claims to being the best science-fiction novel so far."

*

Bernard Wolfe's Golden Age sci-fi adventure Limbo (1952; in the UK: Limbo '90). Limbo is: a tedious, aggravating work of genius; a post-apocalyptic antiwar treatise that is skeptical of pacifism; and a serious novel of ideas written by an inveterate punster. In 1990, after the cataclysm of WWIII has wiped out Paris, London, Rome, and other cities, the diary of a disillusioned brain surgeon is discovered. Dr. Martine's irreverent, sarcastic notions — e.g., disarmament taken to a literal, amputational extreme — wind up providing an ideological basis for an absurdist worldwide movement. The disarmament movement has split into two factions: one remains helpless (paraded in baby carriages by their wives or mothers); the other replaces the missing limbs with powerful artificial ones. Martine's peaceful Indian Ocean island home is invaded by cyborgs from the latter movement, who seek a rare metal — one thinks of "vibranium" — to power their limbs. He seeks to preserve the island… but he's not a sympathetic character, as his lobotomization practice and misogynistic stream-of-consciousness fantasies demonstrate. Fun fact: Limbo is considered one of the first novels about cybernetics, and it's been described as a precursor of both the New Wave and Cyberpunk sci-fi movements. J.G. Ballard called Limbo "one of the books that encouraged me to write SF."

*

Hammond Innes's Robinsonade/frontier adventure Campbell's Kingdom. This is one of Innes's better adventures; perhaps I enjoy it so much because it is particularly Buchan-esque. Like Buchan's 1941 yarn Sick Heart River, Campbell's Kingdom concerns a British man who — having been diagnosed with a terminal illness and given a year to live — lights out for the Canadian northwest, seeking meaningful work and a place where he feels that he truly belongs. Bruce Wetheral, dying of cancer, inherits his grandfather's land in the Canadian Rockies. His grandfather believed there were vast oil reserves there; the oil was never discovered, and the family's name was disgraced. Was he a con man? Declining an offer for the land — which will be flooded once a proposed dam is constructed — Wetheral makes his way to "Campbell's Kingdom" and decides to drill for oil. There's action, romance, harsh weather, and guerrilla tactics agalore; Innes's research into the drilling business lends verisimilitude. Fun fact: The novel was a bestseller. It was adopted as a forgettable 1957 British adventure film starring Dirk Bogarde.

*

Theodore Sturgeon's Golden Age sci-fi adventure More Than Human (1952; as a book, 1953). In this far-out updating of Olaf Stapledon's Odd John, a Radium Age-era Argonaut Folly, tortured mutants with amazing talents — Lone ("the Idiot") can read and control thoughts; eight-year-old Janie can move objects with her mind; Bonnie and Beanie can teleport; Baby is a super-genius; Gerry is a sociopathic urchin able to bind the others into a unified "gestalt" — threaten the prolonged existence of humankind as we know it. In the final section of the book, Lt. Barrows, a gifted engineer who worked for the US Air Force until he apparently went insane, discovers that he was a victim of the gestalt — who wanted to prevent him from discovering the secret of their antigrav device, not to mention their very existence. Will Hip fight back against the mutants… or join them? Fun fact: More Than Human is a "fix-up" of Sturgeon's previously published novella Baby is Three; two new sections were written for this version.

*

Jim Thompson's crime adventure The Killer Inside Me. In the mid-1980s, when I was in college, Black Lizard Books reprinted several Jim Thompson novels, including this one, and the obscure pulp writer was suddenly hip. (Sean Penn called The Killer Inside Me "the best book I've ever read.") Lou Ford, the psychopathic deputy sheriff and this novel's narrator, is an amazing character. He appears to be a typical small-town police officer, amiable and boring; in fact, he's a depraved sociopath, a sexual sadist, and a murderer. As he cheats on his girlfriend, abuses a prostitute, blackmails a rich man, murders, and and frames others for his crimes, do we root for Lou or not? Its a tough one. Fun fact: Adapted as a movie twice, with Stacy Keach and Casey Affleck playing Lou Ford, but neither time very well. Stanley Kubrick called The Killer Inside Me "probably the most chilling and believable first-person story of a criminally warped mind I have ever encountered." High praise!

*

Alfred Bester's Golden Age sci-fi adventure The Demolished Man (serialized 1952; as a book, 1953). A cartoonish but far-out police procedural — one in which we immediately learn who the murderer is. In the year 2301, telepathic police operatives ("Espers," or "peepers") have made premeditated murder impossible; there hasn't been one in decades… until Ben Reich, a megalomaniac industrialist, decides to murder his business rival, D'Courtney. He enlists the support of a renegade Esper, who not only assists with the plotting and execution of the murder, but teaches Reich a maddening jingle — an earworm — that will prevent anyone from prying into his mind. Enter Lincoln Powell, Esper and police prefect, who uses his network of peepers to help him obtain evidence, while racing to find D'Courtney's daughter, an eyewitness to the murder, before Reich does. There's plenty of action and high-tech gadgetry — including flash grenades that destroy the retinas of on-lookers, and "harmonic" guns. If Reich is caught, he'll be subject to "demolition," in which the offender's personality and memories are extracted…. Fun fact: Winner of the first Hugo Award. In 1959, Thomas Pynchon applied for a Ford Foundation Fellowship, proposing to adapt The Demolished Man as an opera. His application was denied.

*

Kurt Vonnegut's Golden Age sci-fi adventure Player Piano (1952). During WWIII, while the American (male) workforce was fighting overseas, out of necessity American engineers made tremendous strides in automating most manual labor. Today (in the near future), most Americans are either busy and fulfilled engineers and managers, on the one hand, or discontented idlers, on the other. Paul Proteus, successful and contented manager of the automated Ilium Works, is the son of one of the men who created this new economic and social order; although he's inherited his father's reputation, he harbors secret doubts. An anthropologist and Episcopalian minister, Reverend Lasher, persuades Paul that life without meaningful work is boring and inhuman; Paul begins to fantasize about quitting his job and living off the grid. During a retreat for elite engineers, Paul quits his job — at which point Lasher's secret organization begins to use him as a messianic figurehead for their anti-technology revolution. What will transpire when the revolution begins? Fun fact: Vonnegut's first novel was inspired by Brave New World, as well as by his own postwar experience working at General Electric. At the time, he didn't want it classified as "science fiction."

*

C.S. Lewis's Narnia sea-going adventure Voyage of the Dawn Treader. Writing about David Lindsay's Radium Age sci-fi novel A Voyage to Arcturus, C.S. Lewis enthused: "To construct plausible and moving 'other worlds' you must draw on the only real 'other world' we know, that of the spirit." Lewis's Perelandra sci-fi trilogy uses planets in this Linday-esque manner… while Voyage of the Dawn Treader, the third published Chronicles of Narnia installment, uses islands in a similar fashion. Edmund and Lucy Pevensie, and their odious cousin Eustace Scrubb (who will remind readers of Kipling's Captains Courageous of the odious Harvey Cheyne Jr.), sail with Prince Caspian (titular protagonist of the previous book) on the Dawn Treader in search of the seven lost Lords of Narnia. Each island they explore provides a test of the explorers' intrinsic characters; the most memorable island, for this reader, is the one with the dragon's hoard. Some Narnia fans complain that this is the least compelling installment, contra to which I offer one word: Reepicheep!

*

Hergé's Golden Age sci-fi Tintin adventure On a marché sur la Lune (Explorers on the Moon). The seventeenth Tintin yarn sees our heroes landing on and exploring Earth's moon — seven years before the Soviet Union's Luna 2 mission, and seventeen years before the United States' Apollo 11 was the first manned mission to land on the Moon. Professor Calculus, here, is no longer a brilliant bumbler — but the guiding spirit of the expedition; his assistant, Wolff, is a flawed, Le Carré-esque character. Thompson and Thompson and Haddock nearly ruin the mission, but the rocket eventually lands safely and Tintin becomes the first explorer on the Moon. Although the plot is a bit pedagogical, the landscape is eerie and amazing. Meanwhile, it turns out that a spy for a foreign power is aboard — will he hijack the rocket? Fun facts: This is the sequel to Destination Moon. It was serialized weekly in Belgium's Tintin magazine in 1952–1953; published in book form in 1954. It has been suggested that Hergé was motivated to do a sci-fi story by the success of his colleague Edgar P. Jacobs's first Blake and Mortimer comic, The Secret of the Swordfish (1950–53).

*

Margery Allingham's crime adventure The Tiger in the Smoke. The fourteenth Albert Campion novel is an atmospheric thriller about a serial killer — escaped prisoner "Jack Havoc" — who's on the loose in London. It's also a hunted-man adventure (Campion, an amateur sleuth, aided as always by his ex-burglar manservant Lugg, seeks Havoc) and a treasure hunt (Havoc seeks a buried treasure he learned about during the war; so do his his wartime compatriots). When her fiancé is kidnapped, Meg Elginbrodde (whose deceased ex-husband may have been involved in the treasure escapade) enlists Campion's help. With Cockney police detective Inspector Luke, Campion hunts the vicious beast at loose in "the smoke" (period slang for London). A thick fog settles over the city; the plot develops gradually; and the characters — particularly the Lafcadio-esque Havoc, a believer in "the science of luck," and the street gang of ex-servicemen — are fascinating. Fun fact: Though not necessarily Allingham's most amusing novel, The Tiger in the Smoke is considered one of her finest. It is J. K. Rowling's favorite crime novel.
---
1953
---
Ray Bradbury's sci-fi adventure Fahrenheit 451. In a peaceful, complacent future America, books — along with all other vectors of critical thought — are forbidden. But Guy Montag, a "fireman" whose job involves burning books whenever a cache is located, is beginning to have doubts. His wife, like everybody else, seems content to spend all of her time watching participative soap operas, yet she attempts suicide — perhaps because her couch potato life is so empty. A gentle teenager, who loves to walk everywhere, in a car-dominated culture, and who asks probing questions, is killed senselessly, by a speeding driver. So Montag begins to read some of the books he was supposed to have burned… and soon enough, joins an underground effort to print and distribute books, and to discredit his fellow firemen. Once his own wife betrays him, Montag goes on the run. A powerful polemic about freedom… but also an exciting hunted-man adventure. Who can ever forgot the firemen's robotic dog, trailing Montag with its super-sensitive yet lethal hypodermic snout? Fun fact: Fahrenheit 451 is often described as the first sci-fi novel to cross over from genre writing to the mainstream of American literature. (It's too bad that it's taught in high schools, because that makes people dislike it.) Adapted, in 1966, as an amazing-looking (if a bit stilted) movie by François Truffaut. HBO released a TV film based on the novel in 2018.

*

Raymond Chandler's crime adventure The Long Goodbye. In private investigator Philip Marlowe's sixth (and penultimate) outing, his drinking buddy Terry Lennox shows up late one night and asks him for a ride — from Los Angeles to an airport across the border in Tijuana, Mexico. He's obviously on the lam. Lennox's wife, Marlowe discovers when he returns home, was found dead in their guest house; and Lennox — according to the authorities in Otatoclán, a small Mexican resort town, a few days later — has committed suicide, leaving behind a full confession. In a seemingly unconnected case, a New York publisher then hires Marlowe to track down Roger Wade, a hard-drinking writer who has gone missing; Marlowe locates him at a makeshift detox facility. Weird stuff begins to happen: Wade's British wife attempts to seduce Marlowe; when Marlowe pokes into the Lennox case, he is warned off by everyone from the police to Wade's wife; Wade apparently commits suicide — but his wife accuses Marlowe of murder! Then Wade's wife commits suicide, too. What's going on? Fun facts: Winner of the 1955 Edgar Award for Best Novel. Robert Altman adapted the novel as a movie in 1973; it's a neo-noir masterpiece, starring Elliott Gould as Marlowe.

*

Davis Grubb's Southern Gothic thriller The Night of the Hunter. "Preacher Harry" is a religious fanatic and serial killer who — while serving time in prison for car theft — shares a cell with Ben Harper, a condemned man who's killed two people in the course of robbing his hometown bank of $10,000.00. Harper takes the secret of the loot's hiding place to his grave — despite the efforts of his wife, Willa, and cellmate to learn it. Released from jail, Preacher Harry makes tracks to Harper's home town, where he soon marries Willa. The tension builds slowly; in some ways, The Night of the Hunter is as much an Agee-like documentary of life among impoverished Southerners as it is a psychological thriller. However, 10-year-old John Harper knows where the money is hidden… and he knows that his new stepfather is up to no good. When Willa is killed, John and his young sister, Pearl, escape down the Ohio River in their father's old skiff, trailed by Preacher Harry… who can be heard singing a mournful hymn whenever he grows nearer to them! Fun facts: Grubb based the plot of The Night of the Hunter on the true story of serial killer Harry Powers, who was hanged in Grubb's hometown of Moundsville, West Virginia, in 1932. Charles Laughton directed the terrific 1955 movie adaptation, starring Robert Mitchum, Shelley Winters, and Lillian Gish.

*

C.S. Lewis's Narnia fantasy adventure The Silver Chair. In the fourth Chronicles of Narnia installment, only a year has passed in England — but decades have passed in Narnia. Eustace Scrubb, the horrid Pevensie cousin whose attitude was transformed during the previous adventure, The Voyage of the Dawn Treader, is now a fine chap — who attempts to protect a fellow student, Jill Pole, from his own former gang of bullies at their soul-destroying progressive boarding school. Summoned to Narnia to seek the missing Prince Rilian, heir of the now-elderly King Caspian, Aslan gives the children four Signs to guide them on their quest; they are guided on their journey toward the giant-lands north of Narnia by an excellent, Oz-like new character, the gloomy Marsh-wiggle Puddleglum. Many adventures ensue, through fantastical and eerie landscapes: There is a sinister but glamorous Lady of the Green Kirtle, accompanied by a silent knight in black armour; Eustace and Jill are placed on the menu for a giants' feast; an army of gnomes captures them as they voyage though a hollow-Earth-like Underworld; and they meet the Lady of the Green Kirtle's protegé, an insane young man who must be bound to a silver chair every night — lest he turn into a deadly green serpent! Fun facts: Recent editions of the book, in series which are sequenced according to Narnian history, list this as the sixth installment. I prefer to read them in their original publication order.

*

Arthur C. Clarke's sci-fi adventure Childhood's End. A Stapledonian epic in which an alien invasion is merely the prelude! In the late 20th century, as the US and USSR continue to jockey for global dominance, the skies above Earth's principal cities are suddenly filled with vast spaceships. The aliens, who call themselves the Overlords, and who decline to reveal their physical forms, announce that they have arrived to usher in an era of peace and prosperity for all humankind. Fast-forward five decades, and Earth truly is a peaceful and prosperous place. But some curious souls demand to know what the Overlords look like, where they come from, and what their ultimate purpose really is. Astrophysicist Jan Rodricks stows away on an Overlord supply ship; meanwhile, the Overlords take particular interest in a young brother and sister, Jeffrey and Jennifer, in whom may lie the potential for humankind's self-overcoming — whatever that might mean. Readers beware: When the truth is finally revealed, it's mind-blowing. Fun fact: Clarke considered Childhood's End, which began life in 1946 as a short story, "Guardian Angel," one of his favourite own novels. In 1972, not one but two British prog rock bands — Pink Floyd and Genesis — released (trippy) songs inspired by the book.

*

Michael Innes's treasure-hunt adventure Christmas at Candleshoe. Grant Feather, a young man whose mother is a wealthy American eager to settle down in an Elizabethan manor, is sick of touring the stately homes of England… particularly when a boy fires arrows towards them from inside a particularly decrepit manor, Candleshoe, with messages warning them to stay away! The manor, we discover, is inhabited by an (apparently) eccentric and hard-of-hearing old woman, Miss Candleshoe, and an equally dotty chaplain; Jay Ray, the Robin Hood-like boy, is leader of a semi-feral gang of armed children — who believe the legend claiming that a 17th century marble monument carved by one Gerard Christmas, which looms over Candleshoe's great hall, conceals a fortune in gold. A great deal of Christmas at Candleshoe is devoted to poking fun at American tourists who are all too willing to believe that England's peerage is degenerate. Jay Ray, who is determined to locate the treasure for the impoverished Miss Candleshoe, so that she can remain in her home, may just be paranoid about the need to guard the manor from interlopers. But when mysterious foes lay siege to the manor, Grant joins in the effort to repel them. Fun facts: Those readers who are disappointed that Christmas at Candleshoe isn't more similar to its (fun but silly, Jodie Foster-starring) 1977 Walt Disney movie adaptation are, it seems to me, merely misguided. I'm not so sure, however, about those readers who are disappointed to discover that Innes's book has nothing to do with the Christmas holiday; they strike me as sociopathic.

*

CLICK FOR LARGER IMAGE

Harvey Kurtzman and Wally Wood's satirical superhero comic "Superduperman." MAD, the influential satirical magazine founded in 1952 by Harvey Kurtzman and William Gaines, was launched as a comic book written and edited by Kurtzman, and featuring illustrations by Kurtzman, Wally Wood, and the equally talented Will Elder, Jack Davis, and John Severin… but it was not, at first, a hit with readers. This changed after issue #4 (April–May 1953), thanks to "Superduperman," which viciously parodied the popular comic-book superheroes Superman and Captain Marvel. Daily Planet reporter Clark Kent becomes Clark Bent, an emaciated dogsbody at the Daily Dirt who uses his x-ray vision to peek into the ladies' powder room; Captain "Marbles," meanwhile, has given up fighting crime in order to prey upon ordinary mortals — whom he has come to despise. Intrepid reporter Lois "Pain" isn't into Superduperman — he's a creep! MAD, as America would know and love it, was born. Fun facts: Read it here. In a fine example of the first-time-as-comedy-second-time-as-tragedy trope, Alan Moore and Dave Gibbons have credited this story with inspiring their 1986–1987 super-antihero comic Watchmen: "We wanted to take 'Superduperman' 180 degrees — dramatic, instead of comedic."

*

Poul Anderson's sci-fi/fantasy adventure Three Hearts and Three Lions (serialized 1953; as a book, 1961). Often inadequately classified as a work of fantasy (I've classified it this way myself), Three Hearts and Three Lions is that rarest of phenomena: a fun, ingenious blend of science fiction and fantasy alike. When Holger Carlsen, a Danish-born American engineer who during WWII returns to Denmark to join the resistance (in an effort to smuggle out a physicist who alone can end the war), is grazed on the head by a bullet, he is transported to a parallel Earth — a medieval fantasy-land where Charlemagne is king, and trolls and unicorns wander the woods. Stranger still, Holger discovers a knight's equipment (emblazoned with three hearts and three lions) and horse waiting for him; and he knows how to use the weapons and speak an archaic form of French. Soon, he becomes embroiled in an epic showdown: the forces of Faery are poised to overthrow humankind and their allies who support Law over Chaos. Embarking on a quest for an anti-chaos WMD, the legendary sword Cortana, Holger is joined by a gruff dwarf, a swan-may, and a Saracen knight; he is also aided by his understanding of science and engineering — because "magic," it turns out, is indistinguishable from advanced technology. Fun fact: A novella version first appeared in the magazine Fantasy & Science Fiction. Anderson's obsession with Northern European legends, and his admiration for medieval virtues — developed further in The Broken Sword (1954) — directly inspired the game Dungeons & Dragons. His notion of a battle between Law and Chaos, and that of the Eternal Champion, were also directly influential on Michael Moorcock's creation of Elric of Melniboné.

*

Ira Levin's crime thriller A Kiss Before Dying. An unnamed young man who is attending college after serving in WWII, doesn't see why someone as handsome, charming, and intelligent as he is should have to work hard in order to get rich. He sets his sights on Dorothy, a shy co-ed whose father is a stern, conservative millionaire. Everything is going swimmingly, until Dorothy accidentally becomes pregnant… which means that her father will surely disown her. Her sociopathic lover tricks her into writing a letter that sounds like a suicide note, then murders her; because he'd insisted that she keep their relationship a secret, her family doesn't even know that Dorothy's killer exists! Dorothy has two other sisters, though… will they figure out what happened? Or will they, too, in their turn, be seduced and victimized? Fun facts: A Kiss Before Dying, published when the author was 24, won the 1954 Edgar Award, for Best First Novel. It has been adapted as a noir movie in 1956, by Gerd Oswald (with Robert Wagner, Joanne Woodward, and Virginia Leith); and as a neo-noir movie in 1991 by James Dearden (with Matt Dillon and Sean Young, playing two roles).

*

Jim Thompson's crime adventure Savage Night. Until the feds coerced him into being a key witness in a major case against organized crime, Jake Winroy was living large — running a lucrative horse-betting ring, married to the beautiful Fay. Now he's broke, drinking steadily, and alienated from his unpredictable wife… plus, there's a mafia hitman somewhere out there who intends to prevent him from ever testifying. "Little" Bigger, the hitman in question, is five-feet-tall, tubercular, and wears platform shoes, glasses, false teeth, and a toupée as he masquerades as a college student… who rents a room in the Winroy's home. Seems like an easy hit — until Little meets Fay, and the Winroy's deformed but sensual housemaid, Ruth. With Fay's help, Little plans to murder Winroy in a way that will look like an accident… but can he trust Fay? And is the disintegrating Little himself being watched by the mafia? Is this a grotesque, carnivaleseque descent into paranoia; hastily written pulp trash; an inspired, experimentalist work of genius? Yes. Fun facts: Flannery O'Connor dedicated her 1955 collection of Southern Gothic stories, A Good Man Is Hard to Find, to Jim Thompson — and cited Savage Night as a particular source of inspiration. I've just made that up.
***
JOSH GLENN'S *BEST ADVENTURES* LISTS: BEST 250 ADVENTURES OF THE 20TH CENTURY | 100 BEST OUGHTS ADVENTURES | 100 BEST RADIUM AGE (PROTO-)SCI-FI ADVENTURES | 100 BEST TEENS ADVENTURES | 100 BEST TWENTIES ADVENTURES | 100 BEST THIRTIES ADVENTURES | 75 BEST GOLDEN AGE SCI-FI ADVENTURES | 100 BEST FORTIES ADVENTURES | 100 BEST FIFTIES ADVENTURES | 100 BEST SIXTIES ADVENTURES | 75 BEST NEW WAVE SCI FI ADVENTURES | 100 BEST SEVENTIES ADVENTURES | 100 BEST EIGHTIES ADVENTURES | 75 BEST DIAMOND AGE SCI-FI ADVENTURES | 100 BEST NINETIES ADVENTURES (in progress) | 1994 | 1995 | 1996 | 1997 | 1998 | 1999 | 2000 | 2001 | 2002 | 2003 | NOTES ON 21st-CENTURY ADVENTURES.