Diamond Age 75 (64)
By: Joshua Glenn
May 31, 2020
One in a series of posts about the 75 best science fiction novels published during the genre's Diamond Age era (from 1984–2003, according to HILOBROW's periodization schema). For Josh Glenn's complete Diamond Age Sci-Fi 75 list, click here.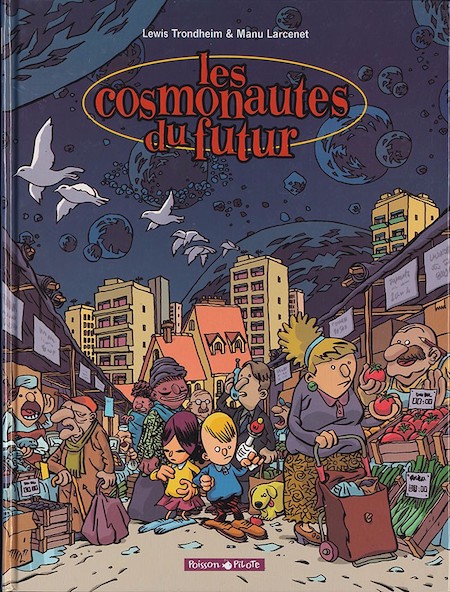 Trondheim and Larcenet's apophenic sci-fi comic Les cosmonautes du futur (Astronauts Of The Future, 2000).
Lewis Trondheim is best known for his epic series Donjon (Dungeon), which he created with Joann Sfar; his Les formidables aventures de Lapinot (The Spiffy Adventures of McConey) is another great series. He wrote the script for this story, which is illustrated in a cute yet action-packed style by fellow French cartoonist Manu Larcenet. Two precocious, lonely kids, Gil and Martina, independently determine that their feelings of alienation must indicate that everyone else — classmates, parents, the entire population of their town — is not human. Gil believes they're robots; Martina is equally sure they're aliens. Are they Calvin-like tykes with over-active imaginations, or might they be onto something? And if not the former, then for whom is this comic intended… because it quickly ceases to be merely cute. It's a funny story, but also an increasingly complex and fast-paced thriller… One is reminded of Frank Miller and Geof Darrow's Hard Boiled, and of PKD novels beloved in France. But one is also reminded of Harriet the Spy. It's a great combo. I wish the English-language edition included all three of the French albums, but the first two are satisfying on their own.
Fun facts: There appears to be a third volume available, here. But only in digital form….
***
DIAMOND AGE SCI-FI at HILOBROW: William Gibson | Bruce Sterling | Margaret Atwood | Ann Nocenti | Frank Miller | Alan Moore | Octavia E. Butler | Iain M. Banks | Grant Morrison | Neal Stephenson | Jonathan Lethem | Charles Burns | China Miéville.
JOSH GLENN'S *BEST ADVENTURES* LISTS: BEST 250 ADVENTURES OF THE 20TH CENTURY | 100 BEST OUGHTS ADVENTURES | 100 BEST RADIUM AGE (PROTO-)SCI-FI ADVENTURES | 100 BEST TEENS ADVENTURES | 100 BEST TWENTIES ADVENTURES | 100 BEST THIRTIES ADVENTURES | 75 BEST GOLDEN AGE SCI-FI ADVENTURES | 100 BEST FORTIES ADVENTURES | 100 BEST FIFTIES ADVENTURES | 100 BEST SIXTIES ADVENTURES | 75 BEST NEW WAVE SCI FI ADVENTURES | 100 BEST SEVENTIES ADVENTURES | 100 BEST EIGHTIES ADVENTURES | 75 BEST DIAMOND AGE SCI-FI ADVENTURES | 100 BEST NINETIES ADVENTURES (in progress) | 1994 | 1995 | 1996 | 1997 | 1998 | 1999 | 2000 | 2001 | 2002 | 2003 | NOTES ON 21st-CENTURY ADVENTURES.