Diamond Age 75 (62)
By: Joshua Glenn
May 17, 2020
One in a series of posts about the 75 best science fiction novels published during the genre's Diamond Age era (from 1984–2003, according to HILOBROW's periodization schema). For Josh Glenn's complete Diamond Age Sci-Fi 75 list, click here.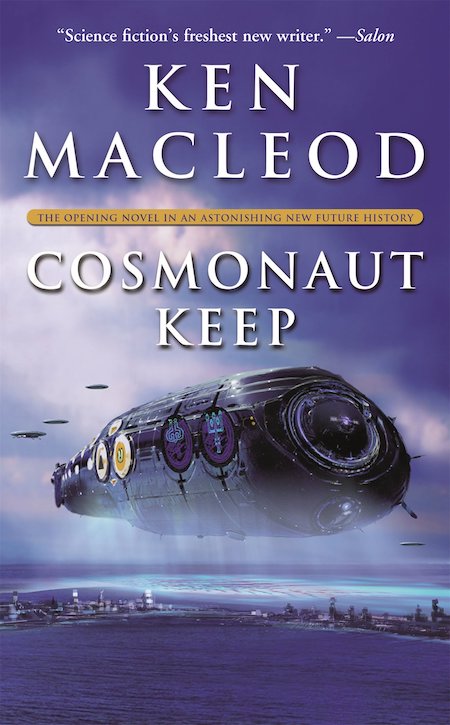 Ken MacLeod's Engines of Light adventure Cosmonaut Keep (2000).
On the planet Mingulay, in the far future, a human colony coexists with other races, including the reptilian "saurs"… but they've lost the secrets of interstellar light-speed navigation — which are known only to the krakens, who don't use computers. Assisted by the immortal, weed-smoking saur Salasso, the human scientist Grigor Cairns studies the kraken-like squids who inhabit Mingulay's oceans; he also gets involved in a love triangle involving a fellow marine biologist and the beautiful daughter of a space trader. The book's alternating story line is a cyberpunk political thriller set in Soviet-occupied Europe c. 2040. Matt Cairns, an Edinburgh programmer, and his American spy girlfriend, Jadey Ericson, hack into a secret facility on a remote asteroid… where highly advanced, space-dwelling, godlike associations of bacteria-sized entities have provided EU scientists with blueprints for a space drive. There is a trip to Area 51, and a sexy American test pilot. The stories connect: A starship from Earth arrived at Mingulay, but humans were banned from subsequent space-travel by the krakens. This is a less political MacLeod space opera — though it features plenty of leftist in-jokes, such as the programmers' union called the Information Workers of the World Wide Web, or "Webblies." Grigor's breakthrough discovery left my head spinning.
Fun facts: This is the first book in the Engines of Light trilogy, followed by Dark Light (2001) and Engine City (2002).
***
DIAMOND AGE SCI-FI at HILOBROW: William Gibson | Bruce Sterling | Margaret Atwood | Ann Nocenti | Frank Miller | Alan Moore | Octavia E. Butler | Iain M. Banks | Grant Morrison | Neal Stephenson | Jonathan Lethem | Charles Burns | China Miéville.
JOSH GLENN'S *BEST ADVENTURES* LISTS: BEST 250 ADVENTURES OF THE 20TH CENTURY | 100 BEST OUGHTS ADVENTURES | 100 BEST RADIUM AGE (PROTO-)SCI-FI ADVENTURES | 100 BEST TEENS ADVENTURES | 100 BEST TWENTIES ADVENTURES | 100 BEST THIRTIES ADVENTURES | 75 BEST GOLDEN AGE SCI-FI ADVENTURES | 100 BEST FORTIES ADVENTURES | 100 BEST FIFTIES ADVENTURES | 100 BEST SIXTIES ADVENTURES | 75 BEST NEW WAVE SCI FI ADVENTURES | 100 BEST SEVENTIES ADVENTURES | 100 BEST EIGHTIES ADVENTURES | 75 BEST DIAMOND AGE SCI-FI ADVENTURES | 100 BEST NINETIES ADVENTURES (in progress) | 1994 | 1995 | 1996 | 1997 | 1998 | 1999 | 2000 | 2001 | 2002 | 2003 | NOTES ON 21st-CENTURY ADVENTURES.