Diamond Age 75 (59)
By: Joshua Glenn
April 26, 2020
One in a series of posts about the 75 best science fiction novels published during the genre's Diamond Age era (from 1984–2003, according to HILOBROW's periodization schema). For Josh Glenn's complete Diamond Age Sci-Fi 75 list, click here.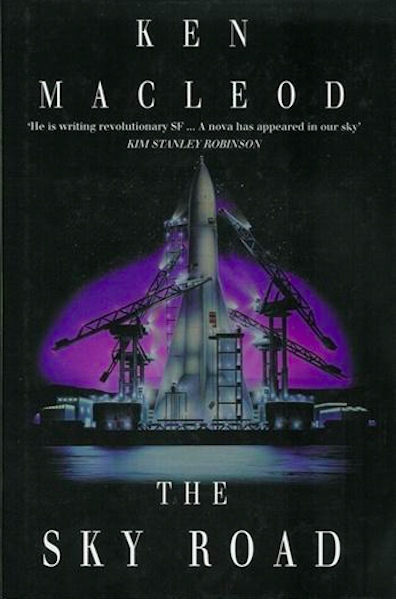 Ken MacLeod's Fall Revolution adventure The Sky Road (1999).
This alternate sequel to The Stone Canal (1996), the second installment in MacLeod's Fall Revolution series, is set partly in a distant, idyllic future. Centuries after the civilization-destroying Deliverance, Merrial, a beautiful "tinker" (i.e., a disillusioned, life-extended communist), falls in love with Clovis, a young scholar researching a biography of Myra Godwin-Davidov ("The Deliverer") and working as a welder on the first spaceship in centuries. She seduces him into extrapolating the ship's future from Myra's story, which takes place c. 2050, during an inflection point. Humankind's future depends on a decision that Myra — who momentarily appeared near the conclusion of The Stone Canal — must now make. How she arrived at this point requires us to travel back even further, to her idealistic days as a Trotskyist in 1970s Glasgow — and the many compromises she's made en route to her position as the woman in charge of the world's last remaining nuclear weapons. When the Sheenisov (a Russian-Chinese superpower) threaten global conquest, can she avoid nuclear holocaust? Although published last, I'd suggest reading The Sky Road before the others.
Fun facts: Asked by an interviewer, "Of all the characters you've conjured, which one did you most relate to and why?", MacLeod replied, "I think it was Myra in The Sky Road. She has a lot of baggage, a very long life's load of knowledge and guilt, but she still goes forward and acts decisively."
***
DIAMOND AGE SCI-FI at HILOBROW: William Gibson | Bruce Sterling | Margaret Atwood | Ann Nocenti | Frank Miller | Alan Moore | Octavia E. Butler | Iain M. Banks | Grant Morrison | Neal Stephenson | Jonathan Lethem | Charles Burns | China Miéville.
JOSH GLENN'S *BEST ADVENTURES* LISTS: BEST 250 ADVENTURES OF THE 20TH CENTURY | 100 BEST OUGHTS ADVENTURES | 100 BEST RADIUM AGE (PROTO-)SCI-FI ADVENTURES | 100 BEST TEENS ADVENTURES | 100 BEST TWENTIES ADVENTURES | 100 BEST THIRTIES ADVENTURES | 75 BEST GOLDEN AGE SCI-FI ADVENTURES | 100 BEST FORTIES ADVENTURES | 100 BEST FIFTIES ADVENTURES | 100 BEST SIXTIES ADVENTURES | 75 BEST NEW WAVE SCI FI ADVENTURES | 100 BEST SEVENTIES ADVENTURES | 100 BEST EIGHTIES ADVENTURES | 75 BEST DIAMOND AGE SCI-FI ADVENTURES | 100 BEST NINETIES ADVENTURES (in progress) | 1994 | 1995 | 1996 | 1997 | 1998 | 1999 | 2000 | 2001 | 2002 | 2003 | NOTES ON 21st-CENTURY ADVENTURES.