STUFFED (42)
By: Tom Nealon
January 20, 2020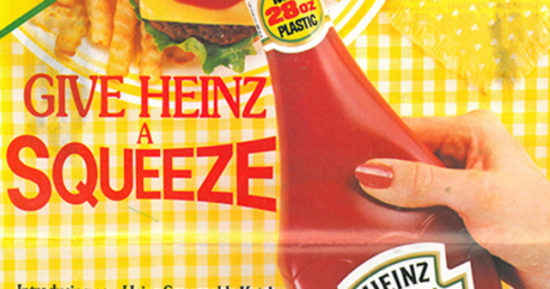 One in a popular series of posts by Tom Nealon, author of Food Fights and Culture Wars: A Secret History of Taste. STUFFED is inspired by Nealon's collection of rare cookbooks, which he sells — among other things — via Pazzo Books.
SQUEEZED OUT
In his Natural History written in the first century A.D., Pliny describes the Roman's extreme love of the fish sauce garum which led them to start turning all sorts of sea creatures into sauce — mackerel guts, cockles, tunny, crabfish, sea nettles, lobsters, and barnacles were all salted and left to sit in the sun until pressed and bottled for use. Though their unbalanced love of fish sauce was new, fish sauce itself was borrowed from the Greeks and Phoenicians who filled amphorae with the stuff and shipped it from one end of the Mediterranean to the other and likely much farther afield. In fact, it wouldn't be surprising if a condiment made from fish fermented in salt was nearly as ancient as condiment uses of garlic, onion, or chile pepper (all thousands of years BCE); the umami flavor that is released when fish guts are salted and fermented really does seem to have near universal attraction to humans.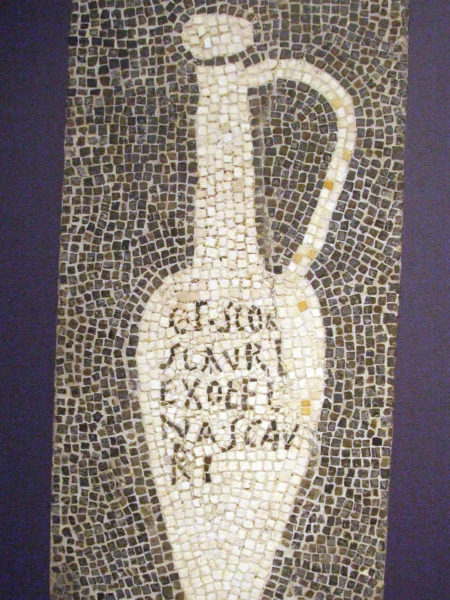 Which is why the U.S. had its own bacchanalian period of turning everything into an umami ketchup — walnuts, cockles, apples, anchovies, mushrooms, barberries, cucumbers, currants, gooseberries, grapes, herring, mussels, peaches, rum, squash, and whortleberries all got the ketchup treatment. However, unlike Roman fish sauce which retained a wide variety of purities, flavors and virginities, here we landed on endless iterations of the same tomato ketchup. Plain, Heinz style. Which was enough for a long while — it had incorporated so many flavors, vinegar, sugar, umami, bitter tomatoes, and the spices (or fake flavors simulating them) from the spice trade that had been popular in England for hundreds of years: cloves, nutmeg, black pepper, ginger. With how much lamenting there has been about the American predilection to put ketchup on everything — fries, eggs, hot dogs, steaks — it is easy to imagine it having been less popular. But can we imagine it having been moreso? A world where there were 57 varieties… of ketchup?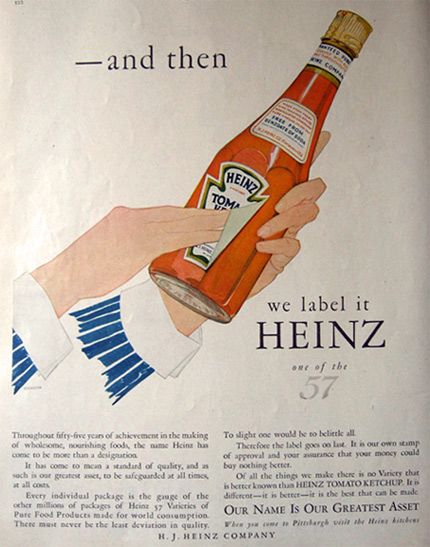 As we've learned with IPAs and the siracha craze, Americans love nothing better than novel flavors turned banal through repetition. It should have been easy to add ketchup flavors over the years as American's palates changed, but somehow, most of the times it has been done, it has been done idiotically. Recently we've seen self-abnegating versions like sriracha ketchup and "mayochup" emerge. If they'd been called spicy ketchup and pink ketchup, I might be writing a different ketchup piece right now, but, alas, at some point, ketchup manufacturers began to lean in to their own undoing, embracing the criticisms "it's for children," "it's not a vegetable," "it's unsophisticated." Not to mention the relationship with asshole presidents: Nixon put it on cottage cheese, Reagan claimed it was vegetable, Trump puts it on $80 steaks etc etc.
But why did it fail? What stopped ketchup just short of its goal? If it had continued to barrel along, adding flavors, absorbing ideas, barbecue sauce would have been unnecessary (as a supermarket condiment), the existence of alternate-reality ketchups like the Costa Rican salsa lizano, Japanese bulldog sauce, and English HP, are all testaments to ketchup's failure. It didn't go too far, it failed to go far enough, it stopped short at the precipice of greatness and failed to leap bravely into the void and, instead, sat and redesigned its container. Ketchup began by boldly trying to be all flavors at once — sour, umami, salty, sweet, bitter. It tried a few times to add more spiciness — pungent, in the terminology of taste scientists — but it never caught on. Not too surprising since most of the attempts were in the mid-20th century when chile peppers were still — outside of cayenne powder and maybe tabasco in the tellingly tiny bottles — mostly terrifying. So we have three grades of ketchup — fancy, extra standard and standard — all of which deal with such mundane issues as presence of peel or seeds and color.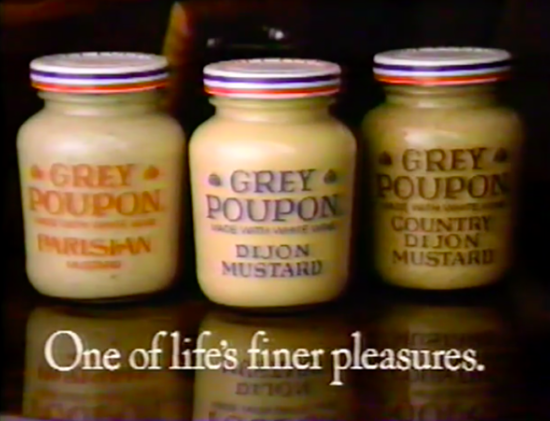 As the gustatory overton window of the average American begins to expand in the 1970s and '80s, we saw salsa become a thing, Dijon mustard suddenly become a way to feel rich, horseradish end a run of success and balsamic emerge from Italian attics to be faked all over America and ketchup… switch from one of the most iconic packages in the universe to a squeezable container. We've all heard about how much easier it was to use after, what a pain it was getting ketchup's thixotropic ass out of the bottle, and how children everywhere thanked Heinz for the innovation. But it is undeniable that much of the magic of ketchup was lost with the bottle, and that right up until the switch, Heinz was advertising the thickness and the wait as features, not bugs, of the process. What the hell?
I am, as ever, willing to consider whether it was a vast right-wing conspiracy. Were they trying to stick it to the common man while they invested in Grey Poupon futures? After all, few things could have been worse for ketchup's reputation than being associated with Richard Nixon and his disgusting cottage cheese. Except, possibly, being called a vegetable by the Reagan administration. Are these coincidences? Now, that's not really what happened with Reagan, of course; it was an independent FDA that suggested ketchup (and relish) be counted as vegetables for purposes of school lunch machinations. But ketchup suffered all the same. Maybe relish too, though they might deserve it for what they tried to do to pickles. This was a time, after all, when the right was openly hostile to working-class ketchup eaters, even the white ones, so the story made sense — even if it was assembled from a collection of half-facts, and it always seemed like the sort of thing Reagan might do. (This was all in contrast to an actual 2011 bill passed in Congress that suggested the tomato sauce on pizza be counted as a vegetable — that really was just to make money for lousy food companies on the backs of poor children).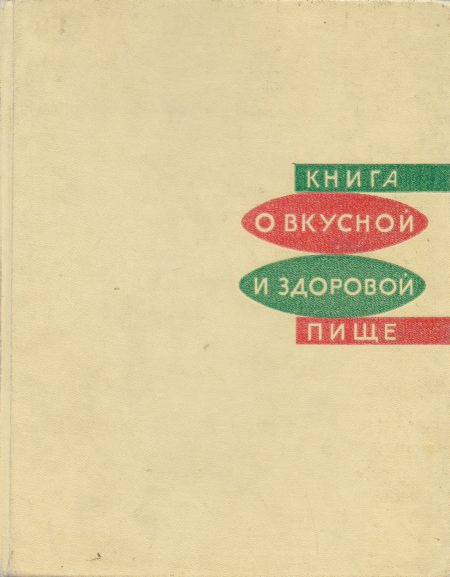 Or perhaps it was a Russian disinformation campaign — ketchup has a funny history in Russia. Anastas Mikoyan, the People's Commissar for the Food Industry and mastermind behind the pervasive Book of Tasty and Healthy Food brought ketchup to the Soviet Union around 1936 (after visiting the US to study food production). Mikoyan advertisements in the 1930s claimed ketchup was "the best, sharp, aromatic relish for meat, fish, vegetables and other dishes." That's what I'm talking about. However, after WWII, ketchup ceased to be imported and it was removed from subsequent editions of the cookbook and ketchup more or less vanished from the USSR until it began to be imported through Bulgaria in the early 1980s. Meanwhile, ketchup on mushroom pizza was wildly popular in iron-curtain Poland around the same time — was ketchup a victim of KGB black propaganda? Were they trying to ruin ketchup's shiny American reputation because they knew it's return was inevitable? Maybe a little. Like the CIA they had their hand in everything back then, but it was probably just bad timing: Nixon, vegetables, dumping the bottle, and a failure to imagine ketchup being continuously reinvented, as it had been in the 19th century.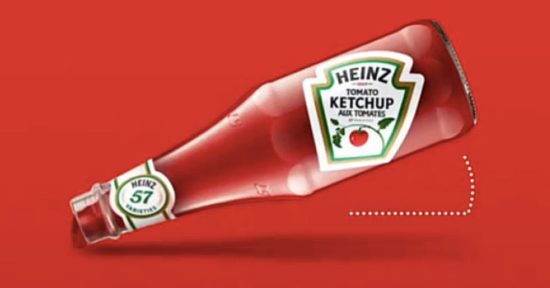 But imagine what we've lost! We could have have had orange (mustard), pink (mayo), purple (something blue) ketchup, spicy, astringent, garlicky ketchup, sour, bitter ketchups, thin, vinegary ketchups you can use as marinades or do shots of, extra thick ketchups that never even come out of the bottle but spread a ketchup miasma over your meal, but no, instead all we have is Heinz, 36 years later trying to bring the bottle back by putting the label on sideways. Heinz could have powered through the '70s and '80s, buying up tomato producers, chile farms, growing mushrooms in caves throughout Vermont, inventing strains of grapes to bring tannins back to ketchup, cornering the vinegar market, buying hop producers to make IPA ketchup for hirsute bespoke velocipede riding hop addicts, inventing new chiles for endorphin craving machismo deranged heat heads, selling reusable bluetooth-enabled chemical-analyzing ketchup bottles-pushing recommendations to our phones. They'd have been so successful that they could have gone the way of other icons when millenials stopped being interested and their stock stalled — bought up by a private equity firm and sold off piece by piece, all those farms and chile patents and mushroom caves and high tech bottles, suddenly worth more than the ketchup business. The ketchup industrial complex, once so vibrant that the door of the average refrigerator was filled with 14 different types of ketchup and maybe a vinaigrette, now chopped up and sold for parts.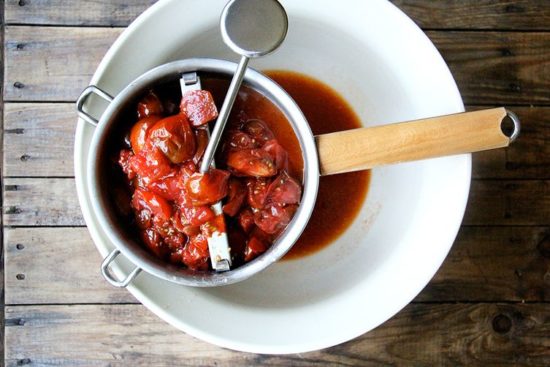 And here we'd be in 2020, no ketchup at all, with millennials tik-toking away, oblivious, and our kids acting like we were idiots for constantly telling them what ketchup meant to us, or about the first time we ate a french fry, why orange ketchup #2 (the one with relish) shouldn't be eaten after Labor day. But then we'd bounce back, we would make our own. Small batches, ketchup speakeasies for old folks and the deranged, we would exchange recipes and mason jars like our great-great-great grandpappies did back in the aughts. Screw those millenials and private equity, we'd make our own goddamned ketchup. 57 varieties. At least.
We can rebuild.
***
STUFFED SERIES: THE MAGAZINE OF TASTE | AUGURIES AND PIGNOSTICATIONS | THE CATSUP WAR | CAVEAT CONDIMENTOR | CURRIE CONDIMENTO | POTATO CHIPS AND DEMOCRACY | PIE SHAPES | WHEY AND WHEY NOT | PINK LEMONADE | EUREKA! MICROWAVES | CULINARY ILLUSIONS | AD SALSA PER ASPERA | THE WAR ON MOLE | ALMONDS: NO JOY | GARNISHED | REVUE DES MENUS | REVUE DES MENUS (DEUX) | WORCESTERSHIRE SAUCE | THE THICKENING | TRUMPED | CHILES EN MOVIMIENTO | THE GREAT EATER OF KENT | GETTING MEDIEVAL WITH CHEF WATSON | KETCHUP & DIJON | TRY THE SCROD | MOCK VENISON | THE ROMANCE OF BUTCHERY | I CAN HAZ YOUR TACOS | STUFFED TURKEY | BREAKING GINGERBREAD | WHO ATE WHO? | LAYING IT ON THICK | MAYO MIXTURES | MUSICAL TASTE | ELECTRIFIED BREADCRUMBS | DANCE DANCE REVOLUTION | THE ISLAND OF LOST CONDIMENTS | FLASH THE HASH | BRUNSWICK STEW: B.S. | FLASH THE HASH, pt. 2 | THE ARK OF THE CONDIMENT | SQUEEZED OUT | SOUP v. SANDWICH | UNNATURAL SELECTION | HI YO, COLLOIDAL SILVER | PROTEIN IN MOTION | GOOD RIDDANCE TO RESTAURANTS.
MORE POSTS BY TOM NEALON: Salsa Mahonesa and the Seven Years War, Golden Apples, Crimson Stew, Diagram of Condiments vs. Sauces, etc., and his De Condimentis series (Fish Sauce | Hot Sauce | Vinegar | Drunken Vinegar | Balsamic Vinegar | Food History | Barbecue Sauce | Butter | Mustard | Sour Cream | Maple Syrup | Salad Dressing | Gravy) — are among the most popular we've ever published here at HILOBROW.