CARBONA YOUR ENTHUSIASM (INTRO)
By: Joshua Glenn
July 31, 2020
Welcome to HILOBROW's 10th summer "enthusiasm" series!
Since 2011, we've commissioned annual series of 25 enthusiastic posts — on topics ranging from Jack Kirby panels to Golden Age fantasy novels, Fifties TV shows, and old-school hip hop — by 25 HILOBROW friends and regular contributors. This summer's series is dedicated to punk songs of the Seventies (1974–1983, according to our periodization schema). The series' moniker pays homage to the Ramones' "Carbona Not Glue," a 1977 tongue-in-cheek paean to the pleasures of huffing cleaning solvent.
We're very grateful to our talented and generous contributors, many of whom have donated their fees to the ACLU.
Below, you'll find a few notes on punk — and related genres — from a generational perspective, as well as a thematic one (based on the installments in this series). Not interested? Feel free to skip. The CARBONA YOUR ENTHUSIASM series begins tomorrow. Enjoy!
THE BLANK GENERATION & OGXERS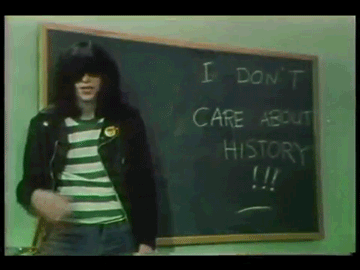 As I've written elsewhere, proto-punk music was pioneered by Boomer refuseniks like Wayne Kramer, Jonathan Richman, Fred "Sonic" Smith, Iggy Pop, Johnny Thunders, Patti Smith, not to mention HILOBROW friends David Johansen and Richard Hell. Borrowing a joke from The Voidoids' 1977 debut album, I've nicknamed this cohort of Boomer refuseniks (born 1944–1953) the Blank Generation.
The first distinct music scene to claim the punk label appeared in New York around 1974, hence the start date for this series' purview. The credit/blame for punk is due both to Blank Generation types like Joe Strummer, Joey Ramone, Stiv Bators, Debbie Harry, Lux Interior, and Poison Ivy, and to members of what I've dubbed the Original Generation X (born 1954–1963): e.g., Poly Styrene, John Doe, John Lydon, Exene Cervenka, Mick Jones, Sid Vicious, Keith Levene, Paul Simonon, Feargal Sharkey, Pete Shelley, Joan Jett, Captain Sensible, and Rat Scabies. NB: Punk-adjacent HILOBROW friends Gary Panter and William Gibson belong to the Blank Generation; meanwhile, Annie Nocenti, Douglas Rushkoff, and Luc Sante (who's contributed a post to CARBONA YOUR ENTHUSIASM) are OGXers.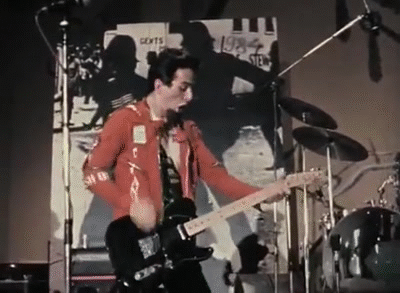 Post-punk, which began around 1978, is almost entirely an OGXer phenomenon: One thinks of, for example, John Lydon (again), Green Gartside, Ian Curtis, Peter Hook, Robert Smith, Mark E. Smith, Paul Weller, Jah Wobble, Bernard Sumner, Siouxsie Sioux, Jon King, Colin Newman, Richard Butler. (New Wave, however, was the product of both OGXers and Blanks; check out our 2106 series QUIRK YOUR ENTHUSIASM). Same goes for hardcore, which started around the same time: One thinks, for example, of OGXers Greg Ginn, Henry Rollins, Ian MacKaye, Jello Biafra, Chuck Dukowski, Dez Cadena, H.R., Dr. Know, Darby Crash.
Meanwhile, Bob Mould, D. Boon, Paul Westerberg, Thurston Moore, Michael Stipe, Mike Mills, Perry Farrell, Gordon Gano, Bob Stinson, Morrissey, Johnny Marr, and other alt-rock pioneers — including, crucially, HILOBROW friend Mike Watt, who has contributed an installment to the CARBONA YOUR ENTHUSIASM series — are also OGXers. The extraordinary generation that also gave us old-school hip hop (check out our 2013 series HERC YOUR ENTHUSIASM), zines, alternative comics, and pretty much everything else that made life worth living during the Seventies, Eighties, and Nineties.
It's amusing to distinguish between these musical genres, but punk itself is too promiscuous and eccentric to settle unresistingly into any such schema. When we began recruiting participants for our CARBONA YOUR ENTHUSIASM series, therefore, we invited our contributors to decide for themselves which favorite songs from 1974–1983 count as "punk." So if you're confused, bemused, or offended that this series includes Public Image Ltd., say, or The Soft Boys or The Cure, that's OK with us. We fully endorse our contributors' decisions.
PUNK THEMES
Having received 24 of the 25 CARBONA YOUR ENTHUSIASM series installments, I put together the following notes — which are by no means intended to be the final word on punk themes.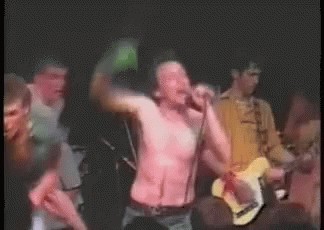 The primary aspect of punk that would likely occur to anyone asked to characterize the phenomenon is: cathartic, full-throated, barbaric yawps of righteous anger and contempt. To sensitive, frustrated, outraged youth in the immediate aftermath of the Sixties (1964–1973, according to HILOBROW's schema), punk provided a much-needed pressure-relief valve. Range and contempt were expressed via both content and form. Writing about the the Sex Pistols' "Problems" (1977), for example, Gordon Dahlquist paints a vivid picture of the interplay of music and lyrics: "The playing is simple and stripped down, but also massive, barreling out of the gate like a noise tank. By the time Rotten opens his mouth, the music's raised him to the equivalent of a papal balcony, and he delivers the sneering sermon."
Punk rage was often inspired by sociopolitical oppression. Writing about The Clash's "Washington Bullets" (1980), Adam McGovern notes: "As a 16-year-old at the dead end of the complacent 1970s, it was exhilarating to hear a revolutionary force, the Sandinista rebels, extolled in a pop song; this was punk in spirit even as the song itself was one signal of the band's outgrowing of punk in sound." You didn't need to fully grasp the issues of the day, though, notes Jessamyn West. Writing about Dead Kennedys' "Kill the Poor" (1980), she recounts: "I was an angry rural teen without a lot of larger context for the issues in society, or my family, that invoked that anger. […] 'Kill the Poor' was an angry song about rich people hating poor people, and having weapons to do something about it."
Cultural repression, meanwhile, triggered punk contempt, as Lynn Peril notes in her commentary on Crass's "Smother Love" (1981), which she describes as "a scathing indictment of (hetero) sexual politics and monogamy. 'The true romance is the ideal repression,' sings Eve Libertine. […]If Joan of Arc fronted an anarcho-punk rock band, she'd sound like this." Sometimes, of course, punk contempt tipped over into nihilism. The Soft Boys' "I Wanna Destroy You" (1980), according to Anthony Miller, is "a jubilant hymn to annihilation. […] After a seven-second clangor of guitars, singer and songwriter Robyn Hitchcock blares out the title phrase four times, with a three-part harmony on the "I" topped off by drummer Morris Windsor's falsetto that wails like a siren. The song beckons you to sing along."
In his 1980 essay "Within the Context of No Context," George W.S. Trow, writing acerbically about the punk aesthetic, describes it as being reminiscent of "what an extraordinary prisoner might do in his cell." There is a limit to how transformative flinging shit at the walls is, Trow warns. But who says punk is supposed to be useful? To quote Henry Miller, writing about young Americans he encountered just before WWII, "What I like about them is that they know enough not to want to do a stroke of honest work. They would rather beg, borrow and steal… They look at their fathers and grandfathers, all brilliant successes in the world of American flapdoodle. They prefer to be shit-heels, if they have to be. Fine! I salute them."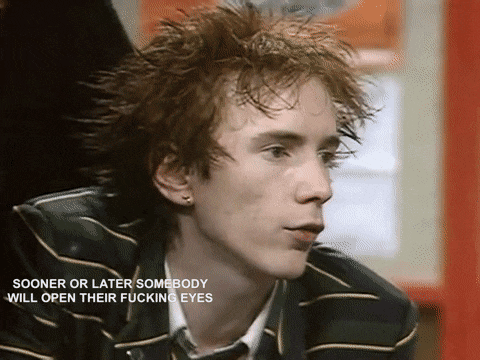 Hyper-aware of sociopolitical oppression and cultural repression, punk is gospel music for those too wised-up or cynical to have faith in liberation, much less in transcendence. It's music by and for the alienated, those who resent being controlled, exploited, manipulated. And in many cases — particularly when we're talking about post-punk — the avant-garde nature of the music itself serves to estrange, awaken and terrify, arouse and confuse.
James Parker, writing about The Jam's "Going Underground" (1980), recalls that "it was a rush, a roar, an overwhelming, full of shouts and chants and muscular mood-shifts. I couldn't process it. The voice of the young Paul Weller — passionate, urban, sardonic, riot-starting, impossibly tough-sounding — turned upside-down, in an instant, my world of short trousers and heavily policed bedtimes."
At a formal level, punk music isn't economical, well-formed, proper; it encourages its listeners to reject such standards as well. "The song's main rhythm guitar part is a syncopated, stop-time riff that's deceptively reconfigured every time it re-emerges; the bass dodges around it like a debtor," writes Douglas Wolk of The Homosexuals' "Soft South Africans" (1978). "Then there's a bridge where the band suddenly falls into punk rock lockstep while everyone croons and whines about fumes and steam and 'wet odours,' until they hit a word that's spelled, and pronounced, 'ORGASMMMMmmmmm!'" Luc Sante, recalling the impact of Public Image Ltd.'s "Public Image" (1978)," recounts: "It didn't matter what John Lydon was singing, and it sure doesn't now — self-justifying tracts, however well-crafted, seldom survive their minute. His voice, on the other hand, is incantatory, as he economically uses his limited range to convey manic insistence. So you have that possessed muezzin atop the muscular dreaminess of the guitar, and that atop the widescreen dub/disco bottom supplied by the rhythm section. The song sounded like nothing else."
Gang of Four's "Return the Gift" (1979), writes Tor Aarestad, is a kind of anti-music: "Andy Gill's aggressive, goading guitar playing unsettles the listener, creates tension; he is the critic, the dismantler of the world. Gill once said that Gang of Four had 'anti-solos,' holes where music should be." "Tension without release defined punk," agrees David Smay, in his post on The Rezillos' "(My Baby Does) Good Sculptures" (1977): "A Different Kind of Tension. A mindless, directionless energy. Other punks eventually got faster than thrash, but nobody ever sounded as tightly wound and totally wired as The Rezillos." And in Romeo Void's "Never Say Never" (1981), Devin McKinney discerns danger: "Its electric charge comes at the contact point between unity and disunity, between music that is instantaneous and unrelenting and lyrical images that are fragmented and discontinuous, separate stories occurring on the same street."
Although punk music — formally, that is — doesn't provide answers, it can in some cases serve to deprogram our "over-automatized" (to borrow a term from Shklovsky) responses. "As Robert Smith howled about the fifteen-inch food decorating bag with three piping nozzles, with the sound of him crackling the paper bag on which this offer was written cutting in over the music, the items in our pantry took on a new potential," recalls Vanessa Berry of her adolescent encounter with The Cure's "So What" (1979). "If a sugar bag could be a punk accessory, anything could be, no matter how mundane. Any object could be energised by disaffection, turned against its intended purpose, made anew."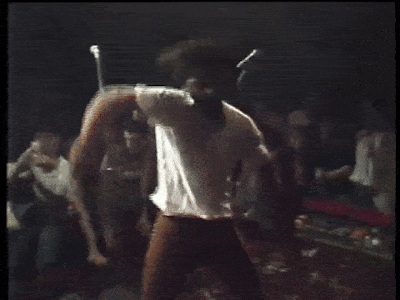 Although there may be no liberation, no light at the end of the tunnel, the punk scene — the mosh pit — the songs themselves offer a refuge to the angry and the alienated.
"That was how I first heard Flipper: alone, eighteen, rewinding 'Sex Bomb' over and over and exploring it like a vivid dream," recalls Mimi Lipson, writing about Flipper's 1981 song. It was still everlasting night, but the circle of wet pavement widened out to a cavernous space with something in every part of it. […] "Sex Bomb" was a party I wanted to get to." So powerful was the siren song of a punk scene that it could result in creative mis-listening: "When I did embark on my first trip to the Big Apple — my father warning me beforehand, "Watch yourself: they play for keeps down there!" — of course we cranked the Demics single on the tape player as we tooled out along the Queen Elizabeth Way for the Niagara Falls border," recounts Mark Kingwell, in his post on The Demics' "New York City" (1979). "The song is actually ironic, something I did not appreciate at the time."
Punk's stripped-down, amateurish, sometimes purposely "stupid" form is inviting, welcoming all comers. Upon first encountering the Germs' "Forming" (1977), Mandy Keifetz recalls that "I could hear that the Germs are not using their instruments in the way in which those instruments were designed to make sounds. They appear to genuinely not know how to use them at all, except to make a riveting racket. A riveting racket which screams — yo, this shit is fucked up." Deb Chachra, writing about The Buzzcocks' "Ever Fallen in Love" (1978), draws an analogy between punk and comics: "Scott McCloud, in his book Understanding Comics, argues that as images become more and more simplified, photographs to icons, they not only shift from the concrete to the abstract, but also from the the specific to the universal. […] Most pop songs about unrequited love dwell closely on the specifics of one individual. But not this song: it's driving, catchy, and, above all, repetitive." Punk beckons us into a temporary autonomous zone where, for a moment, you're seen and known.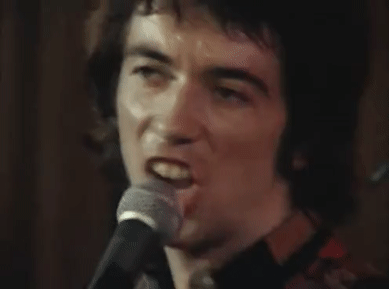 Adrienne Crew, who's writing a semi-autobiographical novel titled Ballad of a Black Punk Princess, discovers in Bad Brains' reggae song "I and I Survive" (1982) not a message of liberation and transcendence, but the next best thing: survival. "And what did Jah show them, I and I survive. / They tried to stop this nation but, I and I survive. / To chant down creation, I and I survive. The 'nation' in these lyrics is Jamaica — but it's also the African diaspora throughout the centuries, as depicted on the cover of this single," she notes. "It's hard to be black in this world, and it always has been. But we will survive." PS: Check out Adrienne's excellent Instagram feed.
What is the sociopolitical nature of punk's temporary autonomous zone? We can infer, I think that it's anti-anti-utopian: a noncoercive social totality where no square pegs are ever forced into round holes. But punks didn't always succeed in realizing punk's vision, with the result that one's alienation might find no alleviation. In her analysis of Sorry's "Imaginary Friend" (1984), Stephanie Burt muses: "[Y]ou might think that hugging your worst aspects close, escaping into unstable fantasies that someone who doesn't exist might someday like you, would not fit a punk, or a hardcore, song. […] But the song as recorded just writhes till it stops, as Easley and company act out their frustrated isolation: surrounded by bandmates, by a whole hardcore scene, they can still feel alone."
In my own post on The Freeze's "This is Boston, Not L.A." (1982), I quote Clif "Hanger" Croce's warning that "If you dance the same and dress the same / It won't be long 'til you are the same / You look the same and act the same / There's nothing new and you're to blame." At its best, the punk scene — at least as I experienced it — was a noncoercive utopian moment, or Argonaut Folly.
Punk can be earnest — does anyone else remember thinking, rather guiltily, c. 1985, that the DC hardcore scene was way too earnest and preachy? — but mostly it's either morally serious, or sardonic, sarcastic, stupid. I find all of these modes enjoyable. Writing about The Cramps' "Human Fly" (1978), Dan Fox recalls loving "the onomatopoeiac 'bzzz bzzz bzzz' lyric and how the buzz seemed part of the guitar fuzz. There was Lux Interior's yelping, desperate voice, trapped in rockabilly-style slapback delay like an insect trying to escape through a glass window […] the song was a top-notch comedy classic." I've claimed elsewhere that punk's great progenitor is Curly Howard of the Three Stooges.
Engaged irony and seriousness, as I first argued in a 1997 issue of Hermenaut, are not mutually exclusive. Punk is most subversive, I think, when it's ironic or even absurdist in an engaged fashion. One thinks of X-Ray Spex, for example. In her post on the pioneering punk act's "Oh Bondage! Up Yours!" (1977), Miranda Mellis writes: "A cunning laugh opens the face. The lit fuse of the mouth spits back, to refuse what refuses you, such as the received story of a girl's virtue with its codes of erasure, pretense, and silences which disconnect her from knowledge, courage, reality, comedy — because yes, it's all laughable."
Engagement can be political or moral; it can also be romantic, emotional, even sentimental. Writing about The Rezillos' "(My Baby Does) Good Sculptures" (1977), David Smay notes that although "the early punk era congealed around thwarted sex, neuroticism and bitter irony," the unabashed glee this song takes in celebrating sex and romance "feels giddy and liberating." Deborah Wassertzug, in her post on The Mekons' "Where Were You?" (1978), notes that the song's protypically punk use of tension — "The use of anaphora punctuates a frustrated love affair that jerks between extreme closeup ('When I was buying you a drink / Where were you?') and wide-angle shots ('When I wave to you from a distance / Do you see me?')" ultimately results in "a marriage proposal tossed in, amongst the despair ('Could you ever be my wife / Do you like me?')." Lovely.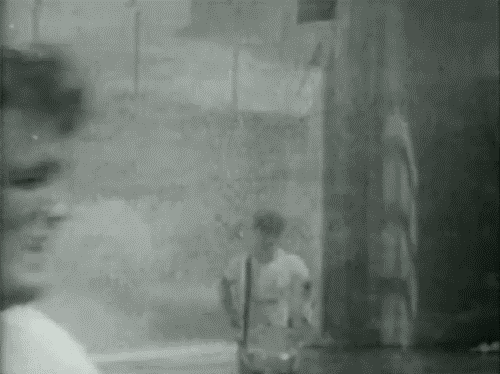 Recalling his youthful experience of The Dils' "You're Not Blank" (1977), alt-rock legend Mike Watt explains that "this tune has trippy parts — it ain't all straight-ahead oompah, the first part has got this 'call and response"' between the guitar and bass that's really distinctive. in a way the words remind of sentiments I've heard in some patsy cline tunes, a kind of parallel in a way I felt resonate in me." Right! Unsettling in form, emotional in content, the best punk music from 1974–1983 created a resonance that rings — literally, for those of us former punks who suffer from tinnitus, but I'm speaking figuratively — on.
Every punk compilation should end with a short burst from The Freeze, so here we go: "They beat me quick and bloody, / 'Don't you know that punk is dead?' / They asked me what I thought of that, / 'Fuck off!' was all I said."
*
The following playlist includes 22 of this series' 25 featured songs. Sorry, but Flipper's "Sex Bomb," The Homosexuals' "Soft South Africans," and The Freeze's "This is Boston, Not L.A." aren't available via Spotify….
*
MORE PUNK, POST-PUNK & ALT-ROCK: Joey Ramone | Dez Cadena | Jello Biafra | HR | Mike Watt | Vivienne Westwood | Iggy Pop | D. Boon | John Lydon | Henry Rollins | Palmolive | Plastic Bertrand | Kira Roessler | Lisa Carver | Frank Black | Ari Up | Gary Panter | Mike Watt | Ian Curtis | Paul Simonon | Darby Crash | Penelope Houston | Exene Cervenka | Sid Vicious | Andrew Eldritch | Kate Pierson | Richard Hell | Paul Westerberg | Lux Interior | Ian Dury | Stiv Bators | Tom Verlaine | Colin Newman | Johnny Thunders | Poison Ivy | Green Gartside | Lydia Lunch | Mark E. Smith | David Byrne | Debbie Harry | Captain Sensible | Mark Mothersbaugh | Kim Gordon | ALSO: The Original Stooge | Origin of the Pogo | Shocking Blocking: Rock'n'Roll High School | Punk fanzines from the 1970s.
MORE ENTHUSIASM at HILOBROW
NERD YOUR ENTHUSIASM (4Q2021): NERDING | ARDUIN | KLINGON CONFIDENTIAL | MAP INSERTS | TIME | & 20 other nerdy passions. SWERVE YOUR ENTHUSIASM (3Q2021): WARHOL'S WALT WHITMAN | 70, GIRLS, 70 | TYRAEL'S MIGHT | SHIRATO SANPEI | THE LEON SUITES | & 20 other never-realized cultural productions. FIVE-O YOUR ENTHUSIASM (2Q2021): DARK SHADOWS | MANNIX | GET SMART | THE ADDAMS FAMILY | I DREAM OF JEANNIE | & 20 other Sixties (1964–1973) TV shows. FERB YOUR ENTHUSIASM (1Q2021): STEVEN UNIVERSE | TOP CAT | REN & STIMPY | SHE-RA AND THE PRINCESSES OF POWER | DRAGON BALL Z | & 20 other animated series. CARBONA YOUR ENTHUSIASM (2020): "Sex Bomb" | "Going Underground" | "Soft South Africans" | "Typical Girls" | "Human Fly" | & 20 other Seventies (1974–1983) punk singles. KLAATU YOU (2020 weekly): ZARDOZ | METROPOLIS | DARK STAR | SINS OF THE FLESHAPOIDS | SOLARIS | & dozens of other pre-STAR WARS sci-fi movies. CONVOY YOUR ENTHUSIASM (2019): THE TAKING OF PELHAM ONE TWO THREE | ROLLERBALL | BLACK SUNDAY | SORCERER | STRAIGHT TIME | & 20 other Seventies (1974–1983) action movies. SERIOCOMIC (2019 weekly): LITTLE LULU | VIZ | MARSUPILAMI | ERNIE POOK'S COMEEK | HELLBOY | & dozens of other comics. TUBE YOUR ENTHUSIASM (2018): LOONEY TUNES | THREE STOOGES | THE AVENGERS | ROCKY & BULLWINKLE | THE TWILIGHT ZONE | & 20 other Fifties (1954–1963) TV shows. WOWEE ZOWEE (2018 weekly): UNISEX | UNDER THE PINK | DUMMY | AMOR PROHIBIDO | HIPS AND MAKERS | & dozens of other Nineties (1994–2003) albums. KLUTE YOUR ENTHUSIASM (2017): THE KILLERS | BANDE À PART (BAND OF OUTSIDERS) | ALPHAVILLE | HARPER | BLOW-UP | & 20 other Sixties (1964–1973) neo-noir movies. #SQUADGOALS (2017 weekly): THE WILD BUNCH | BOWIE'S BAND | THE BLOOMSBURY GROUP | THE HONG KONG CAVALIERS | VI ÄR BÄST! & dozens of other squads. GROK MY ENTHUSIASM (2016 weekly): THE THEORY AND PRACTICE OF LUNCH | WEEKEND | MILLION YEAR PICNIC | LA BARONNE EMILE D'ERLANGER | THE SURVIVAL SAMPLER | & dozens more one-off enthusiasms. QUIRK YOUR ENTHUSIASM (2016): "Tainted Love" | "Metal" | "Frankie Teardrop" | "Savoir Faire" | "Broken English" | & 20 other Seventies (1974–1983) new wave singles. CROM YOUR ENTHUSIASM (2015): DARKER THAN YOU THINK | THE SWORD IN THE STONE | OUT OF THE SILENT PLANET | THIEVES' HOUSE | QUEEN OF THE BLACK COAST | & 20 other Thirties (1934–1943) fantasy novels. KERN YOUR ENTHUSIASM (2014): ALDINE ITALIC | DATA 70 | TORONTO SUBWAY | JOHNSTON'S "HAMLET" | TODD KLONE | & 20 other typefaces. HERC YOUR ENTHUSIASM (2013): "Spoonin' Rap" | "Rapper's Delight" | "Rappin' Blow" | "The Incredible Fulk" | "The Adventures of Super Rhyme" | & 20 other Seventies (1974–1983) hip-hop songs. KIRK YOUR ENTHUSIASM (2012): Justice or vengeance? | Kirk teaches his drill thrall to kiss | "KHAAAAAN!" | "No kill I" | Kirk browbeats NOMAD | & 20 other Captain Kirk scenes. KIRB YOUR ENTHUSIASM (2011): THE ETERNALS | BLACK MAGIC | DEMON | OMAC | CAPTAIN AMERICA | & 20 other Jack Kirby panels.