Diamond Age 75 (66)
By: Joshua Glenn
June 14, 2020
One in a series of posts about the 75 best science fiction novels published during the genre's Diamond Age era (from 1984–2003, according to HILOBROW's periodization schema). For Josh Glenn's complete Diamond Age Sci-Fi 75 list, click here.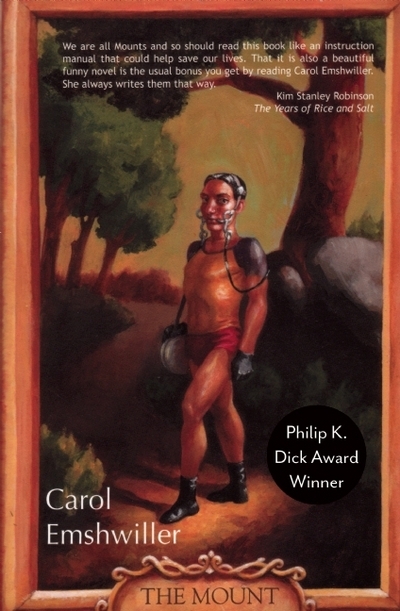 Carol Emshwiller's sci-fi adventure The Mount (2002).
Like all humans, young Charley is used as a riding mount for Hoots — an alien species who centuries earlier arrived on Earth and mastered us. Like the horse narrator of Robert Lawson's Mr. Revere and I (1953), Charley is rather vain, clueless, and overly identified with his master's priorities. When his father, an unusually independent mount who's escaped and now leads a guerrilla movement against the Hoots, kidnaps him — along with the Hoot princeling with whom he has bonded — a reluctant Charley struggles against the conflicting appeal of freedom vs. security, family vs. friendship, and enlightenment vs. the social construction of reality. Which makes this sound like a heavy-handed, didactic treatise — but it's really more of a thought experiment beginning with the question, What would it take for an alien species to completely subjugate humankind? It's a fully realized (though not epic) alternative future; Emswhwiller's prose style is captivating; and our perception of the Hoots is manipulated expertly, evolving as we keep reading. Like all fairy tales, it's ending is too pat; otherwise, a gem.
Fun facts: Kim Stanley Robinson said of The Mount, which won the Philip K. Dick Award, "We are all mounts and so should read this book like an instruction manual that could help save our lives." The author was married to Ed Emshwiller, illustrator of many covers for Galaxy, The Magazine of Fantasy & Science Fiction, etc.
***
DIAMOND AGE SCI-FI at HILOBROW: William Gibson | Bruce Sterling | Margaret Atwood | Ann Nocenti | Frank Miller | Alan Moore | Octavia E. Butler | Iain M. Banks | Grant Morrison | Neal Stephenson | Jonathan Lethem | Charles Burns | China Miéville.
JOSH GLENN'S *BEST ADVENTURES* LISTS: BEST 250 ADVENTURES OF THE 20TH CENTURY | 100 BEST OUGHTS ADVENTURES | 100 BEST RADIUM AGE (PROTO-)SCI-FI ADVENTURES | 100 BEST TEENS ADVENTURES | 100 BEST TWENTIES ADVENTURES | 100 BEST THIRTIES ADVENTURES | 75 BEST GOLDEN AGE SCI-FI ADVENTURES | 100 BEST FORTIES ADVENTURES | 100 BEST FIFTIES ADVENTURES | 100 BEST SIXTIES ADVENTURES | 75 BEST NEW WAVE SCI FI ADVENTURES | 100 BEST SEVENTIES ADVENTURES | 100 BEST EIGHTIES ADVENTURES | 75 BEST DIAMOND AGE SCI-FI ADVENTURES | 100 BEST NINETIES ADVENTURES (in progress) | 1994 | 1995 | 1996 | 1997 | 1998 | 1999 | 2000 | 2001 | 2002 | 2003 | NOTES ON 21st-CENTURY ADVENTURES.