SERIOCOMIC (11)
By: Lucy Sante
March 13, 2019
One in a weekly series of enthusiastic posts, contributed by HILOBROW friends and regulars, on the topic of our favorite comic books, comic strips, and graphic novels.
*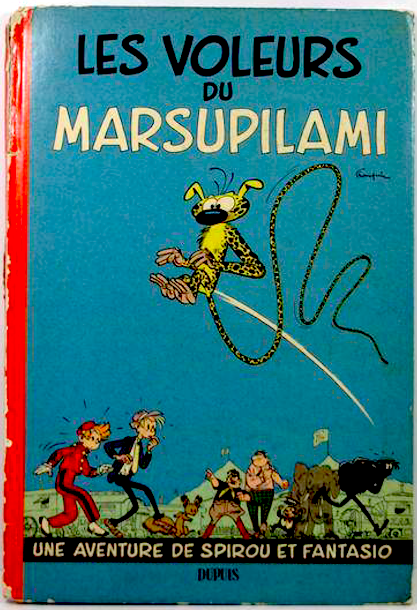 THE MARSUPILAMI
I wanted to be a cartoonist from age 4 until my teens. Small wonder, since I was born in 1954 in Belgium, which is to say one-third of the way through the Golden Age (1947–1969) of Belgian comic weeklies. Cartoonists were stars on the world stage, and they were also miraculously local. There were three magazines that mattered: Tintin, Spirou, and the Franco-Belgian Pilote, associated primarily with Astérix. The one I subscribed to long-distance, ages 8 to 18, was Spirou, home of Lucky Luke, the Smurfs, and the flagship titular series. That had been around since the '30s, the gently madcap adventures of bellhop Spirou and his pet squirrel, Spip. When André Franquin took over drawing it in 1945, though, the tone changed completely.
Franquin was a master of chaos. Every panel is an explosion, with bodies and sound effects hurtling across in a broad arc accompanied by flurries of motion lines and followed by clouds of dust. Franquin could do animation on the printed page better than anyone, turning out panel sequences — slapstick car chases, for example — that somehow pack into their frames all the dynamism of the filmed equivalent. His backdrops are as rigorously, three-dimensionally material as his characters are stylized and frantic, all skinny flailing limbs. He quickly took the series from modest situational humor to crazed B-movie plots calculated to generate the maximum amount of running amok. The puckish Spirou — still in his bellhop uniform, if no longer so employed — and his cousin, the harried magazine editor Fantasio (along with the highly opinionated Spip) set out to solve international crimes, chase down mad scientists, and test advanced and highly dangerous gizmos. In 1952, deep in the Amazonian jungle of Palombia, following one of the challenges in Fantasio's uncle's eccentric will, they fatefully encounter a bulbous-nosed, leopard-spotted, tree-dwelling critter with a tail eight meters long: the Marsupilami.
This animal is, naturally, an agent of chaos. It is generally affectionate, but can fly into volcanic rages, and then, fur bristling, it displays disproportionate strength. Its remarkable prehensile tail is always in play, serving variously as a spring, a wheel, a lasso, a fist, a fishing rig, a grappling hook, a battering ram, and a sort of cherry-picker, elevating the Marsupilami above the tree canopy for observational purposes. In its native habitat, the tail functions primarily like one of Tarzan's vines, to swing from tree to tree. Wrapping its tail around a lamppost from a moving car, the Marsupilami can cause the car to corner without slowing down. Its tip nevertheless has the delicacy of a finger, and there are discreet allusions to its significance in the erotic life of the beast, which like the platypus is a monotreme — a mammal that lays eggs. Its vocabulary consists of one word, houba, which can however take on an encyclopedic array of meanings.
If Belgium is to endure as a nation, it would do well to jettison the Flemish lion and the Walloon rooster and instead adopt the Marsupilami as its heraldic animal. It would look superb on passports.
***
SERIOCOMIC: Mimi Lipson on LITTLE LULU | Sara Ryan on AMPHIGOREY | Gary Panter on THE NUT BROS./THE SQUIRREL CAGE | Gordon Dahlquist on POGO | Robert Wringham on VIZ | Matthew De Abaitua on CAPTAIN BRITAIN | Jessamyn West on FUN HOME | Bradley Peterson on HELLBOY | Stephanie Burt on KITTY PRYDE RETURNS | Jenny Davidson on OOR WULLIE | Luc Sante on MARSUPILAMI | Susan Roe on BLOOM COUNTY | Marilyn Berlin Snell on CHARLES ADDAMS | Deb Chachra on ARKHAM ASYLUM | Judith Zissman on ERNIE POOK'S COMEEK | Alexandra Lange on BETTY (ARCHIE) | Catherine Newman on VERONICA (ARCHIE) | Josh Glenn on SPIRE CHRISTIAN COMICS | Adam McGovern on THE CREW | William Nericcio on ERRATA STIGMATA | Chelsey Johnson on DYKES TO WATCH OUT FOR | Sherri Wasserman on TANK GIRL | Tom Nealon on MEGATON MAN | Erin M. Routson on THE WEDDING OF SCOTT SUMMERS & JEAN GREY | Douglas Wolk on FRANK IN THE RIVER | Annie Nocenti on DICK TRACY | James Parker on 2000 AD | Adrienne Crew on NUTS | Vanessa Berry on MEAT CAKE | John Holbo on WITZEND | Michael Campochiaro on SPIDER-WOMAN | Miranda Mellis on RED SONJA & BÊLIT | Michael Grasso on THE NEW MUTANTS | Ty Burr on BINKY BROWN | Bishakh Som on AMAR CHITRA KATHA | Mark Kingwell on CLASSICS ILLUSTRATED | Brian Berger on JIMBO | Kenya (Robinson) on AGENT 355 | Seth on THE ETERNALS ANNUAL | Susannah Breslin on SLASHER | Lisa Kahlden on JACK CHICK TRACTS | Mandy Keifetz on KRAZY KAT | Tom Devlin on DUM-DUM POSSE READER | Eric Reynolds on ACTION COMICS #460 | Rick Pinchera on EIGHTBALL #16 | Juan Recondo on DAYTRIPPER | Elizabeth Foy Larsen on ROZ CHAST | J.E. Anckorn on HALO JONES | Deborah Wassertzug on GREAT POP THINGS | Peggy Nelson on MAD MOVIE SATIRES | Holly Interlandi on ANGEL SANCTUARY | Karen Green on THE SMITHSONIAN COLLECTION OF NEWSPAPER COMICS.
MORE ENTHUSIASM at HILOBROW
NERD YOUR ENTHUSIASM (4Q2021): NERDING | ARDUIN | KLINGON CONFIDENTIAL | MAP INSERTS | TIME | & 20 other nerdy passions. SWERVE YOUR ENTHUSIASM (3Q2021): WARHOL'S WALT WHITMAN | 70, GIRLS, 70 | TYRAEL'S MIGHT | SHIRATO SANPEI | THE LEON SUITES | & 20 other never-realized cultural productions. FIVE-O YOUR ENTHUSIASM (2Q2021): DARK SHADOWS | MANNIX | GET SMART | THE ADDAMS FAMILY | I DREAM OF JEANNIE | & 20 other Sixties (1964–1973) TV shows. FERB YOUR ENTHUSIASM (1Q2021): STEVEN UNIVERSE | TOP CAT | REN & STIMPY | SHE-RA AND THE PRINCESSES OF POWER | DRAGON BALL Z | & 20 other animated series. CARBONA YOUR ENTHUSIASM (2020): "Sex Bomb" | "Going Underground" | "Soft South Africans" | "Typical Girls" | "Human Fly" | & 20 other Seventies (1974–1983) punk singles. KLAATU YOU (2020 weekly): ZARDOZ | METROPOLIS | DARK STAR | SINS OF THE FLESHAPOIDS | SOLARIS | & dozens of other pre-STAR WARS sci-fi movies. CONVOY YOUR ENTHUSIASM (2019): THE TAKING OF PELHAM ONE TWO THREE | ROLLERBALL | BLACK SUNDAY | SORCERER | STRAIGHT TIME | & 20 other Seventies (1974–1983) action movies. SERIOCOMIC (2019 weekly): LITTLE LULU | VIZ | MARSUPILAMI | ERNIE POOK'S COMEEK | HELLBOY | & dozens of other comics. TUBE YOUR ENTHUSIASM (2018): LOONEY TUNES | THREE STOOGES | THE AVENGERS | ROCKY & BULLWINKLE | THE TWILIGHT ZONE | & 20 other Fifties (1954–1963) TV shows. WOWEE ZOWEE (2018 weekly): UNISEX | UNDER THE PINK | DUMMY | AMOR PROHIBIDO | HIPS AND MAKERS | & dozens of other Nineties (1994–2003) albums. KLUTE YOUR ENTHUSIASM (2017): THE KILLERS | BANDE À PART (BAND OF OUTSIDERS) | ALPHAVILLE | HARPER | BLOW-UP | & 20 other Sixties (1964–1973) neo-noir movies. #SQUADGOALS (2017 weekly): THE WILD BUNCH | BOWIE'S BAND | THE BLOOMSBURY GROUP | THE HONG KONG CAVALIERS | VI ÄR BÄST! & dozens of other squads. GROK MY ENTHUSIASM (2016 weekly): THE THEORY AND PRACTICE OF LUNCH | WEEKEND | MILLION YEAR PICNIC | LA BARONNE EMILE D'ERLANGER | THE SURVIVAL SAMPLER | & dozens more one-off enthusiasms. QUIRK YOUR ENTHUSIASM (2016): "Tainted Love" | "Metal" | "Frankie Teardrop" | "Savoir Faire" | "Broken English" | & 20 other Seventies (1974–1983) new wave singles. CROM YOUR ENTHUSIASM (2015): DARKER THAN YOU THINK | THE SWORD IN THE STONE | OUT OF THE SILENT PLANET | THIEVES' HOUSE | QUEEN OF THE BLACK COAST | & 20 other Thirties (1934–1943) fantasy novels. KERN YOUR ENTHUSIASM (2014): ALDINE ITALIC | DATA 70 | TORONTO SUBWAY | JOHNSTON'S "HAMLET" | TODD KLONE | & 20 other typefaces. HERC YOUR ENTHUSIASM (2013): "Spoonin' Rap" | "Rapper's Delight" | "Rappin' Blow" | "The Incredible Fulk" | "The Adventures of Super Rhyme" | & 20 other Seventies (1974–1983) hip-hop songs. KIRK YOUR ENTHUSIASM (2012): Justice or vengeance? | Kirk teaches his drill thrall to kiss | "KHAAAAAN!" | "No kill I" | Kirk browbeats NOMAD | & 20 other Captain Kirk scenes. KIRB YOUR ENTHUSIASM (2011): THE ETERNALS | BLACK MAGIC | DEMON | OMAC | CAPTAIN AMERICA | & 20 other Jack Kirby panels.