TUBE YOUR ENTHUSIASM (4)
By: Barbara Bogaev
August 4, 2018
One of 25 installments in a series of enthusiastic posts analyzing and celebrating a few of our favorite TV shows from the Fifties (1954–1963).
*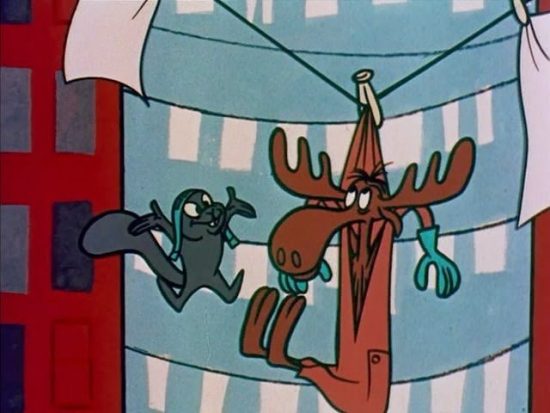 ROCKY AND HIS FRIENDS (1959–1961); THE BULLWINKLE SHOW (1961–1964)
I can't swear that Rocky and Bullwinkle radicalized me at the age of five, but the show was definitely the first jolt of political satire I encountered, a kind of gateway drug to the main formative event of Mad Magazine. The first tip-off that distinguished it from low-hanging, after-school cartoon fruit like The Flintstones and Speed Racer was R & B's frequent breaking of the fourth wall. I remember thinking, "Hey, wait a minute, we're getting away with something here!" And then I started catching some of the self-referential jokes, like:
BORIS: That does it, Natasha, come on, we're going to get A bomb.
ROCKY: You know what A bomb means?
BULLWINKLE: Certainly! A Bomb is what some people call our program.
The idea that you could build a joke around the deadly serious threat behind our kindergarten Duck and Cover drills blew my last-gasp-of-the-Baby-Boom mind. And how reassuring that the Commie Ruskie spies Boris and Natasha were as inept as Wile E. Coyote. It confirmed my earliest suspicions that the grownups didn't have a clue. I started to ask my older brother to explain throw-away jokes I sensed were aimed at The Man:
G-MAN: Army Intelligence, that mean anything to you?
ROCKY: Yeah, it sounds like a contradiction in terms.
With just one wisecrack Rocky taught us healthy skepticism and the definition of an oxymoron, a word fitting to a show that raised punning to epic levels: Rocky honed his superhero flying skills at Cedar Yor Pantz Flying School; Bullwinkle got a scholarship to Wossamotta U, and raced his yacht, The Ruby Yacht of Omar Khayyam, on Veronica Lake. The puns flew by faster than Rocky himself. Good thing too, because the goofy intelligence of the writing distracted you from the rock-bottom-priced Mexican animation, which the TV critic Elvis Mitchell summed up by claiming "you can find more gracefully undulating tattoos." Even if I didn't catch all of the wit, the puns clued me in to the magic that things are not always as they seem, that words can flip conventional wisdom inside out. And that's every bit as subversive as the idea that there's nothing so sacred in America that a flying squirrel and a moose who can remember everything he ever ate can't thumb their crudely drawn noses at it.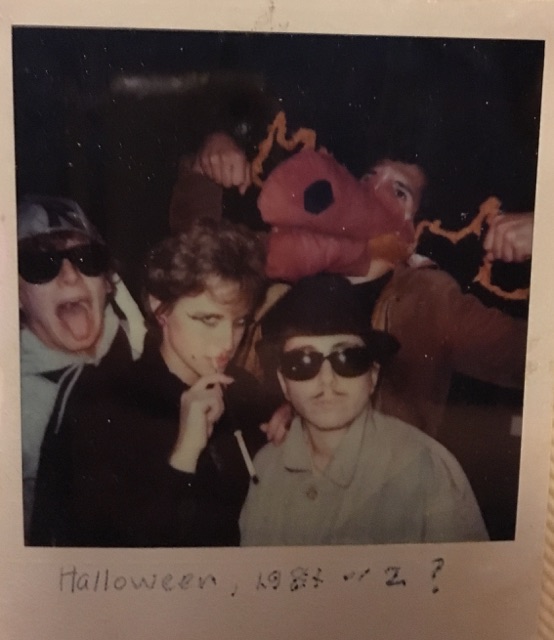 ***
TUBE YOUR ENTHUSIASM: Series Introduction | Luc Sante on LOONEY TUNES | Chris Spurgeon on THE THREE STOOGES | Adrienne Crew on MY THREE SONS | Barbara Bogaev on ROCKY & BULLWINKLE | Devin McKinney on THE TWILIGHT ZONE | James Hannaham on THE NAT KING COLE SHOW | Mimi Lipson on THE BEVERLY HILLBILLIES | Jessamyn West on THE JETSONS | Gary Panter on THE OUTER LIMITS | Peter Doyle on THE MANY LOVES OF DOBIE GILLIS | Mark Kingwell on ROUTE 66 | Josh Glenn on THE ANDY GRIFFITH SHOW | Lynn Peril on THE DICK VAN DYKE SHOW | Rob Walker on LEAVE IT TO BEAVER | Dan Reines on DAVEY & GOLIATH | Adam McGovern on HIGHWAY PATROL | Erik Davis on HAVE GUN — WILL TRAVEL | Greg Rowland on THE PHIL SILVERS SHOW | Annie Nocenti on THE AVENGERS | Elizabeth Foy Larsen on GUNSMOKE | Sarah Weinman on NAKED CITY | Douglas Rushkoff on THE HONEYMOONERS | Kio Stark on ALFRED HITCHCOCK PRESENTS | Gordon Dahlquist on PERRY MASON | Brian Berger on CAR 54, WHERE ARE YOU? | CODA: Crystal Durant on Marc Anthony & Pussyfoot shorts | CODA: Mike Watt on "A Stop at Willoughby"
MORE ENTHUSIASM at HILOBROW
NERD YOUR ENTHUSIASM (4Q2021): NERDING | ARDUIN | KLINGON CONFIDENTIAL | MAP INSERTS | TIME | & 20 other nerdy passions. SWERVE YOUR ENTHUSIASM (3Q2021): WARHOL'S WALT WHITMAN | 70, GIRLS, 70 | TYRAEL'S MIGHT | SHIRATO SANPEI | THE LEON SUITES | & 20 other never-realized cultural productions. FIVE-O YOUR ENTHUSIASM (2Q2021): DARK SHADOWS | MANNIX | GET SMART | THE ADDAMS FAMILY | I DREAM OF JEANNIE | & 20 other Sixties (1964–1973) TV shows. FERB YOUR ENTHUSIASM (1Q2021): STEVEN UNIVERSE | TOP CAT | REN & STIMPY | SHE-RA AND THE PRINCESSES OF POWER | DRAGON BALL Z | & 20 other animated series. CARBONA YOUR ENTHUSIASM (2020): "Sex Bomb" | "Going Underground" | "Soft South Africans" | "Typical Girls" | "Human Fly" | & 20 other Seventies (1974–1983) punk singles. KLAATU YOU (2020 weekly): ZARDOZ | METROPOLIS | DARK STAR | SINS OF THE FLESHAPOIDS | SOLARIS | & dozens of other pre-STAR WARS sci-fi movies. CONVOY YOUR ENTHUSIASM (2019): THE TAKING OF PELHAM ONE TWO THREE | ROLLERBALL | BLACK SUNDAY | SORCERER | STRAIGHT TIME | & 20 other Seventies (1974–1983) action movies. SERIOCOMIC (2019 weekly): LITTLE LULU | VIZ | MARSUPILAMI | ERNIE POOK'S COMEEK | HELLBOY | & dozens of other comics. TUBE YOUR ENTHUSIASM (2018): LOONEY TUNES | THREE STOOGES | THE AVENGERS | ROCKY & BULLWINKLE | THE TWILIGHT ZONE | & 20 other Fifties (1954–1963) TV shows. WOWEE ZOWEE (2018 weekly): UNISEX | UNDER THE PINK | DUMMY | AMOR PROHIBIDO | HIPS AND MAKERS | & dozens of other Nineties (1994–2003) albums. KLUTE YOUR ENTHUSIASM (2017): THE KILLERS | BANDE À PART (BAND OF OUTSIDERS) | ALPHAVILLE | HARPER | BLOW-UP | & 20 other Sixties (1964–1973) neo-noir movies. #SQUADGOALS (2017 weekly): THE WILD BUNCH | BOWIE'S BAND | THE BLOOMSBURY GROUP | THE HONG KONG CAVALIERS | VI ÄR BÄST! & dozens of other squads. GROK MY ENTHUSIASM (2016 weekly): THE THEORY AND PRACTICE OF LUNCH | WEEKEND | MILLION YEAR PICNIC | LA BARONNE EMILE D'ERLANGER | THE SURVIVAL SAMPLER | & dozens more one-off enthusiasms. QUIRK YOUR ENTHUSIASM (2016): "Tainted Love" | "Metal" | "Frankie Teardrop" | "Savoir Faire" | "Broken English" | & 20 other Seventies (1974–1983) new wave singles. CROM YOUR ENTHUSIASM (2015): DARKER THAN YOU THINK | THE SWORD IN THE STONE | OUT OF THE SILENT PLANET | THIEVES' HOUSE | QUEEN OF THE BLACK COAST | & 20 other Thirties (1934–1943) fantasy novels. KERN YOUR ENTHUSIASM (2014): ALDINE ITALIC | DATA 70 | TORONTO SUBWAY | JOHNSTON'S "HAMLET" | TODD KLONE | & 20 other typefaces. HERC YOUR ENTHUSIASM (2013): "Spoonin' Rap" | "Rapper's Delight" | "Rappin' Blow" | "The Incredible Fulk" | "The Adventures of Super Rhyme" | & 20 other Seventies (1974–1983) hip-hop songs. KIRK YOUR ENTHUSIASM (2012): Justice or vengeance? | Kirk teaches his drill thrall to kiss | "KHAAAAAN!" | "No kill I" | Kirk browbeats NOMAD | & 20 other Captain Kirk scenes. KIRB YOUR ENTHUSIASM (2011): THE ETERNALS | BLACK MAGIC | DEMON | OMAC | CAPTAIN AMERICA | & 20 other Jack Kirby panels.