Crom Your Enthusiasm (5)
By: Natalie Zutter
August 7, 2015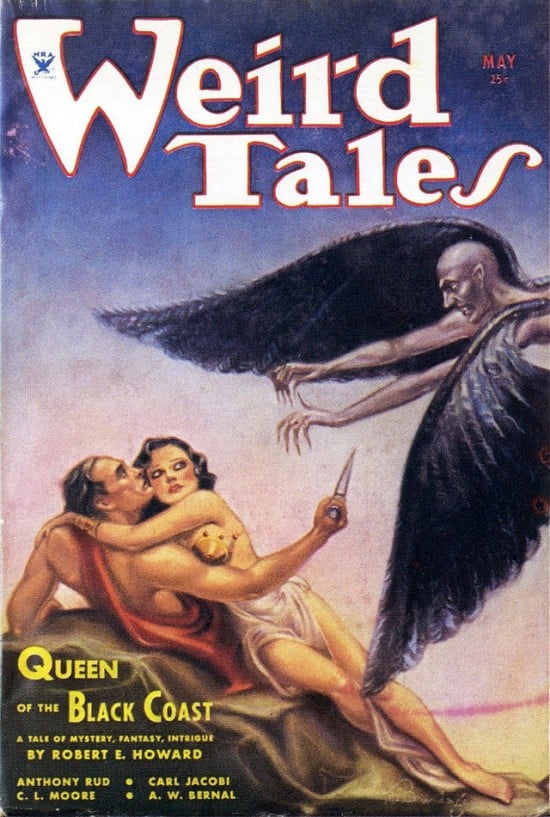 One of 25 installments in a series of posts analyzing and celebrating a few of our favorite fantasy novels from the Thirties (1934–1943). Enjoy!
QUEEN OF THE BLACK COAST | ROBERT E. HOWARD | 1934
To appreciate Conan of Cimmeria is to indulge in a guilty pleasure. The man is a bit of a Mary Sue: With his striking black hair and blazing blue eyes, impossible physique, and ability to scrape through the deadliest of fights, he is no mere mortal barbarian. However, the pleasure of reading about his epic adventures outweighs the guilt.
There's something romantic about Conan's unapologetically mercenary status: He is a sword for hire, whose alliances shift based on who's left standing after a particularly bloody battle. Refusing to be domesticated by civilization, he spurs himself across the world. He slips, chameleon-like, into the roles of royal guardsman, war chief, and pirate queen's consort.
I read Queen of the Black Coast within the context of the collection Conan of Cimmeria. It's one of the few stories in the collection written solely by Robert E. Howard, and it's the best. Even though the other stories send Conan from the arctic tundra into the barren desert, his land travels start to bleed together. Putting him out on the open sea naturally makes his brief but charged partnership (emphasis on "partner") with pirate queen Bêlit stand out.
The other women Conan runs into all exist in their situations temporarily, whether they were beset upon by bandits or kidnapped into slavery. But Bêlit chose the life of a marauder, proving again and again why she deserves the plundered treasure and the songs written in her honor. While most of the women in Conan stories wind up metaphorically and literally stripped, Bêlit is one of the few who owns her nakedness, who uses her ivory body as its own treasure to be appreciated but never fully claimed.
Their bloodthirsty passion is a little disturbing, but again, it's the kind of companionship that Conan needs. Bêlit is no shrinking violet — though let's not forget that the lotus flowers in the story dole out plenty of trouble for Conan. Queen of the Black Coast is the only Conan story that truly swept me up in its wake, where Conan and Bêlit's desire for plunder was matched by their adrenaline thrill of ruling the seas together. I would have read an entire novel about these two, instead of skipping through their epic adventures to the final, grim trap laid by ancient, cursed, oh-so-tempting treasure.
***
CROM YOUR ENTHUSIASM (2015): Erik Davis on Jack Williamson's DARKER THAN YOU THINK | Sara Ryan on T.H. White's THE SWORD IN THE STONE | Mark Kingwell on C.S. Lewis's OUT OF THE SILENT PLANET | David Smay on Fritz Leiber's THIEVES' HOUSE | Natalie Zutter on Robert E. Howard's QUEEN OF THE BLACK COAST | James Parker on J.R.R. Tolkien's THE HOBBIT | Adrienne Crew on Dion Fortune's THE SEA PRIESTESS | Gabriel Boyer on Clark Ashton Smith's ZOTHIQUE stories | John Hilgart on H.P. Lovecraft's THE CASE OF CHARLES DEXTER WARD | Barbara Bogaev on William Sloane's TO WALK THE NIGHT | Rob Wringham on Flann O'Brien's THE THIRD POLICEMAN | Dan Fox on Hergé's THE SEVEN CRYSTAL BALLS | Flourish Klink on C.S. Lewis's PERELANDRA | Tor Aarestad on L. Sprague de Camp and Fletcher Pratt's THE ROARING TRUMPET | Anthony Miller on H.P. Lovecraft's THE SHADOW OVER INNSMOUTH | Suzanne Fischer on E.R. Eddison's MISTRESS OF MISTRESSES | Molly Sauter on Herbert Read's THE GREEN CHILD | Diana Leto on Edgar Rice Burroughs's TARZAN AND THE LION MAN | Joshua Glenn on Robert E. Howard's THE HOUR OF THE DRAGON | Andrew Hultkrans on H.P. Lovecraft's AT THE MOUNTAINS OF MADNESS | Lynn Peril on Fritz Leiber's CONJURE WIFE | Gordon Dahlquist on H.P. Lovecraft's THE SHADOW OUT OF TIME | Adam McGovern on C.L. Moore's JIREL OF JOIRY stories | Tom Nealon on Fritz Leiber's TWO SOUGHT ADVENTURE | John Holbo on Robert E. Howard's CONAN MYTHOS.
***
KERN YOUR ENTHUSIASM (2014): ALDINE ITALIC | DATA 70 | TORONTO SUBWAY | JOHNSTON'S "HAMLET" | TODD KLONE | GILL SANS | AKZIDENZ-GROTESK | CALIFORNIA BRAILLE | SHE'S NOT THERE | FAUX DEVANAGARI | FUTURA | JENSON'S ROMAN | SAVANNAH SIGN | TRADE GOTHIC BOLD CONDENSED NO. 20 | KUMON WORKSHEET | ELECTRONIC DISPLAY | DIPLOMA REGULAR | SCREAM QUEEN | CHICAGO | CHINESE SHIPPING BOX | SHATTER | COMIC SANS | WILKINS'S REAL CHARACTER | HERMÈS vs. HOTDOG | GOTHAM.
HERC YOUR ENTHUSIASM (2013): "Spoonin' Rap" | "Rapper's Delight" | "Rappin' Blow" | "The Incredible Fulk" | "The Adventures of Super Rhyme" | "That's the Joint" | "Freedom" | "Rapture" | "The New Rap Language" | "Jazzy Sensation (Bronx Version)" | "Can I Get a Soul Clap" | "The Adventures of Grandmaster Flash on the Wheels of Steel" | "Making Cash Money" | "The Message" | "Pak Jam" | "Buffalo Gals" | "Ya Mama" | "No Sell Out" | "Death Mix Live, Pt. 2" | "White Lines (Don't Do It)" | "Here We Go (Live at the Funhouse)" | "Rockit" | "The Coldest Rap" | "The Dream Team is in the House" | The Lockers.
KIRK YOUR ENTHUSIASM (2012): Justice or vengeance? | Kirk teaches his drill thrall to kiss | "KHAAAAAN!" | "No kill I" | Kirk browbeats NOMAD | Kirk's eulogy for Spock| The joke is on Kirk | Kirk vs. Decker | Good Kirk vs. Evil Kirk | Captain Camelot | Koon-ut-kal-if-fee | Federation exceptionalism | Wizard fight | A million things you can't have | Debating in a vacuum | Klingon diplomacy | "We… the PEOPLE" | Brinksmanship on the brink | Captain Smirk | Sisko meets Kirk | Noninterference policy | Kirk's countdown | Kirk's ghost | Watching Kirk vs. Gorn | How Spock wins
KIRB YOUR ENTHUSIASM (2011): THE ETERNALS | BLACK MAGIC | DEMON | OMAC | CAPTAIN AMERICA | KAMANDI | MACHINE MAN | SANDMAN | THE X-MEN | THE FANTASTIC FOUR | TALES TO ASTONISH | YOUNG LOVE | STRANGE TALES | MISTER MIRACLE | BLACK PANTHER | THOR | JIMMY OLSEN | DEVIL DINOSAUR | THE AVENGERS | TALES OF SUSPENSE | THE NEW GODS | REAL CLUE | THE FOREVER PEOPLE | JOURNEY INTO MYSTERY | 2001: A SPACE ODYSSEY