CONVOY YOUR ENTHUSIASM (18)
By: Matthew Sharpe
August 18, 2019
One of 25 installments in a series of enthusiastic posts analyzing and celebrating some of our favorite action movies from the Seventies (1974–1983).
*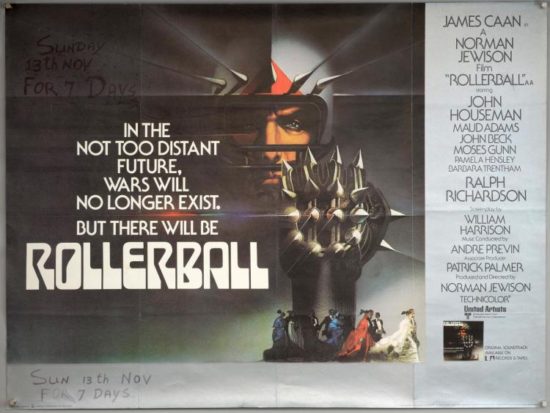 ROLLERBALL | d. NORMAN JEWISON | 1975
I imagine even malevolent corporate overlords who watch Rollerball see John Houseman's malevolent corporate overlord character and think, "Wow, that guy is evil." He is doughy and severe with his black suit and flagrant nostril hair, while James Caan's rollerball champion is sleek and gorgeous in his form-fitting white jumpsuit, high muscular shoulders, and permanently sad blue eyes. In one scene between the two, Caan cuts his finger on the hanging shards of white glass that serve as Houseman's office walls. Houseman and the "executive directorate" of the six corporations that run the world — Transport, Food, Communication, Housing, Luxury, Energy — push Caan to retire from the gladiatorial game. Caan refuses. The directorate in turn makes the game's rules more murderous, to eliminate him that way.
The dystopian action film duality is stark. The directorate has replaced citizens' freedom with comfort. As Agamemnon did to Achilles, they took away Caan's wife and gave her to an executive. Sex has replaced love. There's a pill for every mood. No books, only a computerized "brain" that has "lost" the 13th century. White women and black men — there are evidently no black women in Rollerball's imaginary 2018 — have no subjectivity except as concerns James Caan's concerns.
This last dystopian element of the film I assume is inadvertent. But the problem with all the above-named elements is that they fail to illuminate what is seductive about life in this future world; they fail to render sympathetic or comprehensible the experience of anyone who finds the status quo acceptable, which is seemingly everyone; they fail to show why nothing but the dazzling charisma of Caan's rollerball champ could incite rebellion.
Luckily, in Rollerball's Manichean vision of the future, there are aberrations, loose ends, opacities — inadvertent or otherwise — that save the movie from defeating its own intentions. One of them is a standard pitfall of movies that attempt to depict the horrors of violence: if John Houseman's nose hair and the pills and the sex and the incinerating of fir trees with guns that shoot fire instead of bullets don't make you want six corporations to take over the world, rollerball itself will, i.e., the rollerball scenes in Rollerball are awesome, i.e., the violence that is meant to horrify instead seduces.
Then, too, the good guys are not all that good. There's the obligatory hero's-best-friend-gets-violently-killed-in-slow-motion scene, but the best friend, Moonpie, is a murderous, racist, misogynist asshole, so it's hard to get on board with the revenge Caan takes against his assailants.
More poignantly, there is Caan's movie-long pursuit of an answer to the question Why do they want me to retire? You'd think Houseman's "The game was created to demonstrate the futility of individual effort," and Caan's mentor's "They are afraid of you" would answer the question sufficiently, but Caan doesn't think so. His quest to answer a seemingly answered question creates an interesting excess of meaning in the story.
What I love about Rollerball — more than rollerball itself — is Caan's quandary, which is also mine: you've either heard or thought of every good explanation for your predicament, they all make perfect sense, and yet you still don't know.
***
CONVOY YOUR ENTHUSIASM: INTRODUCTION | Madeline Ashby on BLADE RUNNER | Erik Davis on BRING ME THE HEAD OF ALFREDO GARCIA | Mimi Lipson on CONVOY | Luc Sante on BLACK SUNDAY | Josh Glenn on THREE DAYS OF THE CONDOR | Lisa Jane Persky on SORCERER | Devin McKinney on THE TAKING OF PELHAM ONE TWO THREE | Adam McGovern on QUINTET | Mandy Keifetz on DEATH RACE 2000 | Peter Doyle on SOUTHERN COMFORT | Jonathan Lethem on STRAIGHT TIME | Heather Kapplow on THE KILLER ELITE | Tom Nealon on EVERY WHICH WAY BUT LOOSE | Mark Kingwell on THE EIGER SANCTION | Sherri Wasserman on ESCAPE FROM NEW YORK | Gordon Dahlquist on MARATHON MAN | David Levine on PARALLAX VIEW | Matthew Sharpe on ROLLERBALL | Ramona Lyons on ALIEN | Dan Piepenbring on WHITE LINE FEVER | Marc Weidenbaum on THIEF | Carolyn Kellogg on MAD MAX | Carlo Rotella on KUNG FU | Peggy Nelson on SMOKEY & THE BANDIT | Brian Berger on FRIDAY FOSTER.
MORE ENTHUSIASM at HILOBROW
NERD YOUR ENTHUSIASM (4Q2021): NERDING | ARDUIN | KLINGON CONFIDENTIAL | MAP INSERTS | TIME | & 20 other nerdy passions. SWERVE YOUR ENTHUSIASM (3Q2021): WARHOL'S WALT WHITMAN | 70, GIRLS, 70 | TYRAEL'S MIGHT | SHIRATO SANPEI | THE LEON SUITES | & 20 other never-realized cultural productions. FIVE-O YOUR ENTHUSIASM (2Q2021): DARK SHADOWS | MANNIX | GET SMART | THE ADDAMS FAMILY | I DREAM OF JEANNIE | & 20 other Sixties (1964–1973) TV shows. FERB YOUR ENTHUSIASM (1Q2021): STEVEN UNIVERSE | TOP CAT | REN & STIMPY | SHE-RA AND THE PRINCESSES OF POWER | DRAGON BALL Z | & 20 other animated series. CARBONA YOUR ENTHUSIASM (2020): "Sex Bomb" | "Going Underground" | "Soft South Africans" | "Typical Girls" | "Human Fly" | & 20 other Seventies (1974–1983) punk singles. KLAATU YOU (2020 weekly): ZARDOZ | METROPOLIS | DARK STAR | SINS OF THE FLESHAPOIDS | SOLARIS | & dozens of other pre-STAR WARS sci-fi movies. CONVOY YOUR ENTHUSIASM (2019): THE TAKING OF PELHAM ONE TWO THREE | ROLLERBALL | BLACK SUNDAY | SORCERER | STRAIGHT TIME | & 20 other Seventies (1974–1983) action movies. SERIOCOMIC (2019 weekly): LITTLE LULU | VIZ | MARSUPILAMI | ERNIE POOK'S COMEEK | HELLBOY | & dozens of other comics. TUBE YOUR ENTHUSIASM (2018): LOONEY TUNES | THREE STOOGES | THE AVENGERS | ROCKY & BULLWINKLE | THE TWILIGHT ZONE | & 20 other Fifties (1954–1963) TV shows. WOWEE ZOWEE (2018 weekly): UNISEX | UNDER THE PINK | DUMMY | AMOR PROHIBIDO | HIPS AND MAKERS | & dozens of other Nineties (1994–2003) albums. KLUTE YOUR ENTHUSIASM (2017): THE KILLERS | BANDE À PART (BAND OF OUTSIDERS) | ALPHAVILLE | HARPER | BLOW-UP | & 20 other Sixties (1964–1973) neo-noir movies. #SQUADGOALS (2017 weekly): THE WILD BUNCH | BOWIE'S BAND | THE BLOOMSBURY GROUP | THE HONG KONG CAVALIERS | VI ÄR BÄST! & dozens of other squads. GROK MY ENTHUSIASM (2016 weekly): THE THEORY AND PRACTICE OF LUNCH | WEEKEND | MILLION YEAR PICNIC | LA BARONNE EMILE D'ERLANGER | THE SURVIVAL SAMPLER | & dozens more one-off enthusiasms. QUIRK YOUR ENTHUSIASM (2016): "Tainted Love" | "Metal" | "Frankie Teardrop" | "Savoir Faire" | "Broken English" | & 20 other Seventies (1974–1983) new wave singles. CROM YOUR ENTHUSIASM (2015): DARKER THAN YOU THINK | THE SWORD IN THE STONE | OUT OF THE SILENT PLANET | THIEVES' HOUSE | QUEEN OF THE BLACK COAST | & 20 other Thirties (1934–1943) fantasy novels. KERN YOUR ENTHUSIASM (2014): ALDINE ITALIC | DATA 70 | TORONTO SUBWAY | JOHNSTON'S "HAMLET" | TODD KLONE | & 20 other typefaces. HERC YOUR ENTHUSIASM (2013): "Spoonin' Rap" | "Rapper's Delight" | "Rappin' Blow" | "The Incredible Fulk" | "The Adventures of Super Rhyme" | & 20 other Seventies (1974–1983) hip-hop songs. KIRK YOUR ENTHUSIASM (2012): Justice or vengeance? | Kirk teaches his drill thrall to kiss | "KHAAAAAN!" | "No kill I" | Kirk browbeats NOMAD | & 20 other Captain Kirk scenes. KIRB YOUR ENTHUSIASM (2011): THE ETERNALS | BLACK MAGIC | DEMON | OMAC | CAPTAIN AMERICA | & 20 other Jack Kirby panels.