SERIOCOMIC (39)
By: Seth
September 25, 2019
One in a weekly series of enthusiastic posts, contributed by HILOBROW friends and regulars, on the topic of our favorite comic books, comic strips, and graphic novels.
*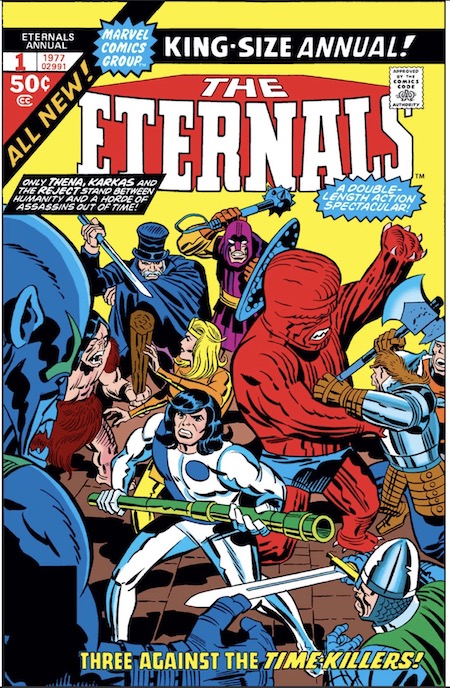 THE ETERNALS ANNUAL
The first comic that I sought out, the one that set me on the path of being a comic book artist, was Marvel Tales No. 67, purchased at the Big V drugstore in May 1976. R. Crumb's 1969 solo title Despair changed my thinking about what a comic could be. Love and Rockets No. 3 was the first comic I felt was written for my generation alone. But the comic I want to single out, somewhat arbitrarily, for this series, is Jack Kirby's Eternals Annual No. 1 (August 1977). I vividly recall purchasing it, as a teenager; and I can still read it with pleasure and respect — not simply nostalgia.
Kirby's The Eternals series (1976–1978) bowled me over. It's simultaneously a more brilliant, bold, sophisticated version of Chariots of the Gods and yet it's also more naive. Kirby was always a sophisticated genius and an excited kid at the same time. He absorbed pop culture junk — not only Chariots of the Gods but 2001, Planet of the Apes, whatever — and transformed it into new and wonderful forms. His 1970s comics in particular have great visual and narrative power. No one, and I mean no one since Picasso, has drawn with such such confidence. His drawings are so monumental they feel practically carved out of stone; his writing is vivid, too.
At age 56, I can still read the first (and last) Eternals Annual and lose myself in Kirby's tale. Thena, Karkas, and the Reject travel from Olympia to a hotel in San Francisco to unlock the mystery of menaces from the ancient past who have recently reappeared: Jack the Ripper, Attila the Hun, a neanderthal; later, they fight a giant monster named Tutinax. If The Eternals had carried on, Karkas and the Reject — a hideous monster with the soul of a gentleman, and a handsome beauty with the soul of a remorseless killer — would have been the breakout characters. Kirby's dialectic of noble/ugly and savage/beautiful isn't truly profound, I know. But this story is epic, striking, moving, cosmic… and at the same time, silly. Maybe even stupid, but the right kind of stupid. Let's call it: teenage profundity. It works for me.
I'm moved by the story of Kirby himself: a working-class hero robbed by the industry he practically created from his own genius. This humble man cranked out tens of thousands of comic-book pages — each one marked by his enthusiasm for the work. I love how straightforwardly, unashamedly, he poured his inner life onto the page. He was so big, and the comic industry was so small. Long live the King!
***
SERIOCOMIC: Mimi Lipson on LITTLE LULU | Sara Ryan on AMPHIGOREY | Gary Panter on THE NUT BROS./THE SQUIRREL CAGE | Gordon Dahlquist on POGO | Robert Wringham on VIZ | Matthew De Abaitua on CAPTAIN BRITAIN | Jessamyn West on FUN HOME | Bradley Peterson on HELLBOY | Stephanie Burt on KITTY PRYDE RETURNS | Jenny Davidson on OOR WULLIE | Luc Sante on MARSUPILAMI | Susan Roe on BLOOM COUNTY | Marilyn Berlin Snell on CHARLES ADDAMS | Deb Chachra on ARKHAM ASYLUM | Judith Zissman on ERNIE POOK'S COMEEK | Alexandra Lange on BETTY (ARCHIE) | Catherine Newman on VERONICA (ARCHIE) | Josh Glenn on SPIRE CHRISTIAN COMICS | Adam McGovern on THE CREW | William Nericcio on ERRATA STIGMATA | Chelsey Johnson on DYKES TO WATCH OUT FOR | Sherri Wasserman on TANK GIRL | Tom Nealon on MEGATON MAN | Erin M. Routson on THE WEDDING OF SCOTT SUMMERS & JEAN GREY | Douglas Wolk on FRANK IN THE RIVER | Annie Nocenti on DICK TRACY | James Parker on 2000 AD | Adrienne Crew on NUTS | Vanessa Berry on MEAT CAKE | John Holbo on WITZEND | Michael Campochiaro on SPIDER-WOMAN | Miranda Mellis on RED SONJA & BÊLIT | Michael Grasso on THE NEW MUTANTS | Ty Burr on BINKY BROWN | Bishakh Som on AMAR CHITRA KATHA | Mark Kingwell on CLASSICS ILLUSTRATED | Brian Berger on JIMBO | Kenya (Robinson) on AGENT 355 | Seth on THE ETERNALS ANNUAL | Susannah Breslin on SLASHER | Lisa Kahlden on JACK CHICK TRACTS | Mandy Keifetz on KRAZY KAT | Tom Devlin on DUM-DUM POSSE READER | Eric Reynolds on ACTION COMICS #460 | Rick Pinchera on EIGHTBALL #16 | Juan Recondo on DAYTRIPPER | Elizabeth Foy Larsen on ROZ CHAST | J.E. Anckorn on HALO JONES | Deborah Wassertzug on GREAT POP THINGS | Peggy Nelson on MAD MOVIE SATIRES | Holly Interlandi on ANGEL SANCTUARY | Karen Green on THE SMITHSONIAN COLLECTION OF NEWSPAPER COMICS.
MORE ENTHUSIASM at HILOBROW
NERD YOUR ENTHUSIASM (4Q2021): NERDING | ARDUIN | KLINGON CONFIDENTIAL | MAP INSERTS | TIME | & 20 other nerdy passions. SWERVE YOUR ENTHUSIASM (3Q2021): WARHOL'S WALT WHITMAN | 70, GIRLS, 70 | TYRAEL'S MIGHT | SHIRATO SANPEI | THE LEON SUITES | & 20 other never-realized cultural productions. FIVE-O YOUR ENTHUSIASM (2Q2021): DARK SHADOWS | MANNIX | GET SMART | THE ADDAMS FAMILY | I DREAM OF JEANNIE | & 20 other Sixties (1964–1973) TV shows. FERB YOUR ENTHUSIASM (1Q2021): STEVEN UNIVERSE | TOP CAT | REN & STIMPY | SHE-RA AND THE PRINCESSES OF POWER | DRAGON BALL Z | & 20 other animated series. CARBONA YOUR ENTHUSIASM (2020): "Sex Bomb" | "Going Underground" | "Soft South Africans" | "Typical Girls" | "Human Fly" | & 20 other Seventies (1974–1983) punk singles. KLAATU YOU (2020 weekly): ZARDOZ | METROPOLIS | DARK STAR | SINS OF THE FLESHAPOIDS | SOLARIS | & dozens of other pre-STAR WARS sci-fi movies. CONVOY YOUR ENTHUSIASM (2019): THE TAKING OF PELHAM ONE TWO THREE | ROLLERBALL | BLACK SUNDAY | SORCERER | STRAIGHT TIME | & 20 other Seventies (1974–1983) action movies. SERIOCOMIC (2019 weekly): LITTLE LULU | VIZ | MARSUPILAMI | ERNIE POOK'S COMEEK | HELLBOY | & dozens of other comics. TUBE YOUR ENTHUSIASM (2018): LOONEY TUNES | THREE STOOGES | THE AVENGERS | ROCKY & BULLWINKLE | THE TWILIGHT ZONE | & 20 other Fifties (1954–1963) TV shows. WOWEE ZOWEE (2018 weekly): UNISEX | UNDER THE PINK | DUMMY | AMOR PROHIBIDO | HIPS AND MAKERS | & dozens of other Nineties (1994–2003) albums. KLUTE YOUR ENTHUSIASM (2017): THE KILLERS | BANDE À PART (BAND OF OUTSIDERS) | ALPHAVILLE | HARPER | BLOW-UP | & 20 other Sixties (1964–1973) neo-noir movies. #SQUADGOALS (2017 weekly): THE WILD BUNCH | BOWIE'S BAND | THE BLOOMSBURY GROUP | THE HONG KONG CAVALIERS | VI ÄR BÄST! & dozens of other squads. GROK MY ENTHUSIASM (2016 weekly): THE THEORY AND PRACTICE OF LUNCH | WEEKEND | MILLION YEAR PICNIC | LA BARONNE EMILE D'ERLANGER | THE SURVIVAL SAMPLER | & dozens more one-off enthusiasms. QUIRK YOUR ENTHUSIASM (2016): "Tainted Love" | "Metal" | "Frankie Teardrop" | "Savoir Faire" | "Broken English" | & 20 other Seventies (1974–1983) new wave singles. CROM YOUR ENTHUSIASM (2015): DARKER THAN YOU THINK | THE SWORD IN THE STONE | OUT OF THE SILENT PLANET | THIEVES' HOUSE | QUEEN OF THE BLACK COAST | & 20 other Thirties (1934–1943) fantasy novels. KERN YOUR ENTHUSIASM (2014): ALDINE ITALIC | DATA 70 | TORONTO SUBWAY | JOHNSTON'S "HAMLET" | TODD KLONE | & 20 other typefaces. HERC YOUR ENTHUSIASM (2013): "Spoonin' Rap" | "Rapper's Delight" | "Rappin' Blow" | "The Incredible Fulk" | "The Adventures of Super Rhyme" | & 20 other Seventies (1974–1983) hip-hop songs. KIRK YOUR ENTHUSIASM (2012): Justice or vengeance? | Kirk teaches his drill thrall to kiss | "KHAAAAAN!" | "No kill I" | Kirk browbeats NOMAD | & 20 other Captain Kirk scenes. KIRB YOUR ENTHUSIASM (2011): THE ETERNALS | BLACK MAGIC | DEMON | OMAC | CAPTAIN AMERICA | & 20 other Jack Kirby panels.