Quirk Your Enthusiasm (1)
By: Mark Kingwell
August 1, 2016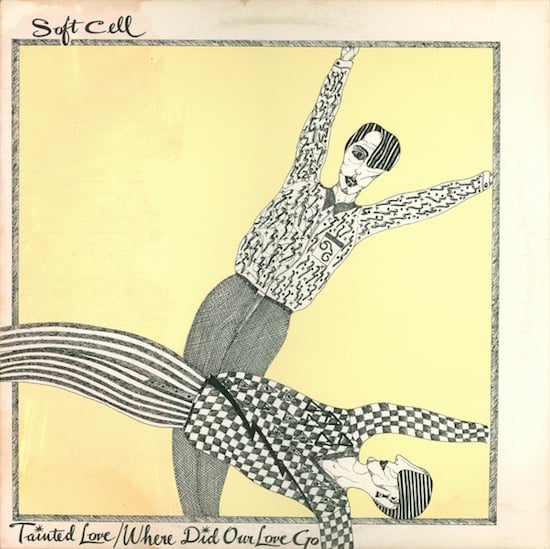 One of 25 installments in a series of posts analyzing and celebrating a few of our favorite New Wave songs from c. 1977–1982. Josh Glenn's series introduction is here, and you can listen to the QUIRK YOUR ENTHUSIASM playlist here. Enjoy!
"TAINTED LOVE" | SOFT CELL | 1981–1982
You might think that the main gift of this two-for-the-price-of-one marvel is Marc Almond's ethereal vocal, that celestial chorus of Eighties romance. Technically pure but petulant and insinuating, Almond mixes longing and disdain in a way that conjures love's young nightmare with warbling instability and drama. Is he flirting? Is he mocking? Yes, and yes.
Almond's voice is indeed a wonder, but as the rest of Non-Stop Erotic Cabaret (1981) shows, it could easily be wasted. The only other track that hit was "Say Hello, Wave Goodbye," a danceable valedictory anthem that comes last on side two and offers another showcase for Almond's off-world sound. The album version of "Tainted Love" (second track on side one) is a sort of promissory note, ending abruptly with the calliope-style doot-doot keyboard sounds created by the other half of Soft Cell, David Ball. Ball's polymathic electronica slyly transforms the basic structure of a modest 1965 Motown hit for singer Gloria Jones — actually the B-side to Jones's "My Bad Boy's Comin'," which proved to be a dud. The horn-heavy Motown version was a late-'70s hit in Northern Soul dance clubs, but Ball and Almond saw the potential for a truly transcendental cover.
Slowing the tempo drastically and changing the key from C to G to suit Almond's range, Bell also opened up an expansive clearing for his synthpop magic. The familiar frames of Ed Cobb's original composition are transfigured into a hypnotic masterpiece of artificial agony. The punctuated beat matches your heart's pumping rhythm with unabashed insistency even as Almond's eerie, sinister-elf melodic line soars overhead.
The main lyric is superb: "Sometimes I feel I've got to / run away, I've got to / get away from the pain you drive into the heart of me." Hitting that double bass note after each 'got to' drives the pain into every single one of us! And at the bridge: "Don't touch me please / I cannot stand the way you tease." This isn't just tainted love, it's toxic love sweepstakes on steroids. "Once I ran to you, now I run from you": has there ever been a more economical expression of romantic tragedy, the merest shift of tense and preposition?
But the apotheosis of this song only happens off the album, on the 1982 12-inch dance version, paired with "Where Did Our Love Go?" A casual Holland-Dozier-Holland masterpiece for The Supremes in 1964, the latter song here aligns thematically without fuss — though misplaced love must take a backseat to tainted love any day. Ball riffs and noodles during the two-minute transition, an extended difficult-to-dance-to synth solo, complete with apparent down-spin to nothing but the beat.
The familiar Supremes tune then seems to rise out of the floor itself, high and sweet. Fingers begin to snap in time, and Almond whispers himself into the second phase of this tour de force, held together by those mesmerizing double-doots, still with us. The album version of "Tainted Love" clocked in at just 2:34, the radio single slightly longer at 2:41. The first dance version of the two songs was almost nine minutes (!), itself extended to just over eleven minutes in a later release. Don't leave the dancefloor, people!
When Soft Cell released a video version of the 1981 song, on Non-Stop Exotic Video Show (issued on Betamax and Laser Disk – awesome!), it featured Ball dressed as a cricketer meeting a toga-clad Almond on Mount Olympus. I don't know what that means, and I don't want to know. We've just got to – doot doot — dance those nine to eleven minutes of New Age blues, and bliss.
***
MORE KINGWELL at HILOBROW: TALISMANIC OBJECTS: ZIPPO | #SQUADGOALS: THE HONG KONG CAVALIERS | HERMENAUTIC TAROT: THE WARY WATCHERS | KLUTE YOUR ENTHUSIASM: HARPER | QUIRK YOUR ENTHUSIASM: TAINTED LOVE | GROK MY ENTHUSIASM: NORTH STAR SNEAKERS & GWG JEANS | CROM YOUR ENTHUSIASM: OUT OF THE SILENT PLANET | KERN YOUR ENTHUSIASM: GILL SANS | KIRK YOUR ENTHUSIASM: Kirk teaches his drill thrall to kiss | Plus: HILO HERO items on Roland Barthes, Muriel Spark, Iain Banks, Slavoj Zizek, Hannah Arendt, Andy Kaufman, and many others.
QUIRK YOUR ENTHUSIASM: Mark Kingwell on Soft Cell's TAINTED LOVE | Joanne McNeil on Gary Numan's METAL | Devin McKinney on Suicide's FRANKIE TEARDROP | Douglas Wolk on Family Fodder's SAVOIR FAIRE | Elina Shatkin on Marianne Faithfull's BROKEN ENGLISH | Steph Burt on Altered Images' HAPPY BIRTHDAY | Greg Rowland on Jilted John's JILTED JOHN | Gordon Dahlquist on XTC's RESPECTABLE STREET | Adrienne Crew on D-Day's TOO YOUNG TO DATE | Jonathan Lethem on The Blue Nile's I LOVE THIS LIFE | Josh Glenn on Tim Curry's I DO THE ROCK | Molly Wright Steenson on Missing Persons' WORDS | Anthony Miller on The Nails' 88 LINES ABOUT 44 WOMEN | Luc Sante on The Normal's WARM LEATHERETTE | Mimi Lipson on Dolly Mixture's HOW COME YOU'RE SUCH A HIT WITH THE BOYS, JANE? | Tim Carmody on Talking Heads' LIFE DURING WARTIME | Ingrid Schorr on Ian Dury's CLEVOR TREVER | Adam McGovern on Lene Lovich's LUCKY NUMBER | Deb Chachra on Rough Trade's HIGH SCHOOL CONFIDENTIAL | Tor Aarestad on Oingo Boingo's LITTLE GIRLS | David Smay on The B-52's' DANCE THIS MESS AROUND | Jessamyn West on Blondie's HANGING ON THE TELEPHONE | Drew Daniel on The Human League's MARIANNE | Erik Davis on Tuxedomoon's TIME TO LOSE | Dan Fox on Thomas Dolby's EUROPA & THE PIRATE TWINS.
NEW WAVE HILO HEROES: Debbie Harry | Marianne Faithfull | Grace Jones | Ian Dury | Mark Mothersbaugh | Plastic Bertrand | Tim Curry | Kate Pierson | Green Gartside | David Byrne.
MORE ENTHUSIASM SERIES at HILOBROW
NERD YOUR ENTHUSIASM (4Q2021): NERDING | ARDUIN | KLINGON CONFIDENTIAL | MAP INSERTS | TIME | & 20 other nerdy passions. SWERVE YOUR ENTHUSIASM (3Q2021): WARHOL'S WALT WHITMAN | 70, GIRLS, 70 | TYRAEL'S MIGHT | SHIRATO SANPEI | THE LEON SUITES | & 20 other never-realized cultural productions. FIVE-O YOUR ENTHUSIASM (2Q2021): DARK SHADOWS | MANNIX | GET SMART | THE ADDAMS FAMILY | I DREAM OF JEANNIE | & 20 other Sixties (1964–1973) TV shows. FERB YOUR ENTHUSIASM (1Q2021): STEVEN UNIVERSE | TOP CAT | REN & STIMPY | SHE-RA AND THE PRINCESSES OF POWER | DRAGON BALL Z | & 20 other animated series. CARBONA YOUR ENTHUSIASM (2020): "Sex Bomb" | "Going Underground" | "Soft South Africans" | "Typical Girls" | "Human Fly" | & 20 other Seventies (1974–1983) punk singles. KLAATU YOU (2020 weekly): ZARDOZ | METROPOLIS | DARK STAR | SINS OF THE FLESHAPOIDS | SOLARIS | & dozens of other pre-STAR WARS sci-fi movies. CONVOY YOUR ENTHUSIASM (2019): THE TAKING OF PELHAM ONE TWO THREE | ROLLERBALL | BLACK SUNDAY | SORCERER | STRAIGHT TIME | & 20 other Seventies (1974–1983) action movies. SERIOCOMIC (2019 weekly): LITTLE LULU | VIZ | MARSUPILAMI | ERNIE POOK'S COMEEK | HELLBOY | & dozens of other comics. TUBE YOUR ENTHUSIASM (2018): LOONEY TUNES | THREE STOOGES | THE AVENGERS | ROCKY & BULLWINKLE | THE TWILIGHT ZONE | & 20 other Fifties (1954–1963) TV shows. WOWEE ZOWEE (2018 weekly): UNISEX | UNDER THE PINK | DUMMY | AMOR PROHIBIDO | HIPS AND MAKERS | & dozens of other Nineties (1994–2003) albums. KLUTE YOUR ENTHUSIASM (2017): THE KILLERS | BANDE À PART (BAND OF OUTSIDERS) | ALPHAVILLE | HARPER | BLOW-UP | & 20 other Sixties (1964–1973) neo-noir movies. #SQUADGOALS (2017 weekly): THE WILD BUNCH | BOWIE'S BAND | THE BLOOMSBURY GROUP | THE HONG KONG CAVALIERS | VI ÄR BÄST! & dozens of other squads. GROK MY ENTHUSIASM (2016 weekly): THE THEORY AND PRACTICE OF LUNCH | WEEKEND | MILLION YEAR PICNIC | LA BARONNE EMILE D'ERLANGER | THE SURVIVAL SAMPLER | & dozens more one-off enthusiasms. QUIRK YOUR ENTHUSIASM (2016): "Tainted Love" | "Metal" | "Frankie Teardrop" | "Savoir Faire" | "Broken English" | & 20 other Seventies (1974–1983) new wave singles. CROM YOUR ENTHUSIASM (2015): DARKER THAN YOU THINK | THE SWORD IN THE STONE | OUT OF THE SILENT PLANET | THIEVES' HOUSE | QUEEN OF THE BLACK COAST | & 20 other Thirties (1934–1943) fantasy novels. KERN YOUR ENTHUSIASM (2014): ALDINE ITALIC | DATA 70 | TORONTO SUBWAY | JOHNSTON'S "HAMLET" | TODD KLONE | & 20 other typefaces. HERC YOUR ENTHUSIASM (2013): "Spoonin' Rap" | "Rapper's Delight" | "Rappin' Blow" | "The Incredible Fulk" | "The Adventures of Super Rhyme" | & 20 other Seventies (1974–1983) hip-hop songs. KIRK YOUR ENTHUSIASM (2012): Justice or vengeance? | Kirk teaches his drill thrall to kiss | "KHAAAAAN!" | "No kill I" | Kirk browbeats NOMAD | & 20 other Captain Kirk scenes. KIRB YOUR ENTHUSIASM (2011): THE ETERNALS | BLACK MAGIC | DEMON | OMAC | CAPTAIN AMERICA | & 20 other Jack Kirby panels.