FERB YOUR ENTHUSIASM (9)
By: Holly Interlandi
January 28, 2021
One in a series of 25 enthusiastic posts, contributed by 25 HILOBROW friends and regulars, on the topic of our favorite animated TV series.
*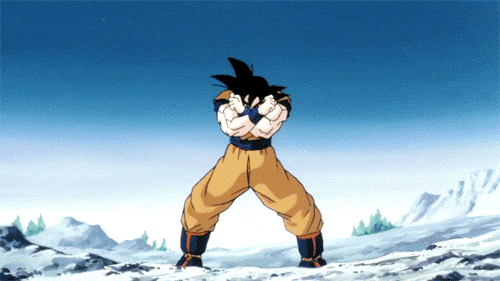 DRAGON BALL Z | AKIRA TORIYAMA (w.), DAISUKE NISHIO (d.) | 1989–1996
At 4PM every weekday in my dorm room at college, I would sit down on a ratty couch with a braided, barf orange pattern and turn on the television. Thomas, my friend and partner in crime, would waltz through the door right on time, exclaiming "SATAN!" in our traditional greeting (I must confess that the origins of said greeting elude me).
It was time for Toonami on Cartoon Network, and the anime block always kicked off with Dragon Ball Z.
Watching this show was a distinctly physical experience. We were always beating our fists on the couch armrests, yelling "SMACKDOWN!" with all the cathartic intensity needed after suffering through hours of classes that our livelihoods supposedly depended on. We mimed punches, pounded the wooden floor with our feet (I'm sure the other dorm residents despised us), and suffered with multiple groans through the godawful American dub with the best of them.
Detractors of DBZ tend to focus on the "endless" power-up sequences (which were often used to kill time as the show's animators waited for mangaka Akira Toriyama to catch up with the story) and the soap-opera style of its martial arts, which follow Son Goku of the alien warrior Saiyan race and his friends and teammates as they face increasingly monstrous threats to the planet. "They just punch each other! It's so boring!"
See, I tried multiple times to share the awesomeness of DBZ with a single episode, but I eventually learned that it is a show completely dependent on context. One episode of the Cell Saga on its own? Nonsensical and slightly goofy. Taken in the stride of 20 episodes full of explosions and existential melodrama? Worth beating the arms of a couch for.
There are elements of Akira Toriyama's storytelling that are unique: defeated villains like Vegeta finding themselves begrudgingly fighting for Goku's side, teammates routinely sacrificing themselves for the greater good, creative see-sawing between slapstick comedy and violent cycles of victory and death. But the payoffs come at the end of what feels like forever, not with an "I could have beaten you all along" smirk, but as a revelation of self-worth after multiple defeats. I mean, this show invented the glow-up: the ultimate level of Super Saiyan comes with spiked blonde hair and an ethereal glow.
DBZ is about willpower. It's about leveling up and bettering yourself. Sure, if you can save the world along the way, that's great. But the power-up sequences, as long as they might last, were always worth it for us, because when the final battle came and Trunks or Gohan or whoever finally unleashed the ultimate power move, we felt like we'd been working to get there right alongside him. A particular kamehamaha meant that much more; a new level of expertise felt earned — from time and training and surviving our damn college courses for one more day. With Goku powered up, we all felt a little more powerful.
***
FERB YOUR ENTHUSIASM: SERIES INTRODUCTION by Josh Glenn | Miranda Mellis on STEVEN UNIVERSE | Luc Sante on TOP CAT | Peggy Nelson on PINK PANTHER | Charlie Mitchell on COWBOY BEBOP | Mimi Lipson on THE FLINTSTONES | Sam Glenn on BIG MOUTH | Mandy Keifetz on ROAD RUNNER | Ramona Lyons on SHE-RA | Holly Interlandi on DRAGON BALL Z | Max Glenn on ADVENTURE TIME | Joe Alterio on REN & STIMPY | Josh Glenn on SPEED RACER | Adam McGovern on KIMBA THE WHITE LION | Jonathan Pinchera on SAMURAI JACK | Lynn Peril on JONNY QUEST | Stephanie Burt on X-MEN THE ANIMATED SERIES and X-MEN: EVOLUTION | Elizabeth Foy Larsen on THE JETSONS | Adam Netburn on NARUTO | Madeline Ashby on AVATAR: THE LAST AIRBENDER | Tom Nealon on TRANSFORMERS | Sara Ryan on BOJACK HORSEMAN | Michael Grasso on COSMIC CLOCK | Erin M. Routson on BEAVIS & BUTTHEAD | Deborah Wassertzug on DARIA | Lydia Millet on BOB'S BURGERS.
MORE ENTHUSIASM at HILOBROW
NERD YOUR ENTHUSIASM (4Q2021): NERDING | ARDUIN | KLINGON CONFIDENTIAL | MAP INSERTS | TIME | & 20 other nerdy passions. SWERVE YOUR ENTHUSIASM (3Q2021): WARHOL'S WALT WHITMAN | 70, GIRLS, 70 | TYRAEL'S MIGHT | SHIRATO SANPEI | THE LEON SUITES | & 20 other never-realized cultural productions. FIVE-O YOUR ENTHUSIASM (2Q2021): DARK SHADOWS | MANNIX | GET SMART | THE ADDAMS FAMILY | I DREAM OF JEANNIE | & 20 other Sixties (1964–1973) TV shows. FERB YOUR ENTHUSIASM (1Q2021): STEVEN UNIVERSE | TOP CAT | REN & STIMPY | SHE-RA AND THE PRINCESSES OF POWER | DRAGON BALL Z | & 20 other animated series. CARBONA YOUR ENTHUSIASM (2020): "Sex Bomb" | "Going Underground" | "Soft South Africans" | "Typical Girls" | "Human Fly" | & 20 other Seventies (1974–1983) punk singles. KLAATU YOU (2020 weekly): ZARDOZ | METROPOLIS | DARK STAR | SINS OF THE FLESHAPOIDS | SOLARIS | & dozens of other pre-STAR WARS sci-fi movies. CONVOY YOUR ENTHUSIASM (2019): THE TAKING OF PELHAM ONE TWO THREE | ROLLERBALL | BLACK SUNDAY | SORCERER | STRAIGHT TIME | & 20 other Seventies (1974–1983) action movies. SERIOCOMIC (2019 weekly): LITTLE LULU | VIZ | MARSUPILAMI | ERNIE POOK'S COMEEK | HELLBOY | & dozens of other comics. TUBE YOUR ENTHUSIASM (2018): LOONEY TUNES | THREE STOOGES | THE AVENGERS | ROCKY & BULLWINKLE | THE TWILIGHT ZONE | & 20 other Fifties (1954–1963) TV shows. WOWEE ZOWEE (2018 weekly): UNISEX | UNDER THE PINK | DUMMY | AMOR PROHIBIDO | HIPS AND MAKERS | & dozens of other Nineties (1994–2003) albums. KLUTE YOUR ENTHUSIASM (2017): THE KILLERS | BANDE À PART (BAND OF OUTSIDERS) | ALPHAVILLE | HARPER | BLOW-UP | & 20 other Sixties (1964–1973) neo-noir movies. #SQUADGOALS (2017 weekly): THE WILD BUNCH | BOWIE'S BAND | THE BLOOMSBURY GROUP | THE HONG KONG CAVALIERS | VI ÄR BÄST! & dozens of other squads. GROK MY ENTHUSIASM (2016 weekly): THE THEORY AND PRACTICE OF LUNCH | WEEKEND | MILLION YEAR PICNIC | LA BARONNE EMILE D'ERLANGER | THE SURVIVAL SAMPLER | & dozens more one-off enthusiasms. QUIRK YOUR ENTHUSIASM (2016): "Tainted Love" | "Metal" | "Frankie Teardrop" | "Savoir Faire" | "Broken English" | & 20 other Seventies (1974–1983) new wave singles. CROM YOUR ENTHUSIASM (2015): DARKER THAN YOU THINK | THE SWORD IN THE STONE | OUT OF THE SILENT PLANET | THIEVES' HOUSE | QUEEN OF THE BLACK COAST | & 20 other Thirties (1934–1943) fantasy novels. KERN YOUR ENTHUSIASM (2014): ALDINE ITALIC | DATA 70 | TORONTO SUBWAY | JOHNSTON'S "HAMLET" | TODD KLONE | & 20 other typefaces. HERC YOUR ENTHUSIASM (2013): "Spoonin' Rap" | "Rapper's Delight" | "Rappin' Blow" | "The Incredible Fulk" | "The Adventures of Super Rhyme" | & 20 other Seventies (1974–1983) hip-hop songs. KIRK YOUR ENTHUSIASM (2012): Justice or vengeance? | Kirk teaches his drill thrall to kiss | "KHAAAAAN!" | "No kill I" | Kirk browbeats NOMAD | & 20 other Captain Kirk scenes. KIRB YOUR ENTHUSIASM (2011): THE ETERNALS | BLACK MAGIC | DEMON | OMAC | CAPTAIN AMERICA | & 20 other Jack Kirby panels.