TEEN YOUR ENTHUSIASM (20)
By: Lucy Sante
May 30, 2023
One in a series of 25 enthusiastic posts, contributed by 25 HILOBROW friends and regulars, on the topic of heartthrobs from our adolescences). Series edited by Heather Quinlan.
*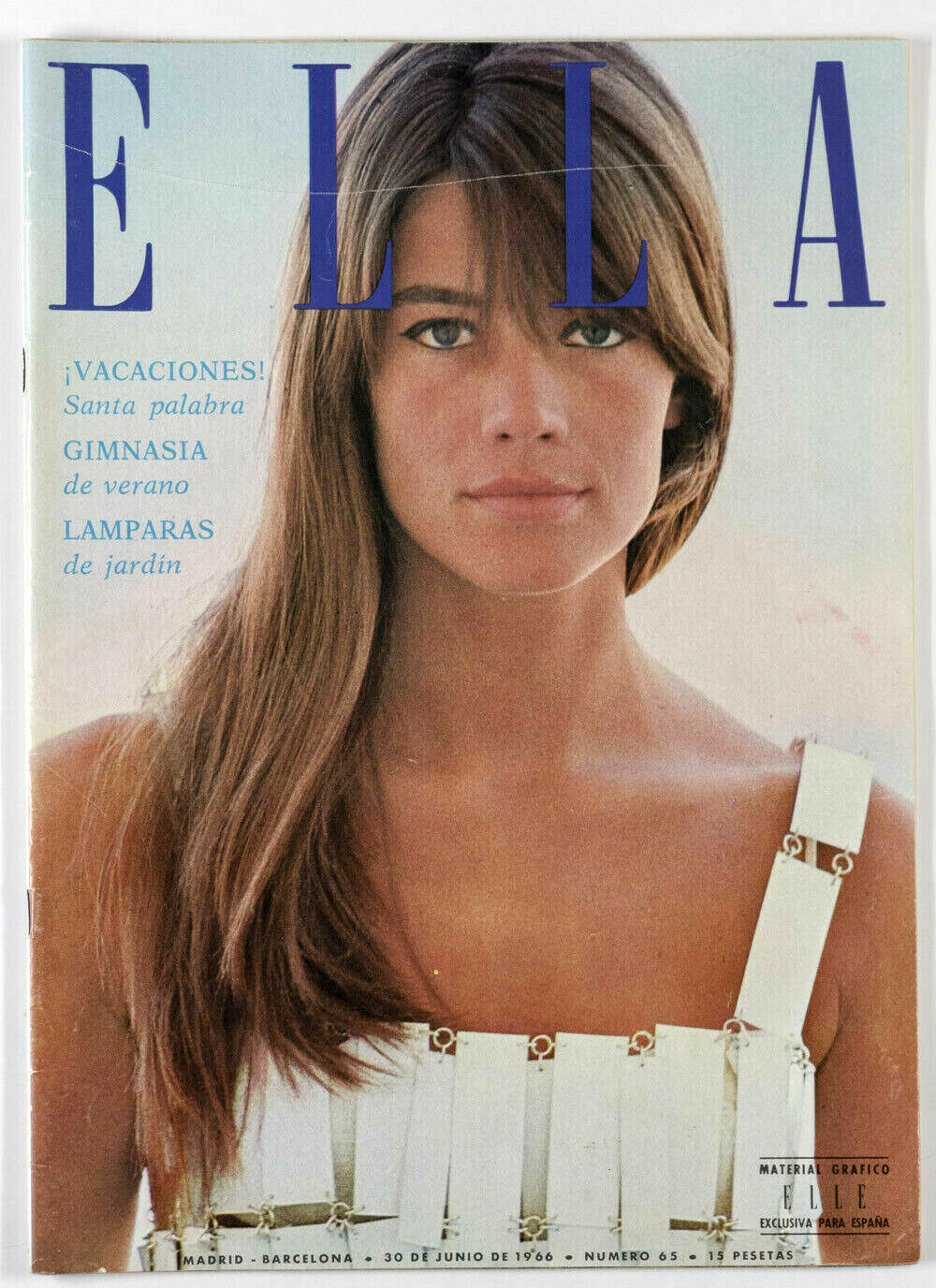 FRANÇOISE HARDY
Françoise Hardy entered my life as lifelong muse and role model probably around 1966, when I was 12. My paternal aunt and uncle, small-town newsagents in Belgium, had been sending us periodic care packages of random reading material from their stock since we emigrated to the United States. They weren't very literary themselves and never really figured out my father's tastes, but they got me right, sending me the French teen magazine Salut les Copains at just the right age. I barely remember what else was in its pages, the usual French teenpop litter: Sylvie Vartan and Adamo and Barbara and Michel Polnareff, of little interest. As far as I was concerned, the whole magazine was Françoise Hardy.
Note that I was years away from hearing what her music sounded like, since I lived in suburban New Jersey, where the radio didn't play her and the record store didn't stock her. (I came to love her 1968 album Comment te dire adieu in particular.) So my fixation was purely visual. But just look at her! She had an allure unlike anyone else's, at once forthright and reserved. She was tall (5'9″) and lanky, an unfamiliar body type in showbiz then. She had high cheekbones, a full jawline, a passionate and determined mouth, slightly slanted eyes, and that curtain of hair, her bangs getting longer by the year. Her height and her jaw tipped her image just a bit toward androgyny. I could not stop looking at her, and if I hadn't been wary of my mother I would very likely have covered the walls of my bedroom with pictures of her. Note that she was fully clothed in every photo.
The stupid thing is that I still can't stop looking at pictures of her. I have dozens of her pictures saved on various media, and her 1965 cover for Elle is framed on my office wall. Studying her pictures has over the years become a powerful narcotic for me, but it is only in recent times that I've figured out why. Of course I was drawn erotically to the image of Françoise Hardy, but there was a little more to it than that, as I realized when I began transitioning. It wasn't just that I desired what I could see of her, but that I wanted to be her.
The transgender erotic ideal was augmented by her bourgeois reserve, which I could read immediately because I had been inculcated with the same thing. As it turns out, that demeanor of hers translated into a political stance as well. She is still a Gaullist, and chillingly unconcerned with others' miseries. A recent biography in French was revealing. She, her husband (the singer Jacques Dutronc), and their child each occupy a separate floor of their house in Paris. In hers she lives "like a nun," with a narrow bed, no decor of any sort, using only cheap supermarket brands of health and beauty products, rarely leaving the house. Her consuming passion is astrology, about which she has written several books (she has also produced several memoirs and a novel). I'm not sure we'd get along.
***
TEEN YOUR ENTHUSIASM: INTRODUCTION by Heather Quinlan | Adam McGovern on ANDY GIBB | Crockett Doob on DREW BARRYMORE | Kathy Biehl on THE MONKEES | Josh Glenn on SHAUN CASSIDY | Catherine Christman on ELI WALLACH | Carlo Rotella on VALERIE BERTINELLI | Miranda Mellis on EDDIE VAN HALEN | Paul Finnegan on KIM WILDE | Heather Quinlan on MIKE PATTON | Mariane Cara on NKOTB | Mimi Lipson on ARLO GUTHRIE | Gabriela Pedranti on GUSTAVO CERATI | Michele Carlo on MICHAEL JACKSON | Ingrid Schorr on PAUL McCARTNEY | Carolyn Campbell on ROBERT REDFORD | Erin M. Routson on JOHNNY KNOXVILLE | Amy Keyishian on JIM MORRISON | Fran Pado on TONY DEFRANCO | Krista Margies Kunkle on LUKE PERRY | Lucy Sante on FRANÇOISE HARDY | Lynn Peril on DANNY BONADUCE | Jack Silbert on CHERYL TIEGS | Kelly Jean Fitzsimmons on CHRISTIAN SLATER | Cynthia Scott on LEONARD WHITING | Elizabeth Foy Larsen on OLIVIA NEWTON-JOHN.
MORE ENTHUSIASM at HILOBROW
STOOGE YOUR ENTHUSIASM (4Q2023): MOVE ON FAST | 96 TEARS | SHE CRACKED | WHAT A WAY TO DIE | PSYCHOTIC REACTION | & 20 other Sixties (1964–1973) proto-punk songs. CURVE YOUR ENTHUSIASM (3Q2023): PIZZA PURISM | BOY BANDS | THE '86 METS | LOVE ISLAND UK | ELTON JOHN | & 20 other reconsidered enthusiasms. TEEN YOUR ENTHUSIASM (2Q2023): ANDY GIBB | VALERIE BERTINELLI | KIM WILDE | ARLO GUTHRIE | MIKE PATTON | & 20 other heartthrobs from our adolescences. DOLLY YOUR ENTHUSIASM (1Q2023): WE FOUND IT | TOGETHER AGAIN | SUNDAY MORNIN' COMIN' DOWN | BAD CASE OF THE BLUES | FANCY | & 20 other Sixties (1964–1973) Country records. KILL YOUR ENTHUSIASM (4Q2022): LT. TASHA YAR | JOYCE SUMMERS | COL. HENRY BLAKE | MRS. LANDINGHAM | ALEX KAMAL | & 20 other TV deaths. BLURB YOUR ENTHUSIASM (3Q2022): LEFT-CORNER BRICK | JOY IS RESISTANCE | THE FUTURE IS PASSÉ | EVERY MINUTE AN OCEAN | SHUT UP, HE EXPLAINED | & 20 other apothegms to live by. KOJAK YOUR ENTHUSIASM (2Q2022): ARK II | WKRP IN CINCINNATI | BUCK ROGERS | THE WHITE SHADOW | POLICE WOMAN | & 20 other Seventies (1974–1983) TV shows. KICK YOUR ENTHUSIASM (1Q2022): KUILL | CATO | COSMO | TRIXIE | VOLSTAGG | & 20 other sidekicks. NERD YOUR ENTHUSIASM (4Q2021): TIME | THE POST OFFICE | ARDUIN | DOUBT | SUMMATIONS | & 20 other nerdy passions. SWERVE YOUR ENTHUSIASM (3Q2021): WARHOL'S WALT WHITMAN | 70, GIRLS, 70 | TYRAEL'S MIGHT | SHIRATO SANPEI | THE LEON SUITES | & 20 other never-realized cultural productions. FIVE-O YOUR ENTHUSIASM (2Q2021): DARK SHADOWS | MANNIX | GET SMART | THE ADDAMS FAMILY | I DREAM OF JEANNIE | & 20 other Sixties (1964–1973) TV shows. FERB YOUR ENTHUSIASM (1Q2021): STEVEN UNIVERSE | TOP CAT | REN & STIMPY | SHE-RA AND THE PRINCESSES OF POWER | DRAGON BALL Z | & 20 other animated series. CARBONA YOUR ENTHUSIASM (2020): "Sex Bomb" | "Going Underground" | "Soft South Africans" | "Typical Girls" | "Human Fly" | & 20 other Seventies (1974–1983) punk singles. KLAATU YOU (2020 weekly): ZARDOZ | METROPOLIS | DARK STAR | SINS OF THE FLESHAPOIDS | SOLARIS | & dozens of other pre-STAR WARS sci-fi movies. CONVOY YOUR ENTHUSIASM (2019): THE TAKING OF PELHAM ONE TWO THREE | ROLLERBALL | BLACK SUNDAY | SORCERER | STRAIGHT TIME | & 20 other Seventies (1974–1983) action movies. SERIOCOMIC (2019 weekly): LITTLE LULU | VIZ | MARSUPILAMI | ERNIE POOK'S COMEEK | HELLBOY | & dozens of other comics. TUBE YOUR ENTHUSIASM (2018): LOONEY TUNES | THREE STOOGES | THE AVENGERS | ROCKY & BULLWINKLE | THE TWILIGHT ZONE | & 20 other Fifties (1954–1963) TV shows. WOWEE ZOWEE (2018 weekly): UNISEX | UNDER THE PINK | DUMMY | AMOR PROHIBIDO | HIPS AND MAKERS | & dozens of other Nineties (1994–2003) albums. KLUTE YOUR ENTHUSIASM (2017): THE KILLERS | BANDE À PART (BAND OF OUTSIDERS) | ALPHAVILLE | HARPER | BLOW-UP | & 20 other Sixties (1964–1973) neo-noir movies. #SQUADGOALS (2017 weekly): THE WILD BUNCH | BOWIE'S BAND | THE BLOOMSBURY GROUP | THE HONG KONG CAVALIERS | VI ÄR BÄST! & dozens of other squads. GROK MY ENTHUSIASM (2016 weekly): THE THEORY AND PRACTICE OF LUNCH | WEEKEND | MILLION YEAR PICNIC | LA BARONNE EMILE D'ERLANGER | THE SURVIVAL SAMPLER | & dozens more one-off enthusiasms. QUIRK YOUR ENTHUSIASM (2016): "Tainted Love" | "Metal" | "Frankie Teardrop" | "Savoir Faire" | "Broken English" | & 20 other Seventies (1974–1983) new wave singles. CROM YOUR ENTHUSIASM (2015): DARKER THAN YOU THINK | THE SWORD IN THE STONE | OUT OF THE SILENT PLANET | THIEVES' HOUSE | QUEEN OF THE BLACK COAST | & 20 other Thirties (1934–1943) fantasy novels. KERN YOUR ENTHUSIASM (2014): ALDINE ITALIC | DATA 70 | TORONTO SUBWAY | JOHNSTON'S "HAMLET" | TODD KLONE | & 20 other typefaces. HERC YOUR ENTHUSIASM (2013): "Spoonin' Rap" | "Rapper's Delight" | "Rappin' Blow" | "The Incredible Fulk" | "The Adventures of Super Rhyme" | & 20 other Seventies (1974–1983) hip-hop songs. KIRK YOUR ENTHUSIASM (2012): Justice or vengeance? | Kirk teaches his drill thrall to kiss | "KHAAAAAN!" | "No kill I" | Kirk browbeats NOMAD | & 20 other Captain Kirk scenes. KIRB YOUR ENTHUSIASM (2011): THE ETERNALS | BLACK MAGIC | DEMON | OMAC | CAPTAIN AMERICA | & 20 other Jack Kirby panels.