SERIOCOMIC (24)
By: Erin M. Routson
June 12, 2019
One in a weekly series of enthusiastic posts, contributed by HILOBROW friends and regulars, on the topic of our favorite comic books, comic strips, and graphic novels.
*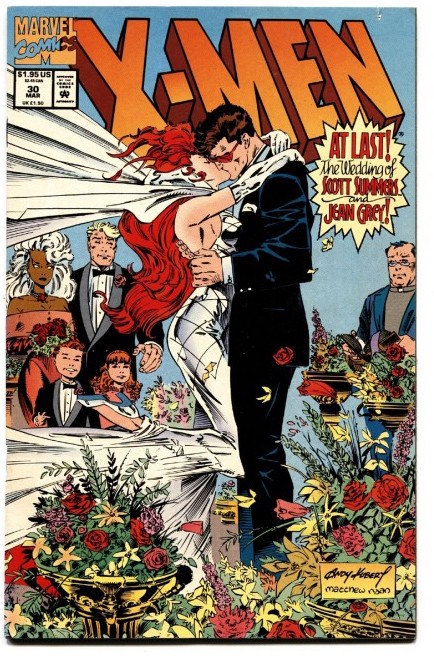 THE WEDDING OF SCOTT SUMMERS & JEAN GREY
My own wedding was not something I fantasized about as a child. I never imagined my own dress, or what my colors would be. I didn't dream about being a bride. I suppose this was the nascent point of a nontraditional view on a lot of ways to live life as a woman in the United States, one that has played out through most of my adulthood.
Another part of my counter-feminine childhood behavior was that I read comic books — the ones traditionally meant for boys. The long box is still in the basement of my parents' house. It is filled with issues of X-Men, Gen 13, Lady Death, and other indies that really didn't do anything to forward much of my budding feminist agenda visually — but in some way, the bold, intense female characters (whose bodies were unrealistic not just because of their mutant powers) felt empowering.
What I find amusing and puzzling, looking back on my collection, is the volume that I still think about and still love dearly: X-Men #30 (March 1994), "The Ties That Bind" — the wedding of Scott Summers and Jean Grey. I was ten years old when I first read it, and despite my naiveté and youth I knew that it was outside of the usual comic book action, violence and strife. It was joy and momentary peace, something so rare for the characters in its stories.
Paging through it, tracing what, at ten, I loved and still love now – the story is humanizing. Despite the use of flight powers to catch a bouquet and telekinesis to help a paraplegic man dance, it is "normal." It showed a fairly common activity — two people getting married — and somehow made me as a child and me as an adult feel compelled by it. Beyond the routine of the event, its specific details — a dress designed by Nicole Miller, a first dance to U2's "One" — tied it to the world I knew and lived in.
And then, of course, there's the story & art as narrative. I will always hold in my mind the wraparound cover of the altar, flowers and its colors — the bright orange logo, the blue background, the contrast of white dress and black suit. Inside, the panels were so dramatic and vibrant, countering the normalcy and conventionality of an American wedding day, weaving together lighthearted bow tie jokes and the heaviness of emotion of so many of its characters.
X-Men 30 has stuck with me for over two decades, I even replaced it once as an adult when I thought I'd lost my original copy. Its storyline never pushed any daydreams of matrimony into my young brain, but I never forgot its lessons about gratitude and love. I still want to read about people who are different or ostracized and yet still feel joy, and are still inexplicably, fearlessly themselves. I still want to be that person myself.
***
SERIOCOMIC: Mimi Lipson on LITTLE LULU | Sara Ryan on AMPHIGOREY | Gary Panter on THE NUT BROS./THE SQUIRREL CAGE | Gordon Dahlquist on POGO | Robert Wringham on VIZ | Matthew De Abaitua on CAPTAIN BRITAIN | Jessamyn West on FUN HOME | Bradley Peterson on HELLBOY | Stephanie Burt on KITTY PRYDE RETURNS | Jenny Davidson on OOR WULLIE | Luc Sante on MARSUPILAMI | Susan Roe on BLOOM COUNTY | Marilyn Berlin Snell on CHARLES ADDAMS | Deb Chachra on ARKHAM ASYLUM | Judith Zissman on ERNIE POOK'S COMEEK | Alexandra Lange on BETTY (ARCHIE) | Catherine Newman on VERONICA (ARCHIE) | Josh Glenn on SPIRE CHRISTIAN COMICS | Adam McGovern on THE CREW | William Nericcio on ERRATA STIGMATA | Chelsey Johnson on DYKES TO WATCH OUT FOR | Sherri Wasserman on TANK GIRL | Tom Nealon on MEGATON MAN | Erin M. Routson on THE WEDDING OF SCOTT SUMMERS & JEAN GREY | Douglas Wolk on FRANK IN THE RIVER | Annie Nocenti on DICK TRACY | James Parker on 2000 AD | Adrienne Crew on NUTS | Vanessa Berry on MEAT CAKE | John Holbo on WITZEND | Michael Campochiaro on SPIDER-WOMAN | Miranda Mellis on RED SONJA & BÊLIT | Michael Grasso on THE NEW MUTANTS | Ty Burr on BINKY BROWN | Bishakh Som on AMAR CHITRA KATHA | Mark Kingwell on CLASSICS ILLUSTRATED | Brian Berger on JIMBO | Kenya (Robinson) on AGENT 355 | Seth on THE ETERNALS ANNUAL | Susannah Breslin on SLASHER | Lisa Kahlden on JACK CHICK TRACTS | Mandy Keifetz on KRAZY KAT | Tom Devlin on DUM-DUM POSSE READER | Eric Reynolds on ACTION COMICS #460 | Rick Pinchera on EIGHTBALL #16 | Juan Recondo on DAYTRIPPER | Elizabeth Foy Larsen on ROZ CHAST | J.E. Anckorn on HALO JONES | Deborah Wassertzug on GREAT POP THINGS | Peggy Nelson on MAD MOVIE SATIRES | Holly Interlandi on ANGEL SANCTUARY | Karen Green on THE SMITHSONIAN COLLECTION OF NEWSPAPER COMICS.
MORE ENTHUSIASM at HILOBROW
NERD YOUR ENTHUSIASM (4Q2021): NERDING | ARDUIN | KLINGON CONFIDENTIAL | MAP INSERTS | TIME | & 20 other nerdy passions. SWERVE YOUR ENTHUSIASM (3Q2021): WARHOL'S WALT WHITMAN | 70, GIRLS, 70 | TYRAEL'S MIGHT | SHIRATO SANPEI | THE LEON SUITES | & 20 other never-realized cultural productions. FIVE-O YOUR ENTHUSIASM (2Q2021): DARK SHADOWS | MANNIX | GET SMART | THE ADDAMS FAMILY | I DREAM OF JEANNIE | & 20 other Sixties (1964–1973) TV shows. FERB YOUR ENTHUSIASM (1Q2021): STEVEN UNIVERSE | TOP CAT | REN & STIMPY | SHE-RA AND THE PRINCESSES OF POWER | DRAGON BALL Z | & 20 other animated series. CARBONA YOUR ENTHUSIASM (2020): "Sex Bomb" | "Going Underground" | "Soft South Africans" | "Typical Girls" | "Human Fly" | & 20 other Seventies (1974–1983) punk singles. KLAATU YOU (2020 weekly): ZARDOZ | METROPOLIS | DARK STAR | SINS OF THE FLESHAPOIDS | SOLARIS | & dozens of other pre-STAR WARS sci-fi movies. CONVOY YOUR ENTHUSIASM (2019): THE TAKING OF PELHAM ONE TWO THREE | ROLLERBALL | BLACK SUNDAY | SORCERER | STRAIGHT TIME | & 20 other Seventies (1974–1983) action movies. SERIOCOMIC (2019 weekly): LITTLE LULU | VIZ | MARSUPILAMI | ERNIE POOK'S COMEEK | HELLBOY | & dozens of other comics. TUBE YOUR ENTHUSIASM (2018): LOONEY TUNES | THREE STOOGES | THE AVENGERS | ROCKY & BULLWINKLE | THE TWILIGHT ZONE | & 20 other Fifties (1954–1963) TV shows. WOWEE ZOWEE (2018 weekly): UNISEX | UNDER THE PINK | DUMMY | AMOR PROHIBIDO | HIPS AND MAKERS | & dozens of other Nineties (1994–2003) albums. KLUTE YOUR ENTHUSIASM (2017): THE KILLERS | BANDE À PART (BAND OF OUTSIDERS) | ALPHAVILLE | HARPER | BLOW-UP | & 20 other Sixties (1964–1973) neo-noir movies. #SQUADGOALS (2017 weekly): THE WILD BUNCH | BOWIE'S BAND | THE BLOOMSBURY GROUP | THE HONG KONG CAVALIERS | VI ÄR BÄST! & dozens of other squads. GROK MY ENTHUSIASM (2016 weekly): THE THEORY AND PRACTICE OF LUNCH | WEEKEND | MILLION YEAR PICNIC | LA BARONNE EMILE D'ERLANGER | THE SURVIVAL SAMPLER | & dozens more one-off enthusiasms. QUIRK YOUR ENTHUSIASM (2016): "Tainted Love" | "Metal" | "Frankie Teardrop" | "Savoir Faire" | "Broken English" | & 20 other Seventies (1974–1983) new wave singles. CROM YOUR ENTHUSIASM (2015): DARKER THAN YOU THINK | THE SWORD IN THE STONE | OUT OF THE SILENT PLANET | THIEVES' HOUSE | QUEEN OF THE BLACK COAST | & 20 other Thirties (1934–1943) fantasy novels. KERN YOUR ENTHUSIASM (2014): ALDINE ITALIC | DATA 70 | TORONTO SUBWAY | JOHNSTON'S "HAMLET" | TODD KLONE | & 20 other typefaces. HERC YOUR ENTHUSIASM (2013): "Spoonin' Rap" | "Rapper's Delight" | "Rappin' Blow" | "The Incredible Fulk" | "The Adventures of Super Rhyme" | & 20 other Seventies (1974–1983) hip-hop songs. KIRK YOUR ENTHUSIASM (2012): Justice or vengeance? | Kirk teaches his drill thrall to kiss | "KHAAAAAN!" | "No kill I" | Kirk browbeats NOMAD | & 20 other Captain Kirk scenes. KIRB YOUR ENTHUSIASM (2011): THE ETERNALS | BLACK MAGIC | DEMON | OMAC | CAPTAIN AMERICA | & 20 other Jack Kirby panels.