CONVOY YOUR ENTHUSIASM (4)
By: Lucy Sante
August 4, 2019
One of 25 installments in a series of enthusiastic posts analyzing and celebrating some of our favorite action movies from the Seventies (1974–1983).
*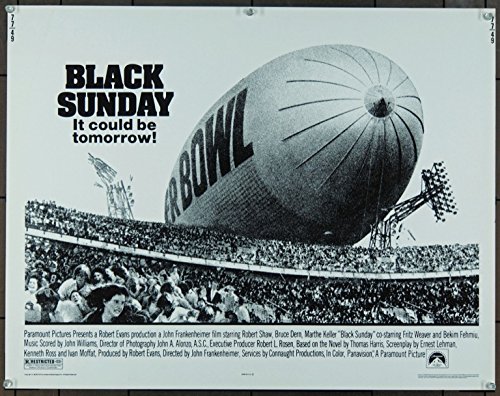 BLACK SUNDAY | d. JOHN FRANKENHEIMER | 1977
I knew Black Sunday as an ephemeral brand of heroin on the Lower East Side long before I saw the movie. It's just the kind of name you want to give your heroin — generically apocalyptic. Look at the Wikipedia disambiguation page for the term: dust storms, bushfires, tornadoes, terror incidents, catastrophic wartime attacks, the opening of Disneyland. I didn't see John Frankenheimer's 1977 thriller by that name until last night, probably because I thought I already knew the drill. Anyway the poster seemed to say it all: Goodyear blimp, presumably hijacked by terrorists, crashes into stadium during Superbowl.
The era was big on ordinary things turning deadly; that year I'd already seen The Car ("a small desert town is terrorized by a powerful, seemingly possessed car"). Here the blimp is unnerving not only because it is a jolly, ubiquitous advertising device for a maker of automobile tires, but because it is slow and perceived as soft. There is something faintly animal about it, as if it were a baleen whale at Sea World that suddenly turned on the audience in the bleachers. That it can only smother humans, not devour them, is hardly reassuring. Anyway, it is an advertising device: the public is being murdered by the sponsor, and the television network that keeps a camera crew in its gondola.
Because this is a product of an older Hollywood, the principal mayhem is confined to the last half hour. It is preceded by a great deal of Story, which has the additional advantage of being Ripped from Today's Headlines. The culprits are affiliated with Black September, famous for the 1972 massacre at the Munich Olympics — I should say "culprit," singular, because it is pretty much down to Marthe Keller after all her colleagues have been wiped out by Mossad. She is cool-headed, precise, hyper-alert, and apparently on loan from the 1960s world of intellectual spy thrillers, as is her opposite number, the slightly preposterous Robert Shaw (a successful playwright and novelist in addition to being a film actor); he is the world's Most Interesting Man recast as a Mossad agent.
Acting in a completely different movie, meanwhile, is Bruce Dern as the deranged blimp pilot. He takes his patented jittery obsessiveness so far over the top it ends up as the most persuasively realistic aspect of the picture. You may laugh as cheerleaders and tailgaters run screaming from the looming dirigible; you may smirk as he-men nonchalantly winch themselves in and out of moving helicopters on long ropes; you may groan as historical actuality walks across the screen (Tom Landry, some clown wearing a Jimmy Carter mask, the cast of Up With People). But you will not so much as snicker when Dern's character, whose mania has nothing to do with ideology or even his back story, rhapsodizes over his minutely engineered plan to kill 250,000 people in a single burst. That part stays news.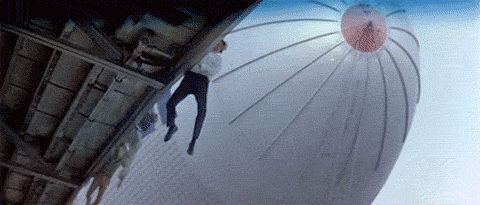 ***
CONVOY YOUR ENTHUSIASM: INTRODUCTION | Madeline Ashby on BLADE RUNNER | Erik Davis on BRING ME THE HEAD OF ALFREDO GARCIA | Mimi Lipson on CONVOY | Luc Sante on BLACK SUNDAY | Josh Glenn on THREE DAYS OF THE CONDOR | Lisa Jane Persky on SORCERER | Devin McKinney on THE TAKING OF PELHAM ONE TWO THREE | Adam McGovern on QUINTET | Mandy Keifetz on DEATH RACE 2000 | Peter Doyle on SOUTHERN COMFORT | Jonathan Lethem on STRAIGHT TIME | Heather Kapplow on THE KILLER ELITE | Tom Nealon on EVERY WHICH WAY BUT LOOSE | Mark Kingwell on THE EIGER SANCTION | Sherri Wasserman on ESCAPE FROM NEW YORK | Gordon Dahlquist on MARATHON MAN | David Levine on PARALLAX VIEW | Matthew Sharpe on ROLLERBALL | Ramona Lyons on ALIEN | Dan Piepenbring on WHITE LINE FEVER | Marc Weidenbaum on THIEF | Carolyn Kellogg on MAD MAX | Carlo Rotella on KUNG FU | Peggy Nelson on SMOKEY & THE BANDIT | Brian Berger on FRIDAY FOSTER.
MORE ENTHUSIASM at HILOBROW
NERD YOUR ENTHUSIASM (4Q2021): NERDING | ARDUIN | KLINGON CONFIDENTIAL | MAP INSERTS | TIME | & 20 other nerdy passions. SWERVE YOUR ENTHUSIASM (3Q2021): WARHOL'S WALT WHITMAN | 70, GIRLS, 70 | TYRAEL'S MIGHT | SHIRATO SANPEI | THE LEON SUITES | & 20 other never-realized cultural productions. FIVE-O YOUR ENTHUSIASM (2Q2021): DARK SHADOWS | MANNIX | GET SMART | THE ADDAMS FAMILY | I DREAM OF JEANNIE | & 20 other Sixties (1964–1973) TV shows. FERB YOUR ENTHUSIASM (1Q2021): STEVEN UNIVERSE | TOP CAT | REN & STIMPY | SHE-RA AND THE PRINCESSES OF POWER | DRAGON BALL Z | & 20 other animated series. CARBONA YOUR ENTHUSIASM (2020): "Sex Bomb" | "Going Underground" | "Soft South Africans" | "Typical Girls" | "Human Fly" | & 20 other Seventies (1974–1983) punk singles. KLAATU YOU (2020 weekly): ZARDOZ | METROPOLIS | DARK STAR | SINS OF THE FLESHAPOIDS | SOLARIS | & dozens of other pre-STAR WARS sci-fi movies. CONVOY YOUR ENTHUSIASM (2019): THE TAKING OF PELHAM ONE TWO THREE | ROLLERBALL | BLACK SUNDAY | SORCERER | STRAIGHT TIME | & 20 other Seventies (1974–1983) action movies. SERIOCOMIC (2019 weekly): LITTLE LULU | VIZ | MARSUPILAMI | ERNIE POOK'S COMEEK | HELLBOY | & dozens of other comics. TUBE YOUR ENTHUSIASM (2018): LOONEY TUNES | THREE STOOGES | THE AVENGERS | ROCKY & BULLWINKLE | THE TWILIGHT ZONE | & 20 other Fifties (1954–1963) TV shows. WOWEE ZOWEE (2018 weekly): UNISEX | UNDER THE PINK | DUMMY | AMOR PROHIBIDO | HIPS AND MAKERS | & dozens of other Nineties (1994–2003) albums. KLUTE YOUR ENTHUSIASM (2017): THE KILLERS | BANDE À PART (BAND OF OUTSIDERS) | ALPHAVILLE | HARPER | BLOW-UP | & 20 other Sixties (1964–1973) neo-noir movies. #SQUADGOALS (2017 weekly): THE WILD BUNCH | BOWIE'S BAND | THE BLOOMSBURY GROUP | THE HONG KONG CAVALIERS | VI ÄR BÄST! & dozens of other squads. GROK MY ENTHUSIASM (2016 weekly): THE THEORY AND PRACTICE OF LUNCH | WEEKEND | MILLION YEAR PICNIC | LA BARONNE EMILE D'ERLANGER | THE SURVIVAL SAMPLER | & dozens more one-off enthusiasms. QUIRK YOUR ENTHUSIASM (2016): "Tainted Love" | "Metal" | "Frankie Teardrop" | "Savoir Faire" | "Broken English" | & 20 other Seventies (1974–1983) new wave singles. CROM YOUR ENTHUSIASM (2015): DARKER THAN YOU THINK | THE SWORD IN THE STONE | OUT OF THE SILENT PLANET | THIEVES' HOUSE | QUEEN OF THE BLACK COAST | & 20 other Thirties (1934–1943) fantasy novels. KERN YOUR ENTHUSIASM (2014): ALDINE ITALIC | DATA 70 | TORONTO SUBWAY | JOHNSTON'S "HAMLET" | TODD KLONE | & 20 other typefaces. HERC YOUR ENTHUSIASM (2013): "Spoonin' Rap" | "Rapper's Delight" | "Rappin' Blow" | "The Incredible Fulk" | "The Adventures of Super Rhyme" | & 20 other Seventies (1974–1983) hip-hop songs. KIRK YOUR ENTHUSIASM (2012): Justice or vengeance? | Kirk teaches his drill thrall to kiss | "KHAAAAAN!" | "No kill I" | Kirk browbeats NOMAD | & 20 other Captain Kirk scenes. KIRB YOUR ENTHUSIASM (2011): THE ETERNALS | BLACK MAGIC | DEMON | OMAC | CAPTAIN AMERICA | & 20 other Jack Kirby panels.