KLUTE YOUR ENTHUSIASM (1)
By: Kio Stark
August 1, 2017
One of 25 installments in a series of enthusiastic posts analyzing and celebrating a few of our favorite neo-noir movies from the Sixties (1964–1973).
*
THE KILLERS | d. DON SIEGEL | 1964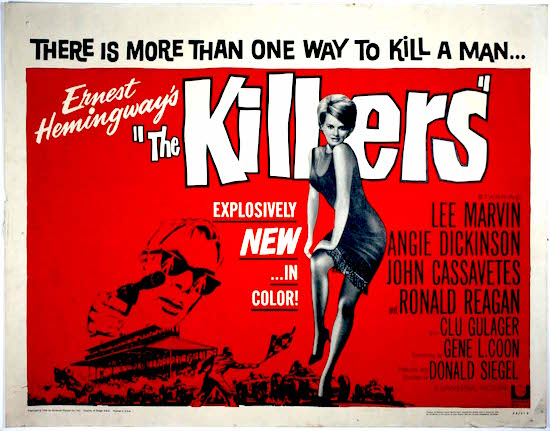 The Killers is an exercise in memory under duress. It begins with a hit. Two hired guns hunt down Johnny North, a washed up race-car driver played by John Cassavetes, the crown prince of desperation. He knows they're coming and just waits to die. Charlie (Lee Marvin), the bigger gun, does the math and figures there's some missing money, a lot of it. He convinces his flippant, soullessly merciless partner to follow his hunch. They hunt down and step on a series of witnesses who drift into flashbacks that piece the story together for us.
They hear how Johnny was a star race-car driver who gets wrapped around Sheila Farr's (Angie Dickinson) seductive finger. Voracious and reckless, her voice purrs and her lips curl back in a sneer of pleasure, and also menace. We don't know whether to trust her protestations of love to Johnny. He doesn't either. Tired out by their all-night romance, he crashes out of his big race and off the track forever, losing Sheila in the process. Her character's twists and turns are among the most dizzying and complex in the history of heist movies, which The Killers becomes, just about halfway through. Eventually Sheila tracks him down, fallen to the status of a grubby stock-car mechanic, and reels him back as the heist driver.
Now, somewhere along the way, our seeker Charlie's purpose slides. Sure he wants the dough, but he's got questions. What he's chasing turns out to be meaning.
I love everything about The Killers. Especially that it's a game of telephone starting with Hemingway's 1927 story in which his sort-of autobiographical alter ego Nick Adams hops back fences to warn a man that hired guns are hunting him. The man lies still on his bed, waiting for what will come. Later, Nick wonders aloud what the resolute man did. Robert Siodmak's 1946 film The Killers spins an answer, a broken-handed boxer turned crook, a heist gone wrong, and that missing score, unraveled in flashbacks told to an insurance company detective. Don Siegel drops Nick, sets his '64 remake at the track, and in a dazzling move, turns the Killer into the one who seeks. "I gotta find out what makes a man decide not to run. That he'd rather die." That's Marvin, naming Nick's implied but unspoken need. The Killers is an existential meditation disguised as a heist flick. A plan, a perfect score, a double-cross. It all goes wrong, and everybody dies. You can't run. No one can. Not even the fastest driver, in the very fastest car.
***
KLUTE YOUR ENTHUSIASM: Series Introduction | Kio Stark on THE KILLERS | Alix Lambert on BANDE À PART (BAND OF OUTSIDERS) | Judith Zissman on ALPHAVILLE | Mark Kingwell on HARPER | Lynn Peril on BLOW-UP | Devin McKinney on SECONDS | Drew Daniel on BRANDED TO KILL | Luc Sante on POINT BLANK | Gordon Dahlquist on LE SAMOURAÏ | Alice Boone on LE CERCLE ROUGE | Brian Berger on COTTON COMES TO HARLEM | Adrienne Crewe on PERFORMANCE | David Levine on THE FRENCH CONNECTION | Dan Fox on GET CARTER | Melissa Gira Grant on KLUTE | Brandi Brown on SHAFT | Kaleb Horton on FAT CITY | Peter Doyle on THE GETAWAY | Sarah Weinman on HICKEY & BOGGS | Annie Nocenti on BADLANDS | Josh Glenn on CHARLEY VARRICK | Gary Groth on THE FRIENDS OF EDDIE COYLE | Lisa Jane Persky on THE LONG GOODBYE | Mimi Lipson on MEAN STREETS | Sherri Wasserman on SOYLENT GREEN.
MORE MOVIES at HILOBROW: KLUTE YOUR ENTHUSIASM: 25 neo-noirs of the Sixties (1964–1973) | James Parker's BOURNE VARIATIONS series | Alix Lambert's SÉRIE NOIRE series | Jacob Mikanowski's SCREEN TIME series | Josh Glenn's SHOCKING BLOCKING series | Joanne McNeil's ALL MY STARS series | MORE: including dozens of HILO HERO items on movie directors and actors.
MORE ENTHUSIASM at HILOBROW
NERD YOUR ENTHUSIASM (4Q2021): NERDING | ARDUIN | KLINGON CONFIDENTIAL | MAP INSERTS | TIME | & 20 other nerdy passions. SWERVE YOUR ENTHUSIASM (3Q2021): WARHOL'S WALT WHITMAN | 70, GIRLS, 70 | TYRAEL'S MIGHT | SHIRATO SANPEI | THE LEON SUITES | & 20 other never-realized cultural productions. FIVE-O YOUR ENTHUSIASM (2Q2021): DARK SHADOWS | MANNIX | GET SMART | THE ADDAMS FAMILY | I DREAM OF JEANNIE | & 20 other Sixties (1964–1973) TV shows. FERB YOUR ENTHUSIASM (1Q2021): STEVEN UNIVERSE | TOP CAT | REN & STIMPY | SHE-RA AND THE PRINCESSES OF POWER | DRAGON BALL Z | & 20 other animated series. CARBONA YOUR ENTHUSIASM (2020): "Sex Bomb" | "Going Underground" | "Soft South Africans" | "Typical Girls" | "Human Fly" | & 20 other Seventies (1974–1983) punk singles. KLAATU YOU (2020 weekly): ZARDOZ | METROPOLIS | DARK STAR | SINS OF THE FLESHAPOIDS | SOLARIS | & dozens of other pre-STAR WARS sci-fi movies. CONVOY YOUR ENTHUSIASM (2019): THE TAKING OF PELHAM ONE TWO THREE | ROLLERBALL | BLACK SUNDAY | SORCERER | STRAIGHT TIME | & 20 other Seventies (1974–1983) action movies. SERIOCOMIC (2019 weekly): LITTLE LULU | VIZ | MARSUPILAMI | ERNIE POOK'S COMEEK | HELLBOY | & dozens of other comics. TUBE YOUR ENTHUSIASM (2018): LOONEY TUNES | THREE STOOGES | THE AVENGERS | ROCKY & BULLWINKLE | THE TWILIGHT ZONE | & 20 other Fifties (1954–1963) TV shows. WOWEE ZOWEE (2018 weekly): UNISEX | UNDER THE PINK | DUMMY | AMOR PROHIBIDO | HIPS AND MAKERS | & dozens of other Nineties (1994–2003) albums. KLUTE YOUR ENTHUSIASM (2017): THE KILLERS | BANDE À PART (BAND OF OUTSIDERS) | ALPHAVILLE | HARPER | BLOW-UP | & 20 other Sixties (1964–1973) neo-noir movies. #SQUADGOALS (2017 weekly): THE WILD BUNCH | BOWIE'S BAND | THE BLOOMSBURY GROUP | THE HONG KONG CAVALIERS | VI ÄR BÄST! & dozens of other squads. GROK MY ENTHUSIASM (2016 weekly): THE THEORY AND PRACTICE OF LUNCH | WEEKEND | MILLION YEAR PICNIC | LA BARONNE EMILE D'ERLANGER | THE SURVIVAL SAMPLER | & dozens more one-off enthusiasms. QUIRK YOUR ENTHUSIASM (2016): "Tainted Love" | "Metal" | "Frankie Teardrop" | "Savoir Faire" | "Broken English" | & 20 other Seventies (1974–1983) new wave singles. CROM YOUR ENTHUSIASM (2015): DARKER THAN YOU THINK | THE SWORD IN THE STONE | OUT OF THE SILENT PLANET | THIEVES' HOUSE | QUEEN OF THE BLACK COAST | & 20 other Thirties (1934–1943) fantasy novels. KERN YOUR ENTHUSIASM (2014): ALDINE ITALIC | DATA 70 | TORONTO SUBWAY | JOHNSTON'S "HAMLET" | TODD KLONE | & 20 other typefaces. HERC YOUR ENTHUSIASM (2013): "Spoonin' Rap" | "Rapper's Delight" | "Rappin' Blow" | "The Incredible Fulk" | "The Adventures of Super Rhyme" | & 20 other Seventies (1974–1983) hip-hop songs. KIRK YOUR ENTHUSIASM (2012): Justice or vengeance? | Kirk teaches his drill thrall to kiss | "KHAAAAAN!" | "No kill I" | Kirk browbeats NOMAD | & 20 other Captain Kirk scenes. KIRB YOUR ENTHUSIASM (2011): THE ETERNALS | BLACK MAGIC | DEMON | OMAC | CAPTAIN AMERICA | & 20 other Jack Kirby panels.