SERIOCOMIC (41)
By: Lisa Kahlden
October 9, 2019
One in a weekly series of enthusiastic posts, contributed by HILOBROW friends and regulars, on the topic of our favorite comic books, comic strips, and graphic novels.
*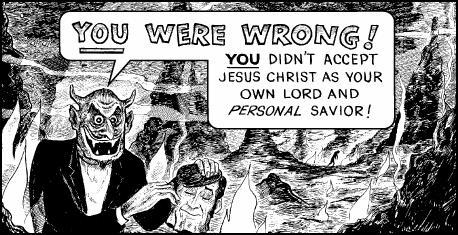 JACK CHICK TRACTS
Satan first came to me in 1973, as I stared at a can of Underwood Deviled Ham. The imp on the label burned into my head and took command of the pain in my ear, which had been aching for days. He stabbed with his pitchfork at my inner canal until Mom took me to a hospital, where he was removed, though I was told it had just been my tonsils.
We met again the next Summer, when as Dad's sidekick in sidewalk ministry I was assigned a stack of Jack Chick tracts to hand out. These Evangelical comix frequently feature the Devil, cackling "HAW HAW" with jutting chin in celebration of Sin's triumph over modern mores. I absorbed them in a backseat inferno as Dad drove around downtown Louisville looking for foot traffic, listening to an A.M. apostle faith-heal callers over the radio. A distant relative with cancer had died despite his intercession, which posed less challenge to my fledgling Faith than that he had taken her money.
In The Contract, wearing tails and top hat, roué moustache and diamond pinkie ring, Beelzebub Fox tempts a hayseed into signing away his soul. Somebody Goofed has him as a bully who taunts a soft-brained kid into playing chicken with a train, in a Herb Tarlek-style suit that would have been enough to put anyone off. There could not be much to fear, I reasoned, from anything so easy to spot — which for me included those preachers on the air, who promised the afflicted miracles as they solicited donations.
But as with most things that amuse me, Dad sensed in this mortal peril. In no guise was the Beast a joke. His dark reign and the preceding Rapture were events for which Chick was preparing us, offering a cautionary catalog of '70s blasphemy. New English translations of the Bible, in growing acceptance at the time, were a perversion of the King James Gospel. Computerized cash registers, credit cards and bar codes were groundwork for The Mark, the number anyone who skipped the Second Coming would have to accept in order to buy anything. Satanists were banding together in Christian rock bands and covens: Why No Revival? states "most churches have been successfully infiltrated by witches" as fact, supported by a footnote.
No doubt these comics are to credit for the strong interest I later developed in the occult, and my almost religious regard for technology. But revisiting Chick tracts today, I join my late father in finding little funny about them. For most of my 20s and into my 30s they were a lurid but cherished piece of personal lore, like the charlatans and charismatics who peopled the adult world for me as a child. But now, with some difficulty (and immensely expensive therapy) I see it doesn't take Satan to make you a sucker.
***
SERIOCOMIC: Mimi Lipson on LITTLE LULU | Sara Ryan on AMPHIGOREY | Gary Panter on THE NUT BROS./THE SQUIRREL CAGE | Gordon Dahlquist on POGO | Robert Wringham on VIZ | Matthew De Abaitua on CAPTAIN BRITAIN | Jessamyn West on FUN HOME | Bradley Peterson on HELLBOY | Stephanie Burt on KITTY PRYDE RETURNS | Jenny Davidson on OOR WULLIE | Luc Sante on MARSUPILAMI | Susan Roe on BLOOM COUNTY | Marilyn Berlin Snell on CHARLES ADDAMS | Deb Chachra on ARKHAM ASYLUM | Judith Zissman on ERNIE POOK'S COMEEK | Alexandra Lange on BETTY (ARCHIE) | Catherine Newman on VERONICA (ARCHIE) | Josh Glenn on SPIRE CHRISTIAN COMICS | Adam McGovern on THE CREW | William Nericcio on ERRATA STIGMATA | Chelsey Johnson on DYKES TO WATCH OUT FOR | Sherri Wasserman on TANK GIRL | Tom Nealon on MEGATON MAN | Erin M. Routson on THE WEDDING OF SCOTT SUMMERS & JEAN GREY | Douglas Wolk on FRANK IN THE RIVER | Annie Nocenti on DICK TRACY | James Parker on 2000 AD | Adrienne Crew on NUTS | Vanessa Berry on MEAT CAKE | John Holbo on WITZEND | Michael Campochiaro on SPIDER-WOMAN | Miranda Mellis on RED SONJA & BÊLIT | Michael Grasso on THE NEW MUTANTS | Ty Burr on BINKY BROWN | Bishakh Som on AMAR CHITRA KATHA | Mark Kingwell on CLASSICS ILLUSTRATED | Brian Berger on JIMBO | Kenya (Robinson) on AGENT 355 | Seth on THE ETERNALS ANNUAL | Susannah Breslin on SLASHER | Lisa Kahlden on JACK CHICK TRACTS | Mandy Keifetz on KRAZY KAT | Tom Devlin on DUM-DUM POSSE READER | Eric Reynolds on ACTION COMICS #460 | Rick Pinchera on EIGHTBALL #16 | Juan Recondo on DAYTRIPPER | Elizabeth Foy Larsen on ROZ CHAST | J.E. Anckorn on HALO JONES | Deborah Wassertzug on GREAT POP THINGS | Peggy Nelson on MAD MOVIE SATIRES | Holly Interlandi on ANGEL SANCTUARY | Karen Green on THE SMITHSONIAN COLLECTION OF NEWSPAPER COMICS.
MORE ENTHUSIASM at HILOBROW
NERD YOUR ENTHUSIASM (4Q2021): NERDING | ARDUIN | KLINGON CONFIDENTIAL | MAP INSERTS | TIME | & 20 other nerdy passions. SWERVE YOUR ENTHUSIASM (3Q2021): WARHOL'S WALT WHITMAN | 70, GIRLS, 70 | TYRAEL'S MIGHT | SHIRATO SANPEI | THE LEON SUITES | & 20 other never-realized cultural productions. FIVE-O YOUR ENTHUSIASM (2Q2021): DARK SHADOWS | MANNIX | GET SMART | THE ADDAMS FAMILY | I DREAM OF JEANNIE | & 20 other Sixties (1964–1973) TV shows. FERB YOUR ENTHUSIASM (1Q2021): STEVEN UNIVERSE | TOP CAT | REN & STIMPY | SHE-RA AND THE PRINCESSES OF POWER | DRAGON BALL Z | & 20 other animated series. CARBONA YOUR ENTHUSIASM (2020): "Sex Bomb" | "Going Underground" | "Soft South Africans" | "Typical Girls" | "Human Fly" | & 20 other Seventies (1974–1983) punk singles. KLAATU YOU (2020 weekly): ZARDOZ | METROPOLIS | DARK STAR | SINS OF THE FLESHAPOIDS | SOLARIS | & dozens of other pre-STAR WARS sci-fi movies. CONVOY YOUR ENTHUSIASM (2019): THE TAKING OF PELHAM ONE TWO THREE | ROLLERBALL | BLACK SUNDAY | SORCERER | STRAIGHT TIME | & 20 other Seventies (1974–1983) action movies. SERIOCOMIC (2019 weekly): LITTLE LULU | VIZ | MARSUPILAMI | ERNIE POOK'S COMEEK | HELLBOY | & dozens of other comics. TUBE YOUR ENTHUSIASM (2018): LOONEY TUNES | THREE STOOGES | THE AVENGERS | ROCKY & BULLWINKLE | THE TWILIGHT ZONE | & 20 other Fifties (1954–1963) TV shows. WOWEE ZOWEE (2018 weekly): UNISEX | UNDER THE PINK | DUMMY | AMOR PROHIBIDO | HIPS AND MAKERS | & dozens of other Nineties (1994–2003) albums. KLUTE YOUR ENTHUSIASM (2017): THE KILLERS | BANDE À PART (BAND OF OUTSIDERS) | ALPHAVILLE | HARPER | BLOW-UP | & 20 other Sixties (1964–1973) neo-noir movies. #SQUADGOALS (2017 weekly): THE WILD BUNCH | BOWIE'S BAND | THE BLOOMSBURY GROUP | THE HONG KONG CAVALIERS | VI ÄR BÄST! & dozens of other squads. GROK MY ENTHUSIASM (2016 weekly): THE THEORY AND PRACTICE OF LUNCH | WEEKEND | MILLION YEAR PICNIC | LA BARONNE EMILE D'ERLANGER | THE SURVIVAL SAMPLER | & dozens more one-off enthusiasms. QUIRK YOUR ENTHUSIASM (2016): "Tainted Love" | "Metal" | "Frankie Teardrop" | "Savoir Faire" | "Broken English" | & 20 other Seventies (1974–1983) new wave singles. CROM YOUR ENTHUSIASM (2015): DARKER THAN YOU THINK | THE SWORD IN THE STONE | OUT OF THE SILENT PLANET | THIEVES' HOUSE | QUEEN OF THE BLACK COAST | & 20 other Thirties (1934–1943) fantasy novels. KERN YOUR ENTHUSIASM (2014): ALDINE ITALIC | DATA 70 | TORONTO SUBWAY | JOHNSTON'S "HAMLET" | TODD KLONE | & 20 other typefaces. HERC YOUR ENTHUSIASM (2013): "Spoonin' Rap" | "Rapper's Delight" | "Rappin' Blow" | "The Incredible Fulk" | "The Adventures of Super Rhyme" | & 20 other Seventies (1974–1983) hip-hop songs. KIRK YOUR ENTHUSIASM (2012): Justice or vengeance? | Kirk teaches his drill thrall to kiss | "KHAAAAAN!" | "No kill I" | Kirk browbeats NOMAD | & 20 other Captain Kirk scenes. KIRB YOUR ENTHUSIASM (2011): THE ETERNALS | BLACK MAGIC | DEMON | OMAC | CAPTAIN AMERICA | & 20 other Jack Kirby panels.