BESTIARY (8)
By: Lucy Sante
June 9, 2021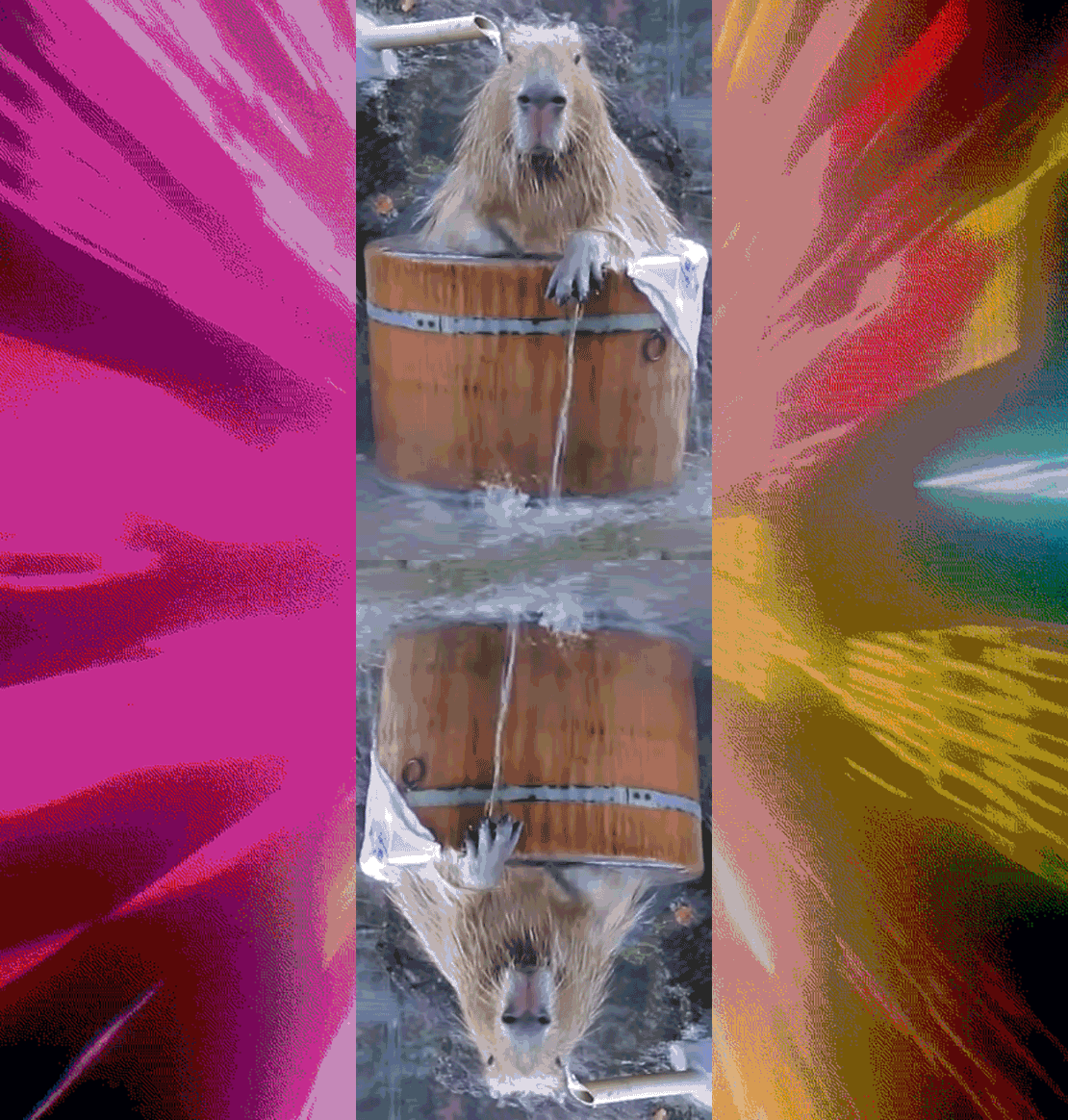 One in a series of posts — curated by Matthew Battles — the ultimate goal of which is a high-lowbrow bestiary.
---
CAPYBARA
---
I had barely heard of the capybara before the Internet. I may have had a vague idea of the beast as a large rodent — somewhat beaverlike, perhaps a touch porcine — native to South America, but I had no idea of its habits, lifestyle, and personality traits. Once online, though, I gradually started to see photos of capybaras, a few at first, then more and more all the time. The theme, inevitably, was peaceful coexistence. Capybaras were depicted, often in shallow water, mingling with bunnies, ducks, monkeys, dogs, cats, even caimans. Tiny birds nestled on their broad flattop heads. They were photographed in Japan taking the traditional winter bath enhanced by the citrus fruit called yuzu — often with one of the mandarin-like yuzu perched on those great heads.
Then, in 2016, they became a cause célèbre when Bonnie and Clyde, a mating pair at the Toronto Zoo, broke jail. Two separate gates had been carelessly left unlatched and the venturesome capybaras found them, taking off into the wild of High Park. They were gone for weeks — they escaped in late May, and Bonnie wasn't recaptured until June 12 while Clyde held out until June 27. During that time, Twitter became capybara switchboard central; jokes, rumors, airy speculation, and elaborate Hollywood scenarios dotted the feed, leavening some of the anxiety of that noisome election year. It was hard not to get caught up in the utopian promise of capybara liberation. The capybaras were us, finally unshackled from our bondage in the prison of civilization and allowed to live as free beings in a state of nature.
But the capybaras aren't us. We are far too unstable, violent, domineering, exploitative, greedy, and egotistical to make it in capybara world, as much as some of us might wish to. "I don't wanna be your tiger/ 'Cause tigers play too rough/ I don't wanna be your lion/ 'Cause lions ain't the kind you/ Love enough," sang Elvis, but because "capybara" didn't scan properly he was forced to imagine himself as that fictitious and far lesser creature, the teddy bear. The capybara may not be the world's cutest animal (the wombat has long claimed that title), but it may be the most serene. It comes equipped with a massive aircraft-carrier head; small eyes, ears, and noble nostrils set high for swimming purposes; a coat of wiry, quick-drying brown hair; thin but sturdy piano legs; and an inscrutable unchanging expression that conveys contentment and equanimity while retaining a bodhisattva sheen of contemplative distance. The nations of the world would do well to dump all those predatory eagles and lions and instead gather under the compassionate banner of the capybara.
*
INTRODUCTION by Matthew Battles: Animals come to us "as messengers and promises." Of what? | Matthew Battles on RHINO: Today's map of the rhinoceros is broken. | Josh Glenn on OWL: Why are we overawed by the owl? | Stephanie Burt on SEA ANEMONE: Unable to settle down more than once. | James Hannaham on CINDER WORM: They're prey; that puts them on our side. | Matthew Battles on PENGUIN: They come from over the horizon. | Mandy Keifetz on FLEA: Nobler than highest of angels. | Adrienne Crew on GOAT: Is it any wonder that they're G.O.A.T. ? | Lucy Sante on CAPYBARA: Let us gather under their banner. | Annie Nocenti on CROW: Mostly, they give me the side-eye. | Alix Lambert on ANIMAL: Spirit animal of a generation. | Jessamyn West on HYRAX: The original shoegaze mammal. | Josh Glenn on BEAVER: Busy as a beaver ~ Eager beaver ~ Beaver patrol. | Adam McGovern on FIREFLY: I would know it was my birthday / when…. | Heather Kapplow on SHREW: You cannot tame us. | Chris Spurgeon on ALBATROSS: No such thing as a lesser one. | Charlie Mitchell on JACKALOPE: This is no coney. | Vanessa Berry on PLATYPUS: Leathery bills leading the plunge. | Tom Nealon on PANDA: An icon's inner carnivore reawakens. | Josh Glenn on FROG: Bumptious ~ Rapscallion ~ Free spirit ~ Palimpsest. | Josh Glenn on MOUSE.
***
ALSO SEE: John Hilgart (ed.)'s HERMENAUTIC TAROT series | Josh Glenn's VIRUS VIGILANTE series | & old-school HILOBROW series like BICYCLE KICK | CECI EST UNE PIPE | CHESS MATCH | EGGHEAD | FILE X | HILOBROW COVERS | LATF HIPSTER | HI-LO AMERICANA | PHRENOLOGY | PLUPERFECT PDA | SKRULLICISM.