KLUTE YOUR ENTHUSIASM (5)
By: Lynn Peril
August 5, 2017
One of 25 installments in a series of enthusiastic posts analyzing and celebrating a few of our favorite neo-noir movies from the Sixties (1964–1973).
*
BLOW-UP | d. MICHELANGELO ANTONIONI | 1966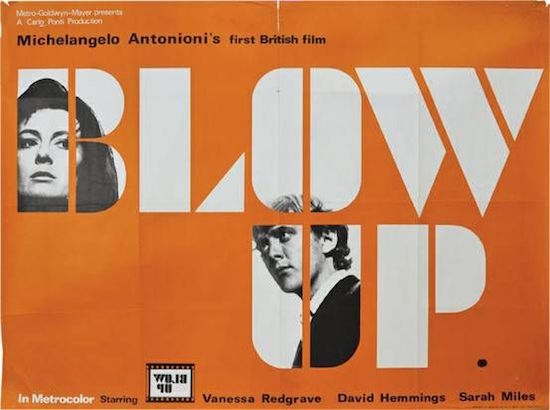 I saw Blow-Up for the first time on the 12-inch portable television set that sat on my bedside table throughout the latter part of my childhood. It was 1974 or so, and I was a tween with a raging crush on David Hemmings, the blonde-haired, blue-eyed English actor who starred as the world-weary photographer who may have witnessed the aftermath of a murder. I was familiar with Hemmings from another vehicle, the musical Camelot (1967), which my best friend and I saw multiple times during its 1973 rerelease. That was a sunny, somewhat dopey take on the Arthurian legend, based on one of my favorite books, T.H. White's The Once and Future King. Hemmings played Mordred, King Arthur's illegitimate son and a bad-boy disrupter whose antics leave the Round Table in ruins. Even so, there is a hopeful if not quite happy ending.
Blow-Up, on the other hand, left me completely confused. Did Thomas the photographer really witness a crime or was he just going crazy? David Hemmings looked hot in his white pants and chambray shirt, but other than that, I was lost. I'm sure that the cuts made for television didn't make the convoluted tale any easier to follow.
Seeing the movie again in college, uncut and on the big screen, was a revelation. For one thing, it was in color, though the gritty cast of grays imparted by my black-and-white TV set worked so well that even now I remember it as the film's natural palette. Nor had I recognized Vanessa Redgrave, Guinevere in Camelot, as the comprised and possibly criminally complicit woman seeking to destroy Thomas's photos of her tryst in the park. I loved the mod fashions and, of course, the Yardbirds' brief appearance, where Jeff Beck smashes his guitar as if he was Pete Townsend, and sends the previously still crowd into a violent paroxysm as they fight for the instrument's broken neck.
I've seen Blow-Up any number of times since then, and have finally come to love it — and not just its star — as a gorgeous piece of eye candy that can be taken any number of ways. As a kid, I thought I didn't understand the movie because I couldn't come up with an answer to its central question. Now I consider not knowing part of the viewer's pleasure.
***
MORE LYNN PERIL at HILOBROW: PLANET OF PERIL series | #SQUADGOALS: The Daly Sisters | KLUTE YOUR ENTHUSIASM: BLOW-UP | MUSEUM OF FEMORIBILIA series | HERMENAUTIC TAROT: The Waiting Man | KIRB YOUR ENTHUSIASM: Young Romance | CROM YOUR ENTHUSIASM: Fritz Leiber's Conjure Wife | HILO HERO ITEMS on: Tura Satana, Paul Simonon, Vivienne Westwood, Lucy Stone, Lydia Lunch, Gloria Steinem, Gene Vincent, among many others.
KLUTE YOUR ENTHUSIASM: Series Introduction | Kio Stark on THE KILLERS | Alix Lambert on BANDE À PART (BAND OF OUTSIDERS) | Judith Zissman on ALPHAVILLE | Mark Kingwell on HARPER | Lynn Peril on BLOW-UP | Devin McKinney on SECONDS | Drew Daniel on BRANDED TO KILL | Luc Sante on POINT BLANK | Gordon Dahlquist on LE SAMOURAÏ | Alice Boone on LE CERCLE ROUGE | Brian Berger on COTTON COMES TO HARLEM | Adrienne Crewe on PERFORMANCE | David Levine on THE FRENCH CONNECTION | Dan Fox on GET CARTER | Melissa Gira Grant on KLUTE | Brandi Brown on SHAFT | Kaleb Horton on FAT CITY | Peter Doyle on THE GETAWAY | Sarah Weinman on HICKEY & BOGGS | Annie Nocenti on BADLANDS | Josh Glenn on CHARLEY VARRICK | Gary Groth on THE FRIENDS OF EDDIE COYLE | Lisa Jane Persky on THE LONG GOODBYE | Mimi Lipson on MEAN STREETS | Sherri Wasserman on SOYLENT GREEN.
MORE MOVIES at HILOBROW: KLUTE YOUR ENTHUSIASM: 25 neo-noirs of the Sixties (1964–1973) | James Parker's BOURNE VARIATIONS series | Alix Lambert's SÉRIE NOIRE series | Jacob Mikanowski's SCREEN TIME series | Josh Glenn's SHOCKING BLOCKING series | Joanne McNeil's ALL MY STARS series | MORE: including dozens of HILO HERO items on movie directors and actors.
MORE ENTHUSIASM at HILOBROW
NERD YOUR ENTHUSIASM (4Q2021): NERDING | ARDUIN | KLINGON CONFIDENTIAL | MAP INSERTS | TIME | & 20 other nerdy passions. SWERVE YOUR ENTHUSIASM (3Q2021): WARHOL'S WALT WHITMAN | 70, GIRLS, 70 | TYRAEL'S MIGHT | SHIRATO SANPEI | THE LEON SUITES | & 20 other never-realized cultural productions. FIVE-O YOUR ENTHUSIASM (2Q2021): DARK SHADOWS | MANNIX | GET SMART | THE ADDAMS FAMILY | I DREAM OF JEANNIE | & 20 other Sixties (1964–1973) TV shows. FERB YOUR ENTHUSIASM (1Q2021): STEVEN UNIVERSE | TOP CAT | REN & STIMPY | SHE-RA AND THE PRINCESSES OF POWER | DRAGON BALL Z | & 20 other animated series. CARBONA YOUR ENTHUSIASM (2020): "Sex Bomb" | "Going Underground" | "Soft South Africans" | "Typical Girls" | "Human Fly" | & 20 other Seventies (1974–1983) punk singles. KLAATU YOU (2020 weekly): ZARDOZ | METROPOLIS | DARK STAR | SINS OF THE FLESHAPOIDS | SOLARIS | & dozens of other pre-STAR WARS sci-fi movies. CONVOY YOUR ENTHUSIASM (2019): THE TAKING OF PELHAM ONE TWO THREE | ROLLERBALL | BLACK SUNDAY | SORCERER | STRAIGHT TIME | & 20 other Seventies (1974–1983) action movies. SERIOCOMIC (2019 weekly): LITTLE LULU | VIZ | MARSUPILAMI | ERNIE POOK'S COMEEK | HELLBOY | & dozens of other comics. TUBE YOUR ENTHUSIASM (2018): LOONEY TUNES | THREE STOOGES | THE AVENGERS | ROCKY & BULLWINKLE | THE TWILIGHT ZONE | & 20 other Fifties (1954–1963) TV shows. WOWEE ZOWEE (2018 weekly): UNISEX | UNDER THE PINK | DUMMY | AMOR PROHIBIDO | HIPS AND MAKERS | & dozens of other Nineties (1994–2003) albums. KLUTE YOUR ENTHUSIASM (2017): THE KILLERS | BANDE À PART (BAND OF OUTSIDERS) | ALPHAVILLE | HARPER | BLOW-UP | & 20 other Sixties (1964–1973) neo-noir movies. #SQUADGOALS (2017 weekly): THE WILD BUNCH | BOWIE'S BAND | THE BLOOMSBURY GROUP | THE HONG KONG CAVALIERS | VI ÄR BÄST! & dozens of other squads. GROK MY ENTHUSIASM (2016 weekly): THE THEORY AND PRACTICE OF LUNCH | WEEKEND | MILLION YEAR PICNIC | LA BARONNE EMILE D'ERLANGER | THE SURVIVAL SAMPLER | & dozens more one-off enthusiasms. QUIRK YOUR ENTHUSIASM (2016): "Tainted Love" | "Metal" | "Frankie Teardrop" | "Savoir Faire" | "Broken English" | & 20 other Seventies (1974–1983) new wave singles. CROM YOUR ENTHUSIASM (2015): DARKER THAN YOU THINK | THE SWORD IN THE STONE | OUT OF THE SILENT PLANET | THIEVES' HOUSE | QUEEN OF THE BLACK COAST | & 20 other Thirties (1934–1943) fantasy novels. KERN YOUR ENTHUSIASM (2014): ALDINE ITALIC | DATA 70 | TORONTO SUBWAY | JOHNSTON'S "HAMLET" | TODD KLONE | & 20 other typefaces. HERC YOUR ENTHUSIASM (2013): "Spoonin' Rap" | "Rapper's Delight" | "Rappin' Blow" | "The Incredible Fulk" | "The Adventures of Super Rhyme" | & 20 other Seventies (1974–1983) hip-hop songs. KIRK YOUR ENTHUSIASM (2012): Justice or vengeance? | Kirk teaches his drill thrall to kiss | "KHAAAAAN!" | "No kill I" | Kirk browbeats NOMAD | & 20 other Captain Kirk scenes. KIRB YOUR ENTHUSIASM (2011): THE ETERNALS | BLACK MAGIC | DEMON | OMAC | CAPTAIN AMERICA | & 20 other Jack Kirby panels.