FERB YOUR ENTHUSIASM (8)
By: Ramona Lyons
January 25, 2021
One in a series of 25 enthusiastic posts, contributed by 25 HILOBROW friends and regulars, on the topic of our favorite animated TV series.
*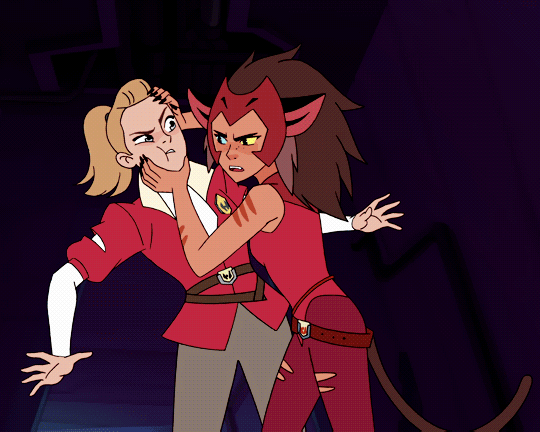 SHE-RA AND THE PRINCESSES OF POWER | NOELLE STEVENSON | 2018–2020
I find She-Ra and the Princesses of Power (SRPP) surprisingly insightful and satisfying. Like other contemporary cartoons that affirm diversity culture by exploring the destructiveness of binary thinking, SRPP's magical homeworld is a place where assumptions are overthrown, divergence garners understanding, and difference prevails. But, SRPP does this with an emotional intensity unexpected in a cartoon dominated by pastel rainbows and a relentlessly cheerful girl-power theme song. Key characters are allowed to grow and change, following an emotional trajectory with real consequences. At its best, SRPP transcends potential clichés of identity and personal empowerment by elaborating the experiences needed to achieve it.
Consider the emotional core of SRPP — the relationship between Adora (She-Ra's alter-ego) and Catra. Adora and Catra are childhood friends, orphans raised by Shadow Weaver and fighting for the Horde, a militaristic force invading the planet Etheria. SRPP explores their baggage; they love/hate each other, then they discover they love each other.
But it's a long, twisting journey. First, Adora is "chosen" as She-Ra and joins Etheria's Resistance to the Horde. Adora had been Catra's light in the dark, and when Adora abandons her past, Catra goes all dark, climbing the Horde hierarchy, hell-bent on eliminating Adora and making the Resistance heel. When I watched Catra primal yell in their (previously) shared bunk and shred Adora's pillow with her little kitty claws, I was hooked. Here was passion and drama! Her signature malevolent frenemy greeting, "Heeeyyyy Adora," voices someone who knows everything about you and wants you to suffer for it.
Catra's also a hardened realist. In face of Adora's naïve grasp of the "wrongness" of the Horde, and Shadow Weaver's manipulations, Catra's annoyed: "Duh. Did you just figure that out? Manipulation's Shadow Weaver's thing. She's been messing with our heads since we were kids." (I imagine viewers nodding along, considering the years of therapy often needed to yield that revelation.)
In contrast to Catra's rawness, She-Ra/Adora negates her feelings, making herself literally sick and dysfunctional. Her savior complex discourages other desires, she's there to save the world and die for it, a convenient escape from difficult relationships.
With her feelings closer to the surface, Catra is the first to come out: "Adora doesn't want me… not like I want her." But she's wrong. Bonding through mutual trauma — Shadow Weaver as punishing, divisive "mother," and their grief when she's killed — Adora and Catra turn to one another. Once they embrace their personal commitment to each other, a transformative kiss empowers them to save Etheria from the ultimate "big bad."
While SRPP offers some clichés in service to diversifying cartoon monoculture, it also lends these themes resonance. I like that it takes us into deeper and richer emotional waters. It reminds us that empowerment is personal and hard-won; that for every rainbow there's rage, for every saccharine scene there's a deep well of sadness, and for every girl-power song there's bitter rivalry, angst, and loss just beneath the surface.
***
FERB YOUR ENTHUSIASM: SERIES INTRODUCTION by Josh Glenn | Miranda Mellis on STEVEN UNIVERSE | Luc Sante on TOP CAT | Peggy Nelson on PINK PANTHER | Charlie Mitchell on COWBOY BEBOP | Mimi Lipson on THE FLINTSTONES | Sam Glenn on BIG MOUTH | Mandy Keifetz on ROAD RUNNER | Ramona Lyons on SHE-RA | Holly Interlandi on DRAGON BALL Z | Max Glenn on ADVENTURE TIME | Joe Alterio on REN & STIMPY | Josh Glenn on SPEED RACER | Adam McGovern on KIMBA THE WHITE LION | Jonathan Pinchera on SAMURAI JACK | Lynn Peril on JONNY QUEST | Stephanie Burt on X-MEN THE ANIMATED SERIES and X-MEN: EVOLUTION | Elizabeth Foy Larsen on THE JETSONS | Adam Netburn on NARUTO | Madeline Ashby on AVATAR: THE LAST AIRBENDER | Tom Nealon on TRANSFORMERS | Sara Ryan on BOJACK HORSEMAN | Michael Grasso on COSMIC CLOCK | Erin M. Routson on BEAVIS & BUTTHEAD | Deborah Wassertzug on DARIA | Lydia Millet on BOB'S BURGERS.
MORE ENTHUSIASM at HILOBROW
NERD YOUR ENTHUSIASM (4Q2021): NERDING | ARDUIN | KLINGON CONFIDENTIAL | MAP INSERTS | TIME | & 20 other nerdy passions. SWERVE YOUR ENTHUSIASM (3Q2021): WARHOL'S WALT WHITMAN | 70, GIRLS, 70 | TYRAEL'S MIGHT | SHIRATO SANPEI | THE LEON SUITES | & 20 other never-realized cultural productions. FIVE-O YOUR ENTHUSIASM (2Q2021): DARK SHADOWS | MANNIX | GET SMART | THE ADDAMS FAMILY | I DREAM OF JEANNIE | & 20 other Sixties (1964–1973) TV shows. FERB YOUR ENTHUSIASM (1Q2021): STEVEN UNIVERSE | TOP CAT | REN & STIMPY | SHE-RA AND THE PRINCESSES OF POWER | DRAGON BALL Z | & 20 other animated series. CARBONA YOUR ENTHUSIASM (2020): "Sex Bomb" | "Going Underground" | "Soft South Africans" | "Typical Girls" | "Human Fly" | & 20 other Seventies (1974–1983) punk singles. KLAATU YOU (2020 weekly): ZARDOZ | METROPOLIS | DARK STAR | SINS OF THE FLESHAPOIDS | SOLARIS | & dozens of other pre-STAR WARS sci-fi movies. CONVOY YOUR ENTHUSIASM (2019): THE TAKING OF PELHAM ONE TWO THREE | ROLLERBALL | BLACK SUNDAY | SORCERER | STRAIGHT TIME | & 20 other Seventies (1974–1983) action movies. SERIOCOMIC (2019 weekly): LITTLE LULU | VIZ | MARSUPILAMI | ERNIE POOK'S COMEEK | HELLBOY | & dozens of other comics. TUBE YOUR ENTHUSIASM (2018): LOONEY TUNES | THREE STOOGES | THE AVENGERS | ROCKY & BULLWINKLE | THE TWILIGHT ZONE | & 20 other Fifties (1954–1963) TV shows. WOWEE ZOWEE (2018 weekly): UNISEX | UNDER THE PINK | DUMMY | AMOR PROHIBIDO | HIPS AND MAKERS | & dozens of other Nineties (1994–2003) albums. KLUTE YOUR ENTHUSIASM (2017): THE KILLERS | BANDE À PART (BAND OF OUTSIDERS) | ALPHAVILLE | HARPER | BLOW-UP | & 20 other Sixties (1964–1973) neo-noir movies. #SQUADGOALS (2017 weekly): THE WILD BUNCH | BOWIE'S BAND | THE BLOOMSBURY GROUP | THE HONG KONG CAVALIERS | VI ÄR BÄST! & dozens of other squads. GROK MY ENTHUSIASM (2016 weekly): THE THEORY AND PRACTICE OF LUNCH | WEEKEND | MILLION YEAR PICNIC | LA BARONNE EMILE D'ERLANGER | THE SURVIVAL SAMPLER | & dozens more one-off enthusiasms. QUIRK YOUR ENTHUSIASM (2016): "Tainted Love" | "Metal" | "Frankie Teardrop" | "Savoir Faire" | "Broken English" | & 20 other Seventies (1974–1983) new wave singles. CROM YOUR ENTHUSIASM (2015): DARKER THAN YOU THINK | THE SWORD IN THE STONE | OUT OF THE SILENT PLANET | THIEVES' HOUSE | QUEEN OF THE BLACK COAST | & 20 other Thirties (1934–1943) fantasy novels. KERN YOUR ENTHUSIASM (2014): ALDINE ITALIC | DATA 70 | TORONTO SUBWAY | JOHNSTON'S "HAMLET" | TODD KLONE | & 20 other typefaces. HERC YOUR ENTHUSIASM (2013): "Spoonin' Rap" | "Rapper's Delight" | "Rappin' Blow" | "The Incredible Fulk" | "The Adventures of Super Rhyme" | & 20 other Seventies (1974–1983) hip-hop songs. KIRK YOUR ENTHUSIASM (2012): Justice or vengeance? | Kirk teaches his drill thrall to kiss | "KHAAAAAN!" | "No kill I" | Kirk browbeats NOMAD | & 20 other Captain Kirk scenes. KIRB YOUR ENTHUSIASM (2011): THE ETERNALS | BLACK MAGIC | DEMON | OMAC | CAPTAIN AMERICA | & 20 other Jack Kirby panels.