Crom Your Enthusiasm (3)
By: Mark Kingwell
August 5, 2015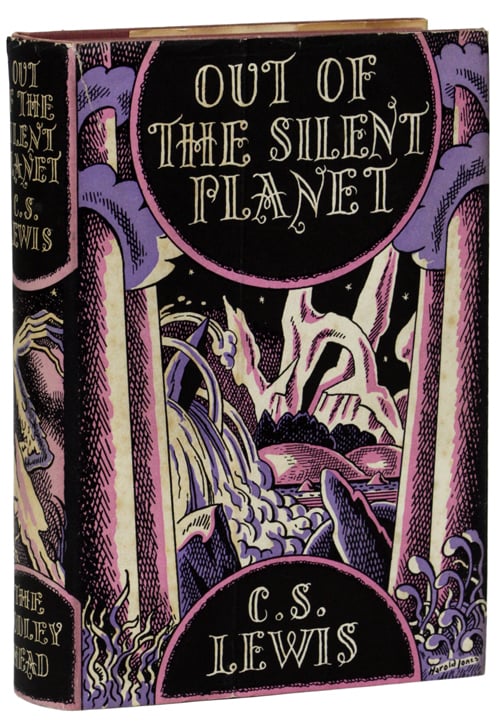 One of 25 installments in a series of posts analyzing and celebrating a few of our favorite fantasy novels from the Thirties (1934–1943). Enjoy!
OUT OF THE SILENT PLANET | C.S. LEWIS | 1938
Before he made Narnia the gold standard for high-fantasy realms discovered through a wardrobe, medieval scholar C.S. Lewis demonstrated he was a smooth master of blending dreamy wonder with the mechanics of space travel.
The first of three novels starring bluff, decent Dr. Ransom, philologist and beer fancier of Cambridge, begins in literally pedestrian fashion. Ransom is enjoying a holiday from study by taking a walking tour of the English countryside. This temporary separation from the world of affairs makes him ripe for abduction when he stumbles on the interplanetary conspiracy of Devine, a disliked old schoolmate and chancer, and Dr. Weston, the brilliant physicist who is bent, it seems, on the human colonization of Mars — or Malacandra, as Ransom learns to call it. (Earth is Thulcandra.)
The three mismatched types travel in a spacecraft fashioned by Weston. On landing Ransom manages to escape from his two captors, then spends the bulk of narrative learning the folkways of the Malacandran inhabitants, Lewis's masterly off-world twist on Swift's Gulliver or Thomas More's Raphael. There are three sentient species: walrus-like sailors and singers known as hrossa, elongated intelligentsia-class ironists called séroni, and dwarvish dedicated machinists and makers with the unpronounceable name of pfifltriggi. Most important, though, are the planet's spectral beings, the eldila. Their leader, Oyarsa, calls Ransom out of his sojourn with the hrossa for a con-fab about the future of Thulcandra, long afflicted with a 'bent', or evil, chief spirit throwing the universe out of whack. As Ransom says in the book's postscript, ostensibly addressed to Lewis himself, "our poor old earth turns out to be a kind of Ypres Salient in the universe."
This climactic meeting also includes a trial of Earthling ambitions in the person of Weston, who pits his rationality and technological achievement against the apparently backward but peaceful Malacandrans. Not for the first or last time, Lewis sees the conflict between spirituality and science, the 'advanced' and the 'primitive', as the great choice of existence. There are some threads left hanging at the end of this charming book, plus an intriguing hint that time-travel may be in the offing to visit medieval neo-Platonist philosophers. They may have known of Oyarsa and his even greater creator, Maleldil, who apparently lives on Jupiter. Excellent!
Meanwhile, as Lewis says, "If we could even effect in one percent of our readers a change-over from the conception of Space to the conception of Heaven, we should have made a beginning." Are Richard Branson and Elon Musk listening?
***
MORE KINGWELL at HILOBROW: TALISMANIC OBJECTS: ZIPPO | #SQUADGOALS: THE HONG KONG CAVALIERS | HERMENAUTIC TAROT: THE WARY WATCHERS | KLUTE YOUR ENTHUSIASM: HARPER | QUIRK YOUR ENTHUSIASM: TAINTED LOVE | GROK MY ENTHUSIASM: NORTH STAR SNEAKERS & GWG JEANS | CROM YOUR ENTHUSIASM: OUT OF THE SILENT PLANET | KERN YOUR ENTHUSIASM: GILL SANS | KIRK YOUR ENTHUSIASM: Kirk teaches his drill thrall to kiss | Plus: HILO HERO items on Roland Barthes, Muriel Spark, Iain Banks, Slavoj Zizek, Hannah Arendt, Andy Kaufman, and many others.
CROM YOUR ENTHUSIASM (2015): Erik Davis on Jack Williamson's DARKER THAN YOU THINK | Sara Ryan on T.H. White's THE SWORD IN THE STONE | Mark Kingwell on C.S. Lewis's OUT OF THE SILENT PLANET | David Smay on Fritz Leiber's THIEVES' HOUSE | Natalie Zutter on Robert E. Howard's QUEEN OF THE BLACK COAST | James Parker on J.R.R. Tolkien's THE HOBBIT | Adrienne Crew on Dion Fortune's THE SEA PRIESTESS | Gabriel Boyer on Clark Ashton Smith's ZOTHIQUE stories | John Hilgart on H.P. Lovecraft's THE CASE OF CHARLES DEXTER WARD | Barbara Bogaev on William Sloane's TO WALK THE NIGHT | Rob Wringham on Flann O'Brien's THE THIRD POLICEMAN | Dan Fox on Hergé's THE SEVEN CRYSTAL BALLS | Flourish Klink on C.S. Lewis's PERELANDRA | Tor Aarestad on L. Sprague de Camp and Fletcher Pratt's THE ROARING TRUMPET | Anthony Miller on H.P. Lovecraft's THE SHADOW OVER INNSMOUTH | Suzanne Fischer on E.R. Eddison's MISTRESS OF MISTRESSES | Molly Sauter on Herbert Read's THE GREEN CHILD | Diana Leto on Edgar Rice Burroughs's TARZAN AND THE LION MAN | Joshua Glenn on Robert E. Howard's THE HOUR OF THE DRAGON | Andrew Hultkrans on H.P. Lovecraft's AT THE MOUNTAINS OF MADNESS | Lynn Peril on Fritz Leiber's CONJURE WIFE | Gordon Dahlquist on H.P. Lovecraft's THE SHADOW OUT OF TIME | Adam McGovern on C.L. Moore's JIREL OF JOIRY stories | Tom Nealon on Fritz Leiber's TWO SOUGHT ADVENTURE | John Holbo on Robert E. Howard's CONAN MYTHOS.
***
KERN YOUR ENTHUSIASM (2014): ALDINE ITALIC | DATA 70 | TORONTO SUBWAY | JOHNSTON'S "HAMLET" | TODD KLONE | GILL SANS | AKZIDENZ-GROTESK | CALIFORNIA BRAILLE | SHE'S NOT THERE | FAUX DEVANAGARI | FUTURA | JENSON'S ROMAN | SAVANNAH SIGN | TRADE GOTHIC BOLD CONDENSED NO. 20 | KUMON WORKSHEET | ELECTRONIC DISPLAY | DIPLOMA REGULAR | SCREAM QUEEN | CHICAGO | CHINESE SHIPPING BOX | SHATTER | COMIC SANS | WILKINS'S REAL CHARACTER | HERMÈS vs. HOTDOG | GOTHAM.
HERC YOUR ENTHUSIASM (2013): "Spoonin' Rap" | "Rapper's Delight" | "Rappin' Blow" | "The Incredible Fulk" | "The Adventures of Super Rhyme" | "That's the Joint" | "Freedom" | "Rapture" | "The New Rap Language" | "Jazzy Sensation (Bronx Version)" | "Can I Get a Soul Clap" | "The Adventures of Grandmaster Flash on the Wheels of Steel" | "Making Cash Money" | "The Message" | "Pak Jam" | "Buffalo Gals" | "Ya Mama" | "No Sell Out" | "Death Mix Live, Pt. 2" | "White Lines (Don't Do It)" | "Here We Go (Live at the Funhouse)" | "Rockit" | "The Coldest Rap" | "The Dream Team is in the House" | The Lockers.
KIRK YOUR ENTHUSIASM (2012): Justice or vengeance? | Kirk teaches his drill thrall to kiss | "KHAAAAAN!" | "No kill I" | Kirk browbeats NOMAD | Kirk's eulogy for Spock| The joke is on Kirk | Kirk vs. Decker | Good Kirk vs. Evil Kirk | Captain Camelot | Koon-ut-kal-if-fee | Federation exceptionalism | Wizard fight | A million things you can't have | Debating in a vacuum | Klingon diplomacy | "We… the PEOPLE" | Brinksmanship on the brink | Captain Smirk | Sisko meets Kirk | Noninterference policy | Kirk's countdown | Kirk's ghost | Watching Kirk vs. Gorn | How Spock wins
KIRB YOUR ENTHUSIASM (2011): THE ETERNALS | BLACK MAGIC | DEMON | OMAC | CAPTAIN AMERICA | KAMANDI | MACHINE MAN | SANDMAN | THE X-MEN | THE FANTASTIC FOUR | TALES TO ASTONISH | YOUNG LOVE | STRANGE TALES | MISTER MIRACLE | BLACK PANTHER | THOR | JIMMY OLSEN | DEVIL DINOSAUR | THE AVENGERS | TALES OF SUSPENSE | THE NEW GODS | REAL CLUE | THE FOREVER PEOPLE | JOURNEY INTO MYSTERY | 2001: A SPACE ODYSSEY