FERB YOUR ENTHUSIASM (2)
By: Lucy Sante
January 5, 2021
One in a series of 25 enthusiastic posts, contributed by 25 HILOBROW friends and regulars, on the topic of our favorite animated TV series.
*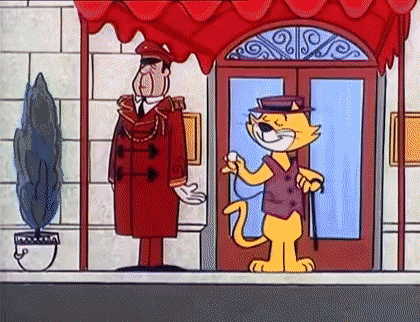 TOP CAT | HANNA & BARBERA | 1961–1962
I'm old enough to remember when The Flintstones was on prime time, sponsored by Welch's Grape Juice and Winston cigarettes, which means I'm old enough to remember the last days of network television programming aimed at the white working class. The flagship of working-class television was The Honeymooners (1955-56, but in reruns forever after), on which The Flintstones (1960-66) was somewhat transparently based — with the difference that the Flintstones, despite being Neolithic, were distinctly more suburban than their model. The demographic strategy was beginning to shift.
Top Cat, with thirty episodes airing over the 1961–62 season, was the next Hanna-Barbera production to be favored with a prime-time network slot (Huckleberry Hound, Quick Draw McGraw, and Yogi Bear having all gone straight to syndication). Although those episodes were to enjoy at least nine more lives on Saturday mornings, the show was a prime-time flop. The grownups who controlled the dial of the Swedish Modern TV set no longer liked being reminded of their slum origins. And Top Cat — Damon Runyon and The Dead End Kids by way of Sergeant Bilko — was self-consciously slum. The animated feline gang operate in an overlooked alley in Midtown Manhattan — off Madison, in the 13th Precinct — its board fences hemmed in by office buildings. They are low-level schemers who live in garbage cans and constantly run afoul of the law, in the person of the dim but relentless Officer Dibble.
Top Cat himself, voiced by Arnold Stang in imitation of Phil Silvers, is the mastermind, a poverty-row dandy in his vest and porkpie hat. His adjutant, Benny the Ball (voiced by Maurice Gosfield, Private Doberman on Sergeant Bilko), is short, round, high-pitched, and apt to be commonsensical. Choo Choo sports a turtleneck and a Brooklyn accent. Brain is a moron in a T-shirt. Fancy Fancy has heavy-lidded eyes, a white scarf, and a way with the ladies. Spook, the resident beatnik, wears a black necktie and speaks in the jazz lingo of a decade or two earlier.
Their schemes are hazily imagined, hastily planned, and ineptly executed — and the scripts aren't much better, although they do contain a bit more verbal brio than your average cartoon sitcom. Even when I was eight I suspected that the efficient Hanna-Barbera minimalism, rather more crude than even the reduced Warner Brothers aesthetic of the time, was a transparent cover for corner-cutting and rote manufacture. But Top Cat was nevertheless one of my favorite shows. I liked that the cats were con artists (even then I knew that cats are natural con artists). Since I hadn't yet heard of Damon Runyon or seen Sergeant Bilko, to me the cats were hip — an unclear concept then — like Kookie Byrnes and Maynard G. Krebs. And that their foil was a policeman, too stupid to be feared but too rigid to be ignored, helped shape my permanent view of the law. No wonder the show flopped with the grownups.
***
FERB YOUR ENTHUSIASM: SERIES INTRODUCTION by Josh Glenn | Miranda Mellis on STEVEN UNIVERSE | Luc Sante on TOP CAT | Peggy Nelson on PINK PANTHER | Charlie Mitchell on COWBOY BEBOP | Mimi Lipson on THE FLINTSTONES | Sam Glenn on BIG MOUTH | Mandy Keifetz on ROAD RUNNER | Ramona Lyons on SHE-RA | Holly Interlandi on DRAGON BALL Z | Max Glenn on ADVENTURE TIME | Joe Alterio on REN & STIMPY | Josh Glenn on SPEED RACER | Adam McGovern on KIMBA THE WHITE LION | Jonathan Pinchera on SAMURAI JACK | Lynn Peril on JONNY QUEST | Stephanie Burt on X-MEN THE ANIMATED SERIES and X-MEN: EVOLUTION | Elizabeth Foy Larsen on THE JETSONS | Adam Netburn on NARUTO | Madeline Ashby on AVATAR: THE LAST AIRBENDER | Tom Nealon on TRANSFORMERS | Sara Ryan on BOJACK HORSEMAN | Michael Grasso on COSMIC CLOCK | Erin M. Routson on BEAVIS & BUTTHEAD | Deborah Wassertzug on DARIA | Lydia Millet on BOB'S BURGERS.
MORE ENTHUSIASM at HILOBROW
NERD YOUR ENTHUSIASM (4Q2021): NERDING | ARDUIN | KLINGON CONFIDENTIAL | MAP INSERTS | TIME | & 20 other nerdy passions. SWERVE YOUR ENTHUSIASM (3Q2021): WARHOL'S WALT WHITMAN | 70, GIRLS, 70 | TYRAEL'S MIGHT | SHIRATO SANPEI | THE LEON SUITES | & 20 other never-realized cultural productions. FIVE-O YOUR ENTHUSIASM (2Q2021): DARK SHADOWS | MANNIX | GET SMART | THE ADDAMS FAMILY | I DREAM OF JEANNIE | & 20 other Sixties (1964–1973) TV shows. FERB YOUR ENTHUSIASM (1Q2021): STEVEN UNIVERSE | TOP CAT | REN & STIMPY | SHE-RA AND THE PRINCESSES OF POWER | DRAGON BALL Z | & 20 other animated series. CARBONA YOUR ENTHUSIASM (2020): "Sex Bomb" | "Going Underground" | "Soft South Africans" | "Typical Girls" | "Human Fly" | & 20 other Seventies (1974–1983) punk singles. KLAATU YOU (2020 weekly): ZARDOZ | METROPOLIS | DARK STAR | SINS OF THE FLESHAPOIDS | SOLARIS | & dozens of other pre-STAR WARS sci-fi movies. CONVOY YOUR ENTHUSIASM (2019): THE TAKING OF PELHAM ONE TWO THREE | ROLLERBALL | BLACK SUNDAY | SORCERER | STRAIGHT TIME | & 20 other Seventies (1974–1983) action movies. SERIOCOMIC (2019 weekly): LITTLE LULU | VIZ | MARSUPILAMI | ERNIE POOK'S COMEEK | HELLBOY | & dozens of other comics. TUBE YOUR ENTHUSIASM (2018): LOONEY TUNES | THREE STOOGES | THE AVENGERS | ROCKY & BULLWINKLE | THE TWILIGHT ZONE | & 20 other Fifties (1954–1963) TV shows. WOWEE ZOWEE (2018 weekly): UNISEX | UNDER THE PINK | DUMMY | AMOR PROHIBIDO | HIPS AND MAKERS | & dozens of other Nineties (1994–2003) albums. KLUTE YOUR ENTHUSIASM (2017): THE KILLERS | BANDE À PART (BAND OF OUTSIDERS) | ALPHAVILLE | HARPER | BLOW-UP | & 20 other Sixties (1964–1973) neo-noir movies. #SQUADGOALS (2017 weekly): THE WILD BUNCH | BOWIE'S BAND | THE BLOOMSBURY GROUP | THE HONG KONG CAVALIERS | VI ÄR BÄST! & dozens of other squads. GROK MY ENTHUSIASM (2016 weekly): THE THEORY AND PRACTICE OF LUNCH | WEEKEND | MILLION YEAR PICNIC | LA BARONNE EMILE D'ERLANGER | THE SURVIVAL SAMPLER | & dozens more one-off enthusiasms. QUIRK YOUR ENTHUSIASM (2016): "Tainted Love" | "Metal" | "Frankie Teardrop" | "Savoir Faire" | "Broken English" | & 20 other Seventies (1974–1983) new wave singles. CROM YOUR ENTHUSIASM (2015): DARKER THAN YOU THINK | THE SWORD IN THE STONE | OUT OF THE SILENT PLANET | THIEVES' HOUSE | QUEEN OF THE BLACK COAST | & 20 other Thirties (1934–1943) fantasy novels. KERN YOUR ENTHUSIASM (2014): ALDINE ITALIC | DATA 70 | TORONTO SUBWAY | JOHNSTON'S "HAMLET" | TODD KLONE | & 20 other typefaces. HERC YOUR ENTHUSIASM (2013): "Spoonin' Rap" | "Rapper's Delight" | "Rappin' Blow" | "The Incredible Fulk" | "The Adventures of Super Rhyme" | & 20 other Seventies (1974–1983) hip-hop songs. KIRK YOUR ENTHUSIASM (2012): Justice or vengeance? | Kirk teaches his drill thrall to kiss | "KHAAAAAN!" | "No kill I" | Kirk browbeats NOMAD | & 20 other Captain Kirk scenes. KIRB YOUR ENTHUSIASM (2011): THE ETERNALS | BLACK MAGIC | DEMON | OMAC | CAPTAIN AMERICA | & 20 other Jack Kirby panels.