FOSSILS (23)
By: Erin M. Routson
December 10, 2018
The sixth PROJECT:OBJECT volume is a 25-part series of true stories about fossils — which is to say, objects that bear witness to a vanished way of life.
*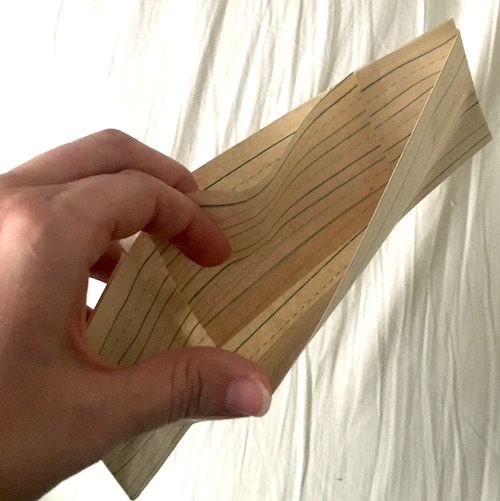 It's been with me through four different states, in countless apartments; a wallet made of paper, tucked into a photo album among school photos and newspaper articles, greeting cards and childhood drawings. The contradiction between its practicality and its material has always made me laugh. The wallet is already nearly twenty years old. Its maker was just seven.
The paper is the kind that you use to learn handwriting. Do kids even learn handwriting anymore? Yellowing cream-colored lightweight newsprint paper with dark blue lines, solid and dashed, serving as decoration rather than directive. But within is the feature I find most charming — a small pocket. "For change," I remember her telling me. A paper wallet with a change pocket!
Why she chose to create this particular gift for me will always remain unclear. The wallet is an unlikely talisman, made by a child who somehow already knew that a wallet was a need, something important that everyone should have, something you could even make for another person out of folded handwriting paper and Scotch tape.
She was killed in a car accident in 2000, along with her dad, just shy of her eighth birthday. I remember, even in the aftershock haze of it all, poring over the paper wallet with her mom. We laughed at the perceived usefulness of it stacked up next to birthday cards covered in stickers, drawings of butterflies. The change pocket, its particular detail, bringing tears to our eyes that she had thought it through.
My whole adult life I have never stopped thinking about it — the fact that not only would she never have her own wallet (a small, fleeting thought) alongside the fact that I have wanted to do everything I could in this life because she could not (a much larger, encompassing series of thoughts). I was nearly seventeen when she died, and after all of these years that is still the event that guides me.
Recently I showed it to my boyfriend as a means of imparting to him the joy it was to know her, to somehow explain her, to show him a little piece of a personality he would never encounter beyond the detritus of her life in the photo album. The paper wallet still makes me laugh. And cry. I imagine it in the future — brittle, faded and cracking, and I imagine doing everything I can to preserve it, carrying it with me until, one day, I die too.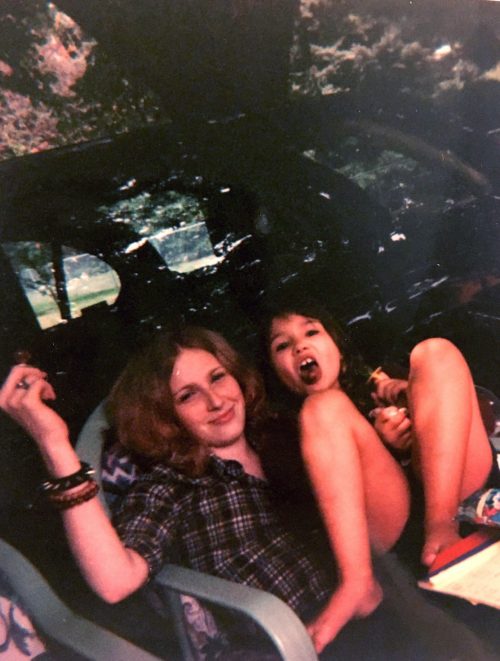 *
FOSSILS: INTRODUCTION | Allegra Huston on SKATAWAY JACKET | Kevin Obsatz on HOMEMADE NUNCHUKS | Ian Bogost on DESKTOP TELEPHONE | Jeff Lewonczyk on CHA-CHA JACKET SCRAP | Kelly Horan on VOLVO KEY | Sarah Rich on WESTFEST EARRINGS | Cynthia Joyce on MELODICA | Kevin Brockmeier on SALADMOBILE | Adam Harrison Levy on PASSPORT HOLDER | Marissa Frayer on BABY BLANKET | Elizabeth Foy Larsen on RML BOOKEND | Jae Nichelle on SHEET MUSIC | Sean Patrick Walsh on TYPEWRITER | Andrew Innes on BUST OF DUCK | Carla Sinclair on FACTSHEET FIVE | Chapell Ellison on SLEIGH BELL | Malcolm Evans on "QUEEN MARY" FOB | Jason Gilbert on HAND CHAIR | Karl Taro Greenfeld on OPIUM KIT | Tony Leone on MODEL TANK | Dave Boerger on TEEN BIBLE | Chelsey Johnson on BREYER HORSES | Erin M. Routson on PAPER WALLET | Alissa Walker on JUKEBOX | Adrienne Crew on FISH SCALER.
FLAIR: INTRODUCTION | Cliff Kuang on ROLEX DATEJUST | Ethan Zuckerman on LAPTOP STICKERS | Ann Shoket on LEATHER JACKET | Kembrew McLeod on KEMBREW MERCH | Paola Antonelli on MERMAID TEARS | & 20 MORE.
LOST OBJECTS (vol. 1): INTRODUCTION | Kate Bernheimer on MULLET WIG (ill. Amy Evans) | Dan Piepenbring on COLOGNE (ill. Josh Neufeld) | Doug Dorst on STRATOCASTER (ill. John Holbo) | Paul Lukas on VANILLA BEAN (ill. Allison Bamcat) | Mimi Lipson on DODGE DART (ill. Mister Reusch) | & 20 MORE.
ILLICIT OBJECTS: INTRODUCTION | Kio Stark on PEEPSHOW TOKEN | Sari Wilson on TOMBSTONE PARTS | Annalee Newitz on CAR-BOMB REMNANT | Tito Bottitta on MOONINITE DEVICE | Eric Bennett on DIRTY MAGAZINE | & 20 MORE.
TALISMANIC OBJECTS: INTRODUCTION | Veda Hille on CROCHET SHEEP | Gary Panter on DINOSAUR BONES | Jami Attenberg on SELENITE CRYSTAL | Annie Nocenti on MINIATURE DICE | Wayne Curtis on CLOCK WINDING KEY | & 20 MORE.
POLITICAL OBJECTS: INTRODUCTION | Luc Sante on CAMPAIGN PAMPHLETS | Lydia Millet on PVC POLAR BEAR | Ben Greenman on MATCHBOX CAR | Rob Baedeker on PRESIDENTS PLACEMAT | L.A. Kauffman on WHEATPASTE POSTER | & 20 MORE.
SIGNIFICANT OBJECTS at HILOBROW: PROJECT:OBJECT homepage | PROJECT:OBJECT newsletter | PROJECT:OBJECT objects (Threadless shop — all profits donated to the ACLU) | POLITICAL OBJECTS series (1Q2017) | TALISMANIC OBJECTS series (2Q2017) | ILLICIT OBJECTS series (3Q2017) | LOST OBJECTS vol. 1 series (4Q2017) | FLAIR series (2Q2018) | FOSSIL series (4Q2018) | FETISHES series (2Q2019) | LOST OBJECTS vol. 2 series (4Q2019) | MOVIE OBJECTS series (2Q2020). ALSO SEE: SIGNIFICANT OBJECTS website | SIGNIFICANT OBJECTS collection, ed. Rob Walker and Josh Glenn (Fantagraphics, 2012) | TAKING THINGS SERIOUSLY, ed. Josh Glenn (Princeton Architectural Press, 2007) | TAKING THINGS SERIOUSLY excerpts.