FIVE-O YOUR ENTHUSIASM (5)
By: Erin M. Routson
April 15, 2021
One in a series of 25 enthusiastic posts, contributed by 25 HILOBROW friends and regulars, on the topic of our favorite TV shows of the Sixties (in our periodization: 1964–1973).
*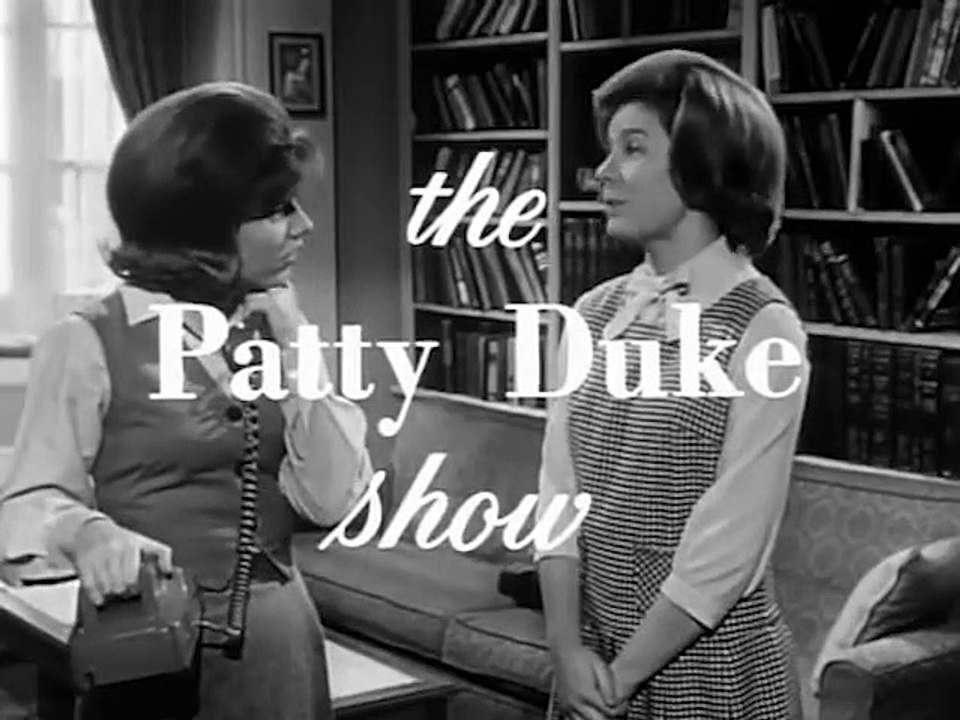 THE PATTY DUKE SHOW | 1963–1966
I grew up in a house with cable that we were allowed to watch seemingly whenever we wanted. I can't remember any rules about television consumption, or eating candy, or hard lines around bedtimes. Sometimes I think the sheer availability of these things made them less alluring to me and my brother. I had friends who would come over our house when we were growing up who would gorge themselves — zone out on the television, gobble up Starbursts and M&Ms like somehow we lived in a world where they would become scarce.
None of this is to say we weren't loved and cared for by my parents — we were — but we did not grow up in a strict home. Part of that unrestricted TV time involved Nickelodeon, which transformed to Nick at Nite at an hour when, presumably, children who were not me or my brother would be tucked into bed. So much of its programming was at least twenty years old, black and white sitcoms like My Three Sons, The Many Loves of Dobie Gillis, and The Patty Duke Show. I guess my parents figured if we were staying up watching all of that, what could they really worry about?
Watching television in black and white now seems archaic, the distance between my childhood and those shows is so much further than the thought of Gen Z watching Full House reruns in 2021. So many of the details of these shows I spent hours watching are foggy or minimized — Dobie Gillis mimicking The Thinker, the three sets of cartoon legs indicating the sons. One detail, however, has remained crystal clear and potent in my life, and it's the theme song from the Patty Duke Show, "Cousins," performed by the Skip-Jacks.
I didn't know as a child that the premise of identical cousins with different personalities was an interpretation of undiagnosed bipolar disorder in Patty Duke. I did know that I shared a relationship with my cousin Morgan based on us calling each other identical names, Deedee, and relating to that song — born nine months apart, with childhood, high school and college years that overlapped in interests despite our differences. We still call one another Deedee, but we also love to call ourselves the Patty Duke twins — walking, talking and laughing alike.
As an adult with the realities of mental health closer to the forefront, and the advocacy of Patty Duke lodged somewhere in the public consciousness, the lyrics to the song seem darker and more coded than they did when I was eight watching Nick at Nite — "What a crazy pair", "you could lose your mind!" We barely have the faculty of language to discuss mental health now, I can't be surprised that it manifested this way in the early '60s. Now I hear the theme both ways — not just as a cave drawing for bipolar dialogue, but as the cherished theme of my childhood and Deedee. We are two of a kind.
***
FIVE-O YOUR ENTHUSIASM: INTRODUCTION by Josh Glenn | Lynn Peril on DARK SHADOWS (1966–1971) | Mark Kingwell on THE MAN FROM U.N.C.L.E. (1964–1968) | Elizabeth Foy Larsen on I DREAM OF JEANNIE (1965–1970) | Luc Sante on SECRET AGENT/DANGER MAN (1964–1968 seasons) | Erin M. Routson on THE PATTY DUKE SHOW (1963–1966 run) | Gordon Dahlquist on HAWAII FIVE-O (1968–1973 seasons) | Annie Nocenti on GET SMART (1965–1970) | Sara Driver on THE ADDAMS FAMILY (1964–1966) | Carlo Rotella on MANNIX (1967–1973 seasons) | Adam McGovern on JULIA (1968–1971) | Mimi Lipson on THE MARY TYLER MOORE SHOW (1970–1973 seasons) | Josh Glenn on BATMAN (1966–1968) | Tom Nealon on HOGAN'S HEROES (1965–1971) | Miranda Mellis on THE ODD COUPLE (1970–1973 seasons) | Peggy Nelson on GILLIGAN'S ISLAND (1964–1967) | Susan Roe on THE BRADY BUNCH (1969–1973 seasons) | Michael Grasso on UFO (1970–1973) | Richard McKenna on DOOMWATCH (1970–1972) | Adrienne Crew on BEWITCHED (1964–1972) | Michael Lewy on STAR TREK (1966–1969) | Greg Rowland on THE PARTRIDGE FAMILY (1970–1973 seasons) | David Smay on THE MONKEES (1966–1968) | Vijay Parthasarathy on THE DICK VAN DYKE SHOW (1964–1966 seasons) | Carl Wilson on THE CAROL BURNETT SHOW (1967–1973 seasons) | Jessamyn West on EMERGENCY! (1972–1973 seasons).
MORE ENTHUSIASM at HILOBROW
STOOGE YOUR ENTHUSIASM (4Q2023): MOVE ON FAST | 96 TEARS | SHE CRACKED | WHAT A WAY TO DIE | PSYCHOTIC REACTION | & 20 other Sixties (1964–1973) proto-punk songs. CURVE YOUR ENTHUSIASM (3Q2023): PIZZA PURISM | BOY BANDS | THE '86 METS | LOVE ISLAND UK | ELTON JOHN | & 20 other reconsidered enthusiasms. TEEN YOUR ENTHUSIASM (2Q2023): ANDY GIBB | VALERIE BERTINELLI | KIM WILDE | ARLO GUTHRIE | MIKE PATTON | & 20 other heartthrobs from our adolescences. DOLLY YOUR ENTHUSIASM (1Q2023): WE FOUND IT | TOGETHER AGAIN | SUNDAY MORNIN' COMIN' DOWN | BAD CASE OF THE BLUES | FANCY | & 20 other Sixties (1964–1973) Country records. KILL YOUR ENTHUSIASM (4Q2022): LT. TASHA YAR | JOYCE SUMMERS | COL. HENRY BLAKE | MRS. LANDINGHAM | ALEX KAMAL | & 20 other TV deaths. BLURB YOUR ENTHUSIASM (3Q2022): LEFT-CORNER BRICK | JOY IS RESISTANCE | THE FUTURE IS PASSÉ | EVERY MINUTE AN OCEAN | SHUT UP, HE EXPLAINED | & 20 other apothegms to live by. KOJAK YOUR ENTHUSIASM (2Q2022): ARK II | WKRP IN CINCINNATI | BUCK ROGERS | THE WHITE SHADOW | POLICE WOMAN | & 20 other Seventies (1974–1983) TV shows. KICK YOUR ENTHUSIASM (1Q2022): KUILL | CATO | COSMO | TRIXIE | VOLSTAGG | & 20 other sidekicks. NERD YOUR ENTHUSIASM (4Q2021): TIME | THE POST OFFICE | ARDUIN | DOUBT | SUMMATIONS | & 20 other nerdy passions. SWERVE YOUR ENTHUSIASM (3Q2021): WARHOL'S WALT WHITMAN | 70, GIRLS, 70 | TYRAEL'S MIGHT | SHIRATO SANPEI | THE LEON SUITES | & 20 other never-realized cultural productions. FIVE-O YOUR ENTHUSIASM (2Q2021): DARK SHADOWS | MANNIX | GET SMART | THE ADDAMS FAMILY | I DREAM OF JEANNIE | & 20 other Sixties (1964–1973) TV shows. FERB YOUR ENTHUSIASM (1Q2021): STEVEN UNIVERSE | TOP CAT | REN & STIMPY | SHE-RA AND THE PRINCESSES OF POWER | DRAGON BALL Z | & 20 other animated series. CARBONA YOUR ENTHUSIASM (2020): "Sex Bomb" | "Going Underground" | "Soft South Africans" | "Typical Girls" | "Human Fly" | & 20 other Seventies (1974–1983) punk singles. KLAATU YOU (2020 weekly): ZARDOZ | METROPOLIS | DARK STAR | SINS OF THE FLESHAPOIDS | SOLARIS | & dozens of other pre-STAR WARS sci-fi movies. CONVOY YOUR ENTHUSIASM (2019): THE TAKING OF PELHAM ONE TWO THREE | ROLLERBALL | BLACK SUNDAY | SORCERER | STRAIGHT TIME | & 20 other Seventies (1974–1983) action movies. SERIOCOMIC (2019 weekly): LITTLE LULU | VIZ | MARSUPILAMI | ERNIE POOK'S COMEEK | HELLBOY | & dozens of other comics. TUBE YOUR ENTHUSIASM (2018): LOONEY TUNES | THREE STOOGES | THE AVENGERS | ROCKY & BULLWINKLE | THE TWILIGHT ZONE | & 20 other Fifties (1954–1963) TV shows. WOWEE ZOWEE (2018 weekly): UNISEX | UNDER THE PINK | DUMMY | AMOR PROHIBIDO | HIPS AND MAKERS | & dozens of other Nineties (1994–2003) albums. KLUTE YOUR ENTHUSIASM (2017): THE KILLERS | BANDE À PART (BAND OF OUTSIDERS) | ALPHAVILLE | HARPER | BLOW-UP | & 20 other Sixties (1964–1973) neo-noir movies. #SQUADGOALS (2017 weekly): THE WILD BUNCH | BOWIE'S BAND | THE BLOOMSBURY GROUP | THE HONG KONG CAVALIERS | VI ÄR BÄST! & dozens of other squads. GROK MY ENTHUSIASM (2016 weekly): THE THEORY AND PRACTICE OF LUNCH | WEEKEND | MILLION YEAR PICNIC | LA BARONNE EMILE D'ERLANGER | THE SURVIVAL SAMPLER | & dozens more one-off enthusiasms. QUIRK YOUR ENTHUSIASM (2016): "Tainted Love" | "Metal" | "Frankie Teardrop" | "Savoir Faire" | "Broken English" | & 20 other Seventies (1974–1983) new wave singles. CROM YOUR ENTHUSIASM (2015): DARKER THAN YOU THINK | THE SWORD IN THE STONE | OUT OF THE SILENT PLANET | THIEVES' HOUSE | QUEEN OF THE BLACK COAST | & 20 other Thirties (1934–1943) fantasy novels. KERN YOUR ENTHUSIASM (2014): ALDINE ITALIC | DATA 70 | TORONTO SUBWAY | JOHNSTON'S "HAMLET" | TODD KLONE | & 20 other typefaces. HERC YOUR ENTHUSIASM (2013): "Spoonin' Rap" | "Rapper's Delight" | "Rappin' Blow" | "The Incredible Fulk" | "The Adventures of Super Rhyme" | & 20 other Seventies (1974–1983) hip-hop songs. KIRK YOUR ENTHUSIASM (2012): Justice or vengeance? | Kirk teaches his drill thrall to kiss | "KHAAAAAN!" | "No kill I" | Kirk browbeats NOMAD | & 20 other Captain Kirk scenes. KIRB YOUR ENTHUSIASM (2011): THE ETERNALS | BLACK MAGIC | DEMON | OMAC | CAPTAIN AMERICA | & 20 other Jack Kirby panels.