Crom Your Enthusiasm (24)
By: Tom Nealon
August 26, 2015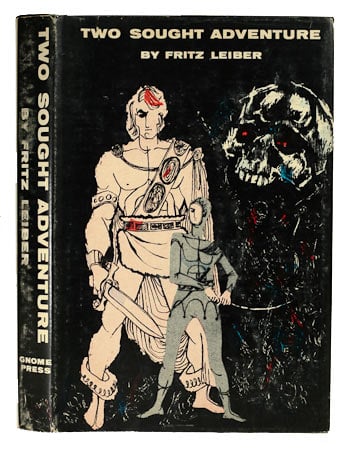 One of 25 installments in a series of posts analyzing and celebrating a few of our favorite fantasy novels from the Thirties (1934–1943). Enjoy!
TWO SOUGHT ADVENTURE | FRITZ LEIBER | 1939
There were never heroes quite like Fafhrd and the Gray Mouser.
If previous fantasy protagonists were unbeatable, inscrutable, larger-than-life figures descended from Achilles, Beowulf, and Gilgamesh, Leiber's antiheroes were emotional, greedy, scheming wrecks. Remarkably resistant to any sort of self-improvement or character development, Fafhrd, the loud, open and violent Viking, and the Gray Mouser, the slight, sullen cut-purse and duelist, are flung about by their own desires. If they occasionally appear to have grown, it is just another mood striking them — one that will soon pass or be bellowed out by Fafhrd, repressed and internalized by the Mouser. Over time, their flaws crystallize into a sort of perfection; they are two great failed models of manhood.
In the novella Two Sought Adventure (later reissued as The Jewels in the Forest), Fafhrd and the Gray Mouser are set upon by brigands, drink and revel with some locals, set an ambush for their previous ambushers, and murder their arch-rival — all before the meat of the story begins. Men are not enough to set against this pair, so the ancient, malevolent land itself has to rise up against them, impossibly, murderously matching their greed and skill and unbreakable friendship with dread and death and weirdness. Which is so like the life of a 13-year-old reader, isn't it? Or a 40-year-old reader.
Although the world is aligned against them and bent on their destruction, Fafhrd and the Gray Mouser will escape: battered, bloodied, unbowed, and thankfully unimproved, having learned and accomplished nothing. Blown here and there by their wants, they will wind up back on the road on which they began. All the victories and adulation of heroes past are never going to ring more true than that.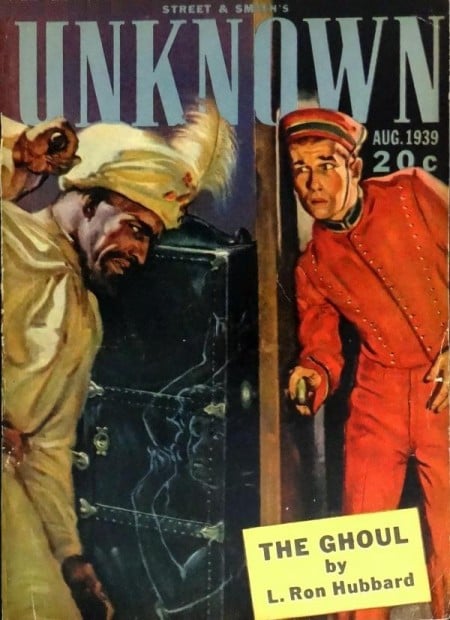 ***
CROM YOUR ENTHUSIASM (2015): Erik Davis on Jack Williamson's DARKER THAN YOU THINK | Sara Ryan on T.H. White's THE SWORD IN THE STONE | Mark Kingwell on C.S. Lewis's OUT OF THE SILENT PLANET | David Smay on Fritz Leiber's THIEVES' HOUSE | Natalie Zutter on Robert E. Howard's QUEEN OF THE BLACK COAST | James Parker on J.R.R. Tolkien's THE HOBBIT | Adrienne Crew on Dion Fortune's THE SEA PRIESTESS | Gabriel Boyer on Clark Ashton Smith's ZOTHIQUE stories | John Hilgart on H.P. Lovecraft's THE CASE OF CHARLES DEXTER WARD | Barbara Bogaev on William Sloane's TO WALK THE NIGHT | Rob Wringham on Flann O'Brien's THE THIRD POLICEMAN | Dan Fox on Hergé's THE SEVEN CRYSTAL BALLS | Flourish Klink on C.S. Lewis's PERELANDRA | Tor Aarestad on L. Sprague de Camp and Fletcher Pratt's THE ROARING TRUMPET | Anthony Miller on H.P. Lovecraft's THE SHADOW OVER INNSMOUTH | Suzanne Fischer on E.R. Eddison's MISTRESS OF MISTRESSES | Molly Sauter on Herbert Read's THE GREEN CHILD | Diana Leto on Edgar Rice Burroughs's TARZAN AND THE LION MAN | Joshua Glenn on Robert E. Howard's THE HOUR OF THE DRAGON | Andrew Hultkrans on H.P. Lovecraft's AT THE MOUNTAINS OF MADNESS | Lynn Peril on Fritz Leiber's CONJURE WIFE | Gordon Dahlquist on H.P. Lovecraft's THE SHADOW OUT OF TIME | Adam McGovern on C.L. Moore's JIREL OF JOIRY stories | Tom Nealon on Fritz Leiber's TWO SOUGHT ADVENTURE | John Holbo on Robert E. Howard's CONAN MYTHOS.
***
KERN YOUR ENTHUSIASM (2014): ALDINE ITALIC | DATA 70 | TORONTO SUBWAY | JOHNSTON'S "HAMLET" | TODD KLONE | GILL SANS | AKZIDENZ-GROTESK | CALIFORNIA BRAILLE | SHE'S NOT THERE | FAUX DEVANAGARI | FUTURA | JENSON'S ROMAN | SAVANNAH SIGN | TRADE GOTHIC BOLD CONDENSED NO. 20 | KUMON WORKSHEET | ELECTRONIC DISPLAY | DIPLOMA REGULAR | SCREAM QUEEN | CHICAGO | CHINESE SHIPPING BOX | SHATTER | COMIC SANS | WILKINS'S REAL CHARACTER | HERMÈS vs. HOTDOG | GOTHAM.
HERC YOUR ENTHUSIASM (2013): "Spoonin' Rap" | "Rapper's Delight" | "Rappin' Blow" | "The Incredible Fulk" | "The Adventures of Super Rhyme" | "That's the Joint" | "Freedom" | "Rapture" | "The New Rap Language" | "Jazzy Sensation (Bronx Version)" | "Can I Get a Soul Clap" | "The Adventures of Grandmaster Flash on the Wheels of Steel" | "Making Cash Money" | "The Message" | "Pak Jam" | "Buffalo Gals" | "Ya Mama" | "No Sell Out" | "Death Mix Live, Pt. 2" | "White Lines (Don't Do It)" | "Here We Go (Live at the Funhouse)" | "Rockit" | "The Coldest Rap" | "The Dream Team is in the House" | The Lockers.
KIRK YOUR ENTHUSIASM (2012): Justice or vengeance? | Kirk teaches his drill thrall to kiss | "KHAAAAAN!" | "No kill I" | Kirk browbeats NOMAD | Kirk's eulogy for Spock| The joke is on Kirk | Kirk vs. Decker | Good Kirk vs. Evil Kirk | Captain Camelot | Koon-ut-kal-if-fee | Federation exceptionalism | Wizard fight | A million things you can't have | Debating in a vacuum | Klingon diplomacy | "We… the PEOPLE" | Brinksmanship on the brink | Captain Smirk | Sisko meets Kirk | Noninterference policy | Kirk's countdown | Kirk's ghost | Watching Kirk vs. Gorn | How Spock wins
KIRB YOUR ENTHUSIASM (2011): THE ETERNALS | BLACK MAGIC | DEMON | OMAC | CAPTAIN AMERICA | KAMANDI | MACHINE MAN | SANDMAN | THE X-MEN | THE FANTASTIC FOUR | TALES TO ASTONISH | YOUNG LOVE | STRANGE TALES | MISTER MIRACLE | BLACK PANTHER | THOR | JIMMY OLSEN | DEVIL DINOSAUR | THE AVENGERS | TALES OF SUSPENSE | THE NEW GODS | REAL CLUE | THE FOREVER PEOPLE | JOURNEY INTO MYSTERY | 2001: A SPACE ODYSSEY