49th PARALLEL (10)
By: Mark Kingwell
February 3, 2023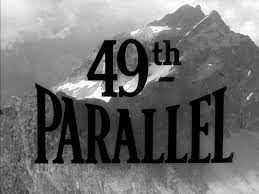 University of Toronto philosopher Mark Kingwell and HILOBROW's Josh Glenn are coauthors of The Idler's Glossary (2008), The Wage Slave's Glossary (2011), and The Adventurer's Glossary (2021). While researching and writing their respective sections of the latter book, they engaged in an epistolary exchange about real-world and fictional adventures. (As intended, passages from this exchange appear verbatim in the book.) Via the series 49th PARALLEL, the title of which references not only Mark and Josh's cross-border collaboration but one of their favorite WWII movies, HILOBROW is pleased to share a lightly edited version of their adventure-oriented exchange with our readers.
49th PARALLEL: FULL OF BEANS | DERRING-DO | ON THE BEAM | A WIZARD DODGE | RURITANIA | ROBINSONADE | CAMARADERIE | WISH I WERE HERE | PICARESQUE | TILTING AT WINDMILLS | PLUCK | SKOOKUM | SAGAMAN | HOT-SHOT | CUT AND RUN | THE WORST ANGELS OF OUR NATURE | ACUMEN | APOPHENIA | ESCAPADE | I AM NOT A NUMBER | HEAD-SHOT CIRCUS | 86 | GAMBIT | PLAY THE GAME | HAYWIRE | REPETITION.
---
TILTING AT WINDMILLS
---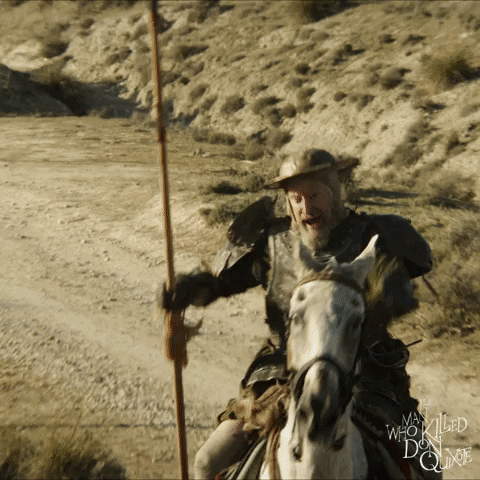 14th August, 2019
TORONTO
Fishing trip was great, thanks! Lots of big cutthroat trout on the Elk River in British Columbia, though my favourite moment was landing a 20-inch cuttie using a 2-weight rod and a #14 yellow sally fly in a world-class tributary called Michel Creek. For those not into the jargon, that's a very big fish on a very small fly, using a very light rod. Excellent, classic River-Runs-Through-It stuff.
My biggest challenge, though, was the latest in my roster of fly-fishing injuries. Who knew it was a contact sport? I crashed my very spinny little pontoon boat into a fallen tree, driven upon it by the river current. Gashed my ear and cheek open. Tried to keep fishing, but the blood was going everywhere. I gave my boat to a buddy and climbed out of the river, then walked 8 miles back to the cabin. Foot blisters now joined ear-bang. This is my fourth misadventure while fishing, along with dislocated shoulder (hospital), bone-deep leg laceration (hospital), and deep cut on hand (no hospital — too far away and not my casting hand anyway). My buddies say I am accident-prone. I prefer to think of it as bravado bordering on recklessness, taking risks for the sake of the cast. Anyway, it's not a fishing trip until somebody bleeds!
Now, to your message. I have been trying to imagine your stranded weekend in Le Havre, and I get existentially terrified at second hand. The vast nothingness of the small town, especially a harbour when you are not embarking anywhere! It's true that the abyss at once calls to us and frightens us away. The visceral feelings evoked, like vertigo or nausea, capture this sickening sensation of gazing down into blackness. And so then the looking up and out — the Romantic Ideal of the mountaintop — is a kind of exultant reversal of ground. It is no mistake that the editors at Penguin Classics chose to use the famous Caspar David Friedrich painting Wanderer Above the Sea of Fog (1818) as the cover image for their edition of Nietzsche's Ecce Homo. Fun fact: an online caricature reworks the cover with the title as "Asshole King of Dick Mountain" — something that you can understand when you recall that the Ecce Homo chapter titles include "Why I Am So Clever," "Why I Write Such Excellent Books," and "Why I am Dynamite."
Be that as it may, both Nietzsche and CDF capture that sublime notion of overcoming. We can mock this as Teutonic Romantic nonsense, but it still stirs the blood, I think. And the idea of rising above nicely mirrors the threshold-function you outline in the FRONTIER EPIC. Once again, not all frontiers are physical, and based on landscape. Some of them are elements of character, mirroring the civilization-versus-wilderness topography with a psychography of the beast, or warrior, within. I think here, though mostly with skepticism, of the Robert Bly "Iron John" movement of the 1990s, where comfortable middle-class men were supposed to re-claim their tough manhood in the midst of (alleged) comprehensive feminization of culture. This is thus tricky terrain, which can include everything from Fight Club and The Deerhunter to spousal abuse and psychotic episodes of gun violence against "the weak." It's not a big jump from Zarathustra's "sheep" to the alt-right's "cucks."
So we have to tread carefully here, as we do on slippery rocks in the river bed. Borders are there for a reason, and when you leave the city walls behind — literally going "beyond the pale" — there be dragons and bears and, maybe most dangerous of all, other people. Before leaving this point, I'll repeat an insight that illuminates the enduring differences between American and Canadian frontier mythology. In the United States, the frontier was the Wild West, outlaws and shoot-outs and saloon brawls. In Canada, the frontier was where a massive corporation, the Hudson's Bay Company, colonized the land and extracted its resources, all with the paramilitary aid of the RCMP. The Canadian version is not so much a more peaceable option, as often claimed, as it is a more state-sponsored clear-cut of land and indigenous populations. But I guess that happened in the U.S. too. Meanwhile the stereotypes survive: Billy the Kid versus Dudley Do-Right.
Fun fact: The Seth Bullock character on Deadwood (2004-06), played by Timothy Olyphant, hails from Etobicoke, which is a near suburb of Toronto. How about that: the good guy figure in a violent American frontier western is actually a Canadian! The real historical Seth Bullock was born in Amherstburg, in Wessex County, Ontario, near the Windsor-Detroit border. This is one of those parts of Ontario that are south of Detroit! He later moved to Montana and became a U.S. Marshal.
There's a link to utopia when it comes to frontiers and thresholds, of course. A basic typology of utopia schemes would move from structural, maybe violent reform of existing conditions (Plato's Republic), to physical movement to a new 'undiscovered' place (More's Utopia), and then to some temporal new age (most SF, especially Star Trek, but also Marx's classless society). There are counter-movements to all of these, but it's fascinating how the very notion of utopian frontier changes from here to there to then.
Speaking of counter-movements, the greatest ironic riffs on the PICARESQUE must be Cervantes' Don Quixote and Voltaire's Candide. The first notably gave the world the phrase "tilting at windmills," a handy metaphor for all species of ill-judged, bogus, or naive knight-errantry. The second makes the journey of self-liberation and wisdom into a dark philosophical comedy, skewering Leibnizian metaphysics and ending up where maybe we should have started: cultivating one's garden. A garden is, after all, itself a threshold space: at once domestic and natural, inside the household but not in the house. Stay there, enjoy a glass of wine, read a book — of adventure!
Parting thought (1): If wildness in the frontier is sublime (your examples are all great), is civilization the beautiful? I think of this in terms of cities, the original sites of the civilization-threshold, the concrete walls of safety, law, leisure, and commerce. There are of course beautiful cities (Paris, Florence) along with merely agreeable ones (Toronto, Sydney); but there are also, I think sublime cities: New York as a function of scale and density, Edinburgh as a function of natural site and massed, blackened granite forms. Topic for future consideration…
Parting thought (2): Many psychologists and philosophers, including myself, subscribe to the narrative conception of self. This then does invite consideration of the tension between habitus and liberation, and the maybe reckless ways we go about seeking the latter in some sort of flight from the former. (Note to self: Fishing for two weeks a year, with five other dedicated cooks and lots of wine and gin at the end of the day, is not exactly "coming correct" at the frontier.) But there are those, prominently, Galen Strawson, who repudiate the narrative conception altogether. Life, he argues, is a lot more like "the great shambles" described by William James than a story, however ragged. And we would have to say, under the conditions of technological immersion and dislocation described in my boredom book, that he is correct. For many if not most of us, there is no coherent story being constructed here, nor can there be. This non-narrative may be personally painful or not, depending on proclivities and degree of introspection, but it may simply be the case that the narrative conception is obsolete, we are at best, to paraphrase Eliot, shoring fragments against our ruin. Post-modernity may be less about multiple overlapping performative narratives, per Judith Butler, and more a matter of no narrative at all.
Parting thought (3): I love the idea that the espionage novel is an evolutionary spur of the picaresque. It makes sense! Think of James Bond or Matt Helm or any of the protagonists of classic spy and thriller stories. They are alone except for various hangers-on and temporary accomplices, they have constant deathly challenges to face, and the action moves them relentlessly forward — to an uncertain and often dissatisfying conclusion. And here we can observe yet another reversal or counter-narrative: the evil picaresque hero. Consider the argument that Hannibal Lecter is merely the bizarro version of James Bond, omnicompetent and suave, a psychopath in service of his own aesthetic ends, not his country's confused policy goals. Meanwhile, Bond as himself a psychopath is the subject of a vast media conversation, naturally!
Mark
***
ALSO SEE: Josh's BEST 250 ADVENTURES of the 20th CENTURY list, and the A IS FOR ADVENTURE series | Mark on PATRICK McGOOHAN, BATTLESTAR GALACTICA, THE MAN FROM U.N.C.L.E., THE EIGER SANCTION, and THE HONG KONG CAVALIERS.