Crom Your Enthusiasm (20)
By: Andrew Hultkrans
August 22, 2015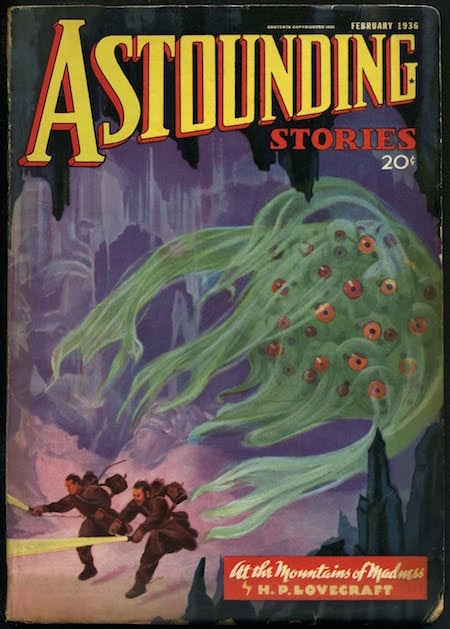 One of 25 installments in a series of posts analyzing and celebrating a few of our favorite fantasy novels from the Thirties (1934–1943). Enjoy!
AT THE MOUNTAINS OF MADNESS | H.P. LOVECRAFT | w. 1931, p. 1936
The vertiginous horror in H.P. Lovecraft's fiction emanates not from the unknown, but from things that are known (by a select cognoscenti) but rarely spoken of. You know a detail is truly beyond when the narrator whispers that it's merely hinted at in the Necronomicon or the Pnakotic Manuscripts — those volumes of fake scholarship so adored by Borges. Similarly, fear in Lovecraft can have a trapdoor quality. The bulk of a tale will consist of the slow emergence of some dark cosmic backstory — usually involving hideously indescribable extraterrestrials from before the dawn of time — and once both characters and readers are suitably terrified, he'll reveal that there are things or forces even more malign, repellant, and inconceivable.
At the Mountains of Madness represents the apotheosis of Lovecraft's signature tropes. It is a cornerstone of the Cthulhu Mythos, first treated in his 1928 story "The Call of Cthulhu" and recurring in many of his and his disciples' tales, as well as an inspiration to ancient astronaut theorists. Beginning with another Lovecraftian trope — the reluctant narrator — the plot concerns a 1930 scientific expedition to the then only partially explored Antarctica (an "utterly tenantless world of aeon-long death" overseen by "myriads of grotesque penguins"), resulting in the discovery of the ruins of a vast city of Cyclopean architecture ("embodying monstrous perversions of geometrical laws and attaining the most grotesque extremes of sinister bizarrerie") built on and among a previously uncharted mountain range taller than the Himalayas. Both the exploration of the crashed spaceship in Alien (1979) and elements of John Carpenter's remake of The Thing (1982) leverage the context and tone of this novella to great effect.
Mountains of Madness also contains a working definition of Lovecraft's style: "The touch of evil mystery… was a highly subtle and attenuated matter not to be explained in literal words. Rather was it an affair of vague psychological symbolism and aesthetic association — a thing mixed up with exotic poetry and paintings, and with archaic myths lurking in shunned and forbidden volumes." Madness is soberly plotted and exhibits as much rhetorical restraint as Lovecraft could manage while still being Lovecraft. It is also a truly gripping adventure yarn. The reader is driven along as much by the author's expert pacing and action as she is by the slow reveal of a sanity-challenging prehistory of Earth, marked by competing hierarchies of ancient aliens and their amorphous servile spawn, each more hideous than the last, some of whom may still be alive.
"What has haunted my dreams for nearly forty years is a strange sense of adventurous expectancy connected with landscape and architecture and sky-effects…. I wish I could get the idea on paper," Lovecraft wrote to a correspondent. With At the Mountains of Madness, he did.
***
CROM YOUR ENTHUSIASM (2015): Erik Davis on Jack Williamson's DARKER THAN YOU THINK | Sara Ryan on T.H. White's THE SWORD IN THE STONE | Mark Kingwell on C.S. Lewis's OUT OF THE SILENT PLANET | David Smay on Fritz Leiber's THIEVES' HOUSE | Natalie Zutter on Robert E. Howard's QUEEN OF THE BLACK COAST | James Parker on J.R.R. Tolkien's THE HOBBIT | Adrienne Crew on Dion Fortune's THE SEA PRIESTESS | Gabriel Boyer on Clark Ashton Smith's ZOTHIQUE stories | John Hilgart on H.P. Lovecraft's THE CASE OF CHARLES DEXTER WARD | Barbara Bogaev on William Sloane's TO WALK THE NIGHT | Rob Wringham on Flann O'Brien's THE THIRD POLICEMAN | Dan Fox on Hergé's THE SEVEN CRYSTAL BALLS | Flourish Klink on C.S. Lewis's PERELANDRA | Tor Aarestad on L. Sprague de Camp and Fletcher Pratt's THE ROARING TRUMPET | Anthony Miller on H.P. Lovecraft's THE SHADOW OVER INNSMOUTH | Suzanne Fischer on E.R. Eddison's MISTRESS OF MISTRESSES | Molly Sauter on Herbert Read's THE GREEN CHILD | Diana Leto on Edgar Rice Burroughs's TARZAN AND THE LION MAN | Joshua Glenn on Robert E. Howard's THE HOUR OF THE DRAGON | Andrew Hultkrans on H.P. Lovecraft's AT THE MOUNTAINS OF MADNESS | Lynn Peril on Fritz Leiber's CONJURE WIFE | Gordon Dahlquist on H.P. Lovecraft's THE SHADOW OUT OF TIME | Adam McGovern on C.L. Moore's JIREL OF JOIRY stories | Tom Nealon on Fritz Leiber's TWO SOUGHT ADVENTURE | John Holbo on Robert E. Howard's CONAN MYTHOS.
***
KERN YOUR ENTHUSIASM (2014): ALDINE ITALIC | DATA 70 | TORONTO SUBWAY | JOHNSTON'S "HAMLET" | TODD KLONE | GILL SANS | AKZIDENZ-GROTESK | CALIFORNIA BRAILLE | SHE'S NOT THERE | FAUX DEVANAGARI | FUTURA | JENSON'S ROMAN | SAVANNAH SIGN | TRADE GOTHIC BOLD CONDENSED NO. 20 | KUMON WORKSHEET | ELECTRONIC DISPLAY | DIPLOMA REGULAR | SCREAM QUEEN | CHICAGO | CHINESE SHIPPING BOX | SHATTER | COMIC SANS | WILKINS'S REAL CHARACTER | HERMÈS vs. HOTDOG | GOTHAM.
HERC YOUR ENTHUSIASM (2013): "Spoonin' Rap" | "Rapper's Delight" | "Rappin' Blow" | "The Incredible Fulk" | "The Adventures of Super Rhyme" | "That's the Joint" | "Freedom" | "Rapture" | "The New Rap Language" | "Jazzy Sensation (Bronx Version)" | "Can I Get a Soul Clap" | "The Adventures of Grandmaster Flash on the Wheels of Steel" | "Making Cash Money" | "The Message" | "Pak Jam" | "Buffalo Gals" | "Ya Mama" | "No Sell Out" | "Death Mix Live, Pt. 2" | "White Lines (Don't Do It)" | "Here We Go (Live at the Funhouse)" | "Rockit" | "The Coldest Rap" | "The Dream Team is in the House" | The Lockers.
KIRK YOUR ENTHUSIASM (2012): Justice or vengeance? | Kirk teaches his drill thrall to kiss | "KHAAAAAN!" | "No kill I" | Kirk browbeats NOMAD | Kirk's eulogy for Spock| The joke is on Kirk | Kirk vs. Decker | Good Kirk vs. Evil Kirk | Captain Camelot | Koon-ut-kal-if-fee | Federation exceptionalism | Wizard fight | A million things you can't have | Debating in a vacuum | Klingon diplomacy | "We… the PEOPLE" | Brinksmanship on the brink | Captain Smirk | Sisko meets Kirk | Noninterference policy | Kirk's countdown | Kirk's ghost | Watching Kirk vs. Gorn | How Spock wins
KIRB YOUR ENTHUSIASM (2011): THE ETERNALS | BLACK MAGIC | DEMON | OMAC | CAPTAIN AMERICA | KAMANDI | MACHINE MAN | SANDMAN | THE X-MEN | THE FANTASTIC FOUR | TALES TO ASTONISH | YOUNG LOVE | STRANGE TALES | MISTER MIRACLE | BLACK PANTHER | THOR | JIMMY OLSEN | DEVIL DINOSAUR | THE AVENGERS | TALES OF SUSPENSE | THE NEW GODS | REAL CLUE | THE FOREVER PEOPLE | JOURNEY INTO MYSTERY | 2001: A SPACE ODYSSEY