49th PARALLEL (14)
By: Mark Kingwell
February 15, 2023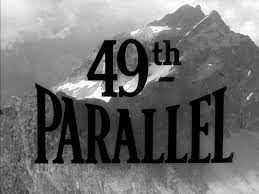 University of Toronto philosopher Mark Kingwell and HILOBROW's Josh Glenn are coauthors of The Idler's Glossary (2008), The Wage Slave's Glossary (2011), and The Adventurer's Glossary (2021). While researching and writing their respective sections of the latter book, they engaged in an epistolary exchange about real-world and fictional adventures. (As intended, passages from this exchange appear verbatim in the book.) Via the series 49th PARALLEL, the title of which references not only Mark and Josh's cross-border collaboration but one of their favorite WWII movies, HILOBROW is pleased to share a lightly edited version of their adventure-oriented exchange with our readers.
49th PARALLEL: FULL OF BEANS | DERRING-DO | ON THE BEAM | A WIZARD DODGE | RURITANIA | ROBINSONADE | CAMARADERIE | WISH I WERE HERE | PICARESQUE | TILTING AT WINDMILLS | PLUCK | SKOOKUM | SAGAMAN | HOT-SHOT | CUT AND RUN | THE WORST ANGELS OF OUR NATURE | ACUMEN | APOPHENIA | ESCAPADE | I AM NOT A NUMBER | HEAD-SHOT CIRCUS | 86 | GAMBIT | PLAY THE GAME | HAYWIRE | REPETITION.
---
HOT-SHOT
---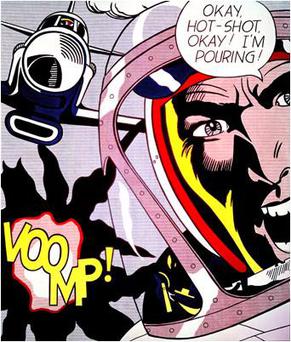 16th August, 2019
TORONTO
Just ordered a copy of Buchan's Sick Heart River.
I do love 49th Parallel! Such great action across the span of Canada, playing on the fear of Fifth Columnists and/or German incursions via the sea. This was a real threat, in fact, especially all along the shipping coast (Halifax, St. John's). Stewart Granger and Laurence Olivier should have done a Quebecois accent talk-off, the way Steve Coogan and Rob Brydon do their duelling Connery Bonds in The Trip. I'd pay good money for that.
Fifth-column-paranoia films, which double as propaganda, started to show up in American cinema before the U.S. entered the Second World War, and continued after. One of my favourites is All Through the Night (1942), in which the Humphrey Bogart character ("Gloves" Donahue) moves from New York hood to anti-Nazi hero. There's also Once Upon a Honeymoon (1942 again), with Cary Grant as a crusading radio reporter and spy, and Ginger Rogers as the cynical former burlesque dancer who gradually comes wise to her German husband's Nazi ties and profound evil. Rom-com meets Resistance drama. These mixed-genre adventures are fascinating.
Hero/anti-hero and straight/ironic are also elements of fiction and language I have long been drawn to. They both make me think of Aristotle's account of virtue: finding the mean between a deficiency of some character trait (cowardice, say) and the excess of it (rashness). Practical wisdom consists in being able to hit the right mark under the right circumstances. But it can so easily go badly wrong! The hero is a goat, the brave action turns out to be foolish. Thus, I think, those mocking inversions like "hot shot," "cowboy," and "over the top." I remember a bad Sylvester Stallone movie from the 1980s called Over the Top, which sent my Scottish friends into paroxysms of laughter every time they saw the poster. "Over the top," OTT for short, is always an insult in Scotland.
I love the ATAVISTIC EPIC idea. I think we all dream, at least when young, of waking up in some other, more primitive and thrilling identity. No secret that chubby adolescent nerds like me were the target audience for Howard's books, Frank Frazetta's muscle-bound illustrations, and D&D. What is more atavistic than rolling dice to create an alter ego possessed of strength or abilities beyond our feeble selves? You mention that dark side of this, as in the bogus Nietzsche-Nazi mythologizing, but I am also interested in straight-up fraud. The Englishman Archibald Belaney made a career out of his 'character' Grey Owl, which he passed off for decades as an Ojibway (sometimes Anishnaabe, sometimes Apache) trapper and scout. The difficult thing is that, as Grey Owl, he became famous for his 'Indigenous' conservationism, and his books, articles, and interviews altered the Canadian conversation about the natural environment.
The issue of false Indigenous identity continues, by the way. A couple of years ago, the novelist Joseph Boyden, who had for years allowed people to think he was partly Mi'kmaq, or perhaps Nipmuc, or Ojibway, was unmasked as a First Nations pretender. He is none of these, and the revelation stained his reputation and toppled him from a high-profile representative of First Nations interests here. As with Grey Owl's environmentalism, Boyden's fiction, which often depicts Indigenous characters, is put into a strange place after the exposure. I guess we could also reference Elizabeth Warren's ill-judged responses to Trump's repeated "Pocahontas" insults. It's a strangely common trope, wanting to claim some Indigenous ancestry — as if it proves authenticity, or groundedness, or wisdom.
I can't leave this topic without mentioning Karl May, the prolific German author of tales of the American West — who never set foot in North America. Relying on guide books, James Fenimore Cooper's fiction, and other sources, he published a long series of books featuring the Apache warrior Winnetou and his white 'blood-brother' Old Shatterhand. Any German of a certain age has had their views of the American Old West entirely shaped by these fictions. May also used as many as ten different pseudonyms, including Capitan Ramon Diaz de la Escosura and D. Jam — the first a bit of Iberian twaddle and the second a hip hop handle avant la lettre!
Shape shifters, right? Another key aspect of the adventure-identity logic.
Mark
***
ALSO SEE: Josh's BEST 250 ADVENTURES of the 20th CENTURY list, and the A IS FOR ADVENTURE series | Mark on PATRICK McGOOHAN, BATTLESTAR GALACTICA, THE MAN FROM U.N.C.L.E., THE EIGER SANCTION, and THE HONG KONG CAVALIERS.