Crom Your Enthusiasm (14)
By: Tor Aarestad
August 16, 2015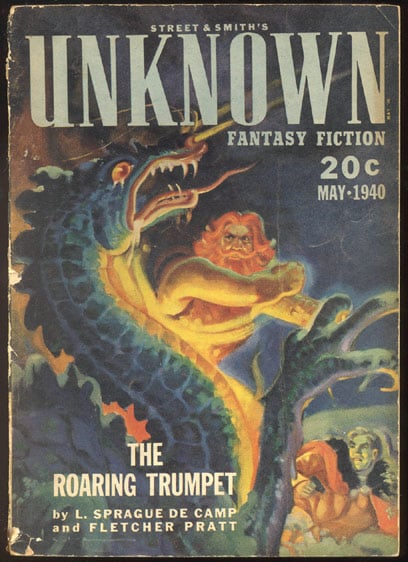 One of 25 installments in a series of posts analyzing and celebrating a few of our favorite fantasy novels from the Thirties (1934–1943). Enjoy!
THE ROARING TRUMPET | L. SPRAGUE DE CAMP AND FLETCHER PRATT | 1940
The conceit of The Roaring Trumpet is that certain baseline conditions structure the scientific and imaginative possibilities available in a given mind and world; the inventory of one's imaginative logical clockwork determines the world in which one lives. When psychologist Reed Chalmers hypothesizes that, rather than forcing a crazy person to adjust his mental logic to the world we take for granted, a doctor might help him transport himself — via symbolic logic — to a world consistent with his worldview, Chalmers's subordinate, Harold Shea, sets about testing this theory. Having made a quick study of the symbolic logic of Irish mythology, Shea drafts a set of equations (a "syllogismobile") designed to transport him there. He gets the equations a bit wrong, though, and instead arrives among the Norse gods, days before Ragnarok.
L. Sprague de Camp, coauthor of this novella and its two sequels, The Mathematics of Magic and The Castle of Iron, which first appeared in the fantasy pulp Unknown, was trained as an aeronautical engineer and dabbled in anthropology and linguistics. (The idea of an underlying logical structure to cultural and linguistic forms sounds like an iteration of Ferdinand de Saussure's ideas, which were bubbling around American linguistics at the time De Camp and Fletcher Pratt were writing these stories.) The syllogismobile is a mental and magical device of radical relativism: No worldview, no form of physics or magic is privileged. The highest form of skill, within this system, is the ability to interpret and deploy each particular set of logical relationships — that is, to figure out which inputs will produce which outputs. Shea's pistol doesn't work among the Aesir, but he enjoys some success working as a wizard.
Although these conceptual issues, and the (playful) seriousness with which the authors took them, have fascinated even the most logically minded of readers for decades, the essence of Harold Shea's character and his adventure is surely what has attracted these stories' most ardent admirers. Shea is intelligent, tall, slender, nearly but not quite handsome: He aspires to be heroic, but is undermined by his colleagues and emasculated by Gert, the only female character of consequence in the story, who meets him for meals only so long as they go dutch. How many bookish, awkward teens — like De Camp himself — have felt themselves to be born into the wrong place, the wrong time? that they are not attractive? How many feel that what they imagine and value is askew from their peers? According to De Camp and Pratt, through an act of rigor and invention you can will yourself to a world in which heroism is a question of craft and cleverness.
***
CROM YOUR ENTHUSIASM (2015): Erik Davis on Jack Williamson's DARKER THAN YOU THINK | Sara Ryan on T.H. White's THE SWORD IN THE STONE | Mark Kingwell on C.S. Lewis's OUT OF THE SILENT PLANET | David Smay on Fritz Leiber's THIEVES' HOUSE | Natalie Zutter on Robert E. Howard's QUEEN OF THE BLACK COAST | James Parker on J.R.R. Tolkien's THE HOBBIT | Adrienne Crew on Dion Fortune's THE SEA PRIESTESS | Gabriel Boyer on Clark Ashton Smith's ZOTHIQUE stories | John Hilgart on H.P. Lovecraft's THE CASE OF CHARLES DEXTER WARD | Barbara Bogaev on William Sloane's TO WALK THE NIGHT | Rob Wringham on Flann O'Brien's THE THIRD POLICEMAN | Dan Fox on Hergé's THE SEVEN CRYSTAL BALLS | Flourish Klink on C.S. Lewis's PERELANDRA | Tor Aarestad on L. Sprague de Camp and Fletcher Pratt's THE ROARING TRUMPET | Anthony Miller on H.P. Lovecraft's THE SHADOW OVER INNSMOUTH | Suzanne Fischer on E.R. Eddison's MISTRESS OF MISTRESSES | Molly Sauter on Herbert Read's THE GREEN CHILD | Diana Leto on Edgar Rice Burroughs's TARZAN AND THE LION MAN | Joshua Glenn on Robert E. Howard's THE HOUR OF THE DRAGON | Andrew Hultkrans on H.P. Lovecraft's AT THE MOUNTAINS OF MADNESS | Lynn Peril on Fritz Leiber's CONJURE WIFE | Gordon Dahlquist on H.P. Lovecraft's THE SHADOW OUT OF TIME | Adam McGovern on C.L. Moore's JIREL OF JOIRY stories | Tom Nealon on Fritz Leiber's TWO SOUGHT ADVENTURE | John Holbo on Robert E. Howard's CONAN MYTHOS.
***
KERN YOUR ENTHUSIASM (2014): ALDINE ITALIC | DATA 70 | TORONTO SUBWAY | JOHNSTON'S "HAMLET" | TODD KLONE | GILL SANS | AKZIDENZ-GROTESK | CALIFORNIA BRAILLE | SHE'S NOT THERE | FAUX DEVANAGARI | FUTURA | JENSON'S ROMAN | SAVANNAH SIGN | TRADE GOTHIC BOLD CONDENSED NO. 20 | KUMON WORKSHEET | ELECTRONIC DISPLAY | DIPLOMA REGULAR | SCREAM QUEEN | CHICAGO | CHINESE SHIPPING BOX | SHATTER | COMIC SANS | WILKINS'S REAL CHARACTER | HERMÈS vs. HOTDOG | GOTHAM.
HERC YOUR ENTHUSIASM (2013): "Spoonin' Rap" | "Rapper's Delight" | "Rappin' Blow" | "The Incredible Fulk" | "The Adventures of Super Rhyme" | "That's the Joint" | "Freedom" | "Rapture" | "The New Rap Language" | "Jazzy Sensation (Bronx Version)" | "Can I Get a Soul Clap" | "The Adventures of Grandmaster Flash on the Wheels of Steel" | "Making Cash Money" | "The Message" | "Pak Jam" | "Buffalo Gals" | "Ya Mama" | "No Sell Out" | "Death Mix Live, Pt. 2" | "White Lines (Don't Do It)" | "Here We Go (Live at the Funhouse)" | "Rockit" | "The Coldest Rap" | "The Dream Team is in the House" | The Lockers.
KIRK YOUR ENTHUSIASM (2012): Justice or vengeance? | Kirk teaches his drill thrall to kiss | "KHAAAAAN!" | "No kill I" | Kirk browbeats NOMAD | Kirk's eulogy for Spock| The joke is on Kirk | Kirk vs. Decker | Good Kirk vs. Evil Kirk | Captain Camelot | Koon-ut-kal-if-fee | Federation exceptionalism | Wizard fight | A million things you can't have | Debating in a vacuum | Klingon diplomacy | "We… the PEOPLE" | Brinksmanship on the brink | Captain Smirk | Sisko meets Kirk | Noninterference policy | Kirk's countdown | Kirk's ghost | Watching Kirk vs. Gorn | How Spock wins
KIRB YOUR ENTHUSIASM (2011): THE ETERNALS | BLACK MAGIC | DEMON | OMAC | CAPTAIN AMERICA | KAMANDI | MACHINE MAN | SANDMAN | THE X-MEN | THE FANTASTIC FOUR | TALES TO ASTONISH | YOUNG LOVE | STRANGE TALES | MISTER MIRACLE | BLACK PANTHER | THOR | JIMMY OLSEN | DEVIL DINOSAUR | THE AVENGERS | TALES OF SUSPENSE | THE NEW GODS | REAL CLUE | THE FOREVER PEOPLE | JOURNEY INTO MYSTERY | 2001: A SPACE ODYSSEY