Herc Your Enthusiasm (9)
By: Andrew Hultkrans
August 8, 2013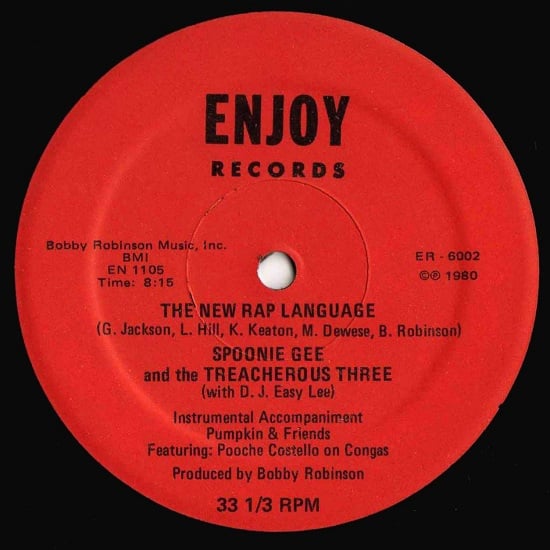 Ninth in a series of posts analyzing and celebrating old-school hip hop.
***
SPOONIE GEE & THE TREACHEROUS THREE | "THE NEW RAP LANGUAGE" | 1980
For MCs who bite
The fast-talking rhymes
They're gonna feast
So get ready to eat
Moe Dee's the originator
So you might as well starve
Cause you can't catch this fast beat
(Hit it, Moe!)
Although it was a constituent element of "golden-age hip-hop," uptempo rhyming has long been relegated to an infrequently heard subgenre and yoked with an artless term of art: "fast rap." Dizzying scorchers like Big Daddy Kane's "Raw," Ultramagnetic MCs' "Ain't It Good to You," Eric B. & Rakim's "Lyrics of Fury," Public Enemy's "Bring the Noise," Organized Konfusion's "Releasing Hypnotical Gases," and Percee P & Ekim's "Lung-Collapsing Lyrics" became thin on the ground in the latter half of the '90s, receding into an endless desert of blunted midtempo tracks that didn't swing and went nowhere.
There was the occasional tremor. Big Pun's scattershot flow pricked up golden-age ears in 1998. Bun B's guest verse on Jay-Z's "Big Pimpin'" stood out in 2000 for being in syncopated double-time. Underground MC/producer Edan released his canon-proposing mix Edan the DJ Presents Fast Rap in 2001. "Ghost Is Back," the lead track on Ghostface Killah's 2006 album More Fish, was an exhilarating fast-rap tribute over the instrumental of Eric B. & Rakim's "Know the Ledge" (1992), its title echoing Kool G Rap's similarly neck-snapping "Kool Is Back" from 1990.
"Fast rap" wouldn't exist (and the golden age wouldn't have benefited from its ear-grabbing urgency) if it weren't for the innovations of old-school Harlem crew the Treacherous Three, led by a quiet, determined wordsmith named Kool Moe Dee. Moe formed the original Treacherous Three in 1978 with fellow Harlem MCs Spoonie Gee and LA Sunshine. Spoonie snuck off one day in 1979 and recorded the first example of "street" rap on wax, "Spoonin' Rap," which became a local neighborhood hit. His casual delivery distinguished his flow from the stentorian, crisply enunciated, radio-jock style most MCs used at the time.
If Spoonie was the "metropolitician of the microphone," Moe was its mental politician — rap's first intellectual. (His lifelong quasi-academic analysis of the art of rap resulted in the 2003 taxonomy There's a God on the Mic: The True 50 Greatest MCs.) Inspired by a throwaway line Kid Creole of the Furious Five said onstage before passing the mic to Melle Mel, Moe invented his quadruple-time style while still in high school, impressing the lunchroom (and future Spoonie replacement Special K) one day over a cut from Herbie Hancock's Head Hunters.
Spoonie's uncle was Bobby Robinson, a longtime Harlem-based producer and record store owner whose Enjoy label became the conduit for some of the earliest rap records. When Bobby agreed to let his nephew record "Love Rap" for Enjoy, Spoonie brought his old crew to rock the flipside. Outside of Guinness Book of World Records oddities by Twista, there are few faster raps than "The New Rap Language," with its relentless Gatling-gun flow—sixteenth-note syllables over eight minutes of funk. The live musical accompaniment (drums, bass, percussion) was the work of prodigious drummer/bandleader Pumpkin (and friends). It's a virtuoso drumming performance — tighter than the Meters' Zigaboo Modeliste (what isn't?) but swinging hard in a simlarly loose fashion (the MCs are more metronomically on the one than Pumpkin). Spoonie manages to sound laid back even at this breakneck pace, but the Treacherous Three just kill it, working variations of Moe's style with precision and force.
In the following year, Moe would demolish reigning Bronx party rapper Busy Bee in a torch-passing battle at Harlem World, his first couplet ushering in rap's lyrical age — "Come on, Busy Bee I don't mean to be bold / but put that ba-diddy-ba bullshit on hold." The speed, syntax, and lyricism Moe demonstrated that fateful night began with "The New Rap Language." We've been catching up ever since.
***
2013: HERC YOUR ENTHUSIASM (old-school hip hop tracks): Luc Sante on "Spoonin' Rap" | Dallas Penn on "Rapper's Delight" | Werner Von Wallenrod on "Rappin' Blow" | DJ Frane on "The Incredible Fulk" | Paul Devlin on "The Adventures of Super Rhyme" | Phil Dyess-Nugent on "That's the Joint" | Adam McGovern on "Freedom" | David Abrams on "Rapture" | Andrew Hultkrans on "The New Rap Language" | Tim Carmody on "Jazzy Sensation (Bronx Version)" | Drew Huge on "Can I Get a Soul Clap" | Oliver Wang on "The Adventures of Grandmaster Flash on the Wheels of Steel" | Douglas Wolk on "Making Cash Money" | Adrienne Crew on "The Message" | Dart Adams on "Pak Jam" | Alex Belth on "Buffalo Gals" | Joshua Glenn on "Ya Mama" | Phil Freeman on "No Sell Out" | Nate Patrin on "Death Mix Live, Pt. 2" | Brian Berger on "White Lines (Don't Do It)" | Cosmo Baker on "Here We Go (Live at the Funhouse)" | Colleen Werthmann on "Rockit" | Roy Christopher on "The Coldest Rap" | Dan Reines on "The Dream Team is in the House" | Franklin Bruno on The Lockers.
HIP HOP ON HILOBROW: HERC YOUR ENTHUSIASM series (25 posts about old-school hip hop) | DJ Kool Herc | Gil Scott-Heron | Slick Rick | Darryl "D.M.C." McDaniels | Afrika Bambaataa | Biz Markie | U-God | Slug | Adam Yauch | Ghostface Killah | DJ Run | Flavor Flav | Scott La Rock | GZA | Schoolly D | Aesop Rock | Terminator X | Notorious B.I.G. | Melle Mel | Doug E. Fresh | Kool Keith | Rick Rubin | Rakim | Ol' Dirty Bastard | Madlib | Talib Kweli | Danger Mouse | Kool Moe Dee | Chuck D | Dizzee Rascal | RZA | Cee-Lo Green | Best Ever Clean Hip Hop
***
2014: KERN YOUR ENTHUSIASM (typefaces): Matthew Battles on ALDINE ITALIC | Adam McGovern on DATA 70 | Sherri Wasserman on TORONTO SUBWAY | Sarah Werner on JOHNSTON'S "HAMLET" | Douglas Wolk on TODD KLONE | Mark Kingwell on GILL SANS | Joe Alterio on AKZIDENZ-GROTESK | Suzanne Fischer on CALIFORNIA BRAILLE | Gary Panter on SHE'S NOT THERE | Deb Chachra on FAUX DEVANAGARI | Peggy Nelson on FUTURA | Tom Nealon on JENSON'S ROMAN | Rob Walker on SAVANNAH SIGN | Tony Leone on TRADE GOTHIC BOLD CONDENSED NO. 20 | Chika Azuma on KUMON WORKSHEET | Chris Spurgeon on ELECTRONIC DISPLAY | Amanda French on DIPLOMA REGULAR | Steve Price on SCREAM QUEEN | Alissa Walker on CHICAGO | Helene Silverman on CHINESE SHIPPING BOX | Tim Spencer on SHATTER | Jessamyn West on COMIC SANS | Whitney Trettien on WILKINS'S REAL CHARACTER | Cintra Wilson on HERMÈS vs. HOTDOG | Jacob Covey on GOTHAM.
2012: KIRK YOUR ENTHUSIASM (Captain Kirk scenes): Dafna Pleban: Justice or vengeance? | Mark Kingwell : Kirk teaches his drill thrall to kiss | Nick Abadzis: "KHAAAAAN!" | Stephen Burt: "No kill I" | Greg Rowland: Kirk browbeats NOMAD | Zack Handlen: Kirk's eulogy for Spock| Peggy Nelson: The joke is on Kirk | Kevin Church: Kirk vs. Decker | Enrique Ramirez: Good Kirk vs. Evil Kirk | Adam McGovern: Captain Camelot | Flourish Klink: Koon-ut-kal-if-fee | David Smay: Federation exceptionalism | Amanda LaPergola: Wizard fight | Steve Schneider: A million things you can't have | Joshua Glenn: Debating in a vacuum | Kelly Jean Fitzsimmons: Klingon diplomacy | Trav S.D.: "We… the PEOPLE" | Matthew Battles: Brinksmanship on the brink | Annie Nocenti: Captain Smirk | Ian W. Hill: Sisko meets Kirk | Gabby Nicasio: Noninterference policy | Peter Bebergal: Kirk's countdown | Matt Glaser: Kirk's ghost | Joe Alterio: Watching Kirk vs. Gorn | Annalee Newitz: How Spock wins
2011: KIRB YOUR ENTHUSIASM (Jack Kirby panels): Douglas Rushkoff on THE ETERNALS | John Hilgart on BLACK MAGIC | Gary Panter on DEMON | Dan Nadel on OMAC | Deb Chachra on CAPTAIN AMERICA | Mark Frauenfelder on KAMANDI | Jason Grote on MACHINE MAN | Ben Greenman on SANDMAN | Annie Nocenti on THE X-MEN | Greg Rowland on THE FANTASTIC FOUR | Joshua Glenn on TALES TO ASTONISH | Lynn Peril on YOUNG LOVE | Jim Shepard on STRANGE TALES | David Smay on MISTER MIRACLE | Joe Alterio on BLACK PANTHER | Sean Howe on THOR | Mark Newgarden on JIMMY OLSEN | Dean Haspiel on DEVIL DINOSAUR | Matthew Specktor on THE AVENGERS | Terese Svoboda on TALES OF SUSPENSE | Matthew Wells on THE NEW GODS | Toni Schlesinger on REAL CLUE | Josh Kramer on THE FOREVER PEOPLE | Glen David Gold on JOURNEY INTO MYSTERY | Douglas Wolk on 2001: A SPACE ODYSSEY | MORE EXEGETICAL COMMENTARIES: Joshua Glenn on Kirby's Radium Age Sci-Fi Influences | Chris Lanier on Kirby vs. Kubrick | Scott Edelman recalls when the FF walked among us | Adam McGovern is haunted by a panel from THE NEW GODS | Matt Seneca studies the sensuality of Kirby's women | Btoom! Rob Steibel settles the Jack Kirby vs. Stan Lee question | Galactus Lives! Rob Steibel analyzes a single Kirby panel in six posts | Danny Fingeroth figgers out The Thing | Adam McGovern on four decades (so far) of Kirby's "Fourth World" mythos | Jack Kirby: Anti-Fascist Pipe Smoker