Crom Your Enthusiasm (23)
By: Adam McGovern
August 25, 2015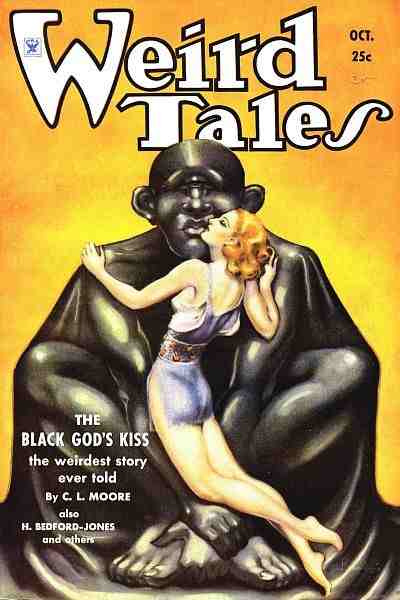 One of 25 installments in a series of posts analyzing and celebrating a few of our favorite fantasy novels from the Thirties (1934–1943). Enjoy!
"JIREL OF JOIRY" STORIES | C.L. MOORE | 1934–39
After you accept a female knight/noble who runs a fiercely loyal fighting force out of a stronghold in medieval France, believing in ghosts and demonic gods and shapeshifting wizards and alternate dimensions is easy. Or at least it was no leap for the visionary science fiction writer C. L. Moore, who crossed continuums into fantasy by creating the warlord Jirel of Joiry.
Appearing in stories from 1934–39, Jirel travels to other dimensions and encounters dark-matter landscapes and sentient universes that we recognize from quantum theory and she sees as magic. By expressing this terrible wonder through her semi-barbaric heroine's frame of understanding, Moore is commenting on the kind of prehistory in which all social outliers find themselves trapped. Moore herself, a writer of game-changing talent and then-uncommon gender, blazed trails in directions no one yet knew existed, and Jirel ran ahead of her.
Moore's style is a ballad-slam of hypersensory description, serpentine in high-frequency alliteration and assonance, propelling of the narrative while saturating in the impressions of how it all feels. Jirel's heroics are uncommonly without delusions of valor; contextual asides inform us of her torture chambers, "as blood-stained as any of her neighbors'," and of her bloodthirsty thrill of battle, and the entire plotline of each story usually fans out from some honor-murder she has sworn to herself to commit. This is what we really know about medieval proto-society, not what we've heard in glamorized chivalric folklore, and it's significant to compare the honesty of Moore's feminist fantasy with the self-sanitizing deeper fiction of the male-driven variety.
Jirel's are the most surprisingly psychoanalytic of action stories. Jirel lives by sensation and intuition, but she is tormented by one sorceress foe by being forced to revisit a repressed memory in a kind of magical VR; in two other stories she visits a "hell" which is clearly (to us) a topographized subconscious, in which she fights through dark forests of depression. In those and other stories Jirel draws on a kind of martial mantra to withstand psychic assault, tapping a reservoir of intense emotion that makes her feel alive and vital. She survives by the physical, and is shown intimidating potential foes with both her combat skills and sexual presence — one story starts with her signaling dominance to the denizens of an eerie castle with a display of her sculpted figure alone, then ending up fighting the phantom they serve with her sheer consciousness, separated from her physical form.
Jirel's body is the armor of her mind.
***
CROM YOUR ENTHUSIASM (2015):
Erik Davis on Jack Williamson's
DARKER THAN YOU THINK
| Sara Ryan on T.H. White's
THE SWORD IN THE STONE
| Mark Kingwell on C.S. Lewis's
OUT OF THE SILENT PLANET
| David Smay on Fritz Leiber's
THIEVES' HOUSE
| Natalie Zutter on Robert E. Howard's
QUEEN OF THE BLACK COAST
| James Parker on J.R.R. Tolkien's
THE HOBBIT
| Adrienne Crew on Dion Fortune's
THE SEA PRIESTESS
| Gabriel Boyer on Clark Ashton Smith's
ZOTHIQUE stories
| John Hilgart on H.P. Lovecraft's
THE CASE OF CHARLES DEXTER WARD
| Barbara Bogaev on William Sloane's
TO WALK THE NIGHT
| Rob Wringham on Flann O'Brien's
THE THIRD POLICEMAN
| Dan Fox on Hergé's
THE SEVEN CRYSTAL BALLS
| Flourish Klink on C.S. Lewis's
PERELANDRA
| Tor Aarestad on L. Sprague de Camp and Fletcher Pratt's
THE ROARING TRUMPET
| Anthony Miller on H.P. Lovecraft's
THE SHADOW OVER INNSMOUTH
| Suzanne Fischer on E.R. Eddison's
MISTRESS OF MISTRESSES
| Molly Sauter on Herbert Read's
THE GREEN CHILD
| Diana Leto on Edgar Rice Burroughs's
TARZAN AND THE LION MAN
| Joshua Glenn on Robert E. Howard's
THE HOUR OF THE DRAGON
| Andrew Hultkrans on H.P. Lovecraft's
AT THE MOUNTAINS OF MADNESS
| Lynn Peril on Fritz Leiber's
CONJURE WIFE
| Gordon Dahlquist on H.P. Lovecraft's
THE SHADOW OUT OF TIME
| Adam McGovern on C.L. Moore's
JIREL OF JOIRY
stories | Tom Nealon on Fritz Leiber's
TWO SOUGHT ADVENTURE
| John Holbo on Robert E. Howard's
CONAN MYTHOS
.
***
KERN YOUR ENTHUSIASM (2014):
ALDINE ITALIC
|
DATA 70
|
TORONTO SUBWAY
|
JOHNSTON'S "HAMLET"
|
TODD KLONE
|
GILL SANS
|
AKZIDENZ-GROTESK
|
CALIFORNIA BRAILLE
|
SHE'S NOT THERE
|
FAUX DEVANAGARI
|
FUTURA
|
JENSON'S ROMAN
|
SAVANNAH SIGN
|
TRADE GOTHIC BOLD CONDENSED NO. 20
|
KUMON WORKSHEET
|
ELECTRONIC DISPLAY
|
DIPLOMA REGULAR
|
SCREAM QUEEN
|
CHICAGO
|
CHINESE SHIPPING BOX
|
SHATTER
|
COMIC SANS
|
WILKINS'S REAL CHARACTER
|
HERMÈS vs. HOTDOG
|
GOTHAM
.
HERC YOUR ENTHUSIASM (2013): "Spoonin' Rap" | "Rapper's Delight" | "Rappin' Blow" | "The Incredible Fulk" | "The Adventures of Super Rhyme" | "That's the Joint" | "Freedom" | "Rapture" | "The New Rap Language" | "Jazzy Sensation (Bronx Version)" | "Can I Get a Soul Clap" | "The Adventures of Grandmaster Flash on the Wheels of Steel" | "Making Cash Money" | "The Message" | "Pak Jam" | "Buffalo Gals" | "Ya Mama" | "No Sell Out" | "Death Mix Live, Pt. 2" | "White Lines (Don't Do It)" | "Here We Go (Live at the Funhouse)" | "Rockit" | "The Coldest Rap" | "The Dream Team is in the House" | The Lockers.
KIRK YOUR ENTHUSIASM (2012): Justice or vengeance? | Kirk teaches his drill thrall to kiss | "KHAAAAAN!" | "No kill I" | Kirk browbeats NOMAD | Kirk's eulogy for Spock| The joke is on Kirk | Kirk vs. Decker | Good Kirk vs. Evil Kirk | Captain Camelot | Koon-ut-kal-if-fee | Federation exceptionalism | Wizard fight | A million things you can't have | Debating in a vacuum | Klingon diplomacy | "We… the PEOPLE" | Brinksmanship on the brink | Captain Smirk | Sisko meets Kirk | Noninterference policy | Kirk's countdown | Kirk's ghost | Watching Kirk vs. Gorn | How Spock wins
KIRB YOUR ENTHUSIASM (2011): THE ETERNALS | BLACK MAGIC | DEMON | OMAC | CAPTAIN AMERICA | KAMANDI | MACHINE MAN | SANDMAN | THE X-MEN | THE FANTASTIC FOUR | TALES TO ASTONISH | YOUNG LOVE | STRANGE TALES | MISTER MIRACLE | BLACK PANTHER | THOR | JIMMY OLSEN | DEVIL DINOSAUR | THE AVENGERS | TALES OF SUSPENSE | THE NEW GODS | REAL CLUE | THE FOREVER PEOPLE | JOURNEY INTO MYSTERY | 2001: A SPACE ODYSSEY