Kern Your Enthusiasm (17)
By: Amanda French
August 17, 2014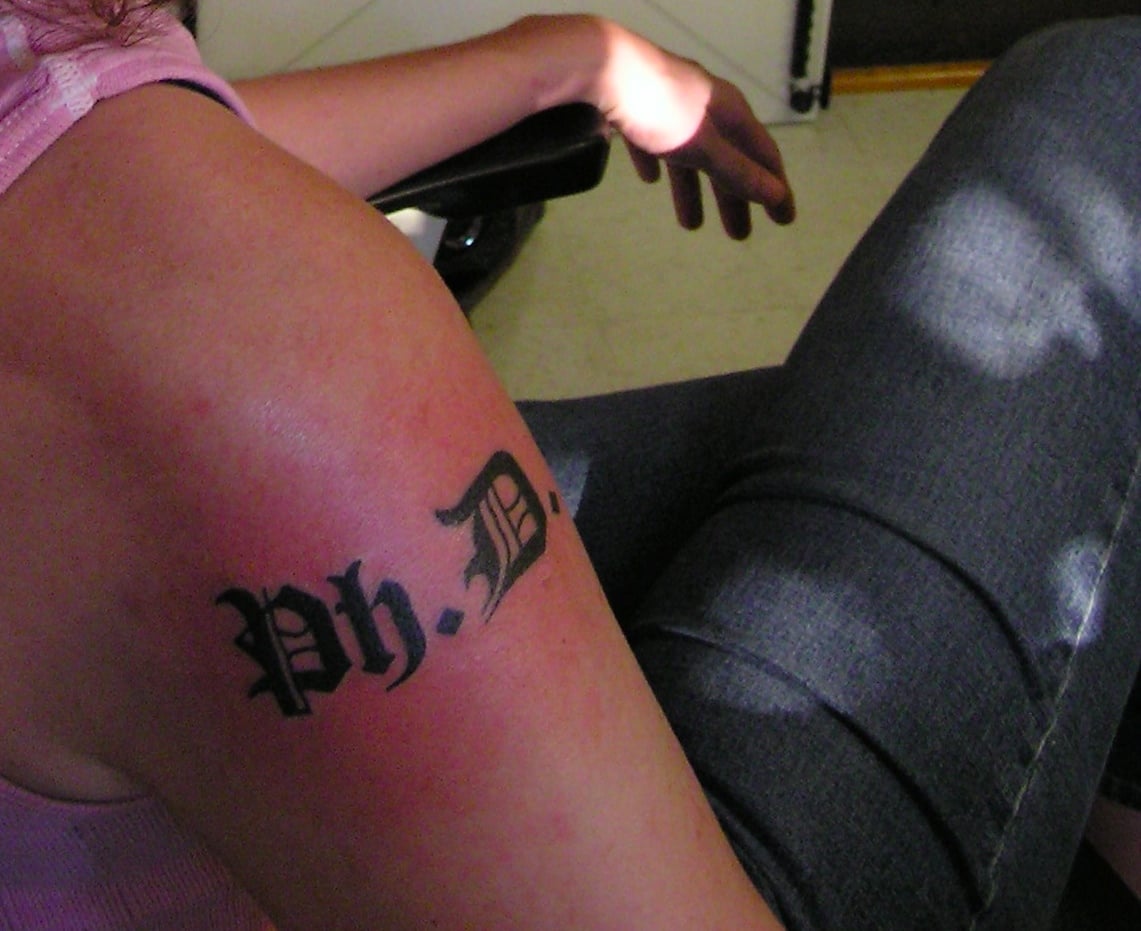 One of 25 installments in a series of posts analyzing and celebrating a few of our favorite (and least favorite) typefaces.
DIPLOMA REGULAR | DESIGNER: UNKNOWN | 1993 (DERIVED FROM 12TH-CENTURY BLACKLETTER)
In 2004, a few days after I successfully defended my University of Virginia Ph.D. dissertation in English Language and Literature, I arranged a trip to a tattoo parlor in Charlottesville to mark the occasion appropriately. I found the typeface I wanted for free online. It can still be found on sites such as Fonts2U.com (and is not to be confused with a similarly named typeface by a Toronto design firm). Using Microsoft Word 97, I generated a document containing two different sizes of "Ph.D." in Diploma Regular — one in 96 points and one in 84 points — since I wasn't sure which size would fit best on my shoulder. At Acme Tattoo, I handed the printout to the artist, and he began his careful corporeal calligraphy.
It surprises me that some people get textual tattoos without specifying the typeface. A friend of mine had "Not all who wander are lost" tattooed on her shoulder blade and let the artist do whatever he wanted: amazing. Even Shelley Jackson, whose 2095-word story "Skin" began in 2003 to be tattooed word by word on the bodies of willing participants, didn't specify a typeface, merely stipulating that "Tattoos must be in black ink and a classic book font."
In a sense, blackletter typefaces like Diploma Regular are some of the most classic book fonts of all time: the first typefaces used by Gutenberg and Caxton were blackletter skeuomorphs that imitated monkish script. But both handwritten and typeset blackletter were hard to read and hard on the ink supply, so in the early fifteenth century the type of script known as "humanist minuscule" was developed to replace the barbaric Gothic of blackletter with a purer classical form. Such "Roman" scripts would ultimately be models for Roman typefaces. Most European countries adopted Roman type as their default at the end of the sixteenth century, but German scholarly and literary texts were printed in blackletter for centuries thereafter — at least until a 1941 Nazi edict banned its use in publishing, although some Nazi stationery remained in blackletter.
I knew little of that history when I chose Diploma Regular for my tattoo. I chose it because universities use blackletter for their diplomas, and have done so for centuries. My tattoo, and the degree it represents, indelibly links me in indelible ink to a nine-hundred-year-old scholastic tradition of writing and reading. Diploma Regular and its many "Gothic" or "German blackletter" or (inaccurately) "Old English" cousins strongly suggest antiquity and authority and pomp and rigidity, and for that very reason they suggest defiant misbehavior when deliberately used incongruously, as in the logo of The Pirate Bay or in heavy metal logos. I am not nearly as defiantly mischievous as that, but my tattoo in Diploma Regular is a joke that everyone gets. My "Ph.D." hurt a little, but it needn't always be taken seriously.
Photograph by Devon Sproule, 2004.
***
2014: KERN YOUR ENTHUSIASM (typefaces):
Matthew Battles on
ALDINE ITALIC
| Adam McGovern on
DATA 70
| Sherri Wasserman on
TORONTO SUBWAY
| Sarah Werner on
JOHNSTON'S "HAMLET"
| Douglas Wolk on
TODD KLONE
| Mark Kingwell on
GILL SANS
| Joe Alterio on
AKZIDENZ-GROTESK
| Suzanne Fischer on
CALIFORNIA BRAILLE
| Gary Panter on
SHE'S NOT THERE
| Deb Chachra on
FAUX DEVANAGARI
| Peggy Nelson on
FUTURA
| Tom Nealon on
JENSON'S ROMAN
| Rob Walker on
SAVANNAH SIGN
| Tony Leone on
TRADE GOTHIC BOLD CONDENSED NO. 20
| Chika Azuma on
KUMON WORKSHEET
| Chris Spurgeon on
ELECTRONIC DISPLAY
| Amanda French on
DIPLOMA REGULAR
| Steve Price on
SCREAM QUEEN
| Alissa Walker on
CHICAGO
| Helene Silverman on
CHINESE SHIPPING BOX
| Tim Spencer on
SHATTER
| Jessamyn West on
COMIC SANS
| Whitney Trettien on
WILKINS'S REAL CHARACTER
| Cintra Wilson on
HERMÈS vs. HOTDOG
| Jacob Covey on
GOTHAM
.
***
2013: HERC YOUR ENTHUSIASM (old-school hip hop tracks):
LUC SANTE on
Spoonie Gee's "Spoonin' Rap" (1979)
| DALLAS PENN on
Sugar Hill Gang's "Rapper's Delight"
(1979) | WERNER VON WALLENROD on
Kurtis Blow's "Rappin' Blow"
(1979) | DJ FRANE on
Blowfly's "The Incredible Fulk"
(1980) | PAUL DEVLIN on
Jimmy Spicer's "The Adventures of Super Rhyme"
(1980) | PHIL DYESS-NUGENT on
Funky 4 + 1's "That's the Joint"
(1980) | ADAM McGOVERN on
Grandmaster Flash & The Furious 5's "Freedom"
(1980) | DAVID ABRAMS on
Blondie's "Rapture"
(1980) | ANDREW HULTKRANS on
Treacherous Three & Spoonie Gee's "The New Rap Language"
(1980) | TIM CARMODY on
Afrika Bambaataa & The Jazzy 5's "Jazzy Sensation (Bronx Version)"
(1981) | DREW HUGE on
Grand Wizard Theodore & The Fantastic Five's "Can I Get a Soul Clap"
(1981) | OLIVER WANG on
Grandmaster Flash's "The Adventures of Grandmaster Flash on the Wheels of Steel"
| DOUGLAS WOLK on
Busy Bee's "Making Cash Money"
(1982) | ADRIENNE CREW on
Grandmaster Flash & The Furious 5 (featuring Melle Mel and Duke Bootee)'s "The Message"
(1982) | DART ADAMS on
The Jonzun Crew's "Pak Jam"
(1982) | ALEX BELTH on
Malcolm McLaren & The World's Famous Supreme Team's "Buffalo Gals"
(1982) | JOSHUA GLENN on
Wuf Ticket's "Ya Mama"
(1982) | PHIL FREEMAN on
Malcolm X with Keith LeBlanc's "No Sell Out"
(1983) | NATE PATRIN on
Afrika Bambaataa's "Death Mix Live, Pt. 2"
(1980/1983) | BRIAN BERGER on
Grandmaster & Melle Mel's "White Lines (Don't Do It)"
(1983) | COSMO BAKER on
Run DMC's "Here We Go (Live at the Funhouse)"
(1983/1985) | COLLEEN WERTHMANN on
Herbie Hancock's "Rockit"
(1983) | ROY CHRISTOPHER on
Ice-T's "The Coldest Rap"
(1983) | DAN REINES on
L.A. Dream Team's "The Dream Team is in the House"
(1985) | FRANKLIN BRUNO on
The Lockers
.
2012: KIRK YOUR ENTHUSIASM (Captain Kirk scenes): Dafna Pleban: Justice or vengeance? | Mark Kingwell : Kirk teaches his drill thrall to kiss | Nick Abadzis: "KHAAAAAN!" | Stephen Burt: "No kill I" | Greg Rowland: Kirk browbeats NOMAD | Zack Handlen: Kirk's eulogy for Spock| Peggy Nelson: The joke is on Kirk | Kevin Church: Kirk vs. Decker | Enrique Ramirez: Good Kirk vs. Evil Kirk | Adam McGovern: Captain Camelot | Flourish Klink: Koon-ut-kal-if-fee | David Smay: Federation exceptionalism | Amanda LaPergola: Wizard fight | Steve Schneider: A million things you can't have | Joshua Glenn: Debating in a vacuum | Kelly Jean Fitzsimmons: Klingon diplomacy | Trav S.D.: "We… the PEOPLE" | Matthew Battles: Brinksmanship on the brink | Annie Nocenti: Captain Smirk | Ian W. Hill: Sisko meets Kirk | Gabby Nicasio: Noninterference policy | Peter Bebergal: Kirk's countdown | Matt Glaser: Kirk's ghost | Joe Alterio: Watching Kirk vs. Gorn | Annalee Newitz: How Spock wins
2011: KIRB YOUR ENTHUSIASM (Jack Kirby panels): Douglas Rushkoff on THE ETERNALS | John Hilgart on BLACK MAGIC | Gary Panter on DEMON | Dan Nadel on OMAC | Deb Chachra on CAPTAIN AMERICA | Mark Frauenfelder on KAMANDI | Jason Grote on MACHINE MAN | Ben Greenman on SANDMAN | Annie Nocenti on THE X-MEN | Greg Rowland on THE FANTASTIC FOUR | Joshua Glenn on TALES TO ASTONISH | Lynn Peril on YOUNG LOVE | Jim Shepard on STRANGE TALES | David Smay on MISTER MIRACLE | Joe Alterio on BLACK PANTHER | Sean Howe on THOR | Mark Newgarden on JIMMY OLSEN | Dean Haspiel on DEVIL DINOSAUR | Matthew Specktor on THE AVENGERS | Terese Svoboda on TALES OF SUSPENSE | Matthew Wells on THE NEW GODS | Toni Schlesinger on REAL CLUE | Josh Kramer on THE FOREVER PEOPLE | Glen David Gold on JOURNEY INTO MYSTERY | Douglas Wolk on 2001: A SPACE ODYSSEY | MORE EXEGETICAL COMMENTARIES: Joshua Glenn on Kirby's Radium Age Sci-Fi Influences | Chris Lanier on Kirby vs. Kubrick | Scott Edelman recalls when the FF walked among us | Adam McGovern is haunted by a panel from THE NEW GODS | Matt Seneca studies the sensuality of Kirby's women | Btoom! Rob Steibel settles the Jack Kirby vs. Stan Lee question | Galactus Lives! Rob Steibel analyzes a single Kirby panel in six posts | Danny Fingeroth figgers out The Thing | Adam McGovern on four decades (so far) of Kirby's "Fourth World" mythos | Jack Kirby: Anti-Fascist Pipe Smoker