49th PARALLEL (18)
By: Mark Kingwell
February 27, 2023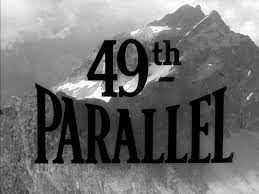 University of Toronto philosopher Mark Kingwell and HILOBROW's Josh Glenn are coauthors of The Idler's Glossary (2008), The Wage Slave's Glossary (2011), and The Adventurer's Glossary (2021). While researching and writing their respective sections of the latter book, they engaged in an epistolary exchange about real-world and fictional adventures. (As intended, passages from this exchange appear verbatim in the book.) Via the series 49th PARALLEL, the title of which references not only Mark and Josh's cross-border collaboration but one of their favorite WWII movies, HILOBROW is pleased to share a lightly edited version of their adventure-oriented exchange with our readers.
49th PARALLEL: FULL OF BEANS | DERRING-DO | ON THE BEAM | A WIZARD DODGE | RURITANIA | ROBINSONADE | CAMARADERIE | WISH I WERE HERE | PICARESQUE | TILTING AT WINDMILLS | PLUCK | SKOOKUM | SAGAMAN | HOT-SHOT | CUT AND RUN | THE WORST ANGELS OF OUR NATURE | ACUMEN | APOPHENIA | ESCAPADE | I AM NOT A NUMBER | HEAD-SHOT CIRCUS | 86 | GAMBIT | PLAY THE GAME | HAYWIRE | REPETITION.
---
APOPHENIA
---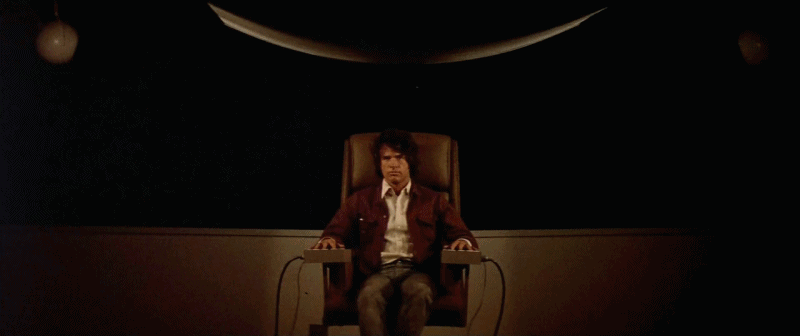 23rd August, 2019
TORONTO
I keep thinking of the ever-renewing urgency of explanation. That is, why are things the way they are, how do I fit within their arrangements, who and what am I?
The link from Nabokov to PKD to Ridley Scott to Denis Villeneuve is crooked and strange, but somehow feels right. It confers a retroactive sense of alignment, the same way that — I think — reflections on personal identity do. Ah, right! That is how things hang together, and how I hang within them, however mysteriously and contingently. And obviously, certain images will recur and ground these reflections: the gushing fountain, 2001's black slab, Kane's Rosebud, the Maltese Falcon. These are of course MacGuffins, in a basic narrative sense, but also much more than that: oneiric hauntings, intimations of mortality and meaning, strange signs across time. (If you favour a Lacanian take on all this, Zizek's Looking Awry [1991] is excellent.)
This makes me think that there should be a sub-trope of adventures known as APOPHENIC. When psychologist Klaus Conrad coined the term apophenia in the 1950s, he attributed this tendency to perceive hidden connections between everything to an underlying delusion. But isn't that 'delusion' just what is premised as basic in human understanding? I mean the very idea that things might, or should, make sense. Because, after all, if they don't, we are once more thrown upon the crashing waves of chaos. Thus, it seems to me, the power of early Pynchon in almost the same period in which Conrad is diagnosing delusion, but with a dose of Sixties hipster-anxiety layered on top of Fifties post-war scientific optimism. Deep connectivity is not a delusion if it's true, just like you're not being paranoid if they are really out to get you. The Crying of Lot 49 (1966) is absolutely an adventure story, an apophenic one, an unravelling of signs and portents promising revelation. So is Gravity's Rainbow (1973), though less purely so. We could multiply the examples, in all media; I know you have given this some thought in the past. What are your favourite apophenic tales?
Of course, the 'paranoid style in American politics', as Richard Hofstadter memorably called it, is a volatile commodity. It fuels conspiracy theories, bizarre Pizzagate-style news memes, and other kinds of bad craziness. But the urge to make sense — to believe that the world in fact does make sense, despite all efforts to obscure that — resides deep in the human soul. Pursuing meaning is, in some respect, the most basic adventure of all.
Okay, end of metaphysical stuff (for now). It seems to me that the TREASURE HUNT is an elegant mixture of key elements found elsewhere in the canon: danger and violence, yes, plus puzzle-solving (maps*, caves, interment of chests, all excellent!) and, not least, the prospect of instant wealth. This is capitalism without work! I'd speculate, then, that the invisible prison driving and countering the HUNT is capitalism with work, i.e., making money the old-fashioned way, by earning it. Check out this Smith Barney ad from the 1980s, featuring actor John Houseman, who played the arrogant Harvard law professor, Kingsfield, in The Paper Chase (both film and TV series).
Note the CHASE! Law school at an elite school is a competition, an agony. So is getting and spending. That's why 'winning' at these games/chases feels so good — unless you have the courage of Timothy Bottoms, in the final scene of the original film, when he throws his grade report into the ocean. The false treasure is thus consigned to the deep! (Note, though, the dramatic irony: the audience knows that he has done well, despite his affair with Prof. Kingsfield's daughter. This is satisfying: abnegation of false striving, but with victory anyway.)
* Before I forget, a word about maps. These are inherently thrilling, I think, especially when included as endpapers in a book of adventure or hunt. They presage the drama, priming us for way-finding and coordinate-fixing. Especially in our age of smartphone-GPS, map-reading is a difficult, maybe disappearing, skill. But then, always, we recall Alfred Korzybski's warning that "the map is not the territory." And yet, what else do we have to go on? I mentioned D&D in a previous post, and it seems obvious to me that a large part of the appeal of that game, once a character was up and running, was the tension between the map held in secret by the DM and the attempts, halting and often deadly, of the players to explore, map, and plunder the dungeon levels. One of my biggest regrets is that I did not rescue my binder of some 28 graph-paper dungeon levels from my parents' house in Winnipeg, having gone blithely off to university. They trashed it, naturally — no use or value to them.
Some passing points I will just applaud:
(1) excellent notice of association between intelligence and sharp weapons. "Not the sharpest knife in the drawer" is (forgive me) something I still say about people I don't think are very clever. Sharp, keen, acute, penetrating — this is all terrific.
(2) I like the idea of Scottish canniness being a governing inspiration for all those writers. We could add Muriel Spark as a non-adventure adventure novelist. The Girls of Slender Means (1963) is superlative, a kind of wartime anti-adventure. Likewise Loitering with Intent (1981) and A Far Cry from Kensington (1988). Scots do indeed pride themselves on their guile and shape-shifting, their subversive presence within the Anglosphere. Many great engineers among them too, both factual (Watt, Maxwell, Bell) and fictional (Star Trek's Mr. Scott). Engineering and inventing as adventures of mind and material?
Final thought: I have been thinking about the idea of deciphering as intellectual adventure, though sometimes joined to the physical kind. Indiana Jones is appealing for just this combination, as you say. But then, when we scale deciphering for the purpose of, say, cracking the Enigma code, we get Bletchley Park, the first real 'difference engines', and the origins of coding and AI. Now, it's not so much an adventure, or something confined to one clever person (maybe plus CRACKERJACK crew), but of state and corporate interest. Now we are tossed back into the Pynchonium. They write the code (because that is what They always do!). Meanwhile, we just fool with the friendly GUI, which always works to veil us from the guts of the machine…
Mark
MORE APOPHENIA: Josh's APOPHENIC ADVENTURES | APOPHENIC 9/11 | A MASONIC TOOL | CHARLES FORT | GLASNOST | APOPHENIC ADVENTURE.
***
ALSO SEE: Josh's BEST 250 ADVENTURES of the 20th CENTURY list, and the A IS FOR ADVENTURE series | Mark on PATRICK McGOOHAN, BATTLESTAR GALACTICA, THE MAN FROM U.N.C.L.E., THE EIGER SANCTION, and THE HONG KONG CAVALIERS.