49th PARALLEL (16)
By: Mark Kingwell
February 21, 2023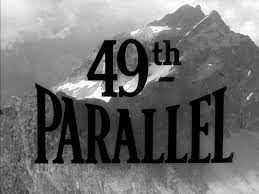 University of Toronto philosopher Mark Kingwell and HILOBROW's Josh Glenn are coauthors of The Idler's Glossary (2008), The Wage Slave's Glossary (2011), and The Adventurer's Glossary (2021). While researching and writing their respective sections of the latter book, they engaged in an epistolary exchange about real-world and fictional adventures. (As intended, passages from this exchange appear verbatim in the book.) Via the series 49th PARALLEL, the title of which references not only Mark and Josh's cross-border collaboration but one of their favorite WWII movies, HILOBROW is pleased to share a lightly edited version of their adventure-oriented exchange with our readers.
49th PARALLEL: FULL OF BEANS | DERRING-DO | ON THE BEAM | A WIZARD DODGE | RURITANIA | ROBINSONADE | CAMARADERIE | WISH I WERE HERE | PICARESQUE | TILTING AT WINDMILLS | PLUCK | SKOOKUM | SAGAMAN | HOT-SHOT | CUT AND RUN | THE WORST ANGELS OF OUR NATURE | ACUMEN | APOPHENIA | ESCAPADE | I AM NOT A NUMBER | HEAD-SHOT CIRCUS | 86 | GAMBIT | PLAY THE GAME | HAYWIRE | REPETITION.
---
THE WORST ANGELS OF OUR NATURE
---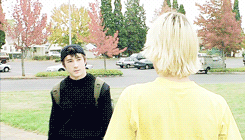 19th August, 2019
NEW HAMPSHIRE
Speaking of adventures, our 12-hour drive here from Toronto featured a massive traffic jam at the border and then eight or so hours of terrifying driving in crazy thunderstorms, visibility sometimes near zero, lightning flashing in every direction. Then the nicest feeling ever, arriving at a rural destination warm with light and welcome, not to mention food and wine and soft beds. There is no comfort greater than that enjoyed after adversity, even of the mildest kind.
So much in your latest! The bravery/courage distinction is useful, because it highlights all those standard lines found in war movies and songs: "Don't be a hero." Heroes, in the pejorative bravado sense, are dangerous. They risk their own comrades, and sometimes the mission. It's an ego-trip, a bad narrative. And maybe it's not much of a hop from that to the lone-gunman self-appointed avenger we have come to loathe as all too familiar: the disgruntled incel, the anti-black crusader, the spree cop-killer, the kid-culler. To invert Lincoln's words, these are the very worst angels of our nature. In their hands, our ploughshares shall become swords — or, usually, bump-stock AR-16s with oversize mags.
BTW, I note some online memes about people warning others not to be WORK HEROES, otherwise known as workaholics. I will just gesture at the previous glossaries on this point. Self-sacrifice in the service of a bad cause is not virtue! Darker fact: the term "an hero" has been code for suicide since a 2006 MySpace page used the term to mourn the self-inflicted death of Mitchell Henderson. The visual memes on that one are very depressing…
Anyway. Since we're both intellectuals, albeit with adventuresome streaks, it's no wonder we both favour the wit and guile of more subtle characters. Holmes, Wimsey, and Tintin should be on a badge somewhere. And, as you say, it's wit plus wits. These stories are funnier and more engaging, even as they are more intricate and clever, than blustering adventure yarns. No surprise that many of them involve puzzles or mysteries. Solving these is a kind of intellectual adventure, like a chess game or a sneaky maze. I'd like to rope in Martin Amis here, especially Success (1978) and Money (1984), which feature unreliable first-person narrators, picaresque yet degraded 'action' in London or New York, and surprising denouements. This is very grown-up fiction that might not obviously seem akin to the straight-up adventure literature, but I bet Amis read most of the same stuff we did (well, he read everything, so that's redundant). Amis makes getting drunk into an adventure tale, which I guess it sometimes is.
Maybe we need a term for this kind of meta-riff on adventure?
SURVIVAL is obviously the most basic adventure, the baseline of Maslow's Hierarchy of Needs. Making it dramatic and not just gruelling is an art. I think of two stories that haunted my childhood: Jack London's "To Build a Fire" (1908), and Carl Stephenson's "Leiningen Versus the Ants" (1938). Both are terrifying tales of human will pitted against the mute but implacable forces of nature. I think of them whenever I step into a river to fish. Respect the water; because it doesn't give a damn about you.
And for a high-lit (in)version of RURITANIA, how about George Saunders's brilliant short story "My Chivalric Fiasco" (2011), in which a Medieval theme park employee is given a drug, KnightLyfe, that makes him talk and behave like a champion of high chivalry, bent on avenging the honour of an (actually) raped co-worker. The story works by way of sly linguistic shifts, from the boredom of enervating tourist employment to the flowery style of integrity and courtly courage — followed by hangover and withdrawal. And yes, Pale Fire absolutely! We might add another Nabokov favourite of mine, Pnin (1957), which is the very model of an anti-heroic quest narrative, which nevertheless manages to be poignant as well as funny.
Speaking of anti-heroes, in my first-year fiction-and-philosophy class, I like to teach a series of stories and books that explore this theme by way of existential and/or identity crisis of one sort or another: The Death of Ivan Ilyich, "Bartleby the Scrivener," The Secret Sharer, The Trial, The Fall. The students, themselves struggling with emergent identity and (mostly) weaned on YA adventure lit of some kind, absolutely LOVE this stuff. I hope they leave this class with their minds reeling and their hearts full of fire!
Sidenote, only if you're interested: do you buy that Blade Runner 2049 is a riff on Pale Fire? Discuss!
Second sidenote: is Rick Deckard the ultimate anti-hero, a state-sanctioned assassin who does not know who, or what, he is?
Third sidenote: the recurring trope of double- and triple-agenting in spy fiction. Do I ever even know who I'm working for? Even otherwise garish sex-and-violence capers like Atomic Blonde (2017) are elevated by twists in the tale concerning ultimate loyalty.
Mark
***
ALSO SEE: Josh's BEST 250 ADVENTURES of the 20th CENTURY list, and the A IS FOR ADVENTURE series | Mark on PATRICK McGOOHAN, BATTLESTAR GALACTICA, THE MAN FROM U.N.C.L.E., THE EIGER SANCTION, and THE HONG KONG CAVALIERS.