NERD YOUR ENTHUSIASM (7)
By: Mark Kingwell
October 21, 2021
One in a series of 25 enthusiastic posts, contributed by 25 HILOBROW friends and regulars, on the topic of (one of) their nerdy obsessions.
*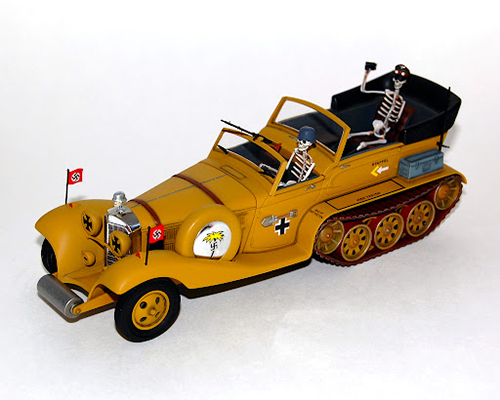 SCALE MODELS
When I was sixteen I was a card-carrying member of two august clubs: the National Hot Rod Association, and the grandly styled International Plastic Modellers Society. I went to meetings of the latter every month. On Saturday afternoons I also took a 40-minute bus ride to a hobby shop in downtown Winnipeg where the proprietor, Bill, let us assemble plastic models in the basement below the retail space.
By then I had been constructing detailed polystyrene replicas of cars and planes for five years, with Testors glue and paint fumes enveloping my small work space. Enrolled in a serious grease-monkey auto shop class in middle school, I was grateful that the resident cranker kept us away from real cars and instead let us assemble kits from Revell, Monogram, and AMT over a big shared table. Thus Don "Big Daddy" Garlits and his Top Fuel dragster, the gorgeous gull-wing Mercedes-Benz 300 SL, a Bullitt-style fastback Ford Mustang, and my favourite, Rommel's Rod, a souped-up German desert-campaign halftrack with a skeleton field marshal in back (what?!).
Down at Bill's Basement, meanwhile, I was a serious historical perfectionist. The meticulous Japanese Tamiya company was our lodestar, and learning small techniques like how to make a 1/24 scale jerry can look dented, or to depict weather-beaten skin, occupied us. As an air force brat, I wanted the markings and details on my F-86 Sabre or P-2 Neptune to be perfect. My father, then a flight lieutenant in the RCAF, gave me for Christmas one year a beautiful P-51 Mustang model at 1/48 scale. It had spring-loaded bomb releases and a sliding canopy, plus the need for an airbrush paint job I could never get right.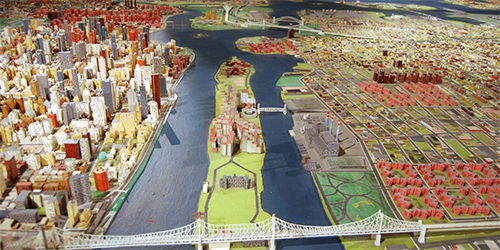 Modelling replicates the world at scale. The New York Panorama at the Queens Museum, commissioned by Robert Moses for the 1964 World's Fair, joins the Shanghai Urban Planning Centre and the Sydney Customs House as among the largest city-based scale models in the world. Once at the Empire State Building I was stopped at security because I had, in my bag, a three-foot model of the building, complete with syringe-like spire and King Kong. "Come on, man," one guard said to another. "It's just the building."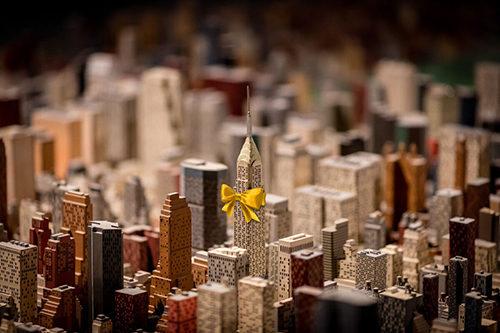 But at a certain point even the most dedicated modelling perfectionist is tempted to go off-book and let their creativity run wild. The most satisfying thing I ever learned about small-scale construction was in an art gallery, not a hobby shop. The Canadian artist Kim Adams is famous for "kit bashing" sculptures and dioramas. That is: take two or three kits, throw away the instructions, and then just build something. How cool is that? Personally, I wish I still had the little velociraptor model I fashioned, with tailwings attached on the flanks and a jetplane pilot dropped inside a square I'd carved out with my X-acto knife. Or the Russian infantryman I modified into Tatooine-era Luke Skywalker, with a long-barrelled blaster that started as a sniper rifle. Not gallery art, sure, but maybe the best of these many little nerd-worlds.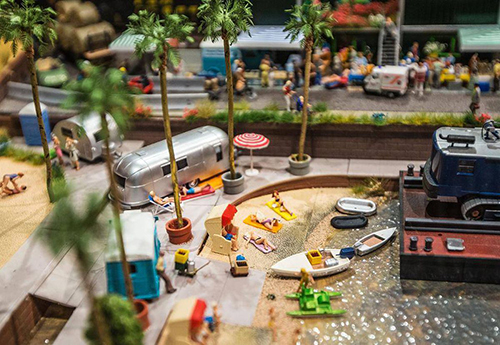 ***
NERD YOUR ENTHUSIASM: INTRODUCTION by Peggy Nelson | Andrew Sempere on NERDING | Blanca Rego on RAIN | Lucy Sante on PSEUDO-AMERICAN PSEUDONYMS OF FRENCH PULP WRITERS DURING WWII | Heather Cole on AMERICAN GIRL | Nicholas Rombes on OLD GEOLOGY SURVEY BOOKS WITH MAP INSERTS | Susan Roe on TIME | Mark Kingwell on SCALE MODELS | Jessamyn West on THE POST OFFICE | Josh Glenn on ARDUIN | Vanessa Berry on NEWSAGENCY AESTHETICS | Toby Ferris on BRITISH/EALING WW2 FILMS | Annie Nocenti on MOSS | Adam McGovern on JOAN SEMMEL | Gabriela Pedranti on ILLUSTRATED BOOKS | Miranda Mellis on DOUBT | Tom Nealon on PAGE EDGES | Mandy Keifetz on KLINGON CONFIDENTIAL (NOVEL EXCERPT) | Eric Weisbard on SUMMATIONS | Kio Stark on LIBRARY OF CONGRESS CLASSIFICATION CODES | Charlie Mitchell on REPO MAN | James Parker on SEINFELD | Heather Kapplow on NOTHING | Russell Bennetts on MODE 7 | Vijay Parthasarathy on VIRTUAL TRAVEL | Marc Weidenbaum on NERD PROXIMITY.
MORE ENTHUSIASM at HILOBROW
TEEN YOUR ENTHUSIASM (2Q2023): ANDY GIBB | VALERIE BERTINELLI | KIM WILDE | ARLO GUTHRIE | CHERYL TIEGS | & 20 other heartthrobs from our adolescences. DOLLY YOUR ENTHUSIASM (1Q2023): WE FOUND IT | TOGETHER AGAIN | SUNDAY MORNIN' COMIN' DOWN | BAD CASE OF THE BLUES | FANCY | & 20 other Sixties (1964–1973) Country records. KILL YOUR ENTHUSIASM (4Q2022): LT. TASHA YAR | JOYCE SUMMERS | COL. HENRY BLAKE | MRS. LANDINGHAM | ALEX KAMAL | & 20 other TV deaths. BLURB YOUR ENTHUSIASM (3Q2022): LEFT-CORNER BRICK | JOY IS RESISTANCE | THE FUTURE IS PASSÉ | EVERY MINUTE AN OCEAN | SHUT UP, HE EXPLAINED | & 20 other apothegms to live by. KOJAK YOUR ENTHUSIASM (2Q2022): ARK II | WKRP IN CINCINNATI | BUCK ROGERS | THE WHITE SHADOW | POLICE WOMAN | & 20 other Seventies (1974–1983) TV shows. KICK YOUR ENTHUSIASM (1Q2022): KUILL | CATO | COSMO | TRIXIE | VOLSTAGG | & 20 other sidekicks. NERD YOUR ENTHUSIASM (4Q2021): TIME | THE POST OFFICE | ARDUIN | DOUBT | SUMMATIONS | & 20 other nerdy passions. SWERVE YOUR ENTHUSIASM (3Q2021): WARHOL'S WALT WHITMAN | 70, GIRLS, 70 | TYRAEL'S MIGHT | SHIRATO SANPEI | THE LEON SUITES | & 20 other never-realized cultural productions. FIVE-O YOUR ENTHUSIASM (2Q2021): DARK SHADOWS | MANNIX | GET SMART | THE ADDAMS FAMILY | I DREAM OF JEANNIE | & 20 other Sixties (1964–1973) TV shows. FERB YOUR ENTHUSIASM (1Q2021): STEVEN UNIVERSE | TOP CAT | REN & STIMPY | SHE-RA AND THE PRINCESSES OF POWER | DRAGON BALL Z | & 20 other animated series. CARBONA YOUR ENTHUSIASM (2020): "Sex Bomb" | "Going Underground" | "Soft South Africans" | "Typical Girls" | "Human Fly" | & 20 other Seventies (1974–1983) punk singles. KLAATU YOU (2020 weekly): ZARDOZ | METROPOLIS | DARK STAR | SINS OF THE FLESHAPOIDS | SOLARIS | & dozens of other pre-STAR WARS sci-fi movies. CONVOY YOUR ENTHUSIASM (2019): THE TAKING OF PELHAM ONE TWO THREE | ROLLERBALL | BLACK SUNDAY | SORCERER | STRAIGHT TIME | & 20 other Seventies (1974–1983) action movies. SERIOCOMIC (2019 weekly): LITTLE LULU | VIZ | MARSUPILAMI | ERNIE POOK'S COMEEK | HELLBOY | & dozens of other comics. TUBE YOUR ENTHUSIASM (2018): LOONEY TUNES | THREE STOOGES | THE AVENGERS | ROCKY & BULLWINKLE | THE TWILIGHT ZONE | & 20 other Fifties (1954–1963) TV shows. WOWEE ZOWEE (2018 weekly): UNISEX | UNDER THE PINK | DUMMY | AMOR PROHIBIDO | HIPS AND MAKERS | & dozens of other Nineties (1994–2003) albums. KLUTE YOUR ENTHUSIASM (2017): THE KILLERS | BANDE À PART (BAND OF OUTSIDERS) | ALPHAVILLE | HARPER | BLOW-UP | & 20 other Sixties (1964–1973) neo-noir movies. #SQUADGOALS (2017 weekly): THE WILD BUNCH | BOWIE'S BAND | THE BLOOMSBURY GROUP | THE HONG KONG CAVALIERS | VI ÄR BÄST! & dozens of other squads. GROK MY ENTHUSIASM (2016 weekly): THE THEORY AND PRACTICE OF LUNCH | WEEKEND | MILLION YEAR PICNIC | LA BARONNE EMILE D'ERLANGER | THE SURVIVAL SAMPLER | & dozens more one-off enthusiasms. QUIRK YOUR ENTHUSIASM (2016): "Tainted Love" | "Metal" | "Frankie Teardrop" | "Savoir Faire" | "Broken English" | & 20 other Seventies (1974–1983) new wave singles. CROM YOUR ENTHUSIASM (2015): DARKER THAN YOU THINK | THE SWORD IN THE STONE | OUT OF THE SILENT PLANET | THIEVES' HOUSE | QUEEN OF THE BLACK COAST | & 20 other Thirties (1934–1943) fantasy novels. KERN YOUR ENTHUSIASM (2014): ALDINE ITALIC | DATA 70 | TORONTO SUBWAY | JOHNSTON'S "HAMLET" | TODD KLONE | & 20 other typefaces. HERC YOUR ENTHUSIASM (2013): "Spoonin' Rap" | "Rapper's Delight" | "Rappin' Blow" | "The Incredible Fulk" | "The Adventures of Super Rhyme" | & 20 other Seventies (1974–1983) hip-hop songs. KIRK YOUR ENTHUSIASM (2012): Justice or vengeance? | Kirk teaches his drill thrall to kiss | "KHAAAAAN!" | "No kill I" | Kirk browbeats NOMAD | & 20 other Captain Kirk scenes. KIRB YOUR ENTHUSIASM (2011): THE ETERNALS | BLACK MAGIC | DEMON | OMAC | CAPTAIN AMERICA | & 20 other Jack Kirby panels.