NERD YOUR ENTHUSIASM (10)
By: Vanessa Berry
November 1, 2021
One in a series of 25 enthusiastic posts, contributed by 25 HILOBROW friends and regulars, on the topic of (one of) their nerdy obsessions.
*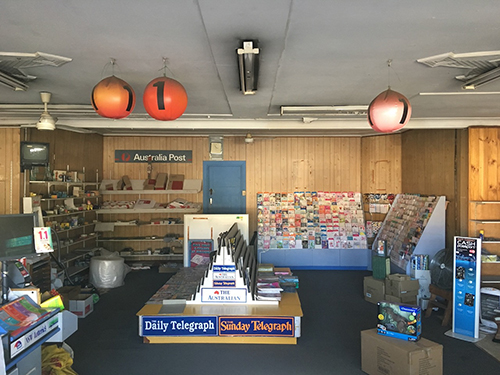 NEWSAGENCY AESTHETICS
Newsagencies are in the twilight phase of their existence. Before too long the day will come that glossy magazines and ribbon rosettes blink out of use, and cluttered local newsagencies stocking newspapers, magazines, stationery and greeting cards will finally disappear. Before this happens I am keen to visit as many as possible.
Did I say keen? I mean obsessed. Whenever I am out I scan unfamiliar shopping strips, and drive ever-more convoluted routes in the suburbs surrounding my home city of Sydney, Australia. This is in order to make a sweep of as-yet-unvisited newsagencies, in search of the time-capsule ones. Why? Well, come with me.
Look out for the shop front that has lottery advertisements and newspaper headline posters sandwiched between wire racks, broadcasting already-old news from this morning. We'll go in, past the front counter where the brisk trade in lottery tickets keeps the cashier distracted. Even if they notice us, our enthusiasm for the shelves of dusty stationery items beyond the racks of magazines and greeting cards will hopefully be regarded as nothing more than mild eccentricity.
Some signs of a true time-capsule newsagency are readily observable, such as a faded inflatable red Lotto ball hanging from the ceiling, or advertisements for magazines now out of circulation. A closer search provides the most reliable indicator that the stock has remained consistent since the 1980s. Among the stationery, usually on the lowest shelf, a plastic stencil of the continent of Australia, with perforations for state boundaries, and lines carved out for rivers. A message embossed across the western side of the continent advises "Tasmania to be drawn freehand". As a child I interpreted this directive as prophetic: I knew I wanted to live a freehand life rather than the one outlined by the stencil.
In the early part of my life newsagencies were all about magazines, which furnished me with an escape hatch from a suburban life in which it seemed nothing much could happen. I'd pounce on the British music newspapers, the NME and Melody Maker. They would appear three months after their publication, and there was no way for me to hear the more minor of the bands that were exalted or decried within their pages. I'd have to go the freehand route, and imagine what they sounded like. I'm not nostalgic for this experience, exactly, but instead for its sense of possibility, that a place as mundane as a newsagency might act as a portal.
Then, they transported me to other places. Now, I use them for time travel, back into an object-led world. A time-capsule newsagency holds onto the potential of visiting cards, telephone book covers, rolls of fax paper, and desk caddies, as if there might still, somewhere, be someone who finds such things useful. Every time I make sure to buy at least one small redundant item. As my cache of Letraset, scented notepaper, airmail pads and small plastic tubes of glitter grows, so does my affection for these defiant preservers of analogue daily life.
***
NERD YOUR ENTHUSIASM: INTRODUCTION by Peggy Nelson | Andrew Sempere on NERDING | Blanca Rego on RAIN | Lucy Sante on PSEUDO-AMERICAN PSEUDONYMS OF FRENCH PULP WRITERS DURING WWII | Heather Cole on AMERICAN GIRL | Nicholas Rombes on OLD GEOLOGY SURVEY BOOKS WITH MAP INSERTS | Susan Roe on TIME | Mark Kingwell on SCALE MODELS | Jessamyn West on THE POST OFFICE | Josh Glenn on ARDUIN | Vanessa Berry on NEWSAGENCY AESTHETICS | Toby Ferris on BRITISH/EALING WW2 FILMS | Annie Nocenti on MOSS | Adam McGovern on JOAN SEMMEL | Gabriela Pedranti on ILLUSTRATED BOOKS | Miranda Mellis on DOUBT | Tom Nealon on PAGE EDGES | Mandy Keifetz on KLINGON CONFIDENTIAL (NOVEL EXCERPT) | Eric Weisbard on SUMMATIONS | Kio Stark on LIBRARY OF CONGRESS CLASSIFICATION CODES | Charlie Mitchell on REPO MAN | James Parker on SEINFELD | Heather Kapplow on NOTHING | Russell Bennetts on MODE 7 | Vijay Parthasarathy on VIRTUAL TRAVEL | Marc Weidenbaum on NERD PROXIMITY.
MORE ENTHUSIASM at HILOBROW
TEEN YOUR ENTHUSIASM (2Q2023): ANDY GIBB | VALERIE BERTINELLI | KIM WILDE | ARLO GUTHRIE | CHERYL TIEGS | & 20 other heartthrobs from our adolescences. DOLLY YOUR ENTHUSIASM (1Q2023): WE FOUND IT | TOGETHER AGAIN | SUNDAY MORNIN' COMIN' DOWN | BAD CASE OF THE BLUES | FANCY | & 20 other Sixties (1964–1973) Country records. KILL YOUR ENTHUSIASM (4Q2022): LT. TASHA YAR | JOYCE SUMMERS | COL. HENRY BLAKE | MRS. LANDINGHAM | ALEX KAMAL | & 20 other TV deaths. BLURB YOUR ENTHUSIASM (3Q2022): LEFT-CORNER BRICK | JOY IS RESISTANCE | THE FUTURE IS PASSÉ | EVERY MINUTE AN OCEAN | SHUT UP, HE EXPLAINED | & 20 other apothegms to live by. KOJAK YOUR ENTHUSIASM (2Q2022): ARK II | WKRP IN CINCINNATI | BUCK ROGERS | THE WHITE SHADOW | POLICE WOMAN | & 20 other Seventies (1974–1983) TV shows. KICK YOUR ENTHUSIASM (1Q2022): KUILL | CATO | COSMO | TRIXIE | VOLSTAGG | & 20 other sidekicks. NERD YOUR ENTHUSIASM (4Q2021): TIME | THE POST OFFICE | ARDUIN | DOUBT | SUMMATIONS | & 20 other nerdy passions. SWERVE YOUR ENTHUSIASM (3Q2021): WARHOL'S WALT WHITMAN | 70, GIRLS, 70 | TYRAEL'S MIGHT | SHIRATO SANPEI | THE LEON SUITES | & 20 other never-realized cultural productions. FIVE-O YOUR ENTHUSIASM (2Q2021): DARK SHADOWS | MANNIX | GET SMART | THE ADDAMS FAMILY | I DREAM OF JEANNIE | & 20 other Sixties (1964–1973) TV shows. FERB YOUR ENTHUSIASM (1Q2021): STEVEN UNIVERSE | TOP CAT | REN & STIMPY | SHE-RA AND THE PRINCESSES OF POWER | DRAGON BALL Z | & 20 other animated series. CARBONA YOUR ENTHUSIASM (2020): "Sex Bomb" | "Going Underground" | "Soft South Africans" | "Typical Girls" | "Human Fly" | & 20 other Seventies (1974–1983) punk singles. KLAATU YOU (2020 weekly): ZARDOZ | METROPOLIS | DARK STAR | SINS OF THE FLESHAPOIDS | SOLARIS | & dozens of other pre-STAR WARS sci-fi movies. CONVOY YOUR ENTHUSIASM (2019): THE TAKING OF PELHAM ONE TWO THREE | ROLLERBALL | BLACK SUNDAY | SORCERER | STRAIGHT TIME | & 20 other Seventies (1974–1983) action movies. SERIOCOMIC (2019 weekly): LITTLE LULU | VIZ | MARSUPILAMI | ERNIE POOK'S COMEEK | HELLBOY | & dozens of other comics. TUBE YOUR ENTHUSIASM (2018): LOONEY TUNES | THREE STOOGES | THE AVENGERS | ROCKY & BULLWINKLE | THE TWILIGHT ZONE | & 20 other Fifties (1954–1963) TV shows. WOWEE ZOWEE (2018 weekly): UNISEX | UNDER THE PINK | DUMMY | AMOR PROHIBIDO | HIPS AND MAKERS | & dozens of other Nineties (1994–2003) albums. KLUTE YOUR ENTHUSIASM (2017): THE KILLERS | BANDE À PART (BAND OF OUTSIDERS) | ALPHAVILLE | HARPER | BLOW-UP | & 20 other Sixties (1964–1973) neo-noir movies. #SQUADGOALS (2017 weekly): THE WILD BUNCH | BOWIE'S BAND | THE BLOOMSBURY GROUP | THE HONG KONG CAVALIERS | VI ÄR BÄST! & dozens of other squads. GROK MY ENTHUSIASM (2016 weekly): THE THEORY AND PRACTICE OF LUNCH | WEEKEND | MILLION YEAR PICNIC | LA BARONNE EMILE D'ERLANGER | THE SURVIVAL SAMPLER | & dozens more one-off enthusiasms. QUIRK YOUR ENTHUSIASM (2016): "Tainted Love" | "Metal" | "Frankie Teardrop" | "Savoir Faire" | "Broken English" | & 20 other Seventies (1974–1983) new wave singles. CROM YOUR ENTHUSIASM (2015): DARKER THAN YOU THINK | THE SWORD IN THE STONE | OUT OF THE SILENT PLANET | THIEVES' HOUSE | QUEEN OF THE BLACK COAST | & 20 other Thirties (1934–1943) fantasy novels. KERN YOUR ENTHUSIASM (2014): ALDINE ITALIC | DATA 70 | TORONTO SUBWAY | JOHNSTON'S "HAMLET" | TODD KLONE | & 20 other typefaces. HERC YOUR ENTHUSIASM (2013): "Spoonin' Rap" | "Rapper's Delight" | "Rappin' Blow" | "The Incredible Fulk" | "The Adventures of Super Rhyme" | & 20 other Seventies (1974–1983) hip-hop songs. KIRK YOUR ENTHUSIASM (2012): Justice or vengeance? | Kirk teaches his drill thrall to kiss | "KHAAAAAN!" | "No kill I" | Kirk browbeats NOMAD | & 20 other Captain Kirk scenes. KIRB YOUR ENTHUSIASM (2011): THE ETERNALS | BLACK MAGIC | DEMON | OMAC | CAPTAIN AMERICA | & 20 other Jack Kirby panels.