KOJAK YOUR ENTHUSIASM (2)
By: Dan Reines
April 4, 2022
One in a series of 25 enthusiastic posts, contributed by 25 HILOBROW friends and regulars, on the topic of our favorite TV shows of the Seventies (1974–1983).
*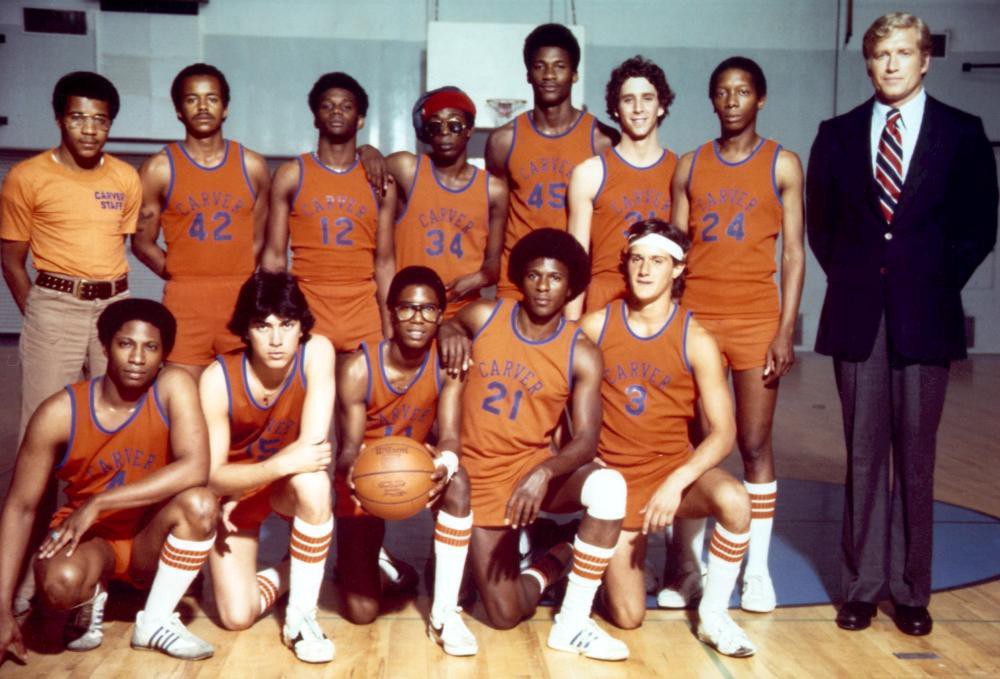 THE WHITE SHADOW | 1978–1981
When Bruce Paltrow created it in 1978, The White Shadow immediately occupied the outer borders of TV drama — a program about a washed-up white NBA journeyman who takes a coaching job at a South L.A. high school, with episode descriptions that read like a list of after-school specials: Does Jackson have a drinking problem? (He does.) Is academic probation sending Gomez back to gangbanging? (It is.) Did Thorpe give Coolidge's girlfriend syphilis? (Amazingly, yes.)
In three short seasons, the Carver High School varsity basketball team generated multiple drug storylines, including a fatal heroin overdose in one episode, and a player drinking a beer spiked with angel dust in another. We got teen pregnancy, teen sex workers, shady sports agents, point-shaving, students hitting teachers, teachers hitting students, teachers seducing students, a kid sexually assaulting the vice principal. One player suffers an aneurism and dies on the court. Jackson, memorably, is murdered in a liquor store hold-up the same night Carver advances to the city championship.
Heady stuff for the time, especially on Monday nights at 8 on the Tiffany Network. Morris Thorpe / has VD / Hayward's cousin just OD'd / Cletus gave Phil PCP / now he's naked in a tree / We didn't start the fire…
I was 7. I can't believe my parents let me watch, but that's what happens when there are only three channels. It was that or Little House.
Today it would have a whole different vibe – more The Shield than Friday Night Lights. Kenny Reeves, the eponymous coach (the nickname is given to him by point guard and STD-conduit Morris Thorpe), is of course a classic white savior role. But even in 1978, they scuffed him up — he regularly called his (mostly Black) players "animals" and fought physically with both players and parents — and both habits carried consequences. In the HBO version, he'd be an antihero, swimming in demons and drugs, with a sordid backstory. The writers would dare you to like him.
I'm sure it would be great. But it would be so dark. Improbably, The White Shadow was always light, even when it dealt with the heaviest subjects. The post-credits button, a take-off on the MGM lion, featured a kitty dribbling a basketball. It never felt out of place.
Of course, writing good TV has never been easy, and by the third season, whole episodes were being given over to Shower of Power, the team's outdated-even-then doo-wop group. Bill Russell shows up in a cameo. Elgin Baylor. Mickey Mantle. Ella Fitzgerald. Because it's the '70s, so do the Globetrotters (twice).
And even then, halfway through Season 3, Thorpe gets shot in the chest by a trigger-happy cop for reaching into his jacket for a pen. The cop gets three weeks of unpaid leave. This show is 40 years old, and yet it still feels depressingly relevant.
***
KOJAK YOUR ENTHUSIASM: INTRODUCTION by Josh Glenn | Lynn Peril on ONE DAY AT A TIME | Dan Reines on THE WHITE SHADOW | Carlo Rotella on BARNEY MILLER | Lucy Sante on POLICE WOMAN | Douglas Wolk on WHEW! | Susan Roe on THE LOVE BOAT | Peggy Nelson on THE BIONIC WOMAN | Michael Grasso on WKRP IN CINCINNATI | Josh Glenn on SHAZAM! | Vanessa Berry on IN SEARCH OF… | Mark Kingwell on BATTLESTAR GALACTICA | Tom Nealon on BUCK ROGERS | Heather Quinlan on LITTLE HOUSE ON THE PRAIRIE | Adam McGovern on FAWLTY TOWERS | Gordon Dahlquist on THE STREETS OF SAN FRANCISCO | David Smay on LAVERNE & SHIRLEY | Miranda Mellis on WELCOME BACK, KOTTER | Rick Pinchera on THE MUPPET SHOW | Kio Stark on WONDER WOMAN | Marc Weidenbaum on ARK II | Carl Wilson on LOU GRANT | Greg Rowland on STAR TREK: THE ANIMATED SERIES | Dave Boerger on DOCTOR WHO | William Nericcio on CHICO AND THE MAN | Erin M. Routson on HAPPY DAYS. Plus: David Cantwell on THE WALTONS.
MORE ENTHUSIASM at HILOBROW
STOOGE YOUR ENTHUSIASM (4Q2023): MOVE ON FAST | 96 TEARS | SHE CRACKED | WHAT A WAY TO DIE | PSYCHOTIC REACTION | & 20 other Sixties (1964–1973) proto-punk songs. CURVE YOUR ENTHUSIASM (3Q2023): PIZZA PURISM | BOY BANDS | THE '86 METS | LOVE ISLAND UK | ELTON JOHN | & 20 other reconsidered enthusiasms. TEEN YOUR ENTHUSIASM (2Q2023): ANDY GIBB | VALERIE BERTINELLI | KIM WILDE | ARLO GUTHRIE | MIKE PATTON | & 20 other heartthrobs from our adolescences. DOLLY YOUR ENTHUSIASM (1Q2023): WE FOUND IT | TOGETHER AGAIN | SUNDAY MORNIN' COMIN' DOWN | BAD CASE OF THE BLUES | FANCY | & 20 other Sixties (1964–1973) Country records. KILL YOUR ENTHUSIASM (4Q2022): LT. TASHA YAR | JOYCE SUMMERS | COL. HENRY BLAKE | MRS. LANDINGHAM | ALEX KAMAL | & 20 other TV deaths. BLURB YOUR ENTHUSIASM (3Q2022): LEFT-CORNER BRICK | JOY IS RESISTANCE | THE FUTURE IS PASSÉ | EVERY MINUTE AN OCEAN | SHUT UP, HE EXPLAINED | & 20 other apothegms to live by. KOJAK YOUR ENTHUSIASM (2Q2022): ARK II | WKRP IN CINCINNATI | BUCK ROGERS | THE WHITE SHADOW | POLICE WOMAN | & 20 other Seventies (1974–1983) TV shows. KICK YOUR ENTHUSIASM (1Q2022): KUILL | CATO | COSMO | TRIXIE | VOLSTAGG | & 20 other sidekicks. NERD YOUR ENTHUSIASM (4Q2021): TIME | THE POST OFFICE | ARDUIN | DOUBT | SUMMATIONS | & 20 other nerdy passions. SWERVE YOUR ENTHUSIASM (3Q2021): WARHOL'S WALT WHITMAN | 70, GIRLS, 70 | TYRAEL'S MIGHT | SHIRATO SANPEI | THE LEON SUITES | & 20 other never-realized cultural productions. FIVE-O YOUR ENTHUSIASM (2Q2021): DARK SHADOWS | MANNIX | GET SMART | THE ADDAMS FAMILY | I DREAM OF JEANNIE | & 20 other Sixties (1964–1973) TV shows. FERB YOUR ENTHUSIASM (1Q2021): STEVEN UNIVERSE | TOP CAT | REN & STIMPY | SHE-RA AND THE PRINCESSES OF POWER | DRAGON BALL Z | & 20 other animated series. CARBONA YOUR ENTHUSIASM (2020): "Sex Bomb" | "Going Underground" | "Soft South Africans" | "Typical Girls" | "Human Fly" | & 20 other Seventies (1974–1983) punk singles. KLAATU YOU (2020 weekly): ZARDOZ | METROPOLIS | DARK STAR | SINS OF THE FLESHAPOIDS | SOLARIS | & dozens of other pre-STAR WARS sci-fi movies. CONVOY YOUR ENTHUSIASM (2019): THE TAKING OF PELHAM ONE TWO THREE | ROLLERBALL | BLACK SUNDAY | SORCERER | STRAIGHT TIME | & 20 other Seventies (1974–1983) action movies. SERIOCOMIC (2019 weekly): LITTLE LULU | VIZ | MARSUPILAMI | ERNIE POOK'S COMEEK | HELLBOY | & dozens of other comics. TUBE YOUR ENTHUSIASM (2018): LOONEY TUNES | THREE STOOGES | THE AVENGERS | ROCKY & BULLWINKLE | THE TWILIGHT ZONE | & 20 other Fifties (1954–1963) TV shows. WOWEE ZOWEE (2018 weekly): UNISEX | UNDER THE PINK | DUMMY | AMOR PROHIBIDO | HIPS AND MAKERS | & dozens of other Nineties (1994–2003) albums. KLUTE YOUR ENTHUSIASM (2017): THE KILLERS | BANDE À PART (BAND OF OUTSIDERS) | ALPHAVILLE | HARPER | BLOW-UP | & 20 other Sixties (1964–1973) neo-noir movies. #SQUADGOALS (2017 weekly): THE WILD BUNCH | BOWIE'S BAND | THE BLOOMSBURY GROUP | THE HONG KONG CAVALIERS | VI ÄR BÄST! & dozens of other squads. GROK MY ENTHUSIASM (2016 weekly): THE THEORY AND PRACTICE OF LUNCH | WEEKEND | MILLION YEAR PICNIC | LA BARONNE EMILE D'ERLANGER | THE SURVIVAL SAMPLER | & dozens more one-off enthusiasms. QUIRK YOUR ENTHUSIASM (2016): "Tainted Love" | "Metal" | "Frankie Teardrop" | "Savoir Faire" | "Broken English" | & 20 other Seventies (1974–1983) new wave singles. CROM YOUR ENTHUSIASM (2015): DARKER THAN YOU THINK | THE SWORD IN THE STONE | OUT OF THE SILENT PLANET | THIEVES' HOUSE | QUEEN OF THE BLACK COAST | & 20 other Thirties (1934–1943) fantasy novels. KERN YOUR ENTHUSIASM (2014): ALDINE ITALIC | DATA 70 | TORONTO SUBWAY | JOHNSTON'S "HAMLET" | TODD KLONE | & 20 other typefaces. HERC YOUR ENTHUSIASM (2013): "Spoonin' Rap" | "Rapper's Delight" | "Rappin' Blow" | "The Incredible Fulk" | "The Adventures of Super Rhyme" | & 20 other Seventies (1974–1983) hip-hop songs. KIRK YOUR ENTHUSIASM (2012): Justice or vengeance? | Kirk teaches his drill thrall to kiss | "KHAAAAAN!" | "No kill I" | Kirk browbeats NOMAD | & 20 other Captain Kirk scenes. KIRB YOUR ENTHUSIASM (2011): THE ETERNALS | BLACK MAGIC | DEMON | OMAC | CAPTAIN AMERICA | & 20 other Jack Kirby panels.