KILL YOUR ENTHUSIASM (21)
By: Bridget Bartolini
December 1, 2022
One in a series of 25 enthusiastic posts, contributed by 25 HILOBROW friends and regulars, on the topic of favorite killed-off TV characters. Series edited by Heather Quinlan.
*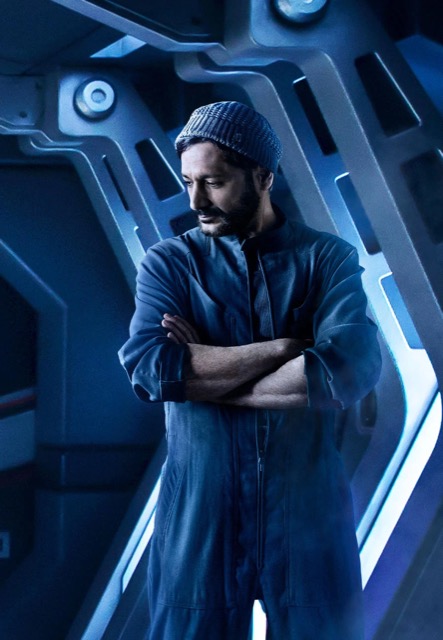 ALEX KAMAL
I mix up Star Trek and Star Wars. I've never been a sci-fi fan. But good storytelling transcends genres, and The Expanse, a space opera set in a not-too-distant future's colonized solar system, pulled me into its world in a way that few television shows have. Binge-watching during the pandemic, I escaped to the richly built world and fell in love with the characters who populated it.
In a universe of compelling protagonists and overlapping storylines, the four crew members of the spaceship Rocinante provided the center of gravity: Jim Holden, the reluctant captain; Naomi Nagata, the genius engineer; Amos Burton, the recalcitrant mechanic; and Alex Kamal, the pilot with an affinity for cowboys. I watched this beloved foursome get through nail-biting adventures for 56 episodes. Then, in the season five finale, Alex abruptly died.
Alex's death was not glorious; he was dispatched with little fanfare. The story focused on Naomi's near-impossible escape from a ship rigged with explosives; she jumped into the expanse of outer space without oxygen, sacrificing herself to keep her friends from approaching. In an extraordinarily long and tense close-up of Naomi's face, we saw her accept her fate and whisper an apology to a lover who couldn't hear her as she spun into the starry void. I actually wailed through my tears while watching this. Then we saw Naomi jostle as her friend grabbed her. Alex had made a high-gravity maneuver and gotten Bobbie, a female friend of the crew, close enough to reach Naomi and bring her to safety. A wider shot showed Bobbie hugging Naomi. Then it cut to show Alex in the pilot chair, staring blankly ahead, with droplets of blood coming out of his nose and floating in the air. We never saw him again. It was revealed in a later scene that he had a stroke.
This disservice to an integral character would've pissed me off if I didn't know that his death was written into the show because the actor who portrayed him, Cas Anvar, was fired for sexually harassing women. In 2020, the production company received over 30 allegations of sexual harassment and assault against Anvar, hired an independent firm to investigate, then announced that he would not be returning for the sixth and final season.
Fanboys typed up furious missives expounding on how killing off Alex ruined the show. While I hated to see Alex go, firing Anvar made sense. It felt fitting that Alex's death was written in as part of Naomi's character development. Although she needed his help in order to be rescued, the situation she'd put herself into — and the bravery and feats of engineering she executed — was the most badass thing that Naomi had done in the whole series, and she'd been a badass all along. Her survival was an incredible, moving feat. Alex's death became a footnote in the story of a powerful woman's triumphant achievement.
Nevertheless, the mere passing references to Alex after his anticlimactic death left me feeling unsettled by how quickly the show moved on. Is it right to do a character dirty because of the misdeeds of the actor? Should they have hired a different actor to take over the role, rather than kill him off?
But great storytelling has the power to lift you out of yourself. The sixth and final season of The Expanse delivered the same caliber of writing and care with the characters. I thrilled to the plot twists, drank in the character arcs, wrung my sweaty palms and jumped off the couch when I couldn't take the suspense. I didn't even think of Alex Kamal.
***
KILL YOUR ENTHUSIASM: INTRODUCTION by Heather Quinlan | Max Alvarez on LANE PRYCE | Lynn Peril on PETE DUEL | Miranda Mellis on LISA KIMMEL FISHER | Trav SD on COL. HENRY BLAKE | Russ Hodge on DET. BOBBY SIMONE | Kathy Biehl on PHIL HARTMAN| Jack Silbert on MARTY FUNKHOUSER | Catherine Christman on MRS. LANDINGHAM | Kevin J. Walsh on YEOMAN JANICE RAND | Heather Quinlan on DERMOT MORGAN | Adam McGovern on LT. TASHA YAR | Nick Rumaczyk on BEN URICH | Josh Glenn on CHUCKLES THE CLOWN | Bart Beaty on COACH | Krista Margies Kunkle on JOYCE SUMMERS | Kelly Jean Fitzsimmons on DENNY DUQUETTE | Marc Weidenbaum on SGT. PHIL ESTERHAUS | Michael Campochiaro on GORDON CLARK | Fran Pado on EDITH BUNKER | Mark Kingwell on OMAR LITTLE | Bridget Bartolini on ALEX KAMAL | David Smay on VANESSA IVES | Tom Nealon on JOSS CARTER | Michele Carlo on FREDDIE PRINZE | Crockett Doob on AUNT LOUISE.
MORE ENTHUSIASM at HILOBROW
CURVE YOUR ENTHUSIASM (3Q2023): PIZZA PURISM | BOY BANDS | THE '86 METS | LOVE ISLAND UK | LIVERWURST | & 20 other reconsidered enthusiasms. TEEN YOUR ENTHUSIASM (2Q2023): ANDY GIBB | VALERIE BERTINELLI | KIM WILDE | ARLO GUTHRIE | MIKE PATTON | & 20 other heartthrobs from our adolescences. DOLLY YOUR ENTHUSIASM (1Q2023): WE FOUND IT | TOGETHER AGAIN | SUNDAY MORNIN' COMIN' DOWN | BAD CASE OF THE BLUES | FANCY | & 20 other Sixties (1964–1973) Country records. KILL YOUR ENTHUSIASM (4Q2022): LT. TASHA YAR | JOYCE SUMMERS | COL. HENRY BLAKE | MRS. LANDINGHAM | ALEX KAMAL | & 20 other TV deaths. BLURB YOUR ENTHUSIASM (3Q2022): LEFT-CORNER BRICK | JOY IS RESISTANCE | THE FUTURE IS PASSÉ | EVERY MINUTE AN OCEAN | SHUT UP, HE EXPLAINED | & 20 other apothegms to live by. KOJAK YOUR ENTHUSIASM (2Q2022): ARK II | WKRP IN CINCINNATI | BUCK ROGERS | THE WHITE SHADOW | POLICE WOMAN | & 20 other Seventies (1974–1983) TV shows. KICK YOUR ENTHUSIASM (1Q2022): KUILL | CATO | COSMO | TRIXIE | VOLSTAGG | & 20 other sidekicks. NERD YOUR ENTHUSIASM (4Q2021): TIME | THE POST OFFICE | ARDUIN | DOUBT | SUMMATIONS | & 20 other nerdy passions. SWERVE YOUR ENTHUSIASM (3Q2021): WARHOL'S WALT WHITMAN | 70, GIRLS, 70 | TYRAEL'S MIGHT | SHIRATO SANPEI | THE LEON SUITES | & 20 other never-realized cultural productions. FIVE-O YOUR ENTHUSIASM (2Q2021): DARK SHADOWS | MANNIX | GET SMART | THE ADDAMS FAMILY | I DREAM OF JEANNIE | & 20 other Sixties (1964–1973) TV shows. FERB YOUR ENTHUSIASM (1Q2021): STEVEN UNIVERSE | TOP CAT | REN & STIMPY | SHE-RA AND THE PRINCESSES OF POWER | DRAGON BALL Z | & 20 other animated series. CARBONA YOUR ENTHUSIASM (2020): "Sex Bomb" | "Going Underground" | "Soft South Africans" | "Typical Girls" | "Human Fly" | & 20 other Seventies (1974–1983) punk singles. KLAATU YOU (2020 weekly): ZARDOZ | METROPOLIS | DARK STAR | SINS OF THE FLESHAPOIDS | SOLARIS | & dozens of other pre-STAR WARS sci-fi movies. CONVOY YOUR ENTHUSIASM (2019): THE TAKING OF PELHAM ONE TWO THREE | ROLLERBALL | BLACK SUNDAY | SORCERER | STRAIGHT TIME | & 20 other Seventies (1974–1983) action movies. SERIOCOMIC (2019 weekly): LITTLE LULU | VIZ | MARSUPILAMI | ERNIE POOK'S COMEEK | HELLBOY | & dozens of other comics. TUBE YOUR ENTHUSIASM (2018): LOONEY TUNES | THREE STOOGES | THE AVENGERS | ROCKY & BULLWINKLE | THE TWILIGHT ZONE | & 20 other Fifties (1954–1963) TV shows. WOWEE ZOWEE (2018 weekly): UNISEX | UNDER THE PINK | DUMMY | AMOR PROHIBIDO | HIPS AND MAKERS | & dozens of other Nineties (1994–2003) albums. KLUTE YOUR ENTHUSIASM (2017): THE KILLERS | BANDE À PART (BAND OF OUTSIDERS) | ALPHAVILLE | HARPER | BLOW-UP | & 20 other Sixties (1964–1973) neo-noir movies. #SQUADGOALS (2017 weekly): THE WILD BUNCH | BOWIE'S BAND | THE BLOOMSBURY GROUP | THE HONG KONG CAVALIERS | VI ÄR BÄST! & dozens of other squads. GROK MY ENTHUSIASM (2016 weekly): THE THEORY AND PRACTICE OF LUNCH | WEEKEND | MILLION YEAR PICNIC | LA BARONNE EMILE D'ERLANGER | THE SURVIVAL SAMPLER | & dozens more one-off enthusiasms. QUIRK YOUR ENTHUSIASM (2016): "Tainted Love" | "Metal" | "Frankie Teardrop" | "Savoir Faire" | "Broken English" | & 20 other Seventies (1974–1983) new wave singles. CROM YOUR ENTHUSIASM (2015): DARKER THAN YOU THINK | THE SWORD IN THE STONE | OUT OF THE SILENT PLANET | THIEVES' HOUSE | QUEEN OF THE BLACK COAST | & 20 other Thirties (1934–1943) fantasy novels. KERN YOUR ENTHUSIASM (2014): ALDINE ITALIC | DATA 70 | TORONTO SUBWAY | JOHNSTON'S "HAMLET" | TODD KLONE | & 20 other typefaces. HERC YOUR ENTHUSIASM (2013): "Spoonin' Rap" | "Rapper's Delight" | "Rappin' Blow" | "The Incredible Fulk" | "The Adventures of Super Rhyme" | & 20 other Seventies (1974–1983) hip-hop songs. KIRK YOUR ENTHUSIASM (2012): Justice or vengeance? | Kirk teaches his drill thrall to kiss | "KHAAAAAN!" | "No kill I" | Kirk browbeats NOMAD | & 20 other Captain Kirk scenes. KIRB YOUR ENTHUSIASM (2011): THE ETERNALS | BLACK MAGIC | DEMON | OMAC | CAPTAIN AMERICA | & 20 other Jack Kirby panels.