NERD YOUR ENTHUSIASM (19)
By: Kio Stark
December 2, 2021
One in a series of 25 enthusiastic posts, contributed by 25 HILOBROW friends and regulars, on the topic of (one of) their nerdy obsessions.
*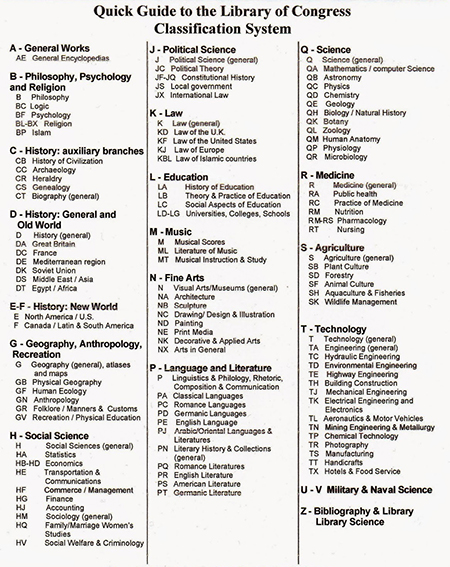 LIBRARY OF CONGRESS CLASSIFICATION CODES
Three Epiphanies.
Imagine it is 1821. Instead of a person in soft pants reading the internet, you are a man wearing a frock-coat looking for a particular book in the Jeffersonian Library of Congress. You will wander among thousands in three broad categories: Memory, Reason, or Imagination. Good luck with that.
At the turn of the 20th century, Herbert Putnam, a librarian of Congress, created the Library of Congress Classification to bring some reason to this imaginative system. It consists of letters and letter pairs corresponding to subjects, further broken down by the numbers that follow. Ostensibly, it can expand to infinity.
TR653.C34
I am 17, settled between the library stacks, paging through an anthology of Alfred Stieglitz's Camera Work. A few hops down from Stieglitz's empty slot are books by other photographers, Dorothea Lange is near, so is Edward Weston. Incongruously, so are books like A Guide to Winning Photography Contests and textbooks on composition. I wander down the alley into TS, which turns out to be Manufacturing, and double back to TP, Chemical Technology. I will later understand this as a quirk of history. When the LCC was created, long before Stieglitz, photography was mere technology.
HN80.L7 D38
In grad school, an intriguing sentence in a now-forgotten journal article references Mike Davis's City of Quartz. I find it next to a book on urban activism in LA, but also very near LA's 1941 land use plan and a book called The Social Areas of Los Angeles, Analysis and Typology. I discover that the LCC is the best and weirdest recommendation engine,* long before such things. I will lose—or spend—many hours here.
PR9199.3.S55127 A6
I work as a shelver in the closed stacks of a university library. Our supervisor Vera is tiny and old, with a thick accent I place as not-quite-Russian. On my third day, Vera comes to me in the P-PZs (languages and literature). She looks me over. "Darling," she says, and reaches up to move my chin first left, then right. "So regal. Like a princess. Beautiful." I blush, delighted, embarrassed. She taps the book sorting cart. "This," she tells me, "takes exactly one half-hour. You, you are too fast. So, here will be our secret. Work fast, and then, you read." The book I find in the remaining minutes of that first half hour will take all the spare minutes of a week's worth of days. By Grand Central Station I Sat Down and Wept, by a Canadian writer called Elizabeth Smart (mysteriously filed in PR, British literature, not in the PS8000s with Canadians) is a lyrical, dizzy gut-punch story of fucked-up love that I will one day read aloud to a lover while taking a bath, and that I sometimes catch cadences of in my own prose. I loved it beyond all memory, reason, or imagination. It blinded me to all the books on either side.
* Try it yourself! Use the dropdown menu to browse by "CALL NUMBERS (LC Class No.)" and search the call number of a favorite book. Use the back and forward arrows to see what's on the shelf with it.⏎
***
NERD YOUR ENTHUSIASM: INTRODUCTION by Peggy Nelson | Andrew Sempere on NERDING | Blanca Rego on RAIN | Lucy Sante on PSEUDO-AMERICAN PSEUDONYMS OF FRENCH PULP WRITERS DURING WWII | Heather Cole on AMERICAN GIRL | Nicholas Rombes on OLD GEOLOGY SURVEY BOOKS WITH MAP INSERTS | Susan Roe on TIME | Mark Kingwell on SCALE MODELS | Jessamyn West on THE POST OFFICE | Josh Glenn on ARDUIN | Vanessa Berry on NEWSAGENCY AESTHETICS | Toby Ferris on BRITISH/EALING WW2 FILMS | Annie Nocenti on MOSS | Adam McGovern on JOAN SEMMEL | Gabriela Pedranti on ILLUSTRATED BOOKS | Miranda Mellis on DOUBT | Tom Nealon on PAGE EDGES | Mandy Keifetz on KLINGON CONFIDENTIAL (NOVEL EXCERPT) | Eric Weisbard on SUMMATIONS | Kio Stark on LIBRARY OF CONGRESS CLASSIFICATION CODES | Charlie Mitchell on REPO MAN | James Parker on SEINFELD | Heather Kapplow on NOTHING | Russell Bennetts on MODE 7 | Vijay Parthasarathy on VIRTUAL TRAVEL | Marc Weidenbaum on NERD PROXIMITY.
MORE ENTHUSIASM at HILOBROW
MÖSH YOUR ENTHUSIASM (1Q2024): ENTER SANDMAN | MILQUETOAST | CHRISTBAIT RISING | GOING BLIND | HERE COME THE COPS | & 20 other Eighties (1984–1993) Metal songs. STOOGE YOUR ENTHUSIASM (4Q2023): MOVE ON FAST | 96 TEARS | SHE CRACKED | WHAT A WAY TO DIE | PSYCHOTIC REACTION | & 20 other Sixties (1964–1973) proto-punk songs. MÖSH YOUR ENTHUSIASM (1Q2024): ENTER SANDMAN | MILQUETOAST | CHRISTBAIT RISING | GOING BLIND | HERE COME THE COPS | & 20 other Eighties (1984–1993) Metal songs. STOOGE YOUR ENTHUSIASM (4Q2023): MOVE ON FAST | 96 TEARS | SHE CRACKED | WHAT A WAY TO DIE | PSYCHOTIC REACTION | & 20 other Sixties (1964–1973) proto-punk songs. CURVE YOUR ENTHUSIASM (3Q2023): PIZZA PURISM | BOY BANDS | THE '86 METS | LOVE ISLAND UK | ELTON JOHN | & 20 other reconsidered enthusiasms. TEEN YOUR ENTHUSIASM (2Q2023): ANDY GIBB | VALERIE BERTINELLI | KIM WILDE | ARLO GUTHRIE | MIKE PATTON | & 20 other heartthrobs from our adolescences. DOLLY YOUR ENTHUSIASM (1Q2023): WE FOUND IT | TOGETHER AGAIN | SUNDAY MORNIN' COMIN' DOWN | BAD CASE OF THE BLUES | FANCY | & 20 other Sixties (1964–1973) Country records. KILL YOUR ENTHUSIASM (4Q2022): LT. TASHA YAR | JOYCE SUMMERS | COL. HENRY BLAKE | MRS. LANDINGHAM | ALEX KAMAL | & 20 other TV deaths. BLURB YOUR ENTHUSIASM (3Q2022): LEFT-CORNER BRICK | JOY IS RESISTANCE | THE FUTURE IS PASSÉ | EVERY MINUTE AN OCEAN | SHUT UP, HE EXPLAINED | & 20 other apothegms to live by. KOJAK YOUR ENTHUSIASM (2Q2022): ARK II | WKRP IN CINCINNATI | BUCK ROGERS | THE WHITE SHADOW | POLICE WOMAN | & 20 other Seventies (1974–1983) TV shows. KICK YOUR ENTHUSIASM (1Q2022): KUILL | CATO | COSMO | TRIXIE | VOLSTAGG | & 20 other sidekicks. NERD YOUR ENTHUSIASM (4Q2021): TIME | THE POST OFFICE | ARDUIN | DOUBT | SUMMATIONS | & 20 other nerdy passions. SWERVE YOUR ENTHUSIASM (3Q2021): WARHOL'S WALT WHITMAN | 70, GIRLS, 70 | TYRAEL'S MIGHT | SHIRATO SANPEI | THE LEON SUITES | & 20 other never-realized cultural productions. FIVE-O YOUR ENTHUSIASM (2Q2021): DARK SHADOWS | MANNIX | GET SMART | THE ADDAMS FAMILY | I DREAM OF JEANNIE | & 20 other Sixties (1964–1973) TV shows. FERB YOUR ENTHUSIASM (1Q2021): STEVEN UNIVERSE | TOP CAT | REN & STIMPY | SHE-RA AND THE PRINCESSES OF POWER | DRAGON BALL Z | & 20 other animated series. CARBONA YOUR ENTHUSIASM (2020): "Sex Bomb" | "Going Underground" | "Soft South Africans" | "Typical Girls" | "Human Fly" | & 20 other Seventies (1974–1983) punk singles. KLAATU YOU (2020 weekly): ZARDOZ | METROPOLIS | DARK STAR | SINS OF THE FLESHAPOIDS | SOLARIS | & dozens of other pre-STAR WARS sci-fi movies. CONVOY YOUR ENTHUSIASM (2019): THE TAKING OF PELHAM ONE TWO THREE | ROLLERBALL | BLACK SUNDAY | SORCERER | STRAIGHT TIME | & 20 other Seventies (1974–1983) action movies. SERIOCOMIC (2019 weekly): LITTLE LULU | VIZ | MARSUPILAMI | ERNIE POOK'S COMEEK | HELLBOY | & dozens of other comics. TUBE YOUR ENTHUSIASM (2018): LOONEY TUNES | THREE STOOGES | THE AVENGERS | ROCKY & BULLWINKLE | THE TWILIGHT ZONE | & 20 other Fifties (1954–1963) TV shows. WOWEE ZOWEE (2018 weekly): UNISEX | UNDER THE PINK | DUMMY | AMOR PROHIBIDO | HIPS AND MAKERS | & dozens of other Nineties (1994–2003) albums. KLUTE YOUR ENTHUSIASM (2017): THE KILLERS | BANDE À PART (BAND OF OUTSIDERS) | ALPHAVILLE | HARPER | BLOW-UP | & 20 other Sixties (1964–1973) neo-noir movies. #SQUADGOALS (2017 weekly): THE WILD BUNCH | BOWIE'S BAND | THE BLOOMSBURY GROUP | THE HONG KONG CAVALIERS | VI ÄR BÄST! & dozens of other squads. GROK MY ENTHUSIASM (2016 weekly): THE THEORY AND PRACTICE OF LUNCH | WEEKEND | MILLION YEAR PICNIC | LA BARONNE EMILE D'ERLANGER | THE SURVIVAL SAMPLER | & dozens more one-off enthusiasms. QUIRK YOUR ENTHUSIASM (2016): "Tainted Love" | "Metal" | "Frankie Teardrop" | "Savoir Faire" | "Broken English" | & 20 other Seventies (1974–1983) new wave singles. CROM YOUR ENTHUSIASM (2015): DARKER THAN YOU THINK | THE SWORD IN THE STONE | OUT OF THE SILENT PLANET | THIEVES' HOUSE | QUEEN OF THE BLACK COAST | & 20 other Thirties (1934–1943) fantasy novels. KERN YOUR ENTHUSIASM (2014): ALDINE ITALIC | DATA 70 | TORONTO SUBWAY | JOHNSTON'S "HAMLET" | TODD KLONE | & 20 other typefaces. HERC YOUR ENTHUSIASM (2013): "Spoonin' Rap" | "Rapper's Delight" | "Rappin' Blow" | "The Incredible Fulk" | "The Adventures of Super Rhyme" | & 20 other Seventies (1974–1983) hip-hop songs. KIRK YOUR ENTHUSIASM (2012): Justice or vengeance? | Kirk teaches his drill thrall to kiss | "KHAAAAAN!" | "No kill I" | Kirk browbeats NOMAD | & 20 other Captain Kirk scenes. KIRB YOUR ENTHUSIASM (2011): THE ETERNALS | BLACK MAGIC | DEMON | OMAC | CAPTAIN AMERICA | & 20 other Jack Kirby panels.